Slow cooker parmesan herb chicken & orzo is an easy, no-fuss crockpot meal with hearty flavors that will please the whole family.
The slow cooker is constant around our house! If you're loving yours too, try Slow Cooker Beef Stroganoff Soup, Best Easy Slow Cooker Ribs, and Slow Cooker Mediterranean Chicken.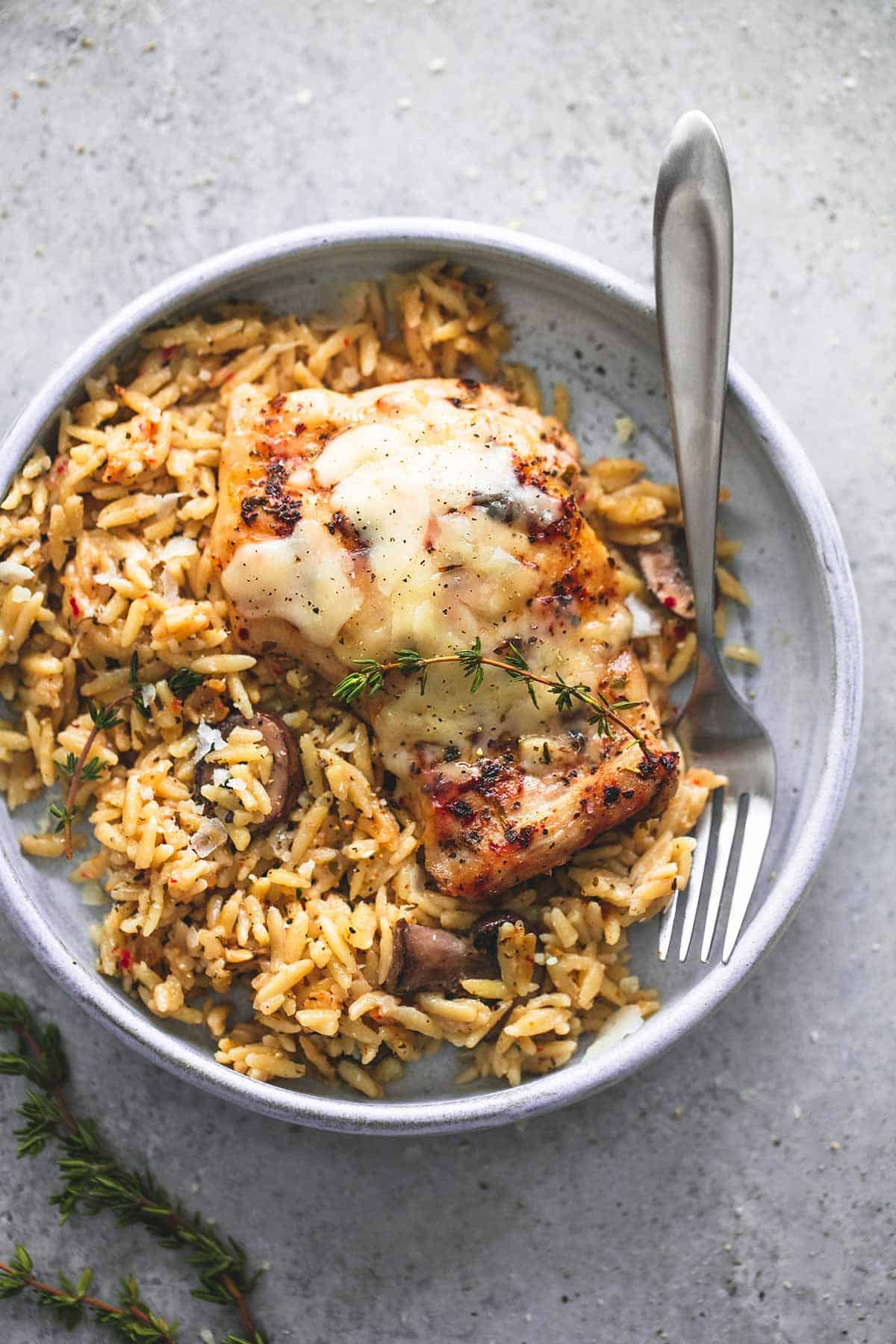 It's feeling very Fall-ish around here. The air has definitely cooled off, the leaves are every shade of red and orange you can possibly imagine, and a huge rain storm just rolled through over the past couple of days giving me the perfect excuse to pull out my favorite grey wanna-be-Hunter rain boots. (Scored those babies for a steal of a deal from Nordstrom Rack last Spring, pretty much lived in them until Summertime came and in typical Utah desert fashion, a lack of rain storms.) It's feeling like Fall inside my house though too, or rather smelling like Fall. Between the pumpkin harvest candle burning non-stop (thank you Target) and something yummy in the slow cooker all day long, it's a little slice of heaven up in here.
I'm a little bit obsessed with this simple crockpot meal. Chicken and buttery orzo made all together in your slow cooker with herbs and garlic and melty parmesan cheese?? It just doesn't get better than this. All you have to do is brown your chicken on the stove for a couple of minutes, then throw it int he slow cooker with your orzo, liquids, mushrooms, and seasonings, and let it cook for a few hours.
A few minutes before you're ready to eat, just stir the orzo and sprinkle parmesan cheese all over the top. Cover it for about 5 more minutes so it gets all melty and ooey gooey delicious and then serve it up! Put it on your menu for this week, you will be so glad you did.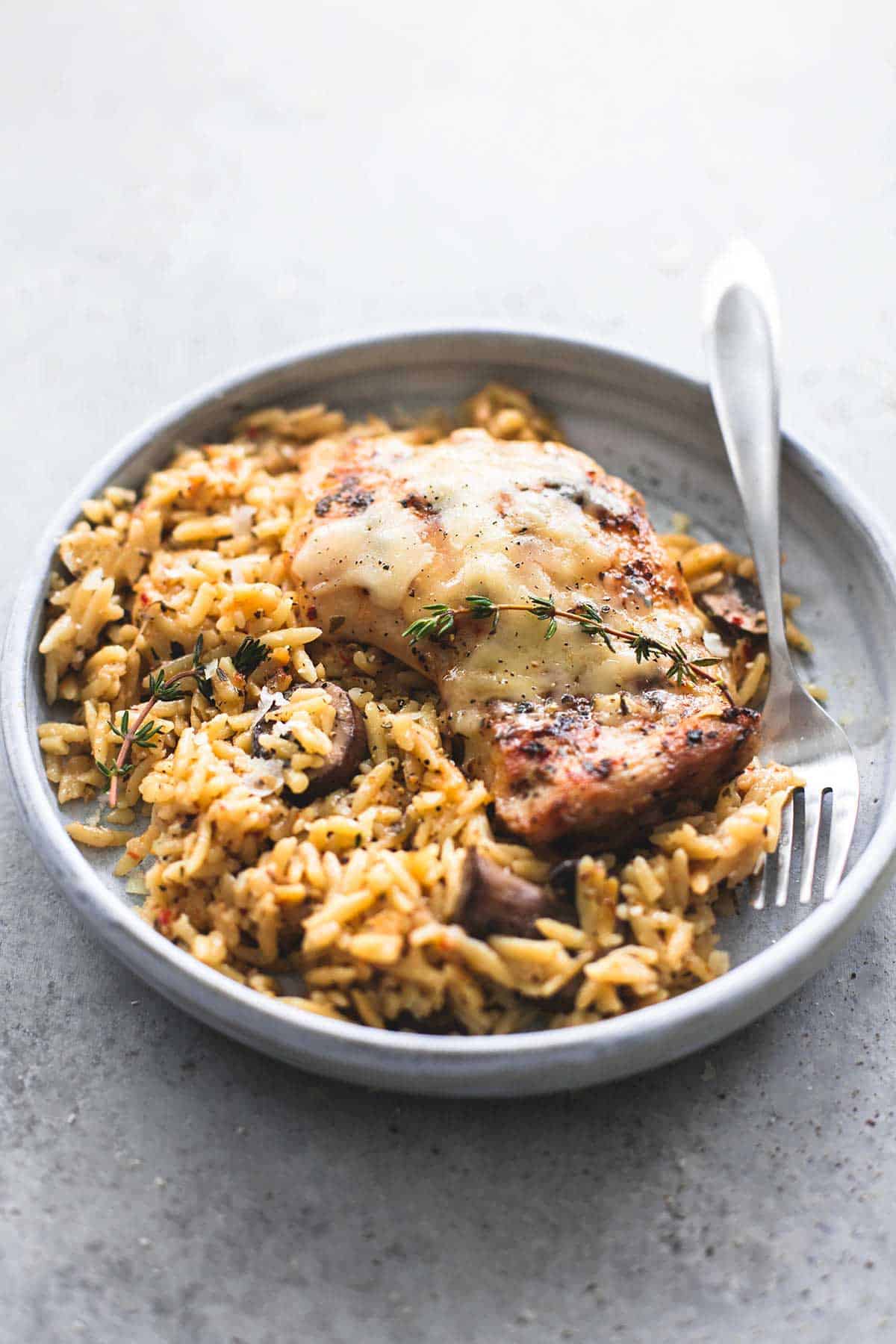 What people are saying about this Slow Cooker Parmesan Herb Chicken & Orzo
"We had this tonight for dinner. My picky eater hubby LOVED IT!! His exact words were "It's pretty good. You have to keep this one. Its really good. I really like it. " The only thing I didn't do was add mushrooms because I don't like them. He said next time I make this to add the mushrooms. So thank you for this recipe we thoroughly enjoyed it.
" – Milihn
"My boyfriend has never been one to try new recipes or even let me cook. Sunday I made this dish and it was a huge hit and success. So much of a success that my boyfriend asked me to make it again so it is currently cooking. This is an amazing dish!" – Carol
"I just have to say this recipe is a WIN! My fiancé is incredibly picky. Literally he eats all of my cooking but never comments, and this one did the trick! I'm surprised by all the reviews saying the orzo was soggy, mine was perfect. Wish I could try it with mushrooms, I'll have to plan a girls night soon so I can. This is probably THE best crock pot recipe I've ever used. Thank you for sharing, this will be a regular in my home!" – Katie
"Made this last night – it was perfect. SO good. I fried the mushrooms in butter and added them at the end for a super great extra taste. Thanks for the great recipe! (The orzo was perfect, adding it about 45 minutes before we ate!" – Kayleigh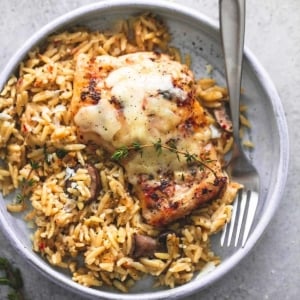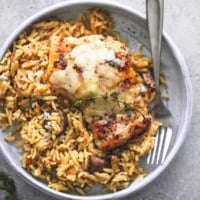 Slow Cooker Parmesan Herb Chicken & Orzo
Slow cooker parmesan herb chicken & orzo is an easy, no-fuss crockpot meal with hearty flavors that will please the whole family.
Ingredients
4

boneless skinless chicken breasts

-

OR 4-6 boneless skinless chicken thighs

3

teaspoon

Italian seasoning

-

divided

3

cups

low sodium chicken broth

1 ½

cups

orzo pasta

-

(see note)

4

tablespoons

butter

-

melted

1

cup

sliced

-

mushrooms

1

medium

white or yellow onion

-

finely chopped

2

teaspoons

minced garlic

1

teaspoon

salt

-

(or to taste)

¼

teaspoon

black pepper

-

(or to taste)

½

cup

shaved or finely shredded parmesan cheese

freshly cracked black pepper and herbs (such as thyme or parsley) for garnish
Instructions
Season chicken with a bit of the Italian seasonings and salt and pepper on both sides. Cook in a large nonstick skillet on the stove over medium-high heat 1-2 minutes on each side until browned on the outsides.

Transfer chicken to a greased slow cooker. Add chicken broth, butter, mushrooms, onions, garlic, remaining Italian seasoning, and salt and pepper to slow cooker.

Cover and cook on high for 1-2 hours or on low for 3-4 hours. Stir in orzo, cover and cook for another 30-45 minutes on high.

Uncover and use a fork to pull chicken out of the slow cooker. Stir contents of slow cooker, then return chicken to slow cooker, on top of the orzo mixture.

Sprinkle parmesan cheese over chicken. Cover and cook until cheese is melted, about 5-10 minutes. Serve with fresh herbs and cracked black pepper if desired.
Notes
**Some readers have found that the orzo is too "mushy" for their taste when cooked in the crockpot with the chicken. If you are weary of this, I recommend cooking the orzo separately and stirring in at the end. You will only need 2 cups of chicken broth in the crockpot with the chicken if you choose to do it this way and can discard any remaining broth at the end. Also, I recommend if you do cook your orzo separately to just follow package's instructions and use chicken broth instead of water as this will give the orzo more flavor.
Nutrition
Calories:
585
kcal
,
Carbohydrates:
49
g
,
Protein:
53
g
,
Fat:
19
g
,
Saturated Fat:
7
g
,
Trans Fat:
1
g
,
Cholesterol:
119
mg
,
Sodium:
1689
mg
,
Potassium:
962
mg
,
Fiber:
3
g
,
Sugar:
4
g
,
Vitamin A:
182
IU
,
Vitamin C:
4
mg
,
Calcium:
227
mg
,
Iron:
3
mg