The moon milk trend gets a delicious new spin with this sweet Cinnamon Bun Moon Milk Recipe! 
This post is in partnership with Milk Life – all opinions are 100 percent my own.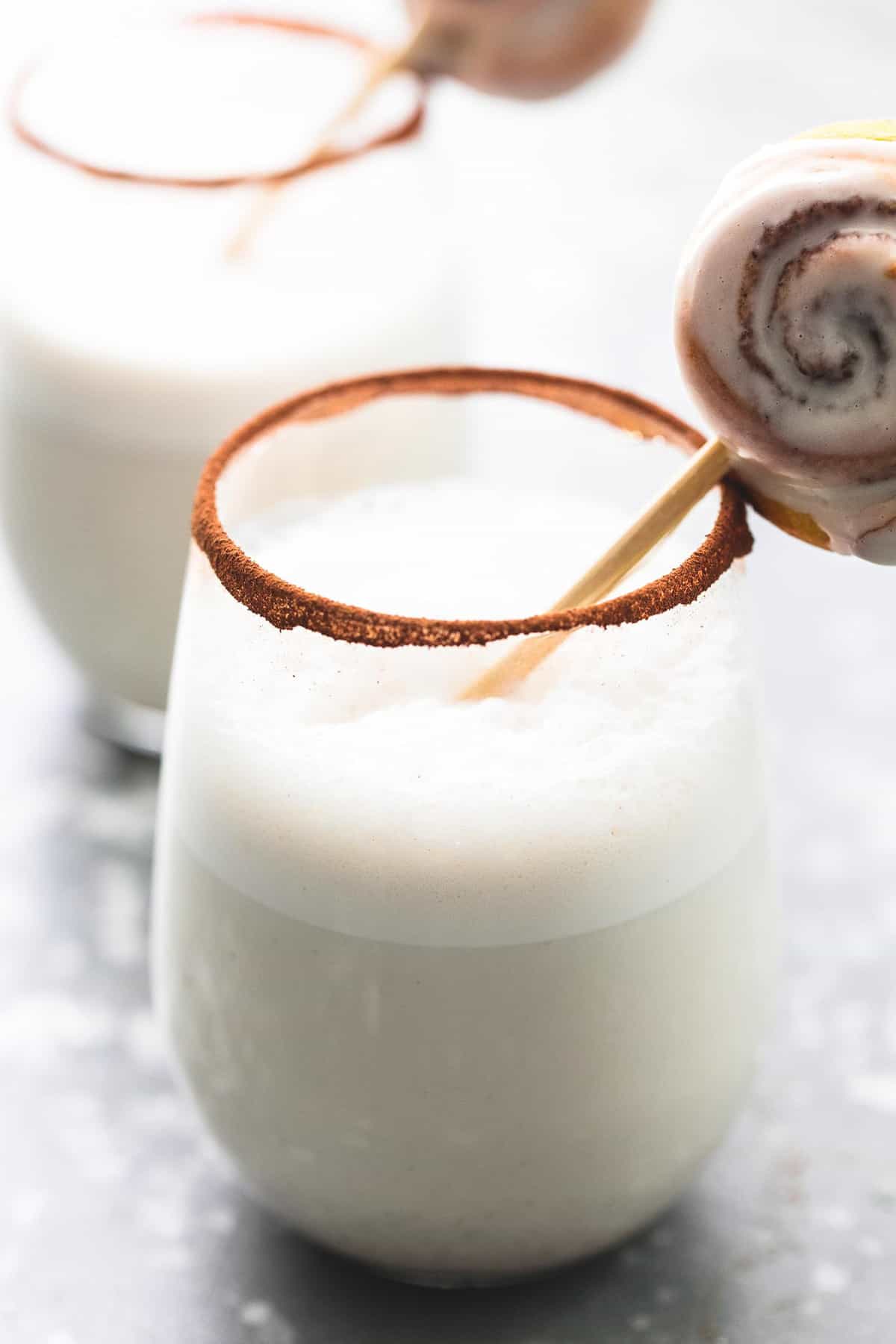 Here in Northern Utah we are in full-blown Fall mode. One of the best perks, in my opinion, about Utah living is getting four very distinct seasons. Our home is nestled at the base of a canyon and through our front windows we can see the whole mountainside – I adore watching the seasons change though these windows! Right now the hillside is on fire with every Fall shade of gold and red and every time I catch a peek I want to pull on my favorite cable knit sweater and light a pumpkin-scented candle.
I've leaned into my love of Fall flavors to create this delicious Cinnamon Bun Moon Milk recipe. If you haven't heard of moon milk, you aren't alone – it is a new trend and I only recently got acquainted with the magic of moon milk.
So what is it exactly? Essentially it is milk, seasoned with spices, honeys, or sugars, and served warm. Some believe its soothing, relaxing nature can help promote more restful sleep – something I could definitely use considering the frequent interruptions I get from my two year old toddlers and new baby!
I stopped giving my twins bottles in the evening when they were about 14 months old, but the warm milk before bedtime has come back around in our routine since discovering moon milk. A glass of warm dairy milk infused with cinnamon, vanilla, and brown sugar is so delicious and comforting as we start to wind down, I don't know how it couldn't set you up for a restful night of sleep!
I've loved finding a way to get my kids to drink real milk before bedtime again because I know how important it is for kids their age to be getting enough nutrient-rich milk in their diets. Bedtime with my kids is so precious to me, the few times I've missed it when I've been traveling, I had my husband put me on the phone during bedtime so I could still feel part it. We do the usual pajamas and teeth brushing, followed by a couple of books, a song, and snuggles with baby sister. Now we've added milk to our nighttime routine (before the teeth brushing, of course!) and I love that it's part of these memories we are making with our kiddos!
Whether this is your first or fiftieth glass of moon milk, you are going to fall in love with this Fall-inspired drink that will bring you sweet Autumn dreams and a happy belly.
Cinnamon Bun Moon Milk
The moon milk trend gets a delicious new spin with this sweet Cinnamon Bun Moon Milk Recipe!
Ingredients
3

cups

Milk

½

teaspoon

vanilla extract

⅛

teaspoon

almond extract

-

optional

3

teaspoons

brown sugar

1

teaspoon

ground cinnamon
Instructions
In a medium sauce pan whisk together all ingredients over high heat. Bring to a boil, whisking throughout, boil for 1-2 minutes. Remove from heat and allow to cool for 2-3 minutes.

Transfer to a blender and blend for 30 seconds until frothy. Pour into three cups and serve.
Nutrition
Calories:
168
kcal
,
Carbohydrates:
16
g
,
Protein:
8
g
,
Fat:
8
g
,
Saturated Fat:
5
g
,
Cholesterol:
24
mg
,
Sodium:
106
mg
,
Potassium:
332
mg
,
Fiber:
1
g
,
Sugar:
16
g
,
Vitamin A:
397
IU
,
Vitamin C:
1
mg
,
Calcium:
286
mg
,
Iron:
1
mg