Make these crazy delicious Gingerbread Cheesecake Cups and Gingerbread Whoopie Pies with Caramel Frosting using just ONE simple gingerbread batter!
THIS POST IS IN PARTNERSHIP WITH MCCORMICK – ALL OPINIONS ARE MY OWN.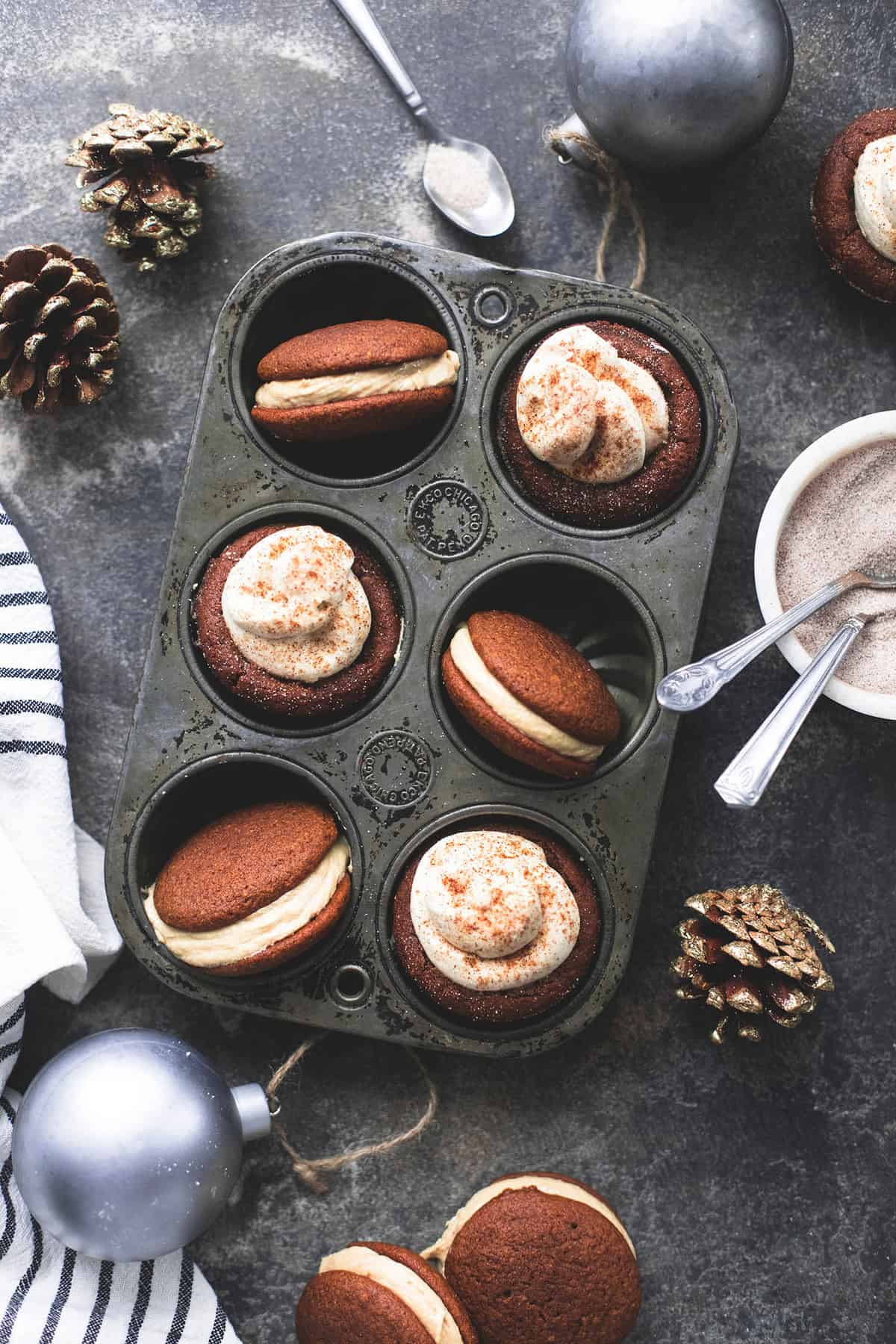 We are in the thick of it – holiday season is HERE and so welcome at my house. You know that I have three littles – three year old twins and a sweet little four-month old baby who is an absolute ray of sunshine. But we are not getting much actual sunshine right now because it has been snowing this whole past week!
This time of year is always special, but nothing compares to how amazing the holidays are with little kids! Everything is magical to them, even the snow I normally dread has become a white winter wonderland playground. This week we've been building (very top heavy) snowmen, decorating gingerbread houses, watching classic Rudolf in our Christmas jammies, and baking all the holiday treats.
My twins are finally at the age where they can help bake in the kitchen and actually be helpful, rather than turning my kitchen into a flour war zone and it has been so much fun to get them involved in making all of my favorite childhood favorite holiday treats.
Gingerbread is one of those classic holiday flavors that I can't live without this time of year, and while I do like the traditional gingerbread man-shaped cookies I grew up with, my heart really belongs to gingerbread desserts with a twist like the two I am sharing with you today!
I always use McCormick Gingerbread Spice because I know that it's made with quality ingredients I can trust to bring my baked goods loads of flavor. What I really love about McCormick Gingerbread Spice though is that it is the perfect blend of gingerbread flavors without having to tediously scoop and measure out each ingredient – that little red cap bottle has everything I need in one convenient container, meticulously portioned and blended to give my gingerbread treats the ideal amount of spice.
I used McCormick Gingerbread Spice to make ONE simple batter for TWO tasty holiday desserts that will please all of your guests with half the work on your part! Cookie or cheesecake? You don't have to choose – you can have both! Use this delicious gingerbread batter to make whoopie pies – with the most incredible caramel frosting ever – AND Gingerbread Cheesecake Cups topped with McCormick's Cinnamon Sugar blend for an impressively elegant dessert.
Do you need to bake the cheesecake filling?
No – because there are no eggs in this cheesecake. This four-ingredient gingerbread cheesecake filling is no-bake! Once your gingerbread cups are fully baked (in muffin tins – so easy!) you simply cream together the cheesecake filling and pipe into the cooled cups! Just be sure to store them chilled in an airtight container since there is cream cheese in the filling.
Bring the holidays to life this season with these two perfectly paired, yet uniquely different gingerbread desserts and you will love that they are made with one easy gingerbread batter so there's half the mess and half the time involved! Happy holiday baking, friends!
Gingerbread Cheesecake Cups and Whoopie Pies with Caramel Frosting
Easy Gingerbread Cheesecake Cups and Whoopie Pies with Caramel Frosting - two desserts made with just one simple batter!
Ingredients
Gingerbread Batter
2 ¼

cups

flour

½

teaspoon

salt

1

teaspoon

baking powder

1 ½

teaspoons

McCormick Gingerbread Spice

1

teaspoon

cinnamon

½

cup

unsalted butter

-

softened

¼

cup

brown sugar

-

packed

1

large egg

¾

cup

molasses

½

cup

buttermilk
Cheesecake Filling
1

cup

chilled heavy cream

8

ounces

cream cheese

-

softened, I recommend using full fat

½

cup

sugar

½

teaspoon

vanilla

1

tablespoon

McCormick Cinnamon Sugar
Caramel Frosting
½

cup

butter

1

cup

brown sugar

6

tablespoons

heavy cream

2 ½

cups

powdered sugar
Instructions
Prepare the batter
Preheat oven to 375 degrees and lightly grease a baking sheet. In a medium bowl whisk together flour, salt, baking powder, baking soda, ground ginger, ground cinnamon, and ground cloves.

In a large bowl cream together butter and sugar until light and fluffy. Beat in the egg. Add dry ingredients to wet ingredients and mix until just combined. Mix in molasses and buttermilk. Proceed with the next two steps.

Use a cookie scoop or tablespoon to drop 16 scoops of cookie dough onto prepared baking sheet. Leave 2 inches between each cookie dough scoop. Bake until cookies are puffy and set, about 10-14 minutes. Allow to cool.

Grease a muffin tin and use remaining dough to fill tin cavities 3/4 of the way full. Bake for 15-20 minutes until set, remove from the oven and immediately use a spoon to press down the centers to make a crater for the filling. Allow to cool.
Make the cheesecake filling
Whip heavy cream in a glass or metal bowl, until stiff peaks form. In a medium bowl whip cream cheese and sugar until smooth. Add whipped cream to cream cheese mixture and mix until combined.

Spoon into a zip lock bag, snip the corner and pipe into cooled gingerbread cups. Top with cinnamon sugar. Store chilled up to 3-4 days or freeze up to 2 weeks.
Make the caramel frosting
In a medium sauce pan, melt butter over medium heat. Add brown sugar and whisk until dissolved, boil for about 30 seconds, whisking a few times throughout. Remove from heat and stir in heavy cream. Pour into a large bowl and mix in powdered sugar, beat until smooth. Spread on half of the whoopie pie cookies, top with a second cookie. Store at room temperature in an airtight container up to 4 days or refrigerate up to 1 week.
Notes
Store in airtight container in fridge up to 5 days. 
Nutrition
Calories:
708
kcal
,
Carbohydrates:
137
g
,
Protein:
7
g
,
Fat:
16
g
,
Saturated Fat:
9
g
,
Trans Fat:
1
g
,
Cholesterol:
70
mg
,
Sodium:
356
mg
,
Potassium:
644
mg
,
Fiber:
1
g
,
Sugar:
109
g
,
Vitamin A:
626
IU
,
Vitamin C:
1
mg
,
Calcium:
204
mg
,
Iron:
4
mg