Sweet and spicy mango habanero popcorn shrimp ready for an easy main dish or appetizer in just 20 minutes! A MUST for seafood lovers!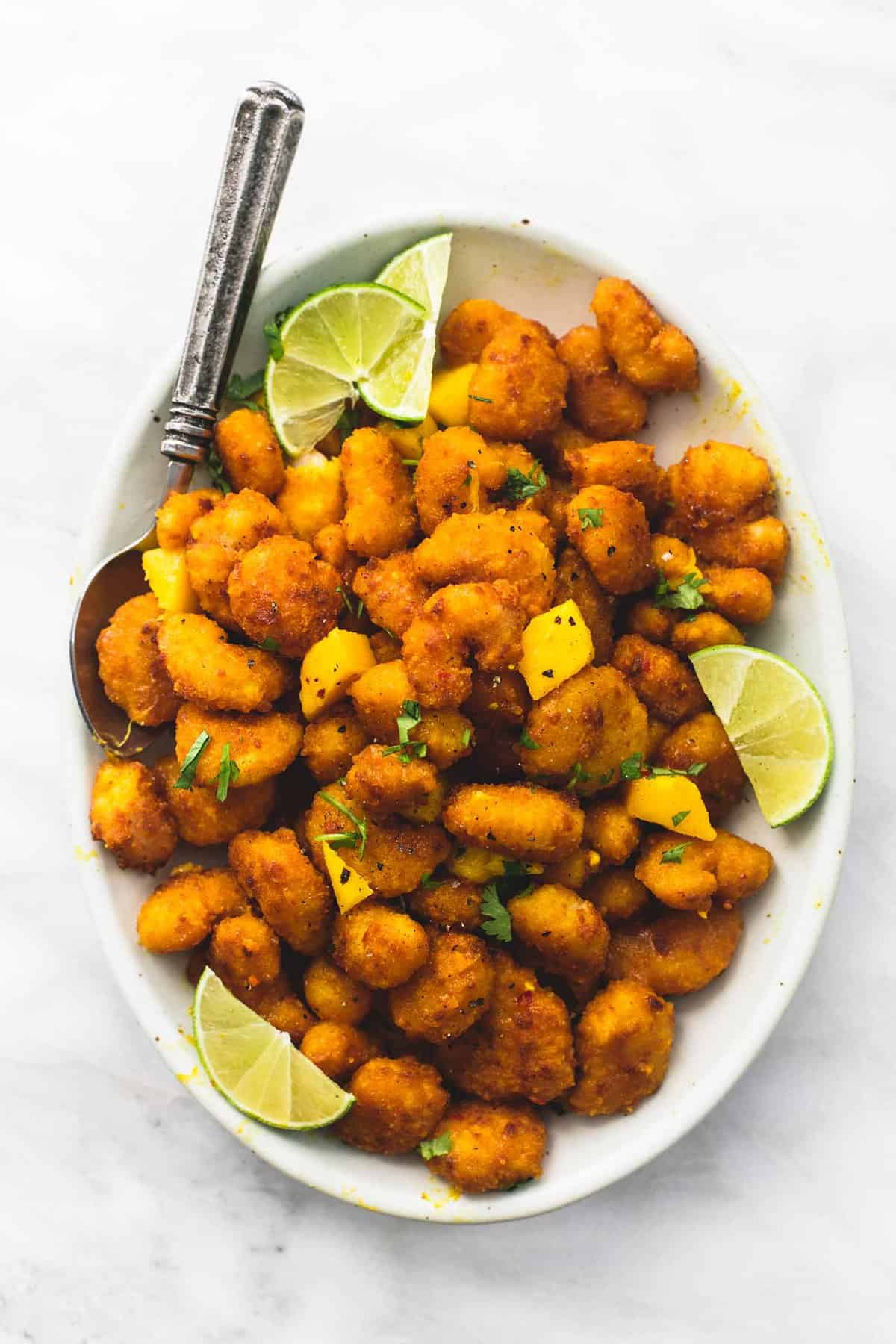 Truth: I really really really love me some seafood. But you already knew that right? What with the shrimp and the salmon and the salmon and the shrimp happening around here.  We're talking about shrimp again today and I'm not one bit mad about it. 
Shrimp lovers gather round. Things are about to get DELISH up in here.
I've partnered up with SeaPak this month to kick off Summer with a sweet and spicy dinner – or appetizer! – recipe for you and I know you are going to love this 30 minute dish.
SeaPak combined with fresh ingredients – like sweet mangoes, spicy habanero peppers, fresh-squeezed lime juice, and chopped cilantro – makes the perfect no-fuss dinner so you can spend less time in the kitchen and more time outside with the family.
My kids are big enough to actually "play" outside this year (instead of crawling around eating the dirt and grass) and we have been logging hours out in the sunshine almost every single day. After a snowy winter and a long, wet Spring, Summer could not have come too soon for us.
My inspiration for this recipe came from a dish my husband and I tried a few years ago – mango habanero chicken wings – and absolutely loved. I took that same idea and applied it to popcorn shrimp and it turned out even better than I'd hoped! So perfectly sweet and spicy, with a bit of tangy fresh lime juice spritzed on top right at the end to brighten up that crispy popcorn shrimp.
If you are a lover of shrimp, mangoes, or sweet and spicy foods, this dish is going to make you a happy camper this Summer.
Mango Habanero Popcorn Shrimp
Sweet and spicy mango habanero popcorn shrimp ready for a main dish or appetizer in just 20 minutes!
Ingredients
1

pack

frozen Popcorn Shrimp

3

tablespoons

vegetable or canola oil

5

habanero peppers

-

(seeds and stems discarded), finely chopped

6

mangoes

-

peeled, pitted, and diced, (1 ½-2 cups diced mango)

1

tablespoon

minced garlic

3

cups

apple cider vinegar

1

white onion

-

diced

¾

cup

brown sugar

½

teaspoon

ground ginger

½

teaspoon

salt

optional: additional mangoes, chopped cilantro, lime wedges, for serving
Instructions
First prepare the sauce (can be made ahead of time). Add oil, habanero peppers, mangoes, garlic, apple cider vinegar, and onions to a large sauce pan and stir over medium-high heat until onions are translucent.

Stir in vinegar, ginger, brown sugar, and salt. Bring to a boil and cook for 10 minutes, then reduce to medium and simmer for 10 minutes. Transfer sauce to a blender or food processor and blend until very smooth.

Preheat oven to 400 degrees and grease a large baking sheet. Arrange shrimp in a single layer on baking sheet. Bake for 10-12 minutes until hot throughout and crisp on the outside.

Toss shrimp in the mango habanero sauce. If desired, serve with additional diced mango, chopped cilantro, and lime wedges for drizzling on top.
Notes
Serves 3 for a main dish, or 6 for an appetizer.
Pro tip: make your own popcorn shrimp by tossing some small shrimp in a bowl of egg wash (2 eggs whisked with 1-2 tablespoons milk), then in a bowl of panko breadcrumbs. 
Nutrition
Calories:
486
kcal
,
Carbohydrates:
92
g
,
Protein:
3
g
,
Fat:
12
g
,
Saturated Fat:
9
g
,
Cholesterol:
1
mg
,
Sodium:
318
mg
,
Potassium:
759
mg
,
Fiber:
6
g
,
Sugar:
84
g
,
Vitamin A:
3360
IU
,
Vitamin C:
116
mg
,
Calcium:
92
mg
,
Iron:
1
mg