Sweet and tangy mango peach lemonade you can whip up in minutes!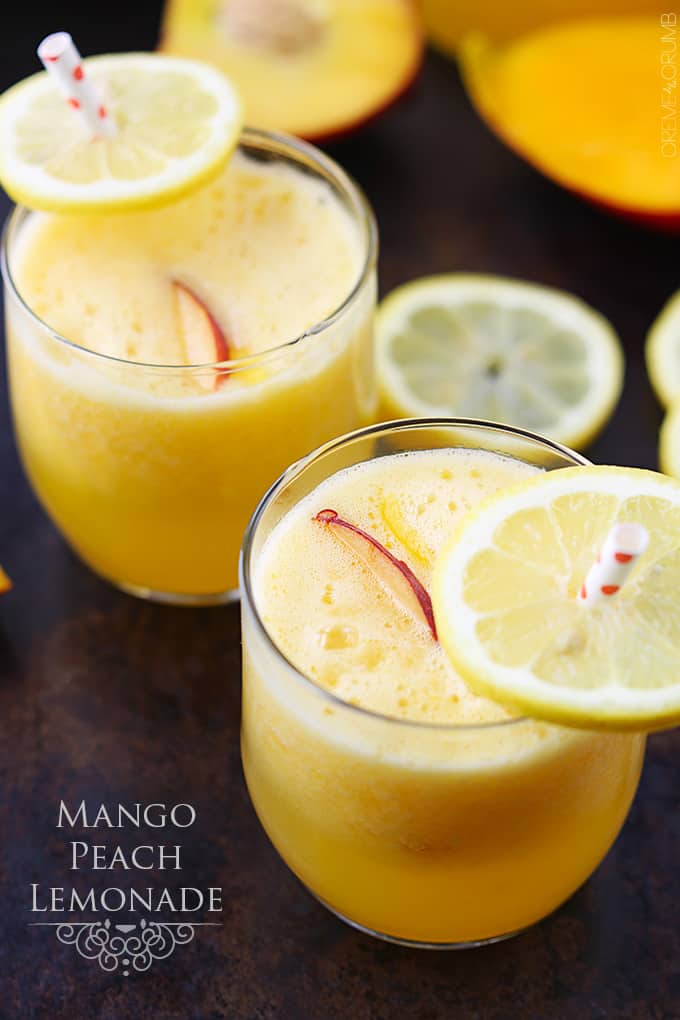 I've never been a real big juice-type-drink person. I'm basically a water addict. But I think I've figured out a part of why that is. The only time growing up when I'd have freshly made homemade juice of any kind was when I visited my grandparents in Sand Diego. Well actually they live in Vista, down the street and around the corner from SD. But close enough to know that "going into town" means heading into the big city.
Crap. Now I'm really craving some coastal humidity and a whiff of that sea breeze.
Okay focus. Back to the story. My grandma has lemon trees in her backyard and they grow the BIGGEST lemons I've ever laid eyes on. We're talking monstrous lemons here, bigger than my face! At least when I was 4 they were bigger than my face. They are still gigantic though and I have yet to see bigger one. Next time I visit, I promise I'll take a picture so I can show you or you'll never believe me. My grandma would make freshly squeezed lemonade every time I came to visit when I was little and I was convinced that was the best taste in the entire world. But it sort of put me at a disadvantage because I don't care for lemonade if it's not fresh. The stuff from the soda fountain? Yuck.
The only thing I probably enjoy more than a glass of freshly squeezed homemade lemonade, is freshly squeezed homemade peach mango lemonade. I adore peaches and mangoes, they're my favorite fruits, times ten. So to put them in a drink only makes sense. I like my lemonade with a little pulp so if I'm making it while my husband is out of town, I don't strain it. He likes his totally pulp-free so I just pour it through the strainer real quick before filling the pitcher. The whole thing only takes about 5 minutes and the taste can't be beat!
Mango Peach Lemonade
Sweet and tangy mango peach lemonade you can whip up in minutes!
Ingredients
4

cups

cold water

⅔

cup

sugar

⅓

cup

freshly squeezed lemon juice

1

mango

-

peeled, pitted and sliced

2

yellow peaches

-

peeled, pitted and sliced
Instructions
In a blender combine water, sugar, lemon juice, mangoes, and peaches. Hold the lid on tight and pulse until smooth.

Place a fine mesh strainer over a large bowl and pour the pureed mixture through the strainer to remove the pulp. Discard pulp and transfer lemonade to a pitcher or glasses. Serve cold and with ice if desired.
Notes
Store chilled in the fridge. 
Pro tip: use the lemonade to make ice cubes. Add the ice cubes when serving so they add to the flavor, rather than watering down the lemonade as water ice cubes do!
Nutrition
Calories:
194
kcal
,
Carbohydrates:
50
g
,
Protein:
1
g
,
Fat:
1
g
,
Saturated Fat:
1
g
,
Sodium:
1
mg
,
Potassium:
251
mg
,
Fiber:
2
g
,
Sugar:
47
g
,
Vitamin A:
806
IU
,
Vitamin C:
32
mg
,
Calcium:
12
mg
,
Iron:
1
mg
If you like this Mango Peach Lemonade, you'll love my Skinny Pineapple Smoothie.