These Mojo Steak Tacos are full of flavor when the steak is marinated in a simple orange, lime, and garlic sauce, seared to perfection, and loaded with all the classic taco-truck toppings!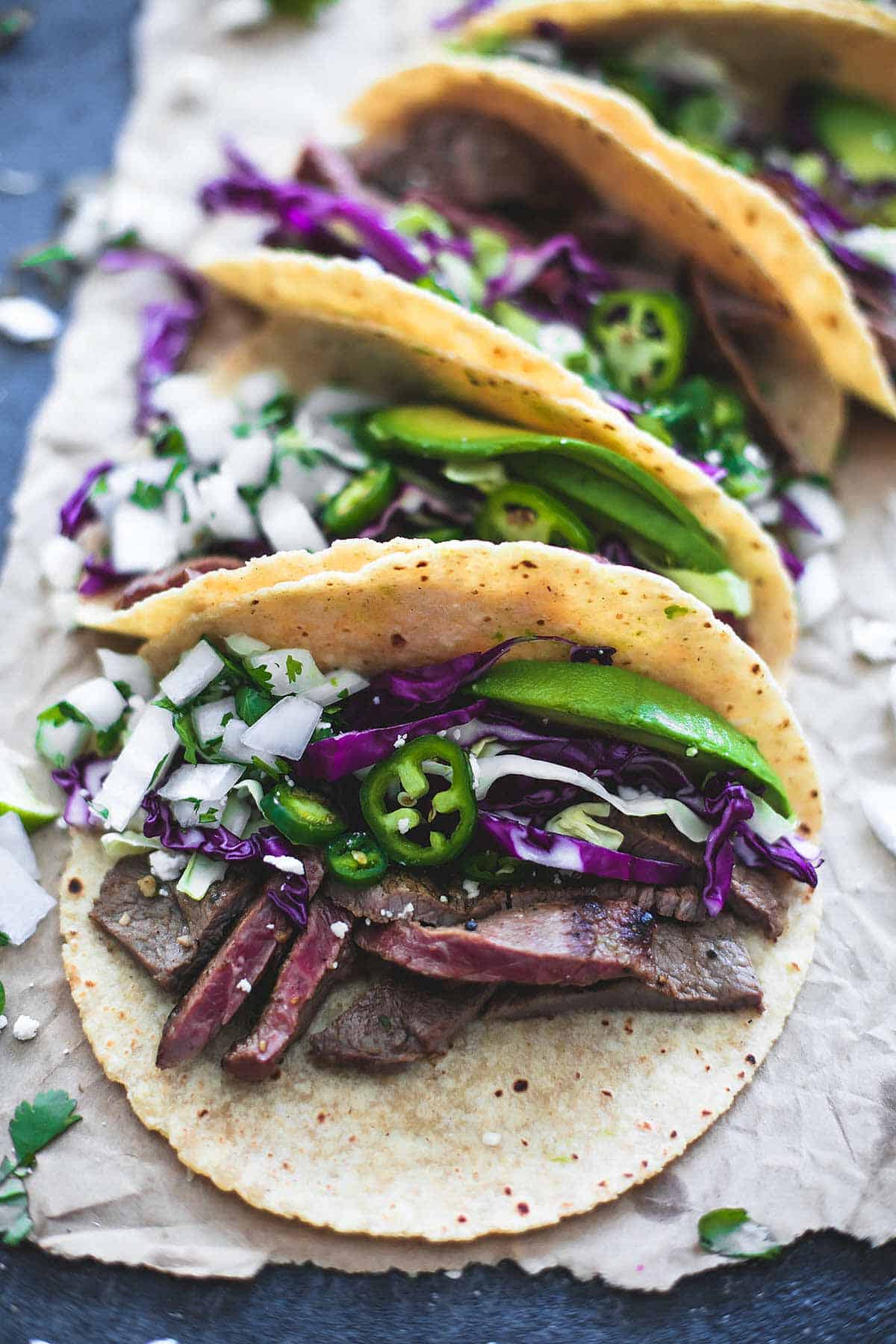 I very much would like to shake the hand of the person who made Taco Tuesday a thing.
Tacos are my jam.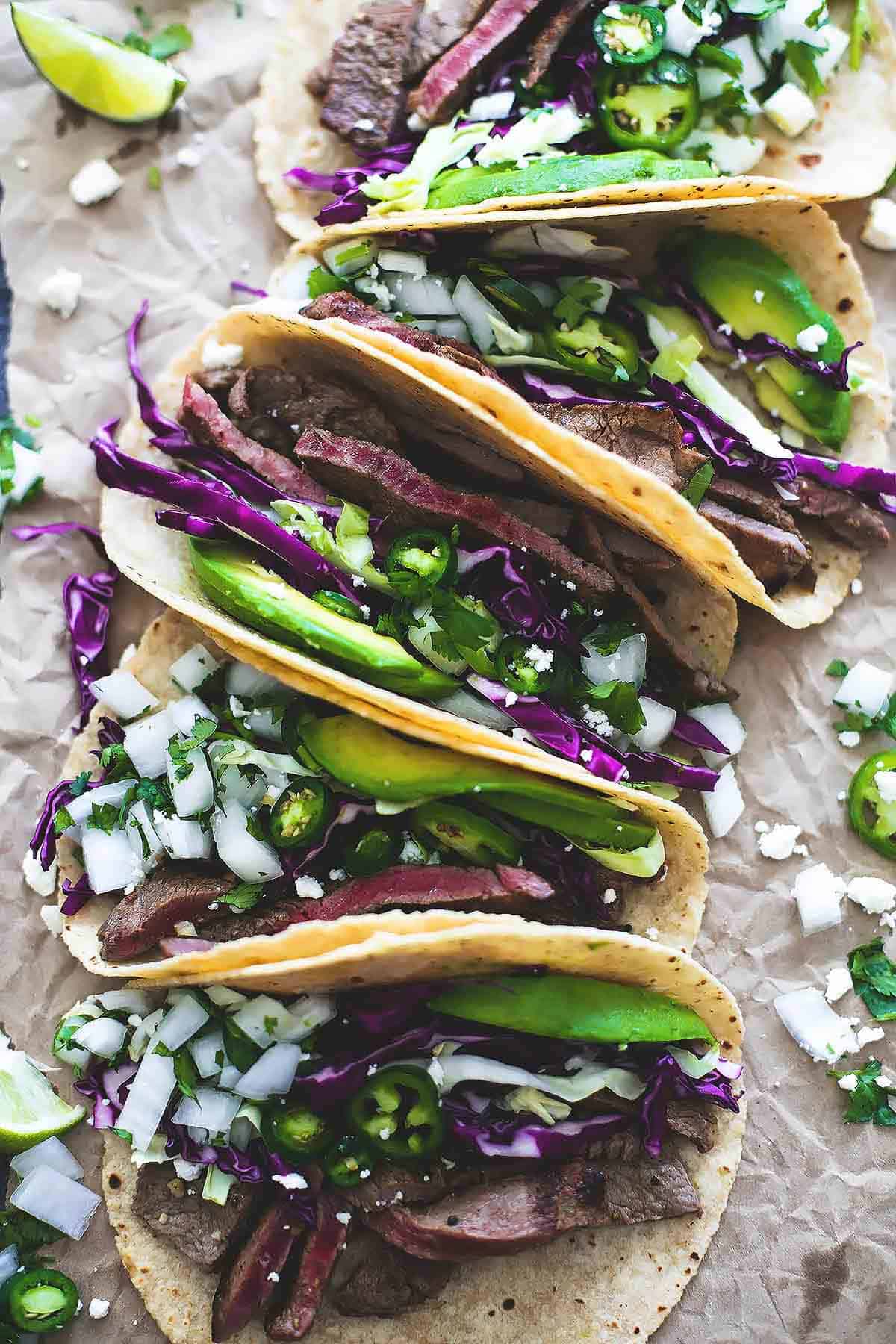 One mushy gushy detail from my romantic life: when my husband and I were dating we often went out to eat (as most dating couples do) and we very often opted for Mexican. It took about eight seconds to realize we were both managing a lifelong obsession with steak tacos and after the third or fourth time we both ordered the exact same entree of steak tacos with a bazillion sides of salsa I thought, he gets me.
P.S. some of the best steak tacos we have eaten to date were found in a hole-in-the-wall restaurant in the suburbs of Chicago. #takemeback
Anywayyyyyyy, some of the best tacos I have made to date are these puppies right here. These mojo steak tacos. And while we are at it, what on earth is mojo?? No idea. If you know you should leave a comment below and enlighten me because for now I'm just running on the fact that others have called this orange-limeish marinade "mojo" and that's enough for me. I'd seen it around, the mojo thing, and when in passing I saw a recipe for mojo steak I instantly thought – that's gotta go in a taco. Like NOW. And then I made mojo steak tacos.
And they all lived happy ever after. The end.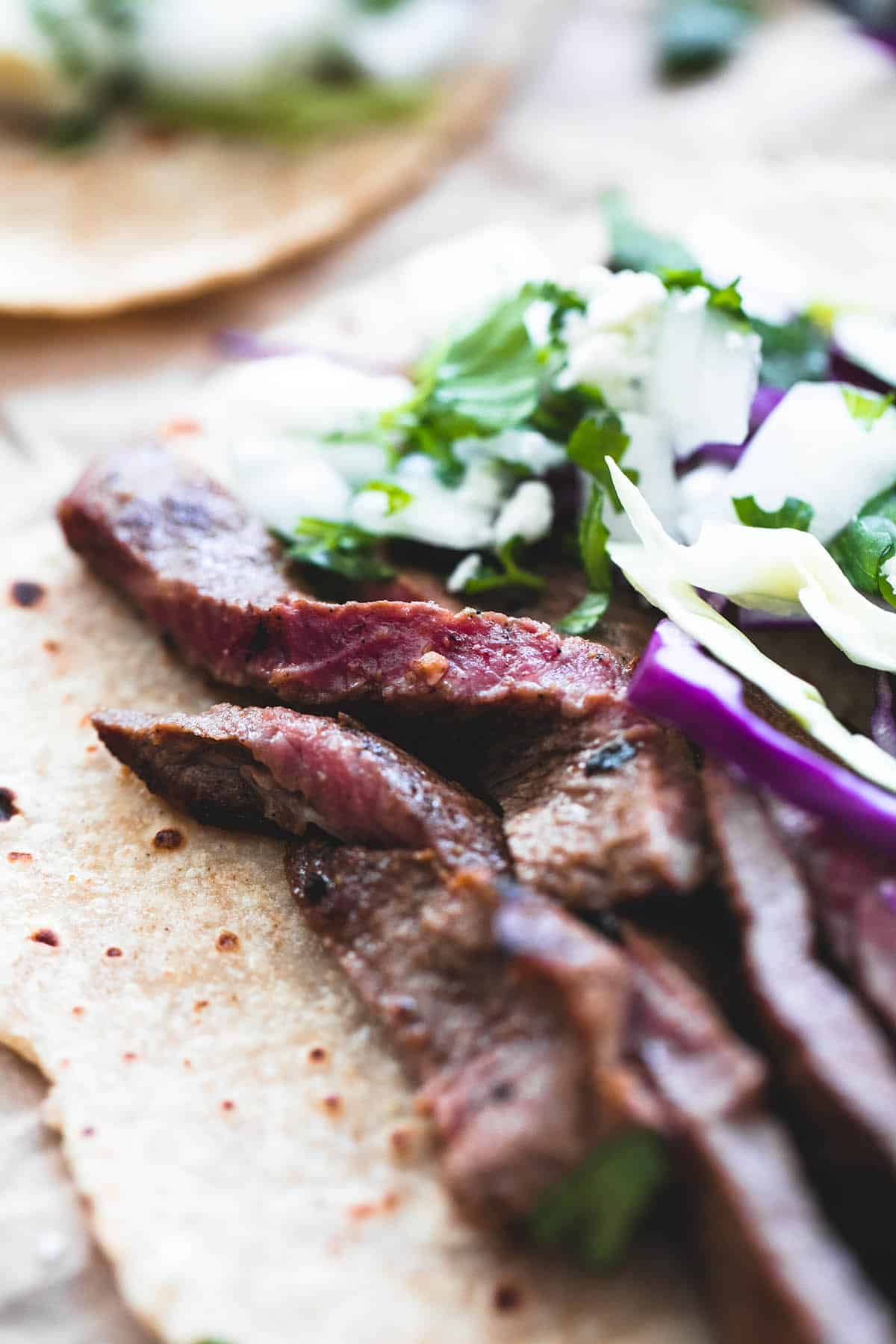 Just joshin! Not the end. Because I wanna tell you a couple more things.
One, these tacos are super easy. The marinade takes all of 10 seconds to whip up and then you just let it all soak in the goodness overnight (or all day while you're at work). The actual making of the tacos takes probably….20 minutes? Like I said. EASY.
And two, the whole mojo flavor thing we've got going on with the avocado and the onions and the cilantro and the YUMMMMM, is on point my friends, on. point. >>>
What people are saying about these Mojo Steak Tacos
"Thanks so much for the inspiration!! I made these at the weekend as I loved all the colours so much (I love colourful food!!) and they turned out amazing – the marinade is so tasty and the veg etc goes great! For UK readers, I read that feta is a decent substitute for cotija cheese and it worked well here." – Rosie
"Best tacos I've had by far!! Amazing!!!" – Joannie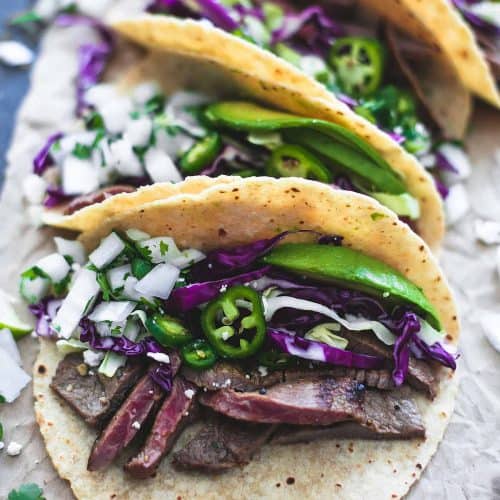 Mojo Steak Tacos
These mojo steak tacos are full of flavor when the steak is marinated in a simple orange, lime, and garlic sauce, seared to perfection, and loaded with all the classic taco-truck toppings!
Ingredients
1 ½

pounds

skirt steak

-

(or similar, thin-cut steak)

8

flour tortillas

-

(taco-size)

1

avocado

-

sliced

1

small

white onion

-

diced

handful cilantro

-

(about ⅓ cup packed), roughly chopped

1

jalapeno, thinly sliced or minced

-

(optional)

1

cup

thinly sliced cabbage

cotija cheese (optional)
Marinade
juice of 1 orange

-

(about ¼ cup)

juice of 2 limes

-

(about 2 tablespoons, plus additional lime wedges for serving)

1

tablespoon

minced garlic

1

teaspoon

salt

1

teaspoon

cumin

1

teaspoon

chili powder

⅓

cup

oil
Instructions
Whisk together all marinade ingredients. Pour into a large resealable bag. Add steak, seal the bag, and shake a bit to get the steak well-coated. Refrigerate 8 hours or overnight.

Grease a large skillet and bring to temperature over medium-high heat. Add steak (discard marinade) and cook 4-6 minutes on each side, til slightly charred on the outside. Remove from heat and allow to rest for about 5-10 minutes. (meanwhile move on to next step)

Combine diced onion, cilantro, and jalapeños (optional) in a bowl and stir to combine. Set aside.

Assemble tacos by dividing cabbage, avocado slices, and onion mixture between tortillas. Thinly slice the steak and divide between tacos. Serve with lime wedges and top with crumbled cotija cheese if desired.
Notes
Recipe serves four, two tacos per serving. 
Skirt steak is the best option for these tacos as it picks up the flavors of the marinade very well, but if you can't get your hands on some (like I couldn't when I photographed this recipe) you can use something like flank steak, or even top sirloin.
Recipe prep and cooking time does not include at least 8 hours of marinating time.
Nutrition
Calories:
700
kcal
,
Carbohydrates:
38
g
,
Protein:
43
g
,
Fat:
43
g
,
Saturated Fat:
8
g
,
Trans Fat:
1
g
,
Cholesterol:
107
mg
,
Sodium:
1119
mg
,
Potassium:
885
mg
,
Fiber:
5
g
,
Sugar:
4
g
,
Vitamin A:
242
IU
,
Vitamin C:
7
mg
,
Calcium:
94
mg
,
Iron:
6
mg
Marinade slightly adapted from here.