Slow Cooker Pulled Pork Tacos are just about the easiest, most delicious way to get your Taco Tuesday (or any day's) dinner on the table.
If you love slow cooker tacos, then you'll also love my Slow Cooker Korean BBQ Pork Tacos, Slow Cooker Ranch Chicken Tacos, or my Slow Cooker Hawaiian BBQ Pork Wonton Tacos.
There it is again — that four-letter word. You all know it's one of my favorite words in the culinary language, and not at all a bad word at that. I eat them every which way I can possibly dream up, and then some. I don't need to say it do I? But I kind of do, otherwise this post is going to be super confusing. T-A-C-O! There. Taco, taco, taco! I said it. I love them every which way. I've yet to meet one I don't like, and that's no joke.
These though, these are easy-peasy to put together with just a few pantry staples. It seems too good to be true, honestly. But they couldn't be easier. What sets these apart from your typical salsa-slow-cooker-taco is the addition of a few extra goodies. First of all the chipotles in adobo sauce add a smoky heat, and the cumin, paprika, and garlic bring the taco on home and amp up the flavors of the pork just the perfect amount.
You'll get all that after just four short hours in the slow cooker. Toss it all on a tortilla and finish it all off with your favorite toppings, tear through the tacos like they're the last on earth, and apologize to no one.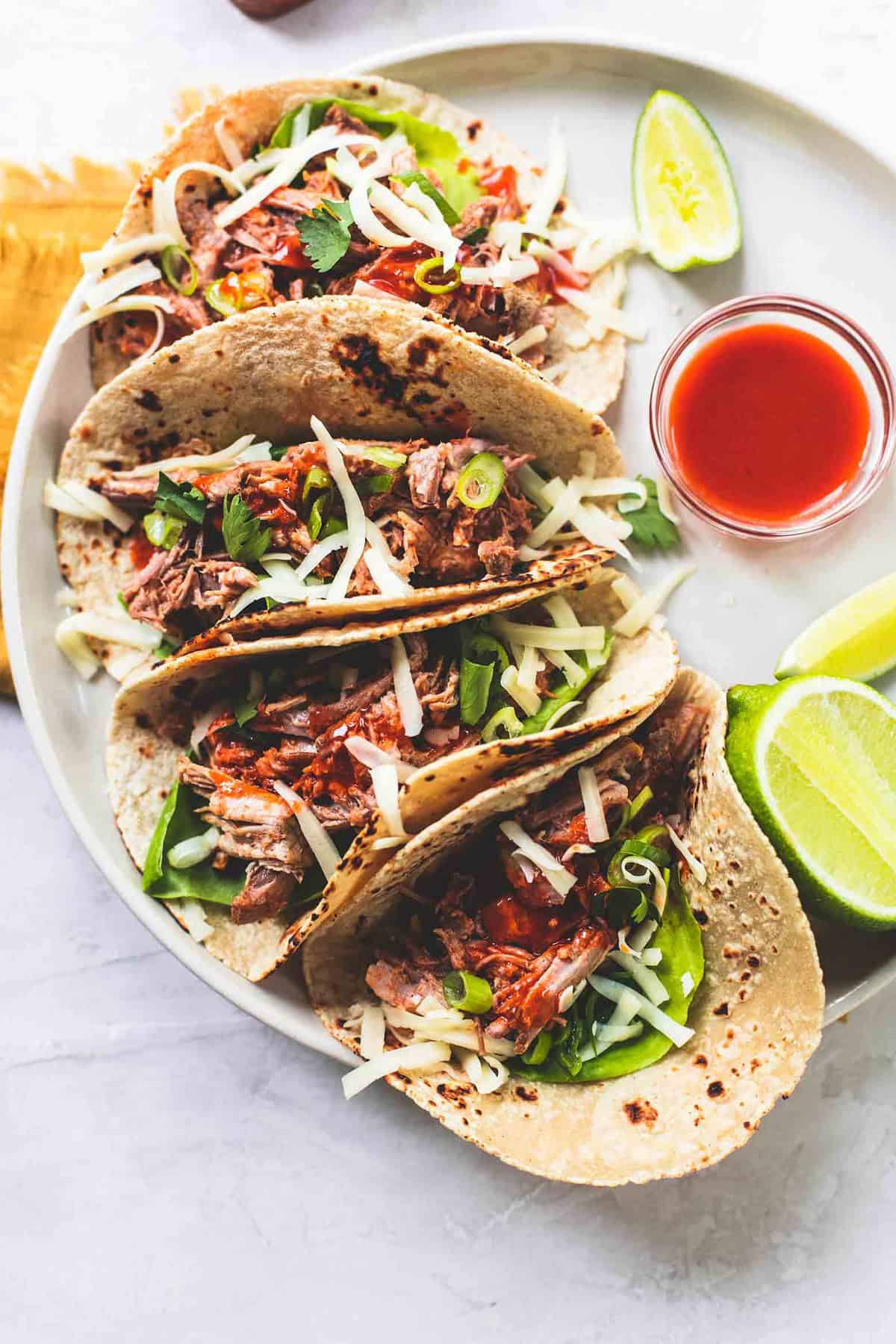 Here's How you Make it
When I set out to make these pork tacos, I only had a loose game plan that consisted of a thawed shoulder roast and me staring into the pantry waiting for inspiration to hit. Then, there it was — that lonely can of chipotle peppers in adobo. My, oh, my that little can holds a lot of magic, I'll tell ya!
From there, I got out the slow cooker and went to work. I cut off the excess fat and then sliced the shoulder roast into a few pieces for more even cooking. I seasoned it with salt, then added the salsa (I went for a mild blend, but you can use any kind you have on hand), chipotles, adobo, and the rest of the spices and gave it all a stir.
Since I didn't start this until after lunch, I went ahead and cooked it on high for 4 hours. But if you are going to be gone for the day or have the time, you can cook it on low for 6-8 hours as well.
When it was done, I shredded it, strained some sauce off, piled the meat on more tacos than I should admit and topped them with lettuce, cheese, hot sauce, and just about anything and everything I could throw at it, THEN topped all that with a healthy squeeze of lime for good measure.
Best Taco Toppings
No taco is complete without all of the garnishes. If you were to ever look inside my fridge, you'd find a good 50 percent of it is condiments and garnishes. We can't help it — we are condiment people. (I'm the woman who goes to Subway or some sub-type restaurant and asks for all the toppings and barely anything else.) With these pulled pork tacos though, I do have a few favorites:
More salsa.

Fruit salsas

,

tomato-based salsas

, or any kind of jarred salsa you have in your pantry works just great.

Guacamole

is another fan-favorite and isn't just for chicken tacos, after all.

Shredded lettuce or cabbage gives that crunch you want in your taco.

Cheese, always cheese. A shredded Mexican blend, queso fresco, or Monterey jack all go well with pork tacos.

I love cilantro and like it in my meals and also sprinkled on top of my meals for that little extra taste of the Southwest.

Hot sauces are a great way to add some heat and spice to your meals. Not everyone likes spicy food so when you wait to add them till the end, you won't have to worry about offending any dinner guests with too-spicy food.

Green onions or finely diced red onions add color and flavor to your tacos as well.

Lime wedges are a must for me with any kind of taco. I like to plate my tacos and add the wedges to the side then give them a good all over squeezing right before I stuff the tacos in my face.
What are Carnitas?
I didn't call this recipe a carnita because they are traditionally made using a bigger piece of pork that is braised or deep fried. There is also usually lard involved, which I just cannot bring myself to cook with. Though I know it tastes delicious once it's melted into the meat, it's just something I haven't been able to get into.
However, carnitas do have a simple flavoring of Mexican spices such as cumin, garlic, and chili powder. If you're looking for a healthier slow cooker carnitas recipe, give these Slow Cooker Pork Carnitas a try — you'll love them!
More Tasty Slow Cooker Recipes
Did you make this Slow Cooker Pulled Pork Tacos recipe? YAY! Please rate the recipe below!
Slow Cooker Pulled Pork Tacos
Slow Cooker Pulled Pork Tacos are just about the easiest, most delicious way to get your Taco Tuesday (or any day's) dinner on the table.
Ingredients
1

4-pound boneless pork shoulder roast

salt to taste

1

cup

prepared salsa

-

(use your favorite!)

1

canned chipotle chili + 2 tablespoons of the adobo sauce from the can

1

tablespoon

ground cumin

1

tablespoon

smoked paprika

3

teaspoons

minced garlic

1

small onion

-

peeled and cut in half

10-12

6-inch tortillas

favorite toppings such as lettuce, cheese, hot sauce, green onions, cilantro, or lime wedges

-

optional, for serving
Instructions
Trim excess fat from the pork and cut into 4 pieces. Season on all sides generously with salt.

Put the salsa, chipotle chili, adobo sauce, cumin, smoked paprika, garlic and 1 teaspoon salt in a slow cooker and stir to combine.

Add the onion and pork to the slow cooker and turn to coat with the sauce. Cook on low for 6-8 hours or on high for 4 hours.

Transfer the pork to a bowl and shred with two forks. Pour the sauce through a strainer and skim the fat with a spoon or a fat separator if you like. Add enough sauce to the pork to moisten it.

To serve, warm the tortillas and fill with pulled pork and desired garnishes.
Notes
Toppings: some of my favorites include guacamole or sliced avocado, corn salsa, cilantro, onions, and hot sauce. 
Nutrition
Calories:
304
kcal
,
Carbohydrates:
7
g
,
Protein:
37
g
,
Fat:
14
g
,
Saturated Fat:
5
g
,
Cholesterol:
124
mg
,
Sodium:
481
mg
,
Potassium:
830
mg
,
Fiber:
2
g
,
Sugar:
3
g
,
Vitamin A:
932
IU
,
Vitamin C:
4
mg
,
Calcium:
58
mg
,
Iron:
3
mg