Sweet n' saucy slow cooked Hawaiian Bbq pork wrapped in wonton wrappers and baked til crispy! All topped with the most amazing sauce! Perfect for a main dish or a party appetizer!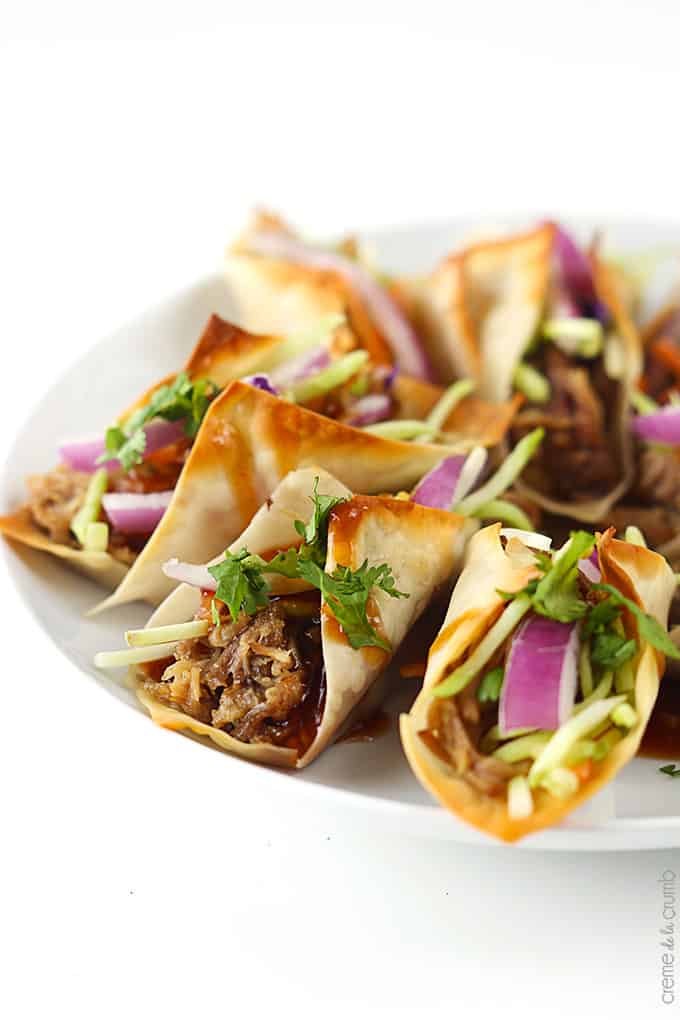 Not sure why I've been holding out on this goodness for so long. I made these Hawaiian bbq pork wonton tacos before I even went back east last month. My husband raved and raved about them, but I've been saving them. For a special occasion or something? Not sure. But enough is enough. Something this tasty needs to be shared with the world.
The best part is that your crock pot will do most of the work for you in this recipe. Some of my favorite dishes are the ones that start out in a slow cooker, like these Cream Cheese Chicken Taquitos. So much less work, so much good flavor, it's just a win all around. The sauce on these tacos is the real kicker here. A little sweet, a little tangy, and a whole lot of yum! I may or may not have made a large batch of this sauce just for pouring on everything imaginable after the tacos were finished off. Oops. (Or not….)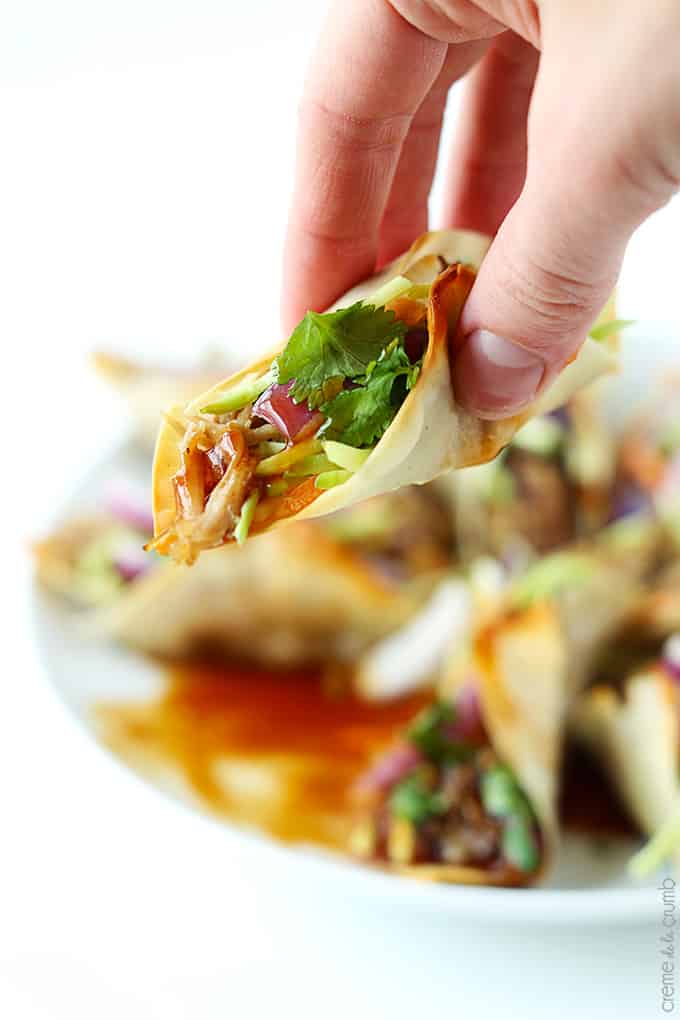 What people are saying about these Hawaiian BBQ Pork Wonton Tacos
"I made these last night for dinner and they were awesome! I drizzled some Yum-Yum sauce over them before serving and it gave them a sweet and sour thing, my boyfriend couldn't stop eating them. Tonight I will use the leftover pork and sauce in quesadillas. Thanks for the great recipe!" – Heather
"Wow these are the most amazing things in the whole world. Made them last night but instead of rolling them I put the wrappers in a cupcake pan and then stuffed them. Either way still amazing. Thank you so much for sharing. Well be making these over and over again ;)" – Melanie
"Made these for a luau party yesterday and they were a big hit! And the best part is that they were super simple to make. The smallest roast I could find was just under 2 lbs and it shredded perfectly after 4 hours on high in the crockpot. I did add a splash of water and pineapple juice to the crockpot because I was afraid the meat would be too dry otherwise – not sure if that made a difference or not, but it turned out great. Make extra sauce! You're going to want more of that deliciousness 
" – Kristi
Hawaiian BBQ Pork Wonton Tacos
Sweet n' saucy slow cooked Hawaiian Bbq pork wrapped in wonton wrappers and baked til crispy! All topped with the most amazing sauce! Perfect for a main dish or a party appetizer!
Ingredients
24-30

small

wonton wrappers

-

(can be found in the chilled Asian section near the produce)

1

pound

pork roast

4

teaspoons

liquid smoke

2

teaspoons

salt

-

(sea salt if you have it)

2

cups

broccoli slaw

½

red onion

-

thinly sliced

¼

cup

cilantro

-

roughly chopped
Sauce
¼

cup

ketchup

¼

cup

soy sauce

⅓

cup

pineapple juice

-

(I used the juice from a can of crushed pineapple)

1

teaspoon

minced garlic

1

tablespoon

brown sugar

⅛

teaspoon

ginger
Instructions
Place pork roast in the slow cooker. Add liquid smoke, and sprinkle pork with salt. Cook on low 8 hours or on high 4 hours. 30 minutes before serving, Remove the pork from the slow cooker and shred with two forks.

Preheat oven to 400. Spray a baking sheet generously with cooking spray. Lay wonton wrappers out on a flat surface. Put 3-4 tablespoons water in a small bowl. Spoon about 2 tablespoons of shredded pork into the center of each wonton. Top with 1-2 tablespoons broccoli slaw and some red onion slices. Wet your finger tips with the water, then pinch two opposite corners of each wonton together so they stick together. Place wonton tacos on prepared baking sheet in a single layer, not touching. Spray tacos generously with cooking spray. Bake 10-15 minutes until wontons get crisp and edges begin to brown.

While the tacos are baking, prepare the sauce. Combine all sauce ingredients in a medium sauce pan and whisk over medium-high and bring to a boil. Reduce to simmer and allow to thicken until tacos are done baking.Top with cilantro. Drizzle sauce onto tacos, or serve as a dipping sauce.
Notes
Serves 4 as a main dish, or 6-8 as an appetizer
Nutrition
Calories:
175
kcal
,
Carbohydrates:
20
g
,
Protein:
17
g
,
Fat:
3
g
,
Saturated Fat:
1
g
,
Cholesterol:
38
mg
,
Sodium:
1225
mg
,
Potassium:
390
mg
,
Fiber:
1
g
,
Sugar:
4
g
,
Vitamin A:
189
IU
,
Vitamin C:
28
mg
,
Calcium:
35
mg
,
Iron:
2
mg