Classic Old Fashioned Sour Cream Donuts dipped in vanilla glaze.
So I've found myself really craving donuts this week. I assume you've picked up on the fact that I am always craving something, 24 hours a day, 365 days a year. It's just the way I am. Usually I'm craving some kind of edible jem – a donut, pizza, Mini Charleston Chews, blackberries etc etc etc.
But sometimes I crave non-edible things. The Notebook (that movie. the EMOTION!!!), miniature golf, sand between my toes, sleep (<—–always.)
This week though, donuts is somewhere near the top of my cravings list. I probably could get away with blaming our local Dick's Market for that one – you should never put FREE donut holes out for guests at 10pm. Actually, scratch that. You should ALWAYS put free donut holes out for guests at 10pm. and 9pm. and 7:58 am. and whenever I'm shopping at your store.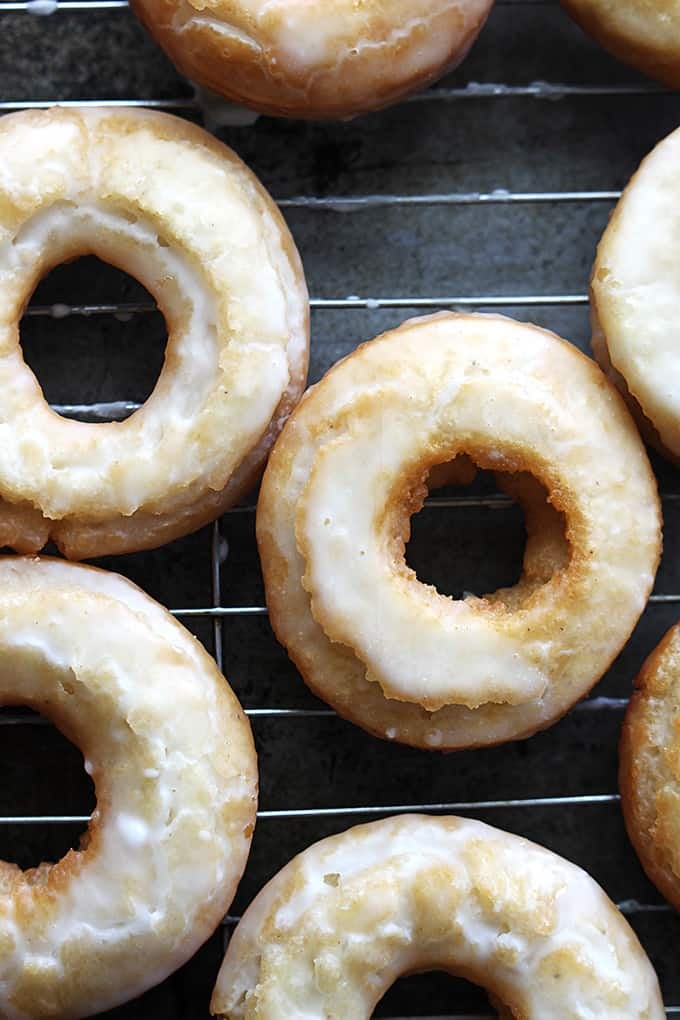 When I was living away going to college, I gained the Freshman 15 in a matter of oh… 3 months? Bam! Stereotype.
But hellooooo, BYU is famous for their creamery which not only sells the most amazing (RICH RICH RICH) ice cream ever, but also serves up incredible, fresh donuts. My all-time favorite are the Old Fashioned donuts.
I know you saw that coming.
So anywhoo, I was craving an old fashioned something fierce last night and thought – oh hey I'll just use my recipe on my blog!
Oh wait. I never posted it??? (hand to forehead)
I made these babies back in… October? How they've slipped through the cracks and never gotten posted I do. not. know. But alas, here we are, better late than never yeah?
Soft. Fluffy. Glaaazzzzed.
What people are saying about these Old Fashioned Sour Cream Donuts
"The sour cream donuts were a great hit they were. Yummy
" – Raewyn
"Yaaassss! These donuts were a HUGE hit with my family! The delicious smell of them cooking made everyone in the house suddenly appear in the kitchen. Seeing their faces after their first bites was the best! Awesome recipe! Thank you!" – Ranaye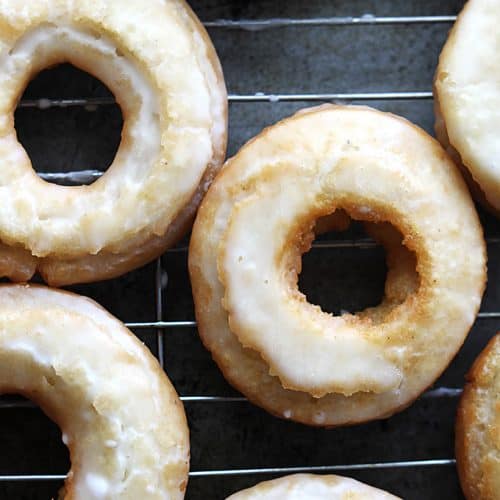 Old Fashioned Sour Cream Donuts
Classic Old Fashioned Sour Cream Donuts dipped in vanilla glaze.
Ingredients
2 ¼

cups

cake flour

-

(plus extra for rolling and cutting)

1 ½

teaspoons

baking powder

1

teaspoon

salt

¾

teaspoon

ground nutmeg

½

cup

granulated sugar

2

tablespoons

shortening

2

large

egg yolks

⅔

cup

sour cream

vegetable oil (or canola oil)

-

for frying
Glaze
⅓

cup

butter

2

cups

powdered sugar

1 ½

teaspoons

vanilla

4-6

tablespoons

hot water
Instructions
In a medium bowl, whisk flour, baking powder, salt and nutmeg together.

In a large bowl, mix the sugar and shortening on low speed for 1 minute. (texture should become "sandy") Add egg yolks and mix on medium speed for 1 minute or until the mixture is light colored and thick.

Mix dry ingredients into wet ingredients. Add sour cream and mix until just combined. (the dough should become sticky like cookie dough) Transfer dough to a clean bowl, cover, and chill for at least 1 hour (or up to 24 hours).

Fill your frying pan/skillet with 1 inch of oil and heat to 325 degrees F. Lay out cooling racks lined with paper towels near the frying pan.

On a generously floured surface, roll out the chilled dough to 1/2 inch thickness. (brushing the top of the dough and the rolling pin with flour will help keep from sticking) Use a round donut cutter or cookie cutter (with 2 sizes, one for the outer ring, one for the inner ring) to cut out as many donuts as you can from the dough. When you run out of room, roll the dough into a ball, then roll out and cut again. (repeat as necessary)

Shake any excess flour off the doughnuts before carefully adding them to the hot oil a few at a time. (don't crowd them) Once the doughnuts float, fry for 15 seconds, then use tongs to gently flip them over. Fry for 1-2 minutes more until golden brown and cracked, then flip and fry the first side again for 1-2 minutes until golden brown. Transfer to prepared cooling racks. Allow to cool 5-10 minutes before glazing.

For the glaze, heat butter until melted. Remove from heat. Stir in the powdered sugar and vanilla until smooth. Stir in water, 1 tablespoon at a time, until desired consistency. I recommend allowing them to cool for about 3-5 minutes, then double-dip them so the glaze is thicker! Store at room temperature in airtight containers (they are best eaten fresh though!)
Nutrition
Calories:
254
kcal
,
Carbohydrates:
46
g
,
Protein:
4
g
,
Fat:
6
g
,
Saturated Fat:
2
g
,
Trans Fat:
1
g
,
Cholesterol:
38
mg
,
Sodium:
266
mg
,
Potassium:
55
mg
,
Fiber:
1
g
,
Sugar:
29
g
,
Vitamin A:
132
IU
,
Vitamin C:
1
mg
,
Calcium:
59
mg
,
Iron:
1
mg
Recipe slightly adapted from the messy baker