Greek Sun Dried Tomato Chicken and Lentils made in one pan for easy clean up and a healthy, filling meal.
 If you love easy chicken recipes, be sure to check out Chicken and Broccoli Stir Fry, Sheet Pan Chicken, Potatoes, and Green Beans, and Mango Salsa Chicken.
This post is in partnership with USA Pulses – all opinions are my own.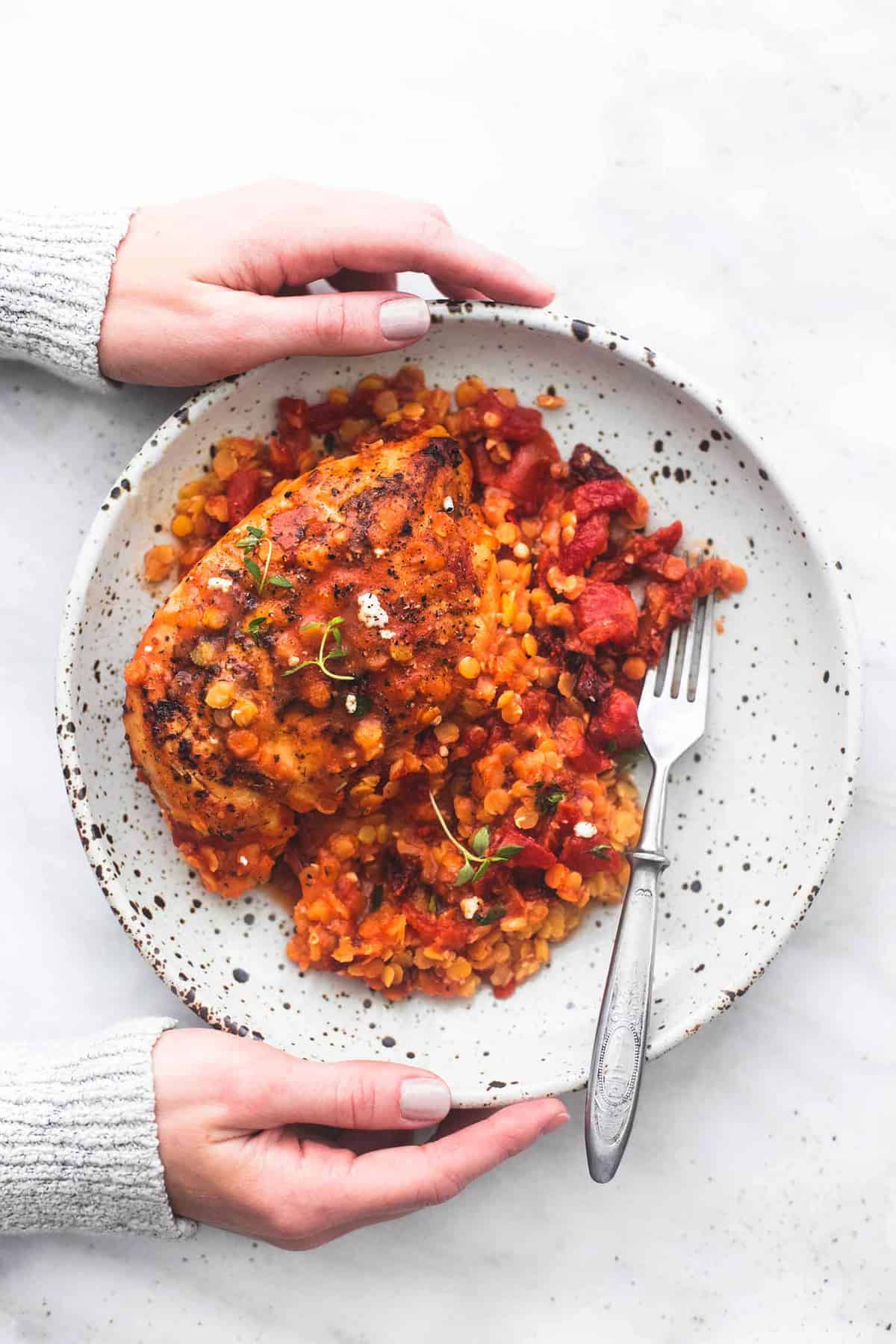 It's been a while since I made a one-pot dish and we all know how much I love a good, hearty meal that doesn't require tons of cleanup afterward. Sometimes I know right away what I'm going to make when I am thinking of new recipes. Sometimes, I need inspiration. While I go to Pinterest and other sites from time to time to see if something sparks some interest, occasionally I need to go right to the source to allow all the ideas in my head to come together into one cohesive recipe. That place? The grocery, of course! For this dish, I was just so inspired by perusing the bulk section. How could you not look at all the colorful nuts, seeds, grains, beans, and pulses and not want to buy them all and run right home and create something wonderful?
This time though, I did show some restraint and only purchased the red lentils and a few other odds and ends for other recipes down the road. The red lentils seemed to be calling to me in particular. Why, I do not know. It could be their hue that seems to invoke warmth and a smoky flavor that's just perfect for this weather. Or, it could be because I have been trying to eat more plant-based proteins in general. (Or maybe it's a combination of both.) I have been reading a lot about the Half-Cup Habit lately and how easy it is to add 1.5 cups of pulses to your diet per week (that's only half a cup three times a week, which seems easy enough, right?).
I wanted to see for myself how the protein, fiber, and nutrients of pulses could factor into my diet and that of my family's going forward in the new year. Plus, pulses are a good food for little fingers to grasp, are easy to digest, and they can help you maintain a healthy weight. I figure, the more variety of foods I feed my children now, the less likely they are to be picky eaters as they grow up (maybe wishful thinking but time will tell).
I added in some other complementary flavors to this recipe to go with the lentils like sundried tomatoes, paprika, and a smokier, deeper mix of herbs and spices to really bring this dish together. I then topped it with chicken (though you could easily leave it out if you are looking for a vegetarian meal) and of course, feta, because…well, feta goes great with just about everything.
WHAT ARE PULSES?
While you may not have heard the term "pulses" before, you've probably been eating them in some form your whole life. Pulses come from plants in the legume family whose edible seeds are harvested to be dried. They come from a group of 12 superfood plants that includes lentils, dry beans, dried peas, and chickpeas. However, fresh legumes are not considered pulses.
In addition to their health benefits, other reasons pulses are getting such positive attention lately is due to their versatility, affordability, and sustainability. You can celebrate this superfood on the first-ever World Pulses Day on February 10! This day will be heralded around the globe as a way to continue to promote the important gains made in 2016 — the International Year of Pulses.
HOW TO COOK DRY PULSES
While you'll want to soak some pulses (especially beans) overnight or for up to eight hours to help them rehydrate before cooking, you don't have to do that with some of the smaller pulses. You definitely need liquid in your dishes though to cook and soften other pulses, like lentils and pre-soaked beans.
For this dish, I chose to use chicken broth as the liquid. For every quarter cup of dried pulses, expect to have a half a cup of pulses once cooked and rehydrated. Knowing that helps to plan which skillet or pan to use when making dishes such as this.
You can also quick-soak beans by adding one cup of dried beans to three cups of water in a pot or saucepan and bringing to a boil. You'll let them boil about three minutes, then remove the pot from the burner, cover, and let soak/stand for an hour. You'll want to drain any remaining water and rinse the beans in cool water before cooking or adding to another dish.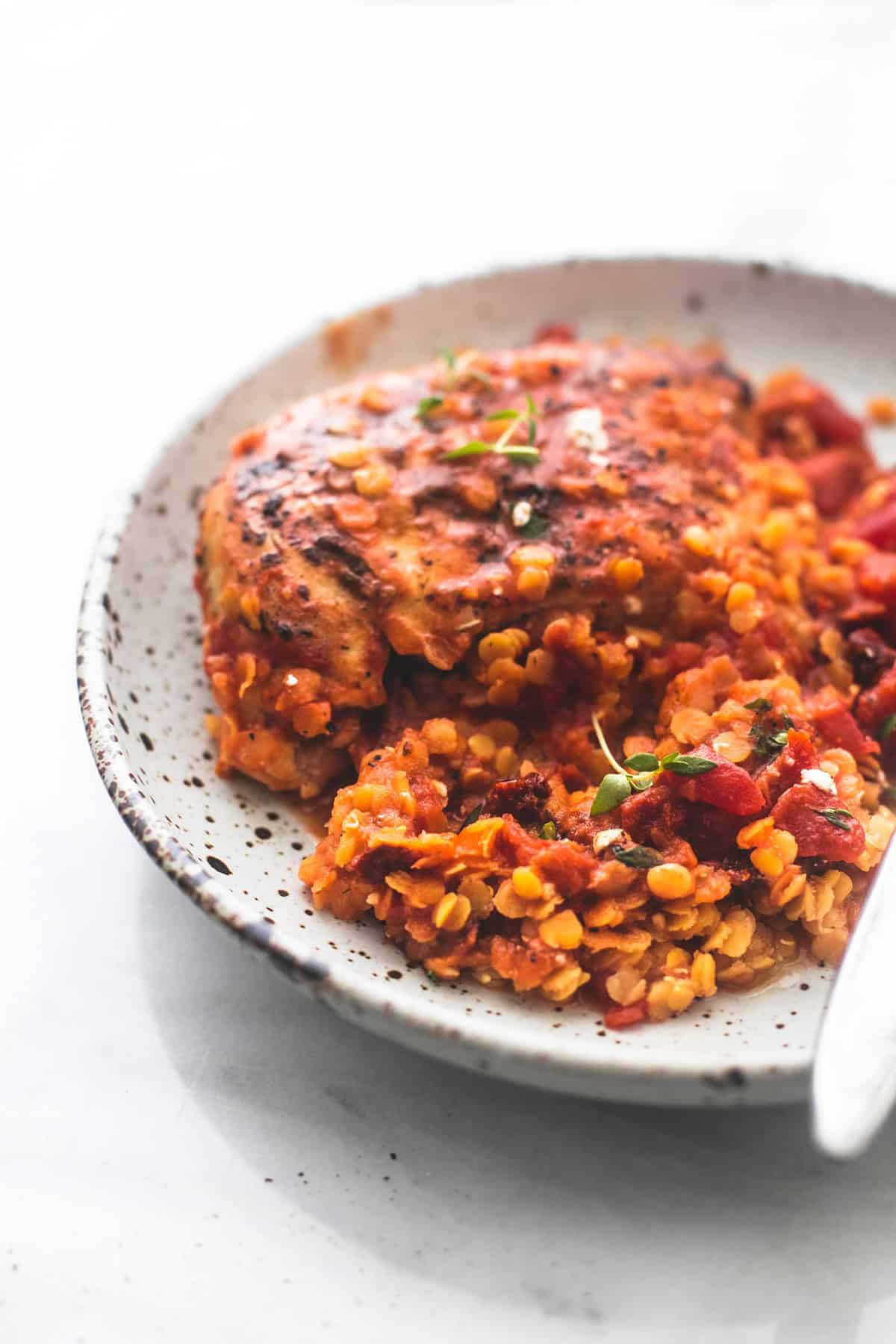 SIGN UP FOR THE HALF-CUP HABIT
If you are looking for a simple way to eat healthier, consider adding pulses to your diet. Sign up today for the Half-Cup Habit, and see how easy it can be to add just a half a cup serving of pulses to your diet three times a week for added nutrients.
One Pan Greek Sun Dried Tomato Chicken and Lentils
Greek Sun Dried Tomato Chicken and Lentils made in one pan for easy clean up and a healthy, filling meal.
Ingredients
1

jar julienned sun dried tomatoes packed in oil

3-4

boneless skinless chicken breasts

-

or 4-6 bone-in chicken thighs

2

teaspoons

dried herb blend

-

see note

1

teaspoon

garlic powder

½

teaspoon

coriander

½

teaspoon

smoked paprika

½

teaspoon

salt

-

or to taste

¼

teaspoon

pepper

-

or to taste

½

white onion

-

diced

1

teaspoon

minced garlic

2

15-ounce cans diced tomatoes

2

cups

chicken broth

1

cup

split red lentils

1

tablespoon

crumbled feta cheese

finely chopped oregano or parsley for garnish
Instructions
Preheat oven to 400 degrees. Stir together dried herb blend, garlic powder, coriander, smoked paprika, salt and pepper. Use half to season the chicken on both sides.

Add 2 tablespoons of the oil from the jar of sun dried tomatoes to an oven-safe skillet. Cook chicken in the pan over medium-high heat for 2-3 minutes on each side until browned (but not cooked through). Transfer to a plate and cover to keep warm.

Add onions and garlic to the pan and saute until fragrant, 1-2 minutes. Add the sun dried tomatoes (drain the remaining oil first), diced tomatoes, chicken broth, lentils and second half of seasonings and stir to combine. Transfer chicken back to the pan. Spoon some of the juices from the pan over the chicken. The pan will be very full.

Transfer pan to preheated oven and bake for 25-30 minutes until chicken is cooked through and lentils are tender. Garnish with feta cheese and herbs and serve.
Notes
For the dried herb blend you an use an Italian blend, herbs de provence, or make your own by combining 1/2 teaspoon each dried basil, dried oregano, dried thyme, and dried parsley.
Nutrition
Calories:
281
kcal
,
Carbohydrates:
30
g
,
Protein:
31
g
,
Fat:
3
g
,
Saturated Fat:
1
g
,
Trans Fat:
1
g
,
Cholesterol:
56
mg
,
Sodium:
858
mg
,
Potassium:
895
mg
,
Fiber:
14
g
,
Sugar:
2
g
,
Vitamin A:
175
IU
,
Vitamin C:
13
mg
,
Calcium:
44
mg
,
Iron:
4
mg