Thick and chewy Red Velvet Skillet cookie with white chocolate chips, baked in a deep dish pan! Serve it warm and top it off with vanilla ice cream and chocolate sauce for the ultimate treat!
I'm going to admit, I've been in a weird mood lately. The kind where all I want it red velvet e.ver.y.thing. It's bordering on obsession here so please HELP. Cookies? check. Pound cake? check. Pancakes? check. More cookies? double check.
Warm and gooey skillet cookie with melty vanilla ice cream and chocolate sauce? CHECK.
I won't bombard you with alllll of the red velvet that has been happening in my kitchen lately (unless you want to be bombarded. do you?? because if so then bombardment will commence pronto) but this had to be shared. Had to. No question about it. Because it's essentially a giant warm and gooey red velvet cookie-slash-brownie-type-thing with white chocolate chips and is pretty much the ultimate treat for two people to share on a special day.
Like that one holiday that is coming up. You know the one.
Oh Valentines Day, how I lovehate you. I love you because, well, red velvet things happen when you're around and that's kind of wonderful. But I hate you because you are so cliche. Or is that another reason why I love you….?
It's hard to say. Because you better believe I will most happily accept that box of See's chocolate bordeauxs my husband gets me every single year and what's more cliche than chocolates on Vday? Probably nothing. Which is why when my 16 year old nephew asked me to help him the other day with his high school English assignment and needed an example of a cliche, the first thing out of my mouth was "chocolates on Valentines Day".
Ohhhhhh, now I get it. Thanks Aunt Tiff.
Sure thing pal.
You may notice that I put for the serving size "1-4". What the…..?? Allow me to explain. Really, a 10-inch cookie is pretty big. So yeah, you could share it with three other people, if you wanna be share-y and healthyish like that. But if you just want to dig in with your sweetie pie and get a real good share of that gooey deep dish deliciousness, then you will be glad you only planned on serving two. And if you have no plans to share this with anyone at all that's 100 percent okay. You indulge with your fuzzy slippers, Bride Wars, and giant red velvet skillet cookie. You deserve it.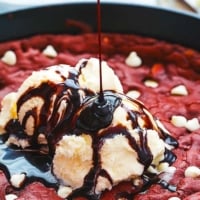 Red Velvet Skillet Cookie
Thick and chewy red velvet deep dish cookie with white chocolate chips, baked in a skillet! Perfect for topping with your favorite ice cream and hot fudge!

Ingredients
6

tablespoons

butter

-

softened

½

cup

sugar

⅓

cup

brown sugar

1

egg

1

teaspoon

vanilla

1

tablespoon

red food coloring

1

cup

flour

1 ½

tablespoons

unsweetened cocoa powder

½

teaspoon

baking powder

½

teaspoon

salt

⅔

cup

white chocolate chips
Instructions
Preheat oven to 350 degrees and grease a 10 inch cast iron skillet.

In a large bowl, mix together butter and sugars until light and fluffy (1-2 minutes). Add egg and vanilla, and mix well. Mix in food coloring.

In a medium bowl whisk together flour, cocoa power, baking soda, and salt.

Add dry ingredients to wet ingredients and mix until incorporated. Stir in white chocolate chips. Press dough into greased skillet.

Bake for 18-22 minutes until set. Allow to cool for a few minutes, then serve warm with ice cream and fudge if desired. (Can also be served at warm temperature without ice cream).
Notes
Optional toppings: vanilla ice cream, chocolate syrup or hot fudge.
Nutrition
Calories:
479
kcal
,
Carbohydrates:
87
g
,
Protein:
7
g
,
Fat:
12
g
,
Saturated Fat:
7
g
,
Trans Fat:
1
g
,
Cholesterol:
50
mg
,
Sodium:
416
mg
,
Potassium:
220
mg
,
Fiber:
2
g
,
Sugar:
62
g
,
Vitamin A:
106
IU
,
Vitamin C:
1
mg
,
Calcium:
144
mg
,
Iron:
2
mg