Saucy Slow Cooker Coconut Curry Cashew Chicken with sweet red peppers, tender potatoes, and crunchy cashews make right in your crockpot! So easy and INSANELY delicious!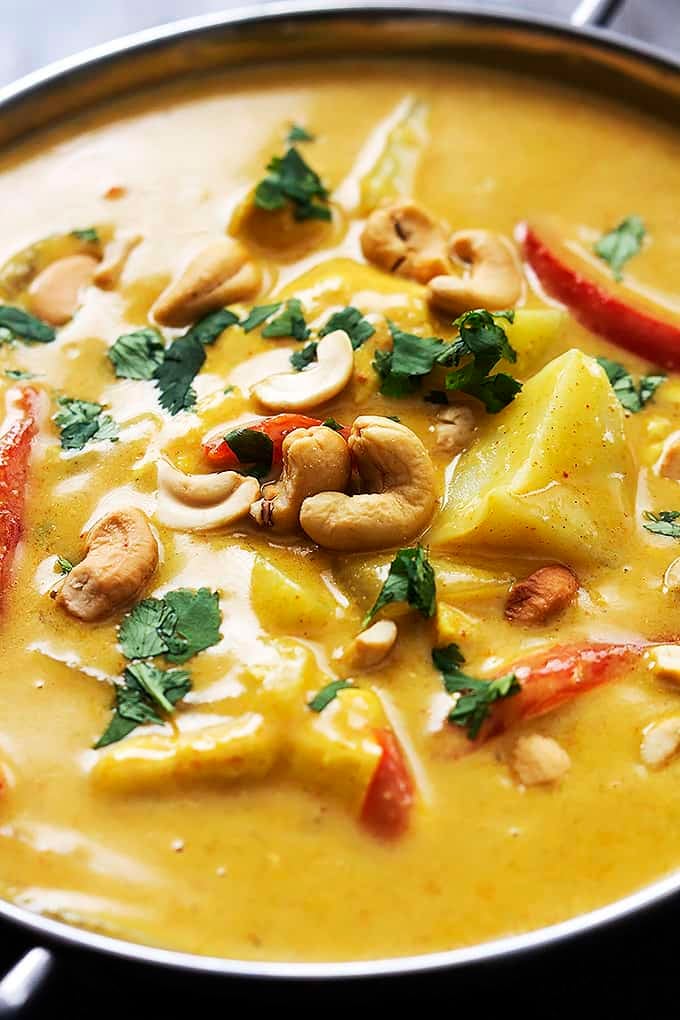 The way I see it, you're either Type A, Type B, or Type C.
And no, I'm not talking about those relentless color-coded personality tests you took 173 times in school. I'm talking about your curry personality.
If you're Type A – you love it. You think curry is the greatest thing since (before) sliced bread and you crave its presence in your life.
Type B – You haven't tried curry and you're kind of skeptical about the whole thing. Maybe it's the smell, the blinding color, or just the fact that it's not typically used in American Sunday potroast dinners so it sort of feels like an alien ingredient to you.
Let me put your mind at rest. Curry is a spice. Just like cumin in Mexican dishes or garlic in Italian dishes, curry is the salt and pepper of Indian food. And it's crazy-amazingly-delicious.
Type C – You hate curry. (Do you people actually exist??)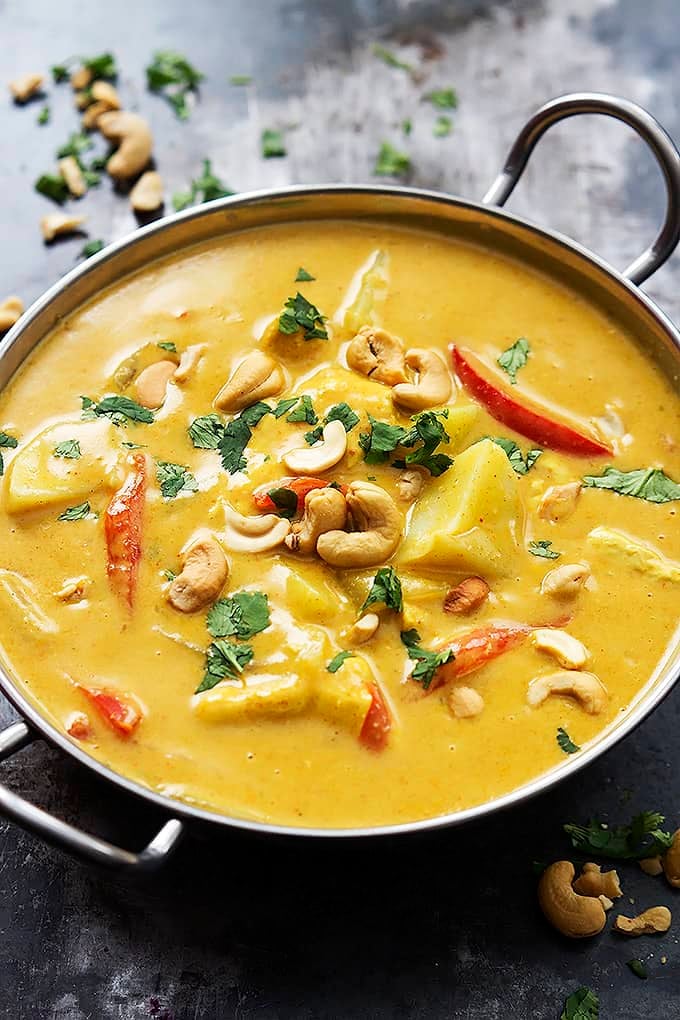 If you're already on board with curry – you Type As – good! Make this dish. That's pretty much all I have to say to you.
If you are on the fence – stop giving it dirty looks and actually eat curry. You'll feel much better just knowing that you've tried it and have a real, honest-to-goodness based-on-true-life opinion about the stuff. And I'm just going to say… I'll be shocked if this slow cooker coconut cashew chicken version doesn't turn you into a Type A prontissimo.
And for you Type Cs…. (hellooooo?? anybody out there….???) I think you should consider giving it another go. Or at least don't leave my blog forever because I scare you off with one (freaking a-mazing) curry dish. Come back tomorrow – we'll talk something a little closer to home.
Oh did I mention you can make this in your slow cooker?? Yeah, you crockpot addicts should be excited. And if you don't have a slow cooker – not to worry! – you can whip up this heavenly stuff right on the stove. Just steam your potatoes (microwave works great) before tossing them into a pot with everything else and let it simmer for 15-20 minutes or until your chicken is cooked through.
Bada-bing-bada-boom!
Coconut curry. Plus chicken. and cashews.
YUM.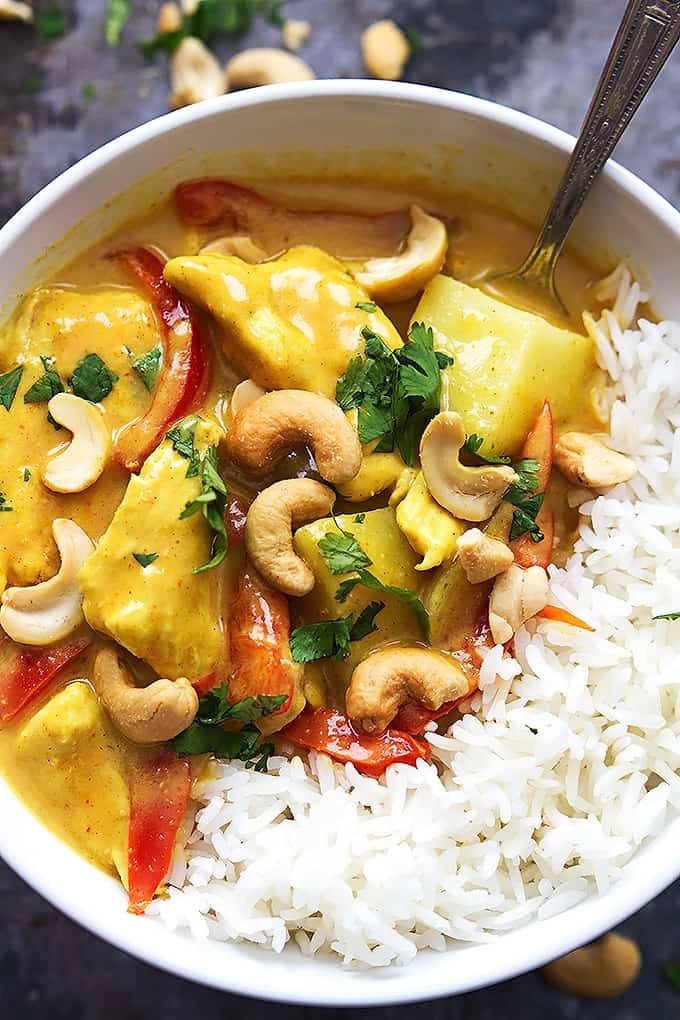 What people are saying about this Slow Cooker Coconut Curry Cashew Chicken
"I LOVE CURRY!!!
I never attempted to cook it until I saw this recipe… I loved the outcome even though I think I was being a little stingy with spices (given it was more first time I wasn't too generous) I could have definitely added more" – Trudi
"I loved this!!! Turned out great! I followed directions completely and did the notes; the sludge to thicken and the paste to powder conversion. The paste I used was Thai and I felt it gave it a Thai taste instead of Indian curry. Still great! Cilantro really made a difference too, but cilantro and nuts I just added to individual servings. My chicken was really tender and perfect (the pounding it thin helps). Thanks keep your recipes coming!" – Susan
"Wow!!! Great recipe, I've made this twice now…My 3 year old daughter loves it!!! love this in the crock pot – Thanks again <3" – Renee
"Made this yesterday. It was amazing!!! I've been looking for a good curry recipe for a long time now and have found it. House smelled amazing, even the Google Fiber installer commented on it. Thanks!" – Stephanie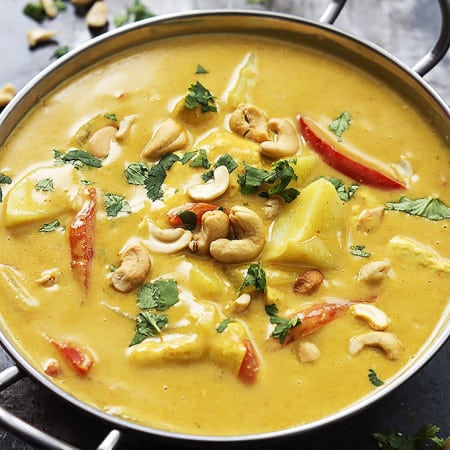 Slow Cooker Coconut Curry Cashew Chicken
Saucy coconut curry chicken with sweet red peppers, tender potatoes, and crunchy cashews made right in your slow cooker!
Ingredients
3

boneless skinless chicken breasts

-

pounded thin and chopped into bite-size pieces

1

red pepper

-

seeded and thinly sliced

2

small

potatoes

-

(I used red), peeled and chopped

½

white or yellow onion

-

chopped

2

cups

chicken broth

2

cups

unsweetened coconut milk

-

(or one 14-ounce can + 1/2 cup chicken broth)

3

tablespoons

yellow curry powder

-

(see note)

1

teaspoon

cumin

1

teaspoon

salt

-

or to taste

½

teaspoon

cayenne pepper

-

or to taste

optional: corn starch slurry

-

(see note)

cashews, cilantro, cooked rice for serving
Instructions
Add chicken pieces, red peppers, potatoes, and onions to the slow cooker.

In a medium bowl whisk together chicken broth, curry powder, cumin, salt, and cayenne pepper. Pour mixture into slow cooker and stir to coat chicken and veggies. Cover and cook on high for 2-3 hours or on low 4-5 hours.

About 10-15 minutes before serving, stir in coconut milk. Stir just before serving and top with cashews and freshly chopped cilantro.
Notes
*If you have red curry paste on hand, I like to swap out 1 tablespoon of curry powder for 1 tablespoon of the red paste. You can also add up to 1 tablespoon of garlic powder for an extra flavor boost. 
*If you prefer a little bit thicker curry (like I do) whisk together 3 tablespoons cold water and 2 tablespoons corn starch. Stir into crockpot about 30-45 minutes before serving and cook on high until ready to serve.
Nutrition
Calories:
476
kcal
,
Carbohydrates:
28
g
,
Protein:
24
g
,
Fat:
32
g
,
Saturated Fat:
26
g
,
Trans Fat:
1
g
,
Cholesterol:
54
mg
,
Sodium:
1138
mg
,
Potassium:
1247
mg
,
Fiber:
7
g
,
Sugar:
7
g
,
Vitamin A:
1116
IU
,
Vitamin C:
69
mg
,
Calcium:
73
mg
,
Iron:
5
mg