Creamy and rich tomato basil and cheesy parmesan soup made in the crockpot! Comfort food at its best!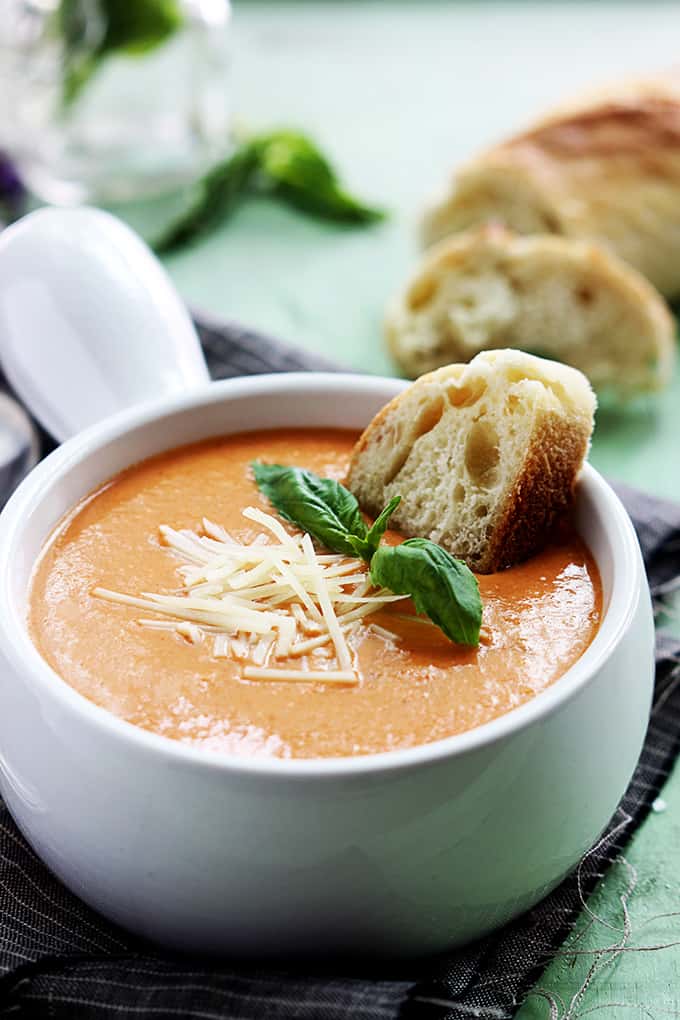 It's officially soup season. At least, according to my mother it's officially soup season. About three weeks ago she hosted a soup party. I brought two kinds, she made three kinds, and we all gorged ourselves on soup galore one rainy Sunday evening. I can't say that I didn't enjoy it, because oh did I ever. I love me some soup. Particularly when it is creamy, rich, and cheesy.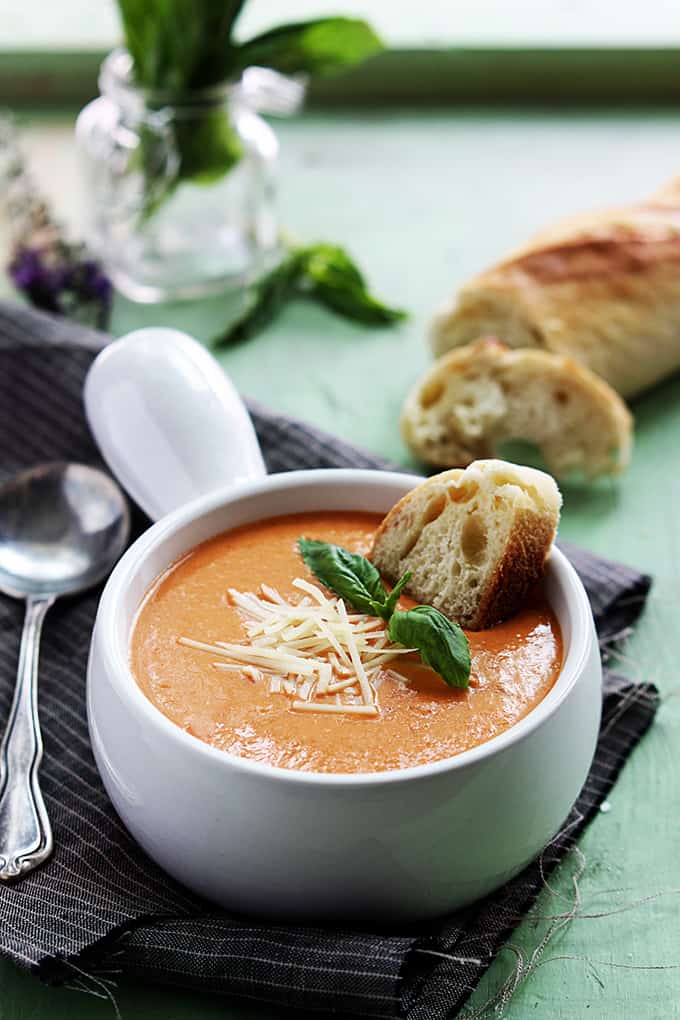 Growing up I was never a tomato soup fan, and to this day I don't like it straight out of the can. But creamy tomato-basil soup, that I can do. And by "do" I mean that I could eat it for breakfast, lunch, dinner, and midnight snack for days on end. Rain or shine. Summer, winter, fall, I'm impartial. My husband prefers that I wait until it's actually cold outside to serve soup for dinner, and it takes all of my self control to put it off until September. In Utah, September weather is a gamble. (Actually every day's weather is a gamble in Utah but let's not get into that…) It may or may not be chilly in September but I can always count on the leaves changing color during this month and that's when I start whipping up cozy soups.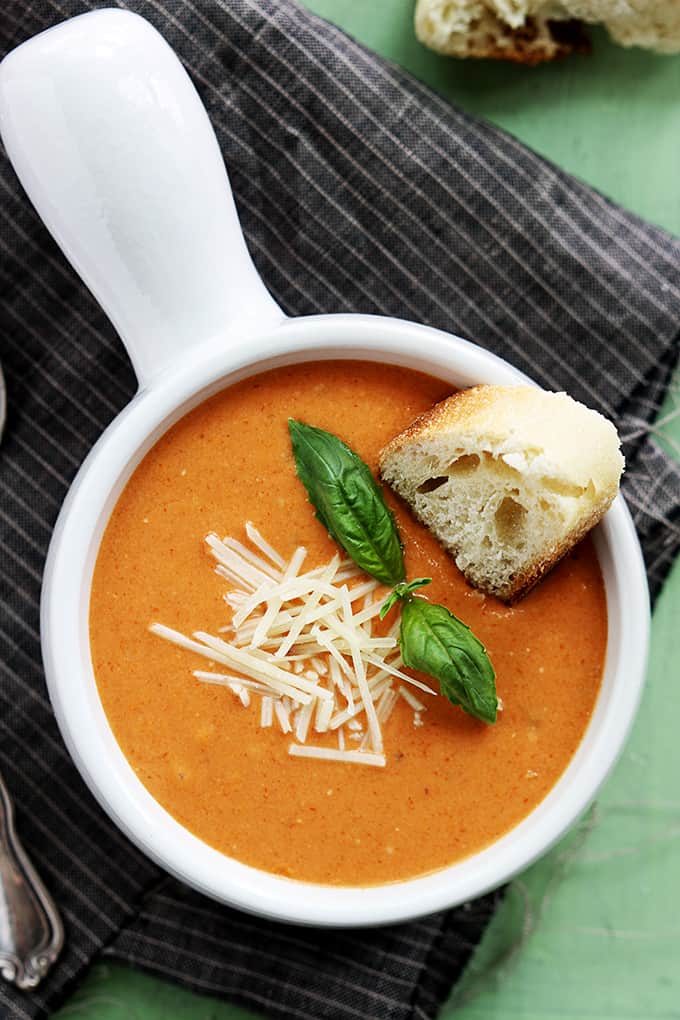 This has to be in the top three or four best soup recipes I've ever made. Scratch that. The top two soup recipes I've ever tasted! It's so good I just want to plunge my entire face into a giant bowl of it this instant. But alas, I shall refrain from such behavior. Instead I'll just devote all of my soup-face-plunging energy to convincing you to make it yourself. It is E to the Z I tell ya. Just throw a few simple ingredients into the crockpot, set it, forget it, then remember it, and come back to finish it off in the last 30 minutes or so before you're planning to serve it up. And if you really wanna get fancy, serve some crusty bread alongside this tomato basil parmesan soup for dipping and dunking – the kids will thank you later.
Okay you caught me, we don't have kids . . . I'm the one who does all of the bread-dunking around here. C'mon you are too.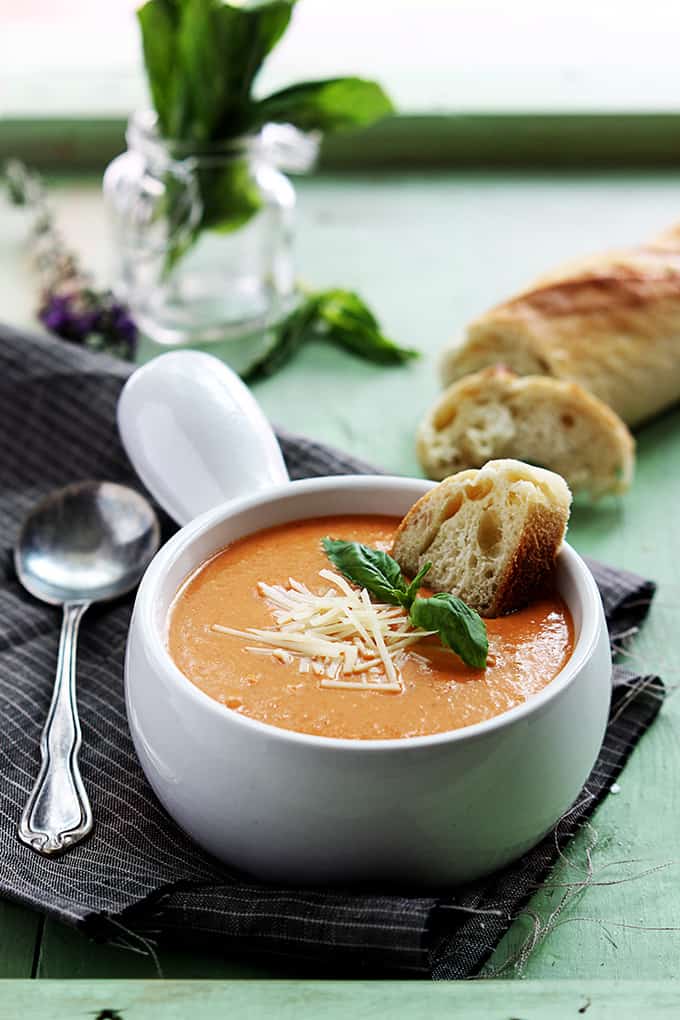 What people are saying about the Slow Cooker Tomato Basil Parmesan Soup
"This soup is so amazing!! My friend found the recipe on pinterest and made it last night, today i had to make some for myself! it has such an amazing flavor to it, it almost just makes you want to crave it. I bought plenty of french bread today at the store to make sure i had enough to last the whole pot of soup. today happened to be a cold and rainy day so this soup is perfect to keep you warm. I HIGHLY recommend this recipe and this is now one of my 4 go to cold weather meals. 5 stars!!!" – Amber
"I made this soup the other night and my family has officially declared it "the BEST soup they have ever eaten"!! It's a win and will be a regular part of my crockpot rotation from now on! Thanks so much!!" – Beckey
"Wow. I mean, wow. This soup is probably the best thing I have ever made, ever. And I don't like tomato soup! I can't even explain how good this soup is! This will be one for my personal recipe box. This soup blew my mind." – Kristin
"This is by far the BEST tomato basil soup ever! It was simple to make and packed with flavor, can't wait to have the leftover today. It is rare that I go back and add comments, but this was too good not to give credit for the great recipe." – DMCLean
"Made this tonight and it was DELICIOUS!!!!!!!!!! All the kiddos loved it (and they are not fond of tomato soup). I only omitted the tablespoon of salt and had to substitute the fresh basil with dried (4 tsp of dried) because that is all I had on hand. Thanks for such a simple and tasteful meal!" – Tabitha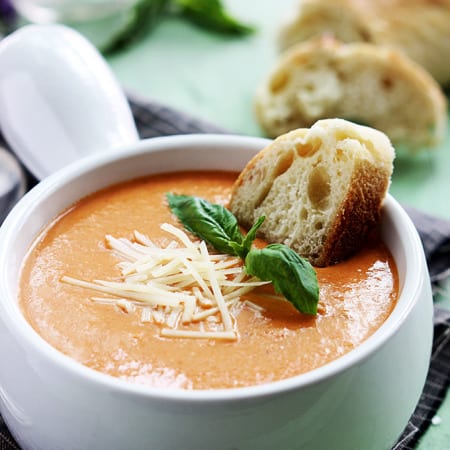 Slow Cooker Tomato Basil Parmesan Soup
Creamy and rich tomato basil and cheesy parmesan soup made in the crockpot! Comfort food at its best!
Ingredients
2

15-ounce cans

diced tomatoes

1

10-ounce can

tomato sauce

¼

cup

fresh basil

-

finely chopped

1

tablespoon

minced garlic

1

tablespoon

salt

1

teaspoon

pepper

1

medium

white onion

-

diced

1

cup

heavy cream

4

cups

chicken or vegetable broth

2

cups

shredded parmesan cheese
Roux
3

tablespoons

butter

¼

cup

flour

1

cup

heavy cream

-

see note
Instructions
Add tomatoes, tomato sauce, and next 7 ingredients (through broth) to a slow cooker/crockpot. Cover and cook for 2 hours on high or 4-8 hours on low. (If you are home, give it a stir every now and then and scrape down the sides)

About 30-40 minutes before serving transfer soup to a blender or food processor and puree until smooth, then return to crock pot.

Prepare the roux. Begin by melting the butter in a medium sauce pan over medium heat.

Add flour to melted butter and stir until flour clumps up. Slowly whisk in the heavy cream (or half & half) until mixture is thickened and smooth. Add roux and parmesan cheese to crockpot and stir to combine.

Allow to cook another 20-30 minutes until cheese is completely melted. Give it a good stir before serving. Top with additional basil and parmesan cheese if desired.
Notes
Heavy cream: part or all of the heavy cream can be swapped for fat free half and half to lighten up this soup. 
Nutrition
Calories:
689
kcal
,
Carbohydrates:
16
g
,
Protein:
24
g
,
Fat:
59
g
,
Saturated Fat:
36
g
,
Cholesterol:
208
mg
,
Sodium:
3429
mg
,
Potassium:
425
mg
,
Fiber:
1
g
,
Sugar:
2
g
,
Vitamin A:
2289
IU
,
Vitamin C:
20
mg
,
Calcium:
676
mg
,
Iron:
2
mg
Recipe adapted from Let's Dish Recipes.