Spicy Parmesan Shrimp Pasta – Spicy shrimp with penne noodles, coated with parmesan cheese! An easy skillet dish that can be prepared in 30 minutes!
I grew up in a family of seriously devoted seafood lovers. My mother always devoted a Sunday family dinner to each of our birthdays throughout the year. When that time of year came around, I was looking forward to my "birthday dinner" more than I was to any presents or bragging rights. And every year I pretty much asked for the same things. I wanted cheesy potato skins, caesar salad, and either ribs or crab legs.  My family certainly wasn't destitute by any means, but the nature of my father's work brought a lot of ups and downs with money availability throughout the year, so when we were having crab legs for my birthday dinner… it really meant I was having crab legs and everyone else was probably having chicken. Wow. When I say it like that it sounds terrible! No one was bitter about my crab legs though I promise, we all got exactly what we wanted on our own birthday dinner Sunday. So everybody else knew they could have crab legs when their day came around. It was a happy thing for everybody, I wasn't waving around my crab legs  in my siblings faces to gloat or anything.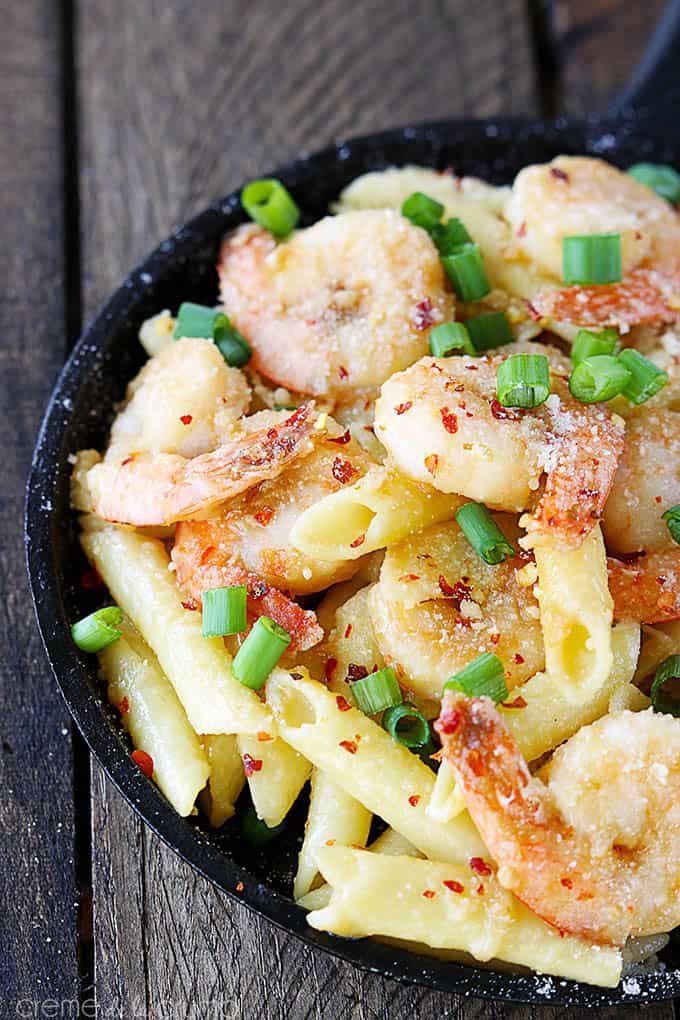 My family never cared much for Red Lobster, but we had a favorite fish house for sure. It was McGrath's.  There used to be four locations in Utah. One in downtown Salt Lake City at the outdoor mall. That one closed years ago, which was a huge shock since it sat in such a prime location. The second was down in Provo where I was going to college. I found out that one had shut down when my boyfriend took me for a special dinner. That was a rude awakening.
The third McGrath's location was just twenty minutes north of us. This is the one my family went to most often and for a lot of special occasions. Guess what? Yeah it's closed. Found out last week when my husband and I tried to take my parents there for a belated Christmas present. Oh you can't imagine how distraught we were are. Whyyyyyyyy does this keep happening?!?!?! I blame Red Lobster.
Two of my favorite dishes from McGrath's (besides the lobster. and the crab legs. and the scallops oh my gosh so good…) are the clam chowder and pretty much every shrimp dish I've tried off of their menu. And that is including a few they don't have regularly because they are chef's specials. Shrimp is so delicious and so versatile.  You can even eat it raw! Shrimp cocktail anyone?
Today though, our shrimp is cooked. First it is marinated in a garlic-y sauce, and then cooked nice and pink. Throw in some penne noodles, two kinds of parmesan, and then spice it up a bit with some red pepper flakes. If you like spice (like I do!) then throw in more red pepper flakes, I'm all for the extra kick. If you have a more sensitive palette, go light on the pepper flakes. Either way, this dish is quick, easy, and yummmmmmy. Perfect for a busy weeknight or a weekend date night you don't feel like leaving the house!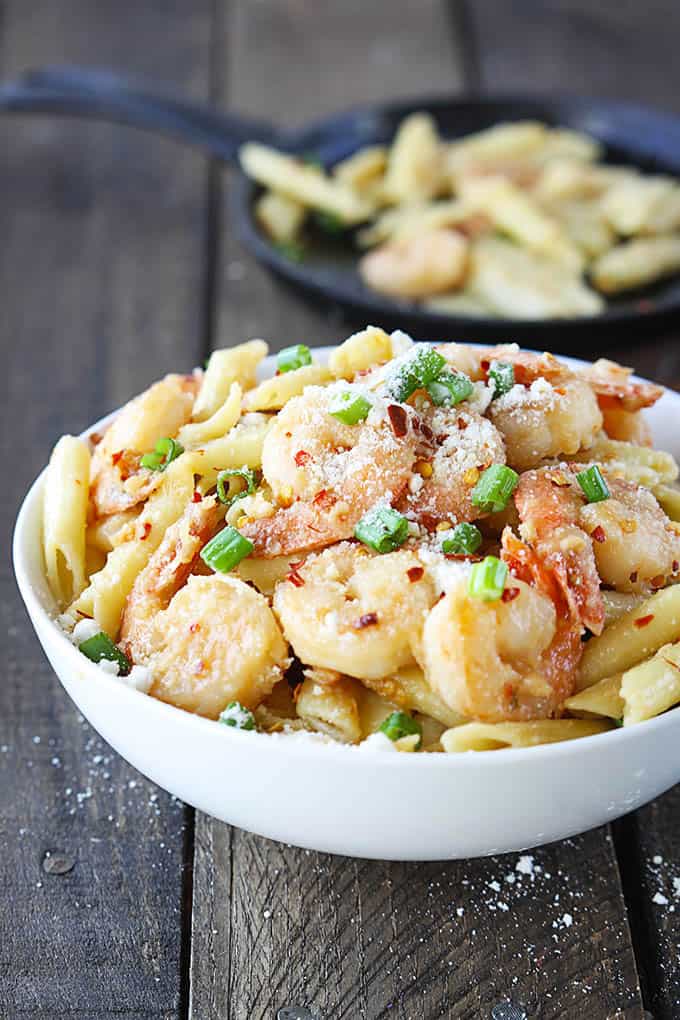 Spicy Parmesan Shrimp Pasta
Spicy shrimp with penne noodles, coated with parmesan cheese! An easy skillet dish that can be prepared in 30 minutes!
Ingredients
⅓

cup

olive oil

4

teaspoons

minced garlic

2

teaspoons

soy sauce

2

tablespoons

brown sugar

1-2

pounds

medium or large shrimp

-

peeled and deveined

½

teaspoon

red pepper flakes

-

(or to taste)

¼

cup

shredded parmesan cheese

¼

cup

grated parmesan cheese topping

8

ounces

penne noodles

-

cooked
Instructions
Whisk together olive oil, garlic, soy sauce, and brown sugar. Pour into a zip lock bag and add shrimp. Seal bag and toss to coat. Allow to marinated in fridge for 30 minutes before preparing dish or overnight. Prepare penne noodles according to the package instructions.

Drain marinade and add shrimp to a large preheated pan or skillet. Saute over medium high heat 3-4 minutes until shrimp have turned pink.

Add red pepper flakes, shredded parmesan cheese, grated parmesan cheese topping, and cooked noodles. Cook 3-4 minutes longer stirring throughout until shrimp and noodles are coated with cheese. Season with salt and pepper to taste. Garnish with sliced green onions if desired.

Notes
Control the spice level by adding more or less crushed red pepper flakes. 
Nutrition
Calories:
556
kcal
,
Carbohydrates:
50
g
,
Protein:
35
g
,
Fat:
23
g
,
Saturated Fat:
5
g
,
Cholesterol:
297
mg
,
Sodium:
1250
mg
,
Potassium:
264
mg
,
Fiber:
2
g
,
Sugar:
7
g
,
Vitamin A:
166
IU
,
Vitamin C:
6
mg
,
Calcium:
327
mg
,
Iron:
4
mg
Recipe adapted from Damn Delicious.