Cafe Rio style sweet pork in a family-friendly stacked enchilada casserole!
This is a dinner you really really really need to make. For starters, this dinner has layers. Everything is better with layers!!! Whew, sorry. Got a little excited there.
But really, the best part about a parfait is the layers of granola, fruit and yogurt, each with it's own section of glory. The best part of an ice cream sundae is the layers of sprinkles, hot fudge, whipped cream, caramel sauce, and the frozen custard. If you mix it all together you just don't get the same affect as if you delve into the dish one layer at a time. And the best thing about this dinner is that it's got layers upon layers of cheesy enchilada goodness.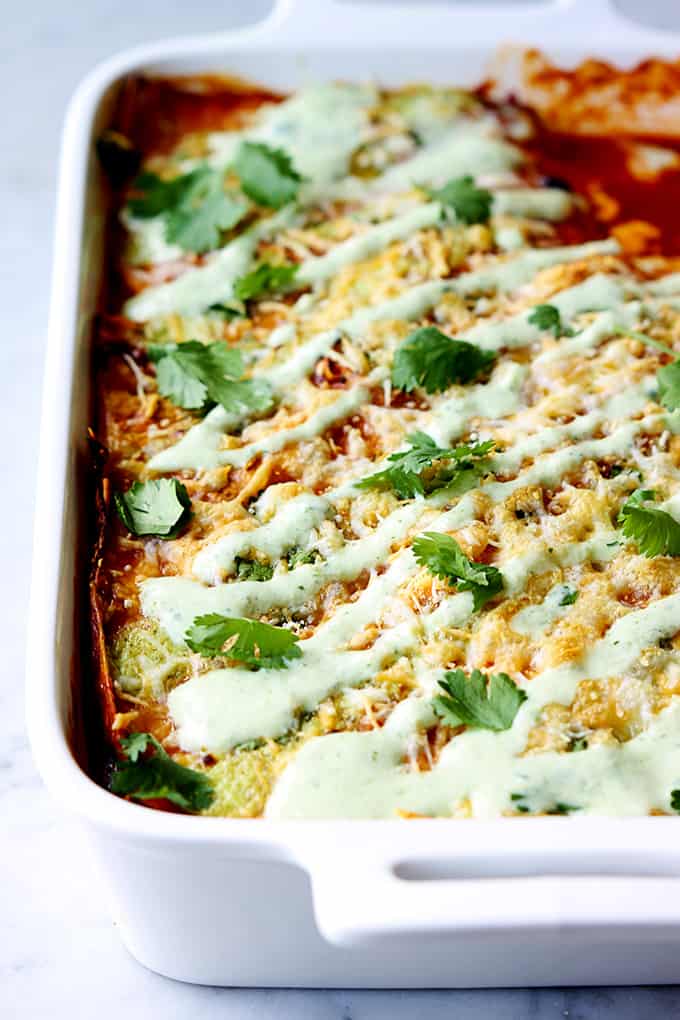 Soft flour tortillas, black beans (my number one choice and an absolute staple for Mexican-style dishes), loadzzz of cheese, enchilada sauce and…
Cafe Rio style sweet pork. For those of you who are Cafe Rio veterans, I love you and enough said. The rest of you who have never been graced with a sweet pork salad, my heart goes out to you and just take our word for it that there's just nothing quite like Cafe Rio sweet pork.
These stacked enchiladas are loaded with (easy peasy) slow cooked sweet pork. But what is Cafe Rio sweet pork without the oh-so-famous cilantro ranch dressing?? The yummy green stuff you just want to dunk you entire face into and slurp til the ends of eternity? That goes hand in hand with Cafe Rio sweet pork. So today we are combining the two in a simple, layered casserole-style meal that the whole family will go crazy for. I love it, my brother visiting from Arizona loved it, and my husband even took some to work the next day for lunch. He never does that. So that pretty much sums up the greatness of this dish. A family favorite for sure!
Sweet Pork Enchilada Stacks (aka Enchilada Casserole – Cafe Rio Style)
Cafe Rio style sweet pork in a family-friendly stacked enchilada casserole!
Ingredients
1

recipe

Cafe Rio style shredded sweet pork

16

taco-sized flour tortillas

-

cut in half

1

can

black beans

-

drained and rinsed

1

24-ounce can

enchilada sauce

4

cups

shredded Mexican blend cheese

⅓

cup

cilantro

-

roughly chopped
Instructions
Preheat oven to 375. Spray a casserole dish with cooking spray.

Pour 1/3 of the enchilada sauce in the bottom of the casserole dish. Top with a layer of tortillas. Top tortillas with 1/2 of the black beans, 1/2 of the pork, and sprinkle with 1 cup of cheese.

Top cheese with 1/3 of the enchilada sauce, then another layer of tortillas, then remaining black beans, remaining pork, and 1 cup of cheese.

Add remaining enchilada sauce, remaining tortillas, and top with remaining 2 cups of cheese.

Cover and bake 10 minutes. Uncover and bake another 10 minutes until cheese is bubbly.

Serve warm and drizzle with cilantro dressing, sprinkle with chopped cilantro.
Nutrition
Calories:
564
kcal
,
Carbohydrates:
52
g
,
Protein:
28
g
,
Fat:
27
g
,
Saturated Fat:
14
g
,
Cholesterol:
71
mg
,
Sodium:
1072
mg
,
Potassium:
338
mg
,
Fiber:
5
g
,
Sugar:
4
g
,
Vitamin A:
556
IU
,
Vitamin C:
1
mg
,
Calcium:
589
mg
,
Iron:
4
mg