Now you can make famous Winger's sticky fingers right at home anytime you get a craving. Three easy steps will put these saucy baked chicken strips on the table in just 30 minutes!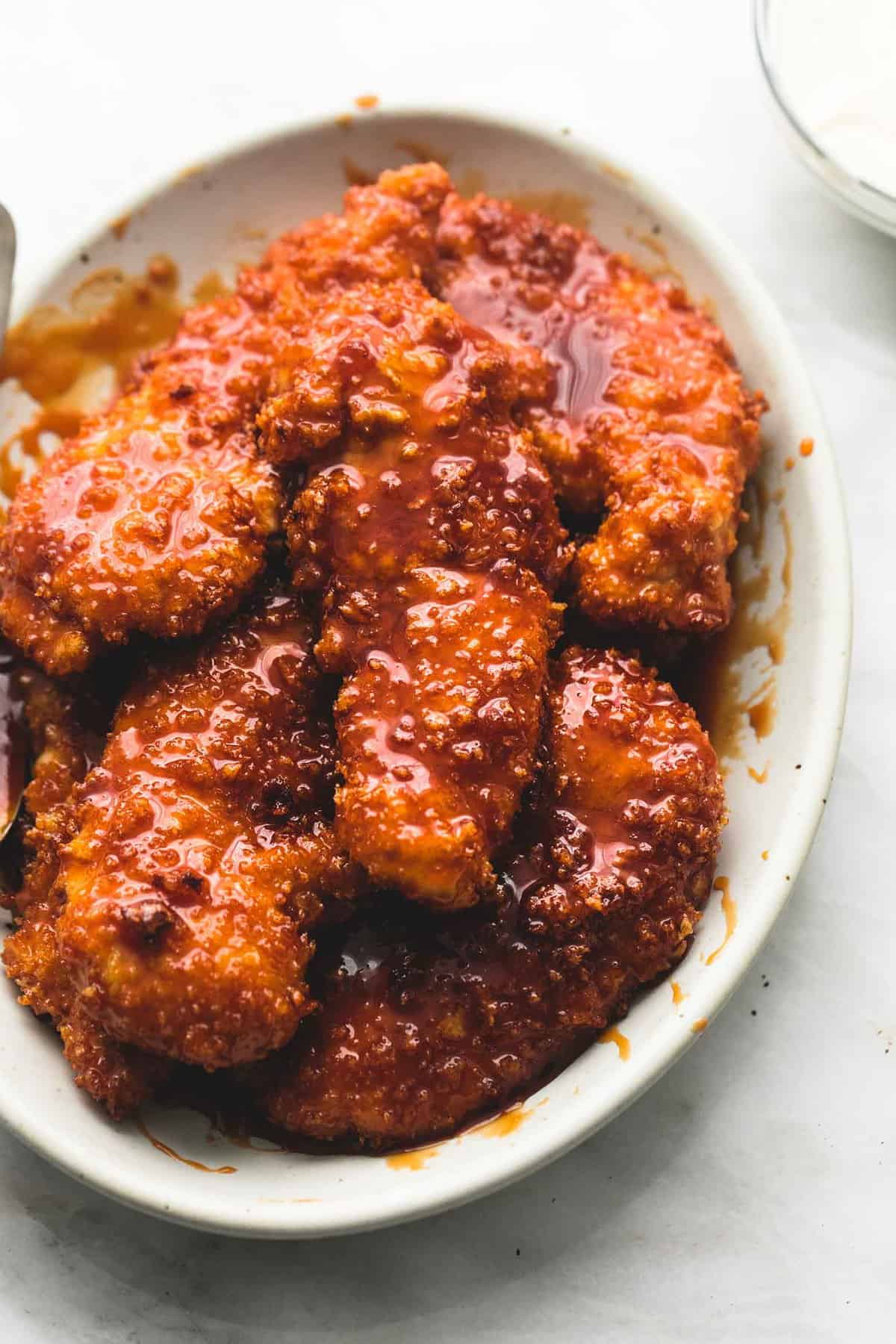 I can't tell you how sad I am that the local Winger's closed its doors and left town. There are some rumors floating around that say there was some structural damage to the building foundation and that's why they left.
It happened last year and no one else has moved in so I've been keeping my fingers crossed that the Winger's owner people decide to fix whatever the problem is and move back in.
It can't have anything to do with going out of business and a lack of profit because I swear that place was always packed. How can anyone resist that inevitable sticky finger temptation??
Not possible.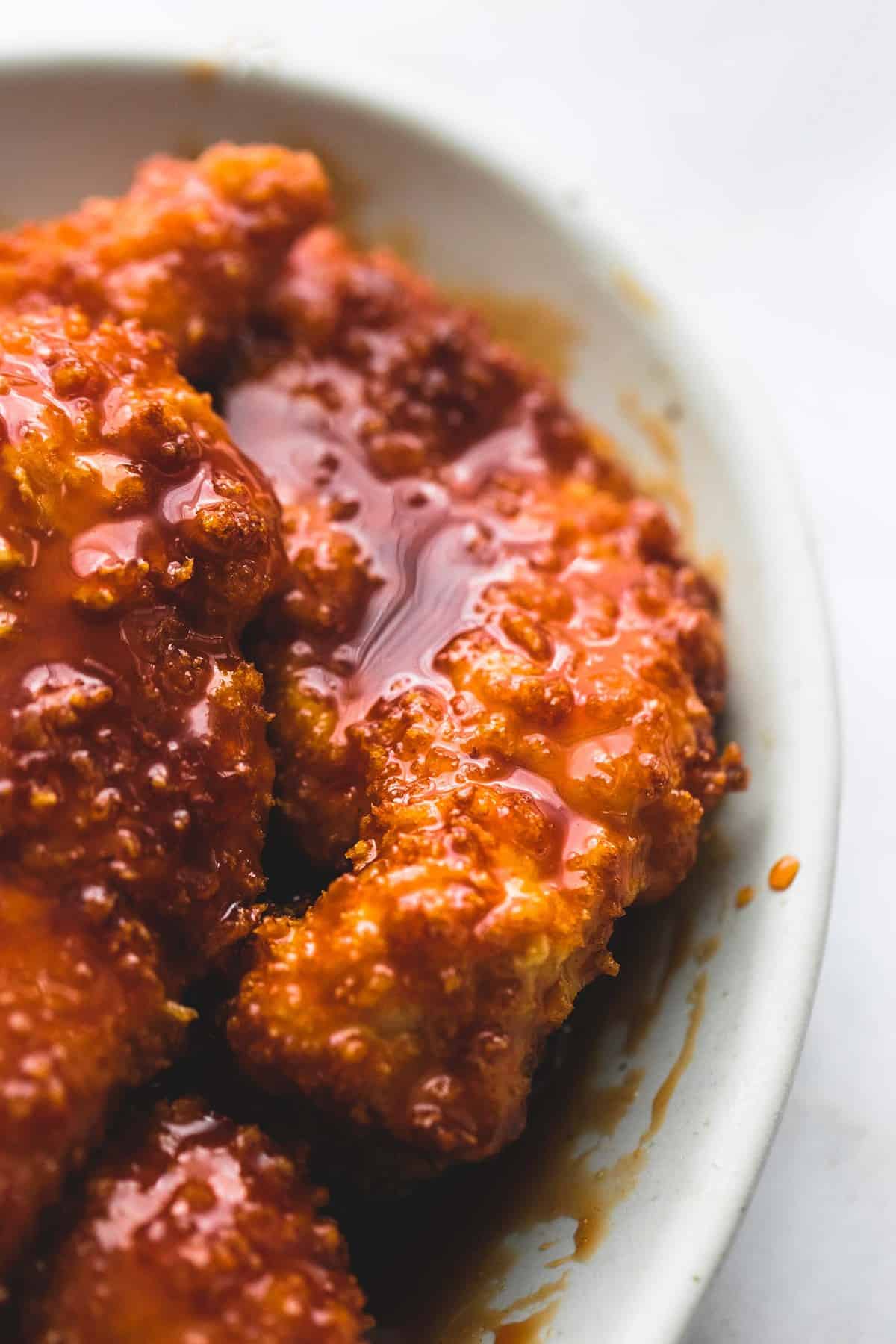 And can I just say that I am a fan of any restaurant that serves free popcorn for an appetizer? Peanuts, meh, I could do without. Bread, I actually quite like – especially Texas Roadhouse (the best rolls on the planet) and Lonestar (that dark pumpernickel bread, gahhhh) and Iggy's with the chili dipping sauce!
Woah. Mental carb loading right now.
But popcorn. That's where it's at. How can you not have a good meal when it starts with popcorn?? And a nice bonus is the fact that you can get through the whole bucket of popcorn and still have room for your dinner. As much as I love bread (LOVE bread) I rarely have room for even half of my dinner after snarfing down a loaf of honey-buttered french bread.
Is it just me, or is it basically impossible to leave uneaten free bread on the table when you're waiting for what seems like an eternity for your meal to arrive? You know what I'm talking about. It's almost unethical. You've gotta eat the bread.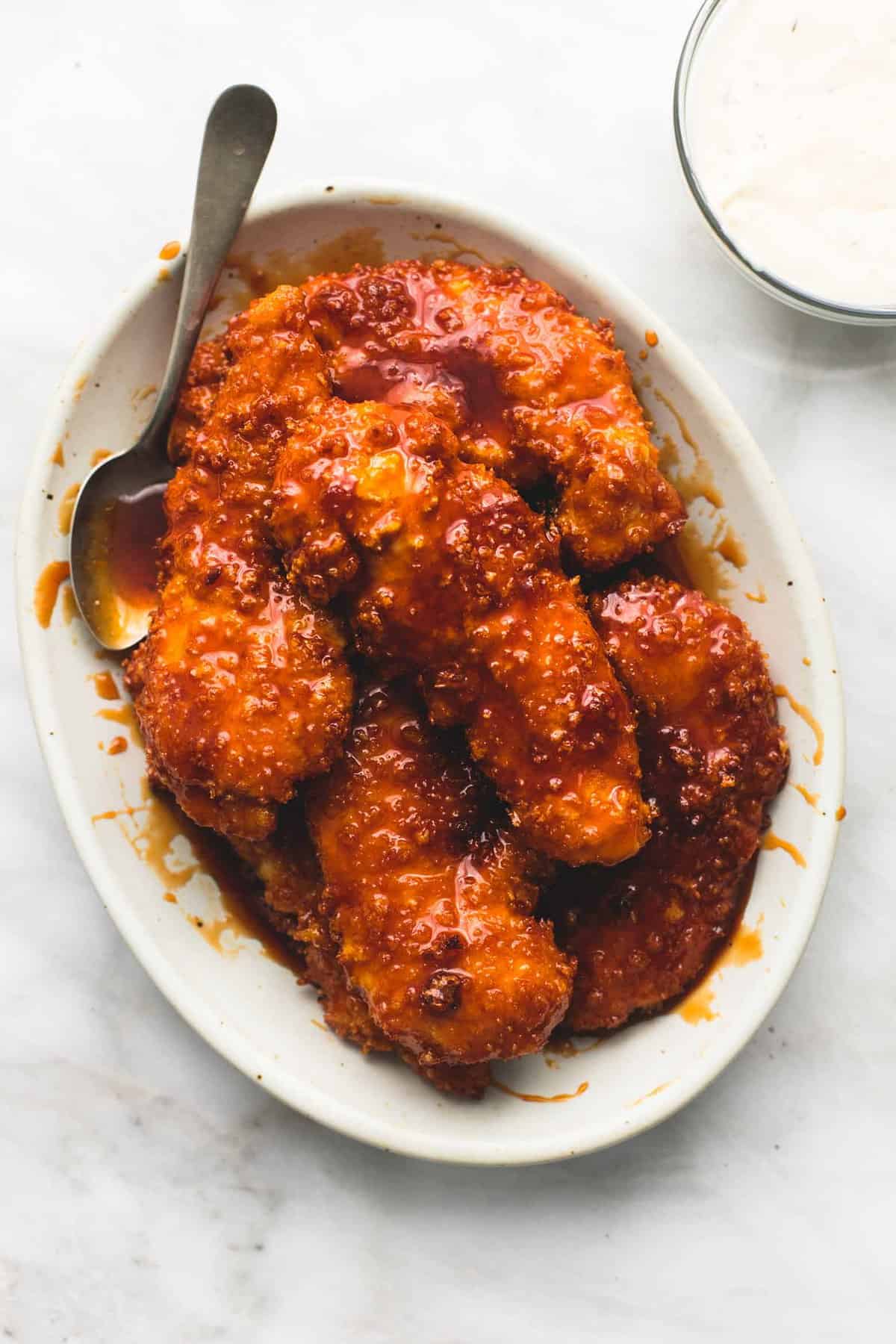 I've eaten at Winger's seven hundred times (or somewhere around there, I've lost track) and I always get the sticky fingers. I've tried bites of a few other things when friends or family ordered something else, and they were good, but I always come back to those dang sticky fingers. They're so addicting!
But now that we don't have a Winger's close by anymore, I've had to find a way to get my sticky-finger-fix without going on a road trip and this recipe is the answer people. It's so so easy and only takes 30 minutes to whip these babies up.
The other day I went a little crazy and dipped them in all sorts of sauces including blue cheese, honey mustard,  and green goddess dressing, but I always come back to that classic combo: sticky fingers + ranch.
Plus these are baked, not fried, so they're healthier than the restaurant version and you can feed the whole family on this meal for a fraction of the price it costs to take everyone out. Do you need any more convincing?? MAKE THESE! You shall thank me later.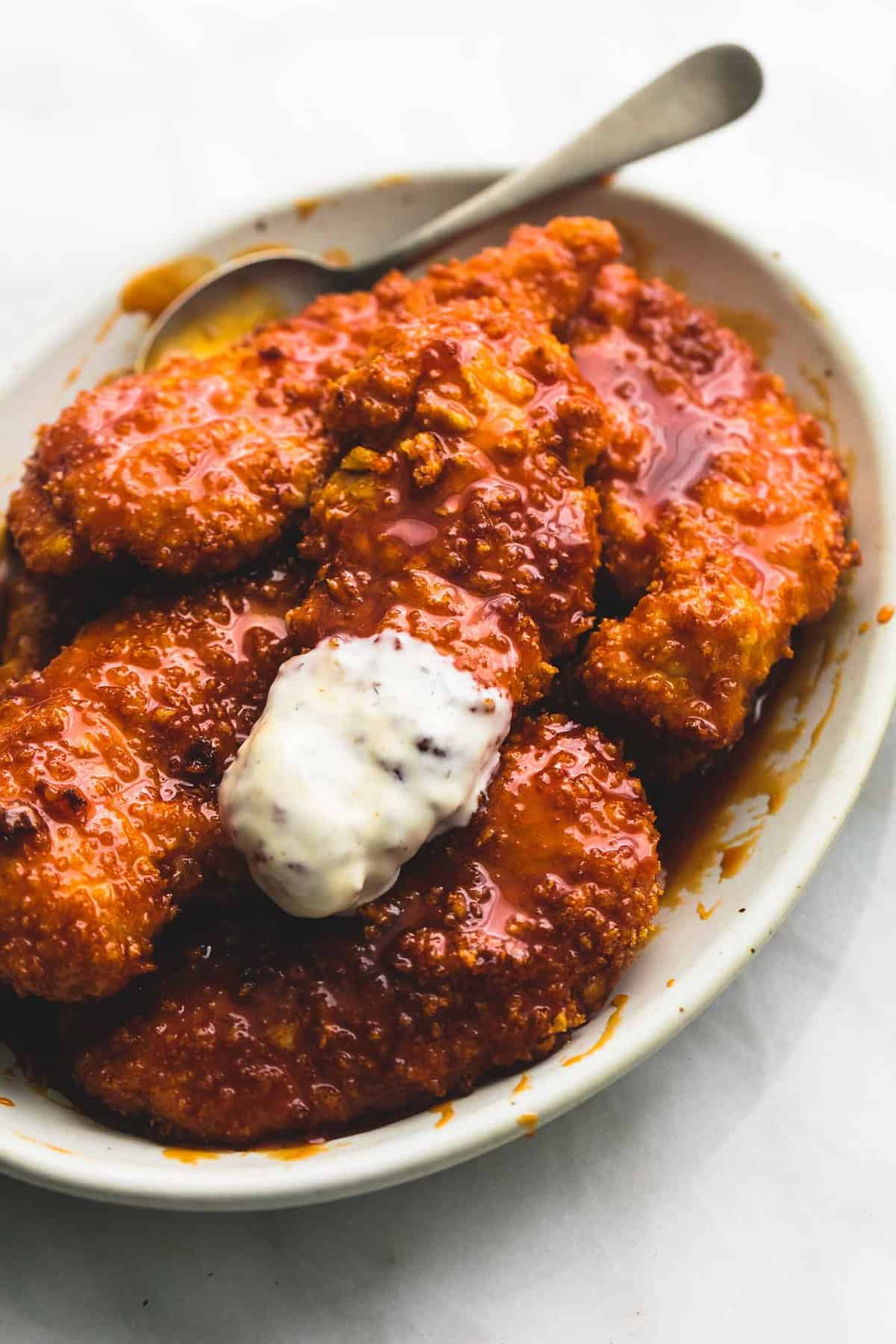 What people are saying about Winger's Sticky Fingers
"Holly COW!! Just made these and they were to DIE for!! Seriously sooooo delicious! My mom broke her diet over these!! Beware! They are the best! Thanks for sharing!!" -Evelyn
"These were delicious. We made them with the Buffalo sauce and they were to die for! I would definitely make them again in a heart beat. We doubled the batch and made potato wedges with it. AMAZING!" – Shelby
"Made this tonight! One of the best dinners we have ever had! Thank you so much for sharing!!! We all loved it." – Kathy
"I made these last night and two words describe them…YUM-MEEE!!!!! They were fast to make and delicious! I only had blue cheese and they were great with that. A definite repeat!" – Lisa
"These are freaking delicious! One piece of advice: 1.5x's the sauce! Extra sticky." – Josh
"I just made these for dinner. I am so happy I have some leftover because they were THAT good, Thanks so much for sharing! " – Sarah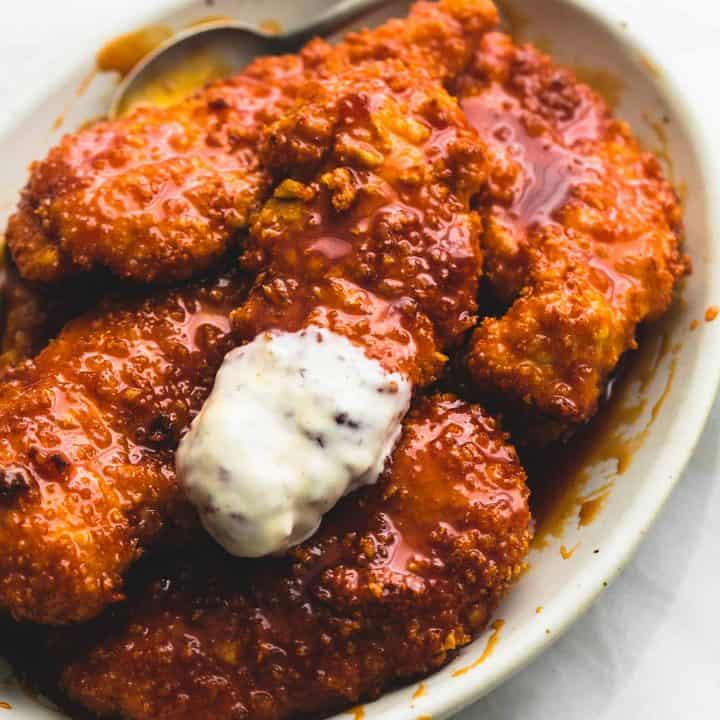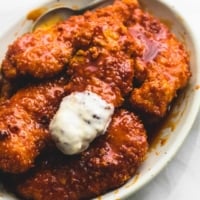 Winger's Sticky Fingers
Now you can make famous Winger's sticky fingers right at home anytime you get a craving. Three easy steps will put these saucy baked chicken strips on the table in just 30 minutes!
Ingredients
3-4

chicken breasts

-

pounded to ½ inch thickness

½

cup

flour

3

eggs

2

tablespoons

water

1

cup

panko bread crumbs
Sticky Finger Sauce
2

tablespoons

butter

1 ½

cups

brown sugar

⅓

cup

Frank's hot sauce

-

(it can be original or buffalo flavor)

½

teaspoon

garlic powder

2

tablespoons

water
Instructions
Preheat oven to 425 and grease a baking sheet with cooking spray. Slice chicken breasts into strips. Add chicken strips and flour to a large ziplock bag. Seal and toss to coat chicken in flour.

Place panko crumbs in a bowl. In another bowl whisk together eggs and water. Dip flour-coated chicken strips into egg mixture, then toss in panko crumbs to coat.

Place coated chicken pieces on greased baking sheet and spray heavily with cooking spray. Bake 15-20 minutes until chicken is browned and cooked through.


While chicken is cooking, prepare the sauce. Melt butter in a medium sauce pan over medium-high heat. Add brown sugar and hot sauce and stir over medium-high heat until melted and mixture comes to a boil. Remove from heat and stir in garlic powder and water until smooth.


When chicken strips are done cooking, toss in sauce. Serve warm with ranch dressing if desired.

Notes
These taste best served fresh but can be refrigerated and reheated in the oven!
Nutrition
Calories:
676
kcal
,
Carbohydrates:
105
g
,
Protein:
44
g
,
Fat:
9
g
,
Saturated Fat:
2
g
,
Trans Fat:
1
g
,
Cholesterol:
232
mg
,
Sodium:
999
mg
,
Potassium:
843
mg
,
Fiber:
1
g
,
Sugar:
82
g
,
Vitamin A:
241
IU
,
Vitamin C:
2
mg
,
Calcium:
135
mg
,
Iron:
3
mg
Notes
*recipe adapted from [url href="http://www.sixsistersstuff.com/2011/12/wingers-sticky-fingers-copycat-recipe.html" target="_blank"]Six Sisters Stuff[/url]