In the mood for sweet, crunchy, moist, garlicky, delicious chicken? Then this Crispy Honey Garlic Chicken is the only recipe you'll ever need to satisfy your chicken cravings.
If you like chicken dishes, then you'll also want to make my Best Healthy Grilled Chicken, this Sheet Pan Chicken, Potatoes And Green Beans, or these Healthy Chicken Sheet Pan Fajitas.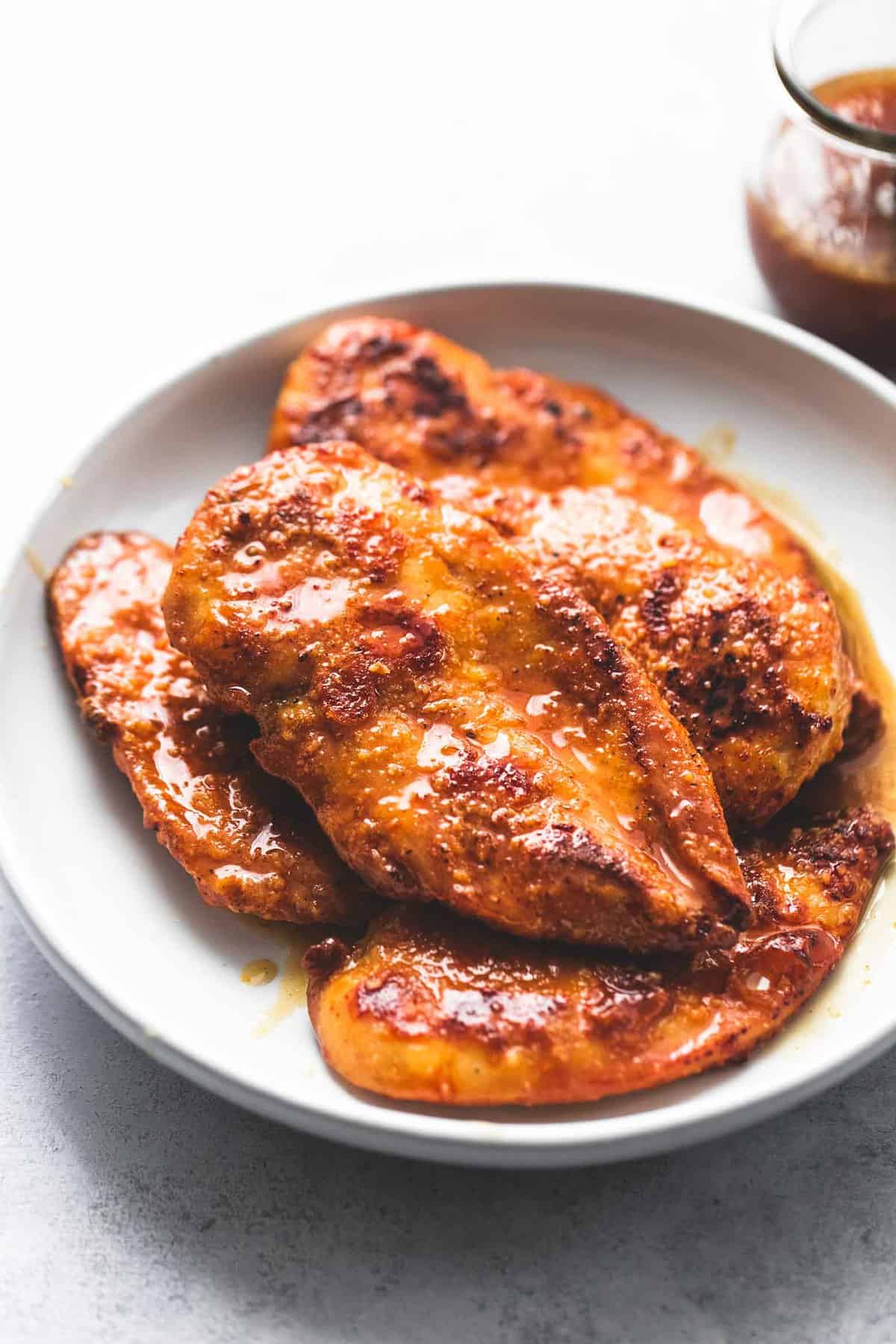 Oftentimes I forget to add a bit of sweet to meats. Not that I'm making a recipe and I skip over that part, but that I CAN add sweet to meat. (Also, it rhymes, so that's just fun.) I'm always about the spices, the sauces, the rubs, but forget that honey (or maple syrup or brown sugar) just adds that perfect sweetness to a lot of foods.
It's especially good on meats to caramelize the outside and give it that nice crust. Plus, who can resist a bit of sweet mixed with a bit of crunch, plus all the goodness of garlic? Not this girl. No, sirree.
I have to admit, I modeled this dish after one I got at an Asian restaurant near our house. I ordered the chicken on a whim and devoured the entire entree. My husband and I, we usually order two different dishes and then share but not this time! Once I had it I knew I had to recreate it in my kitchen so I could make it whenever I wanted it/needed it.
HOW DO YOU MAKE CRISPY HONEY GARLIC CHICKEN?
The first thing I did when making this chicken dish was to make the sauce. You want to make the sauce first so that when the chicken is done, you can pour the finished sauce all over it, coating every nook and cranny — kind of like how they make chicken wings at sports bars (except, of course, way better).
To make the sauce, you whisk together the honey, soy sauce, and garlic in a saucepan and let it come to a boil. Then, I added the cornstarch to cold water, mixed it together, then added that mixture into the honey mixture, stirring away again until it was all nice and rich and thick. I then took the pan off the stove and set aside for a bit.
Next, I dredged the chicken pieces in an egg wash before rolling them in the flour and spice mixture. I made sure to coat all the pieces well so that every millimeter was covered in the batter. To cook the chicken, I cooked each side for 4-5 minutes in hot oil. I wanted the chicken to be crispy all over the outside and moist (but done) in the middle.
Finally — the best part — when the chicken is done cooking, I tossed it all in the honey garlic sauce. You can either add the chicken to the saucepan (if it's big enough) or add the chicken to a bowl and pour the sauce over it that way. I used tongs to make sure all the chicken was coated. It's still hot at this point so you probably don't want to use your hands.
HOW DO YOU SERVE CRISPY HONEY GARLIC CHICKEN?
This dish lends itself to being eaten over some kind of carb, for sure!
Serve this chicken over rice: brown, white, or even cauliflower rice will work.

If you don't want rice, try pasta or an Asian noodle like ramen, udon, or soba.

If you don't want the carbs, try serving this over veggie noodles.

You can also serve this chicken with a flatbread like a naan, for example. Make sandwiches or use the bread as a side item.

Make a wrap with a tortilla (you'll need to cut the chicken first) and fill with your favorite Asian toppings (bamboo shoots, basil, and matchstick carrots and cucumbers come to mind).

Make it hot by serving this chicken with a side of hot sauce. Pick any you like — but Sriracha is always a good choice.
WHAT CAN I SUBSTITUTE FOR CORNSTARCH?
If you don't have cornstarch to thicken the sauce, you can also use rice or wheat flour, arrowroot, potato starch, tapioca, or ground flax seeds, though the consistency may be slightly thinner or thicker depending on which substitute you choose.
You can also simmer the sauce longer to thicken it or try adding Greek yogurt or sour cream if you like a thicker, creamier sauce.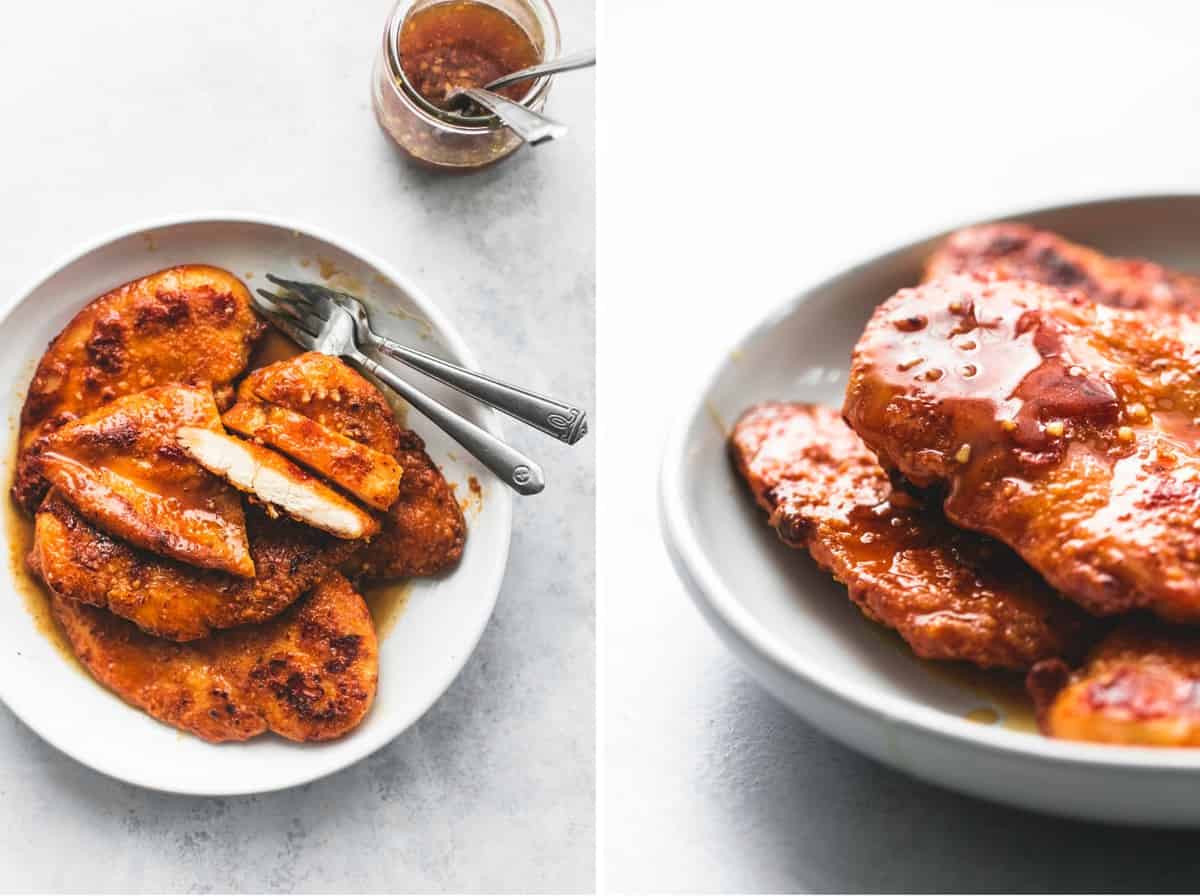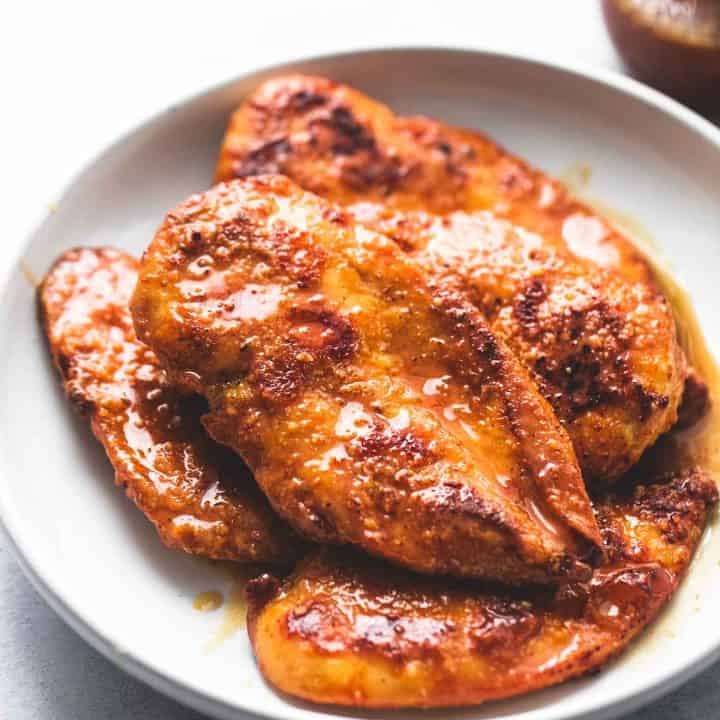 Crispy Honey Garlic Chicken
In the mood for sweet, crunchy, moist, garlicky, delicious chicken? Then this crispy honey garlic chicken is the only recipe you'll ever need to satisfy your chicken cravings.
Ingredients
2

large boneless skinless chicken breasts

-

cut in half lengthwise and pounded to an even thickness to make four cutlets

2

large eggs, beaten + 1 tablespoon water

1

cup

flour

1

teaspoon

cayenne pepper

1

teaspoon

smoked paprika

-

regular is fine if you don't have smoked

½

teaspoon

salt

¼

teaspoon

pepper

½

teaspoon

garlic powder

¼

cup

vegetable oil
honey garlic sauce
½

cup

honey

2

teaspoons

minced garlic

2

tabespoons

soy sauce

1

tablespoon

corn starch + 3 tablespoons cold water
Instructions
In a medium sauce pan, bring honey, soy sauce, and garlic to a boil. Stir corn starch into the cold water, then whisk into boiling honey sauce until thickened. Remove from heat and set aside.

In a wide, shallow dish together the flour, cayenne pepper, paprika, salt, pepper, and garlic powder. In a second shallow dish whisk together eggs and 1 tablespoon water. Dredge the chicken in the egg wash, then in the flour mixture, tossing to coat all sides of the chicken.

Pour oil in a large skillet and bring to temperature over medium heat. Cook chicken in the oil , 4-5 minutes on each side, until crispy on the outside and cooked through in the middle.

Toss chicken in the honey garlic sauce, coating all sides very well. Serve immediately.
Notes
Flavor tip: add 3 tablespoons buffalo wing sauce to the honey garlic sauce for a sweet and spicy chicken!
Nutrition
Calories:
527
kcal
,
Carbohydrates:
60
g
,
Protein:
30
g
,
Fat:
19
g
,
Saturated Fat:
13
g
,
Trans Fat:
1
g
,
Cholesterol:
154
mg
,
Sodium:
484
mg
,
Potassium:
539
mg
,
Fiber:
1
g
,
Sugar:
35
g
,
Vitamin A:
608
IU
,
Vitamin C:
2
mg
,
Calcium:
31
mg
,
Iron:
3
mg