Juicy, fall apart tender, Slow Cooker Honey Balsamic Pork tenderloin in a sweet and savory balsamic sauce – great over rice, on a sandwich, or in a taco!
Heavens to betsy THIS PORK.
I think I've mentioned one or twenty seven times that my husband travels a bit for work. When he is out of town I miss him (of course) and I'm always ridiculously butterflies-in-stomach-like-a-schoolgirl excited for him to get home (naturally), but when I make really awesome dishes while he is out of town, I just die waiting for him to get home to try it out. I love to make a dish and have my official taste-tester right there to give the thumbs up. When I have to wait a couple of days it just kills me. Because that "mmmmmmm – wife, this is so good!!" that he blurts out between mouthfuls of yumminess is what I live for when it comes to cooking.
This honey balsamic pork? Yeah it happened while he was out of town. In fact he is still out of town. But I couldn't wait to share it with you. I already know he is going to send me a text as soon as this recipe is published saying "wife! I haven't tried that pork… You make all the good stuff when I'm not home!" It's so not true. I make the good stuff when he is home.
And when he is not home.
Though I miss him dearly, the deliciousness must go on.
This recipe is so SO easy to make, and I know you're going to love that as much as I do. You just whisk together the sauce ingredients, pour it over the pork, and let your slow cooker work it's slow cookery magic all day while you are at work or running errands or staying busy with some other sort of craziness. Then you come back, shred that beautiful pork, and devour the goodness. And if you're feelin' real wild, you can add just one more step in there before shredding the pork. It only takes a few extra minutes but it will thicken up that sauce just a bit so it "sticks" to the meat a little more. It's delicious either way so one way or the other, make. this. pork.
Like yesterday.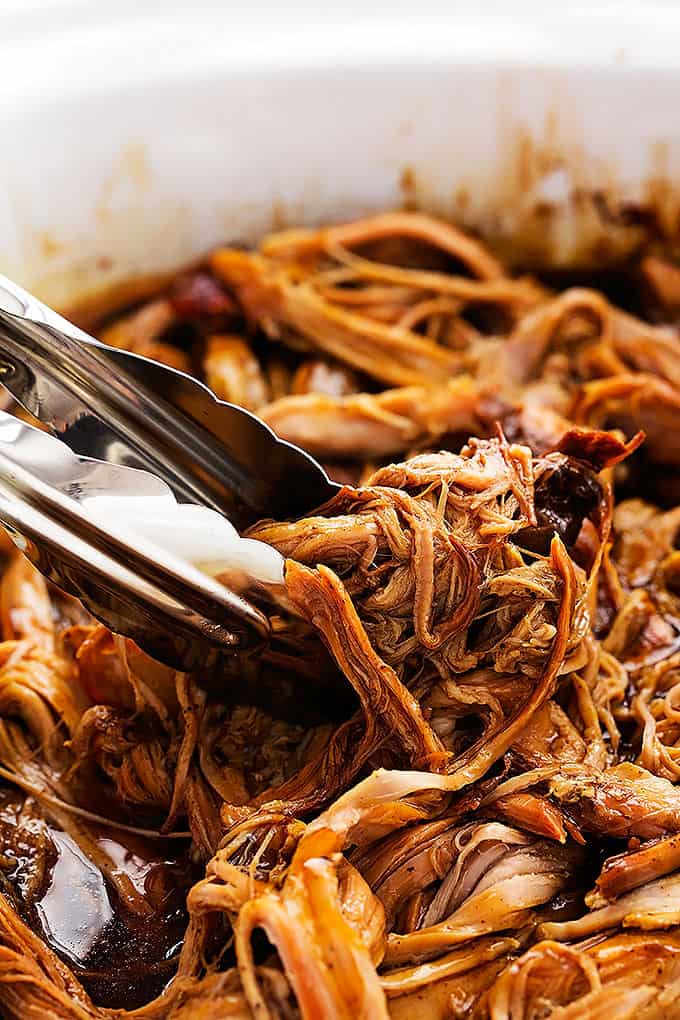 What people are saying about this Slow Cooker Honey Balsamic Pork Tenderloin
"WOW..I've just cooked this down under in Perth Australia. Nine hours in the slow cooker but was it so worth it !incredibly juicy pork with such a mouthwatering balance of flavours. All the ingredients go so well together,every mouthful is a joy and I'm not even a huge fan of pork! Used fresh garlic instead and served with crusty rolls. #newfavouritedish" – Phil
"Love this website, wingers chicken, baked sweet and spicy chicken, and THIS. PORK. The recipes are very easy and come out perfectly each time and they are a crowd pleaser!!! I've sent the link to your website to many people who are probably making the honey balsamic slow cooker pork this weekend! Thank you for the slow cookery deliciousness." – Brooke
"Made this over the weekend to use for lunches through the week–it was fantastic! After about 7 hours the slow cooker, I didn't need to shred the meat as it had completely fallen apart! I put it on hoagie buns for sandwiches with potato chips on the side. Would be a great meal to serve at a get together!" – Cassie
"I made this today and it was SOOO GOOD! My boyfriend devoured it and wanted more of it lol. Seriously the best recipe I have made from Pinterest. Thank you so much for sharing it! (:" – Brianna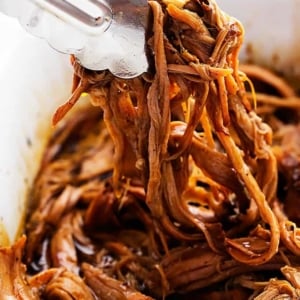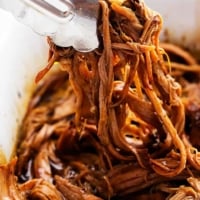 Slow Cooker Honey Balsamic Pork Tenderloin
Juicy, fall apart tender, slow roasted pork tenderloin in honey balsamic sauce!
Ingredients
1

pork tenderloin

-

(between 1-3 pounds)

½

cup

balsamic vinegar

1

cup

water

¼

cup

honey

3

tablespoons

brown sugar

1

tablespoon

minced garlic

1

teaspoon

onion powder

½

teaspoon

black pepper

2

tablespoons

soy sauce

2

tablespoons

cold water

1

tablespoon

corn starch
Instructions
Whisk together vinegar, water, and next six ingredients.

Add pork to your slow cooker. Pour sauce over pork. Cover and cook on high for 4-5 hours or on low 8 hours.

Shred pork with two forks and serve now OR follow the next (optional) step.

BEFORE SHREDDING MEAT: Use a small strainer or a spoon to discard excess fat from the liquid in the slow cooker. Transfer as much liquid from the slow cooker as possible to a medium sauce pan. Bring to boil over medium-high heat. Whisk together cold water and corn starch and stir into boiling sauce. Reduce to simmer and allow to cook for 3-4 minutes until slightly thickened. Shred pork, pour sauce over the top and serve.
Notes
Serve over rice with a side salad and roasted vegetables. 
Nutrition
Calories:
459
kcal
,
Carbohydrates:
24
g
,
Protein:
63
g
,
Fat:
11
g
,
Saturated Fat:
4
g
,
Trans Fat:
1
g
,
Cholesterol:
197
mg
,
Sodium:
502
mg
,
Potassium:
1251
mg
,
Fiber:
1
g
,
Sugar:
21
g
,
Vitamin A:
7
IU
,
Vitamin C:
1
mg
,
Calcium:
37
mg
,
Iron:
3
mg