Decadent blackberry cake with rich buttercream frosting and hints of lime throughout each bite. 
This cake and I, we have a love-hate relationship.
Love because it's crazy delicious. Hate because it almost sent me to the looney house.
What you're seeing in these photographs is a revised round two version of the cake I tried to make Saturday night. A cake that failed miserably and had me on the verge of pulling my hair out and calling it quits with cake-baking.
Forever.
The first of the cake problems came when I had just begun mixing the dry ingredients. I stopped mid-baking soda scoop to answer the phone and then had to go move the car to another position in the garage for my husband to be able to park the other car (Mazda #2) closest to his tools.
Thinking that I'd only be a minute, I didn't bother to grab shoes.
In retrospect I really wish I'd grabbed a pair of flip flops.
Immediately after moving the car, I hurried to get back inside to resume my cake baking adventure. While walking through the garage however, I stepped on a piece of glass.
After managing to pull it out of my foot, I left a lovely little trail of only right-sided foot prints all the way across the concrete floor.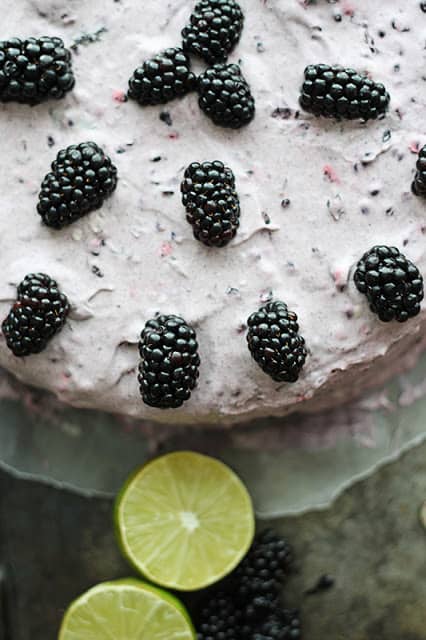 After a quick bandage job, I was back in the kitchen. But it wasn't until after I'd added both the baking powder and the baking soda that I realized that in the whole car-moving bloody-foot fiasco I'd mixed up the measurements for the two agents. I  now had twice as much baking soda as I needed sitting on top of my flour.
So the genius inside of me though, oh I'll just scoop half of that out and proceed as though it never happened. . .
Stop shaking your head, it gets better.
After an intermission where the husband and I went out for dinner, I got back to the making of the disaster cake. I whipped up the rest of the batter, filled the pans, and stuck the pans in the oven.
Phew.
(Five minutes later…)
Wait, is that a third of the flour mixture I see still in the bowl?
Oh dear.
Yep, I really did what you think I did.
I pulled the pans out, dumped the contents back into the bowl, stirred in the remaining flour mixture, refilled the pans, and put them back in the oven.
I just don't know when to stop I guess.
I soon realized however that my pans were too full. The batter was going to spill over. Ah hah! I'll just place this piece of tin foil on the next rack down so that the spilled batter will land on the foil instead of the rack and coils. Then the rest of the cake will bake perfectly and life will be bliss.
Wrong-o.
After a few minutes of watching anxiously as a disaster occurred in my oven, I threw in the towel.
Finally.
After sending the husband on a 911 emergency ingredient and cake pan run to the store, (and after much of his coaxing), I decided I'd better leave round two of the cake for the next morning.
Thankfully round two turned out quite lovely and extremely delicious. Enough to make the night before worth the nightmare.
I officially made my first-ever successful cake. We're just full of firsts around here. And full of embarrassing stories to go with them.
Oh well, chalk it up and move on right? Or chalk it up and eat some cake.
Yeah I like that better.
What people are saying about this Blackberry Lime Cake
"I found this recipe a year and half ago and have since made this recipe at least 6 times. It is my go-to for every occasion. I've even made it into beautiful cupcakes for a baby shower. It's fluffy, refreshing, and just the right amount of sweetness. I never write comments but felt like I had to because this never fails to impress family and friends. Thanks!!" – Sarah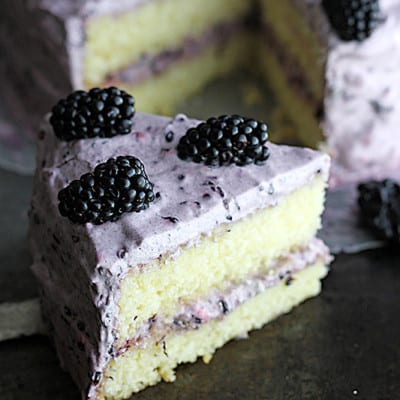 Blackberry Lime Cake
Decadent blackberry cake with rich buttercream frosting and hints of lime throughout each bite. 
Ingredients
3

cups

cake flour

1 ½

teaspoons

baking powder

½

teaspoon

baking soda

1

teaspoon

salt

1

cup

butter

3

cups

sugar

5

eggs

¼

cup

lime juice

-

(about 2 limes)

zest of 1 lime

1

teaspoon

vanilla

¾

cup

buttermilk
Frosting
1

cup

heavy cream

4

tablespoons

brown sugar

½

teaspoon

vanilla

2

cups

blackberries

-

divided
Instructions
Preheat oven to 350 degrees. Lightly spray 2 9-inch round cake pans with cooking oil. Sprinkle with flour and tap out excess. In a medium bowl combine flour, baking soda, baking powder, and salt.

In a large bowl, cream butter and sugar until light and fluffy. Add eggs one at a time, mixing well between eggs. Stir in vanilla. Add about 1/3 of the flour mixture. Add lime juice and zest and mix well. Add half of the remaining flour mixture and buttermilk until incorporated. Add remaining flour mixture and mix well.

Pour batter into prepared pans and bake 20-30 minutes, until and inserted toothpick comes out clean and cake springs back when touched. Allow to cool on wire racks. Loosen edges with a knife and invert cakes on a flat clean surface.

For the frosting, whip cream and brown sugar until stiff peaks form. Stir in vanilla. Mash one cup of blackberries with a fork and mix into cream. Spread 1/3 of the frosting onto the top of one cake layer. Carefully place other cake on top. Use a rubber spatula to spread remaining frosting completely over the entire cake, coating top and sides well. Top with whole blackberries. Refrigerate until ready to serve.
Notes
Store covered, at room temperature, or chilled up to three days. 
Nutrition
Calories:
451
kcal
,
Carbohydrates:
82
g
,
Protein:
8
g
,
Fat:
11
g
,
Saturated Fat:
6
g
,
Trans Fat:
1
g
,
Cholesterol:
99
mg
,
Sodium:
365
mg
,
Potassium:
171
mg
,
Fiber:
2
g
,
Sugar:
57
g
,
Vitamin A:
503
IU
,
Vitamin C:
7
mg
,
Calcium:
109
mg
,
Iron:
1
mg