Broccoli Apple Salad with Poppyseed Dressing is the perfect fall salad for all those sweet, crispy in-season apples and tender-crisp broccoli in a tangy, sweet, light dressing. 
If you like hearty salads made with more than just lettuce, then you'll also want to make my Bacon Avocado Potato Salad, Greek Tortellini Pasta Salad, or my Chopped Autumn Salad with Apple Cider Dressing.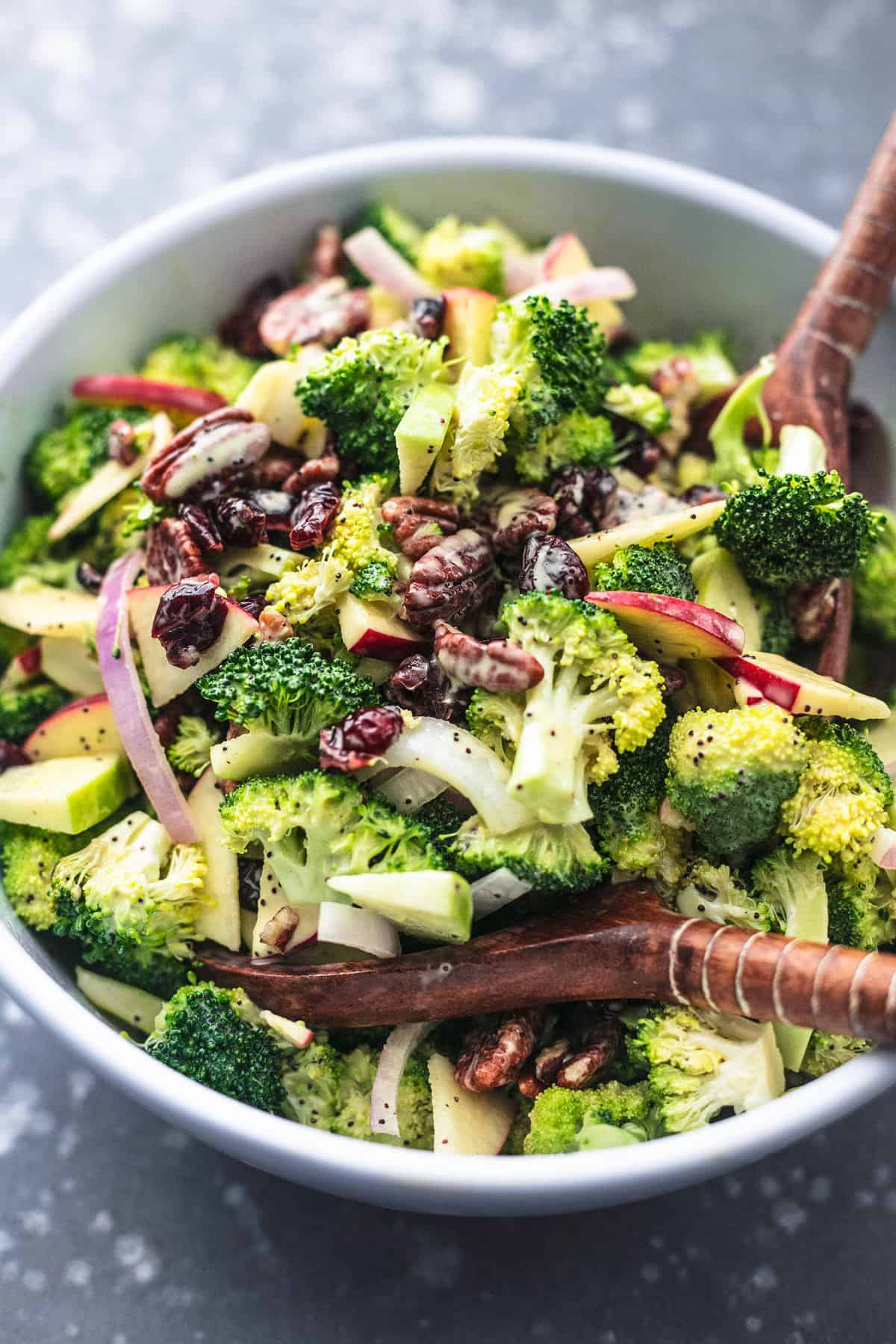 Despite the fact that the weather took FOREVER to turn to fall, I've been feeling it for quite some time now. And though I love all the pumpkin-flavored everything, I also like to use fall fruits and veggies that are in season to make other kinds of dishes, like all the delicious apples available now plus in-season broccoli, onions, and pecans mixed with the chewy/tart craisins. Trust me, this is a dish you do not want to miss.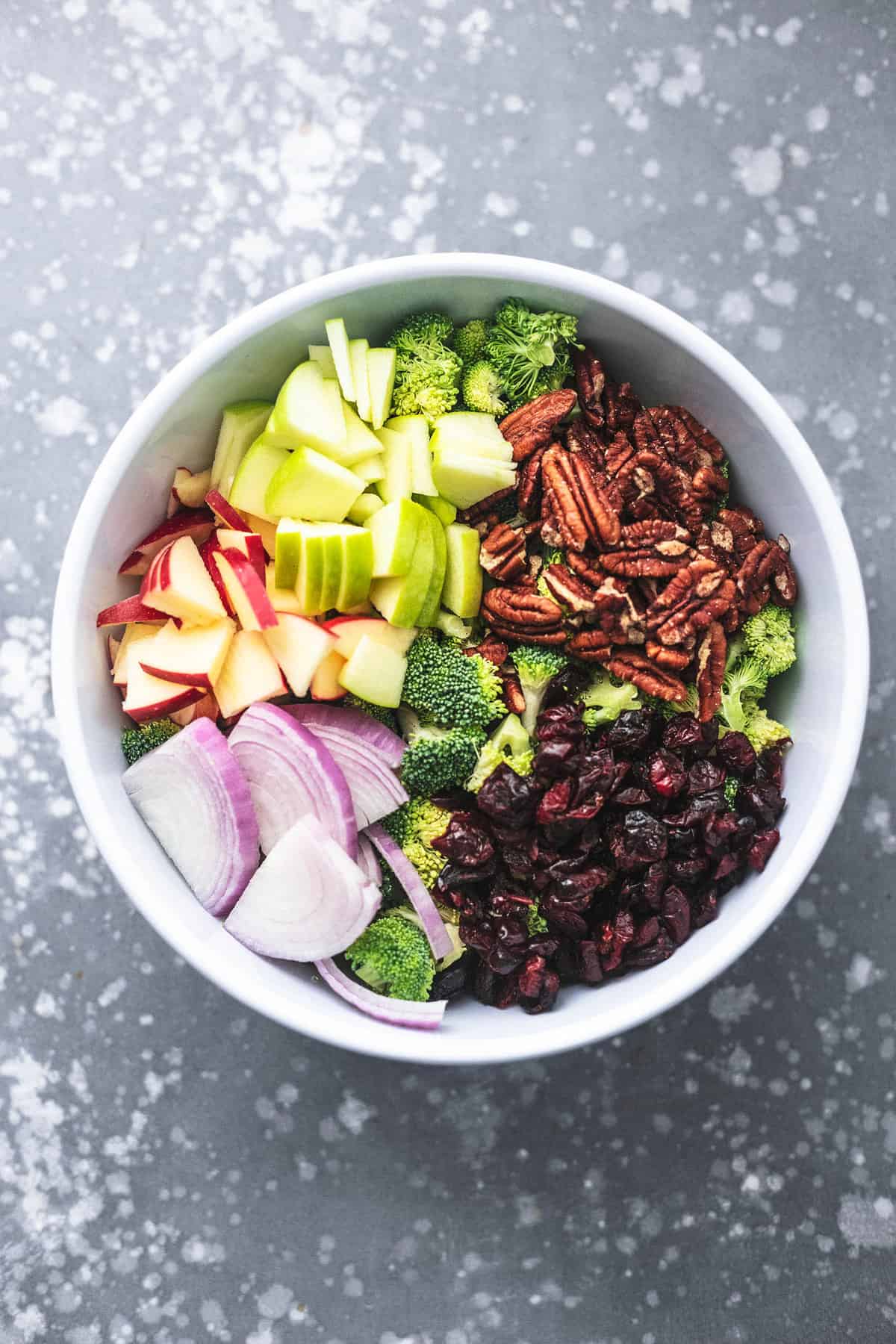 HOW DO YOU MAKE BROCCOLI APPLE SALAD WITH POPPYSEED DRESSING? 
As you know, one of the first things I like to do when making any recipe is to get out all my ingredients and make sure to chop, dice, or otherwise prepare each ingredient so that it's all ready to go when it needs to be added. 
Once I have all my ingredients out, I start with the dressing first. I add the oil, vinegar, Greek yogurt, mustard, honey, juice, poppy seeds, and salt and pepper and blend it all up in the blender. If you don't have a food processor or blender, you can put everything into a mason jar shake it all up really well until it's thoroughly combined. 
I set my dressing aside and combine the veggies, nuts, fruit, and craisins and give it all a good stir. Next, I pour the dressing over the top of the fruit and veggie mixture and combine thoroughly. I like to serve this salad right away, but you can cover it and refrigerate it up to 8 hours. Much longer than that and it'll start to get soggy and you don't want that.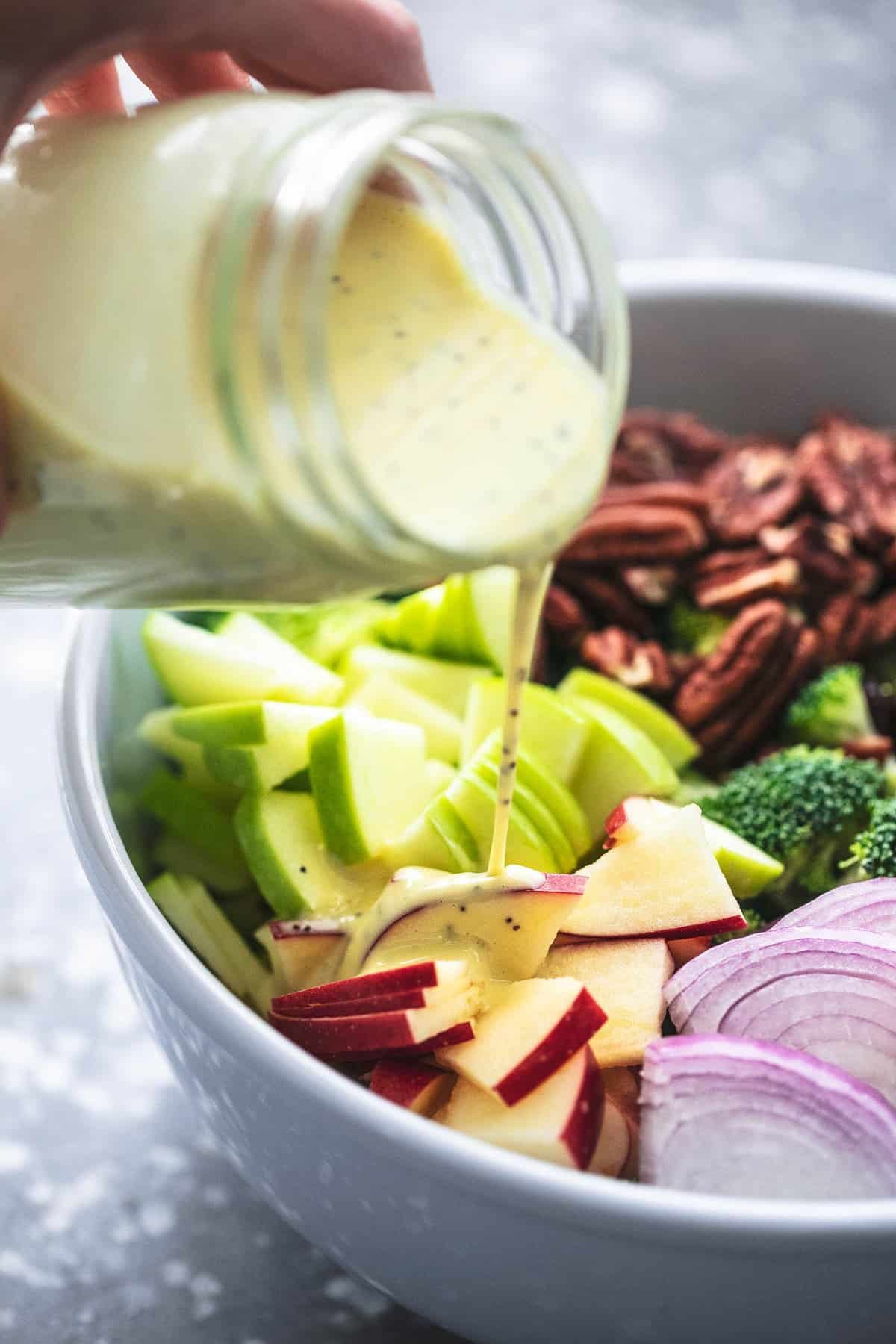 WHAT TO SERVE WITH BROCCOLI APPLE SALAD
This salad is great for a potluck, brunch, or any occasion really. If you're going with the big spread idea, also try:
Garlic Herb Potato Hash

is a great dish to serve for a group alongside other dishes like the broccoli apple salad. 

Oven Roasted Dill Potatoes

complement this salad really well and if you're going for a meatless meal, will round out the broccoli and apples quite nicely. 

If you're looking for a little salty meat flavor, but you still like the idea of potatoes, then these

Bacon Cheddar Potatoes and Foil

will be just the dish you need. 

If you're loving the idea of fruit then why not make a simple fruit salad using whatever fruit you have on hand? 

I am a big fan of sweet breads, muffins, rolls —  you name it. Add a

bread side

to this salad and eat happy. 

HOW DO YOU BLANCH BROCCOLI?
Not everyone loves the bitter taste of raw broccoli. I don't mind it but I have plenty of friends and family members who would prefer it be cooked a little to take some of that bitterness out. 
A great way to cook the broccoli a bit but keep the crispness to it is to blanch it. Blanching is a method of cooking a vegetable ever so slightly in boiling water, then cooling it off immediately to stop the cooking process. 
To blanch the broccoli for this salad, first cut your broccoli into florets and stems, or however you like to have your broccoli cut up into bite-size pieces. Next, put on a pot of water and bring it up to a rolling boil. Drop the broccoli carefully into the boiling water and leave them to cook for only two minutes. Use a timer to help keep an eye on the time. 
While the broccoli is cooking, put ice water into a large bowl (big enough to hold all the broccoli you're blanching). Once the two minutes are up, use a slotted spoon to transfer the broccoli from the boiling water to the ice water to halt the cooking process. Then transfer the broccoli to a bowl or plate lined with paper towels to soak up some of the moisture. 
Add the blanched broccoli to your salad and enjoy the tender-crisp flavor.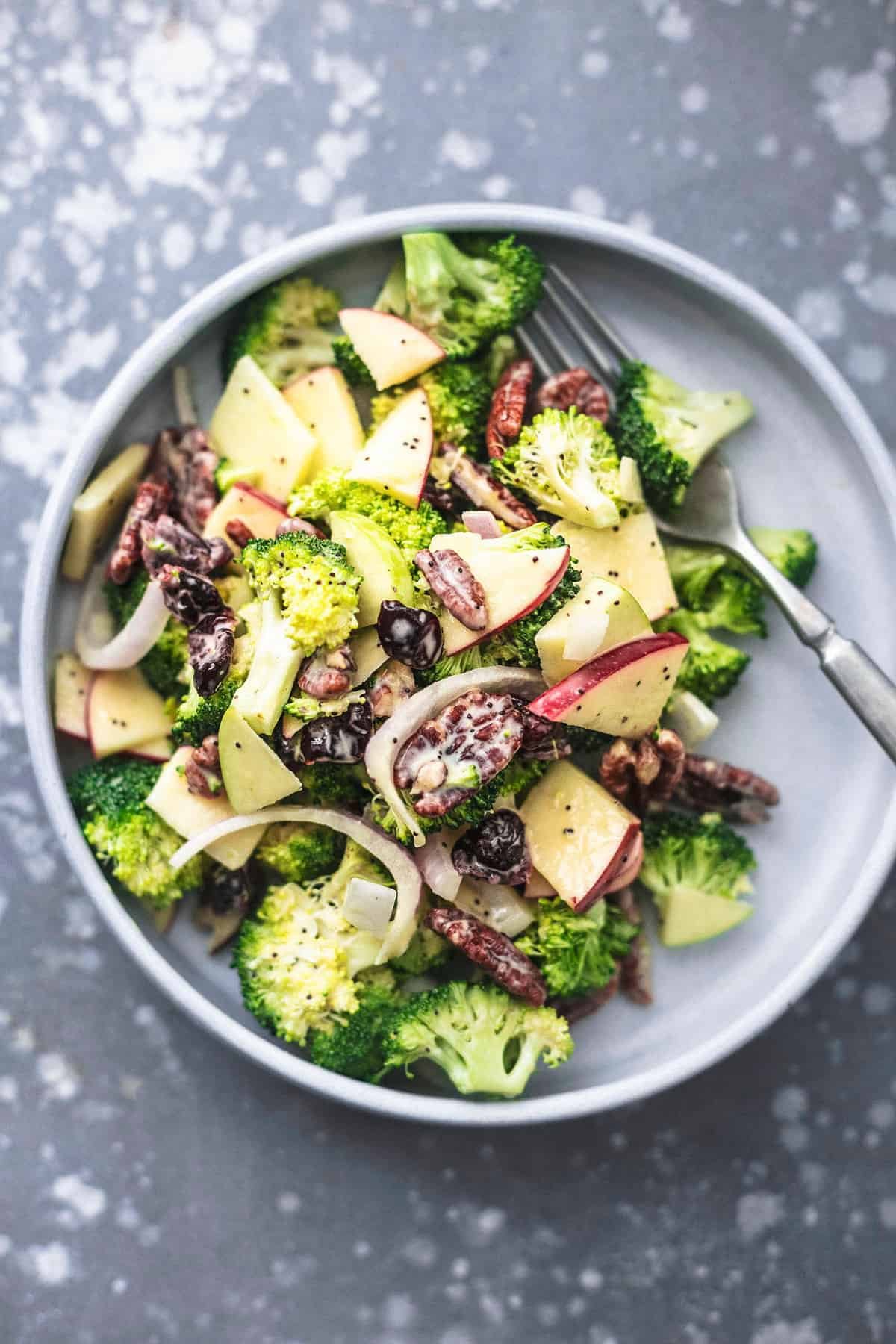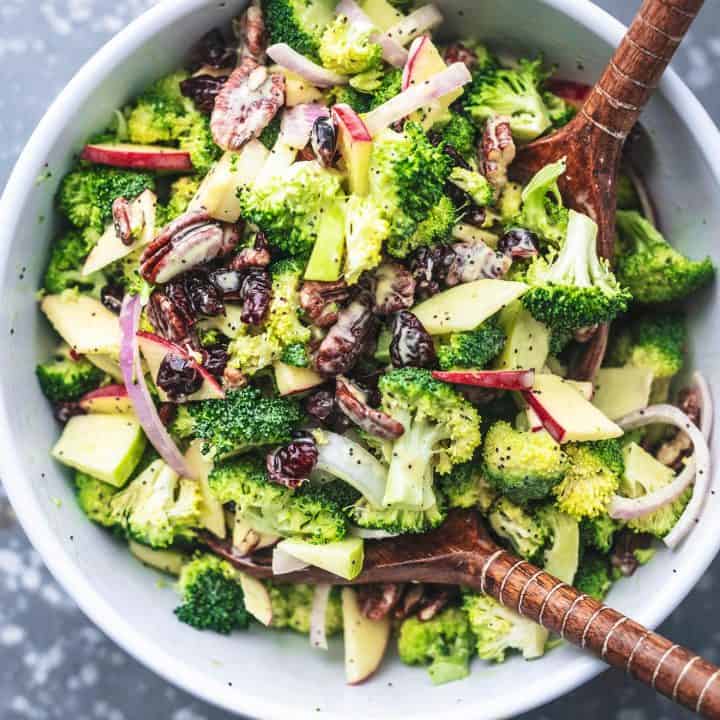 Broccoli Apple Salad with Poppyseed Dressing (no mayo)
Broccoli Apple Salad with Poppyseed Dressing is the perfect fall salad for all those sweet, crispy in-season apples and tender-crisp broccoli in a tangy, sweet, light dressing. 
Ingredients
4

cups

broccoli florets

2

apples

-

thinly sliced and chopped, red, green, or both

⅓-½

cup

dried cranberries

½

cup

chopped pecans

½

red onion

-

thinly sliced
Poppyseed Dressing
½

cup

olive oil

⅓

cup

apple cider vinegar

¼

cup

plain Greek Yogurt

1

tablespoon

dijon mustard

3

tablespoons

honey

⅓

cup

orange juice

2

teaspoons

poppy seeds

pinch of salt and pepper
Instructions
In a blender or food processor, combine all dressing ingredients and pulse until smooth. (You can also combine in a jar and shake shake shake!)

In a large bowl combine broccoli, apples, cranberries, pecans, and onions,

Pour dressing over salad and toss to combine.

Serve immediately or cover tightly and chill up to 8 hours (see note).
Notes
I have even kept this salad overnight, covered tightly, in the fridge and the apples did not brown! The Broccoli was softer after a night in the dressing but still totally delicious. 
Nutrition
Calories:
351
kcal
,
Carbohydrates:
31
g
,
Protein:
4
g
,
Fat:
26
g
,
Saturated Fat:
3
g
,
Cholesterol:
1
mg
,
Sodium:
54
mg
,
Potassium:
375
mg
,
Fiber:
5
g
,
Sugar:
23
g
,
Vitamin A:
446
IU
,
Vitamin C:
65
mg
,
Calcium:
70
mg
,
Iron:
1
mg