Savory garlic chicken mushroom and asparagus penne with amazing flavor and comes together in just 30 minutes.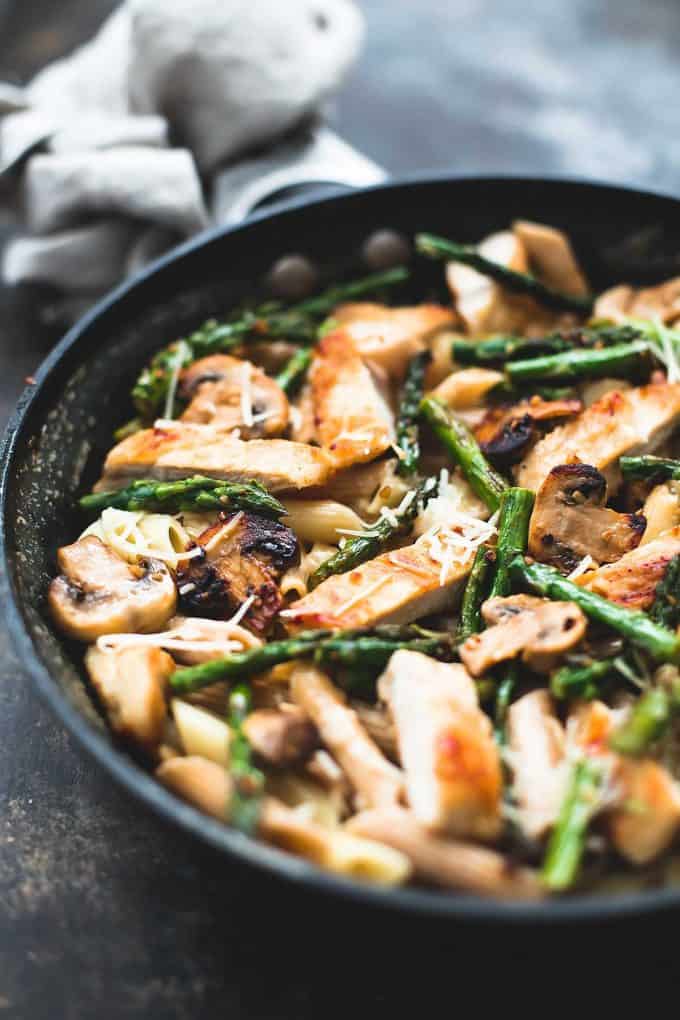 Raise your hand if 30 minute meals are currently a life. saver. in your house because you're too busy to think about spending a second more than that prepping dinner??
Oh good we're all on the same page then.
For just a second can we discuss how time goes by faster and faster every single year? Whyyyyy does it do that?! Every year I think, alright, I'm gonna slow things down and enjoy life and not let it pass me by and I am telling you, I really try to do that because I am weirdly serious about my New Years Resolutions. (<— capitalized for a reason. this is the real deal.)
Honest to goodness I try to be intentional about slowing down and enjoying the time that I am in and I can say that to some extent it works. I remember more details from the last two years than any other time in my life and that's not just because they are the most recent two years, but more because they are the only ones I ever tried to consciously take day by day and soak in the little moments.
But I swear every year I get busier and busier and time just flies by me no matter how much I beg it to slow down.
I'm not alone here, am I –  your clocks are on hyper speed too right? It's these dang iPhones, I love em but I'm convinced they all run faster than old fashioned clocks. (You know the kind we wore on our wrist…. um, yesterday?)
Okay but it all comes down to this: I do not have three hours to spend getting dinner ready. If it takes me more than 45 minutes it better be a fillet mignon. But since I'm not often making fillet mignon, I like to keep it around 30 minutes whenever possible. Hence this pasta dish, made with what I had in my pantry and fridge the other night and it turned out kind of magical.
Asparagus + mushroom + lightly breaded buttery garlic chicken with tender penne noodles. That's where it's at you guys. A real 30 minute dish, for real people, who have real lives and are busy and just love good food.
That's why I know you're gonna be a fan of this here pasta. Cause we're kindred spirits.
What people are saying about this Garlic Chicken Mushroom and Asparagus Penne
"I made this tonight for dinner, and it was SO good, and my husband loved it. I'm not a mushroom fan myself, but I still put them in because my husband loves them, and they gave this dish a nice flavor. And the fact that it comes together so quickly is a major bonus!" – Emily
"When I was in the process of making this recipe, I was hesitant because there was no sauce. However, it doesn't need sauce because of all of the butter that is used. It was light and delicious!" – K
"Made this last night. Delicious and an instant favorite of my husband's. As someone else mentioned, I did make a bit of a sauce – I added a splash or two of white wine, and then a cup of chicken broth. Then I added the pasta to the dish. It was a light sauce and just sort of glazed the pasta and other ingredients and kept it from being dry. I can't wait for the leftovers for lunch today!" – Betsy
Hungry for more? Try this Creamy Parmesan Chicken with Mushrooms recipe next!
Garlic Chicken Mushroom and Asparagus Penne
Savory garlic chicken mushroom and asparagus penne with amazing flavor and comes together in just 30 minutes.

Ingredients
8

ounces

dry penne pasta

3

boneless skinless chicken breasts

-

pounded to even thickness

¼

cup

flour

½

teaspoon

salt

¼

teaspoon

black pepper

3

tablespoons

butter

-

divided

½

cup

sliced mushrooms

1

pound

asparagus spears

-

ends trimmed

3

teaspoons

minced garilc

⅓

cup

shredded parmesan cheese
Instructions
Add penne noodles to a large stock pot and cover noodles with water. Bring to a boil over medium-high heat. Boil for 7-9 minutes until tender. Drain and set aside.

Stir together flour, salt, and pepper. Dredge chicken breasts in the flour mixture to coat both sides.

Melt 1 tablespoon butter in a large skillet over medium heat. Add chicken and cook on both sides 4-5 minutes until chicken is cooked through and browned on the outside. Transfer chicken to a cutting board and slice into strips or 1-inch cubes.

Chop asparagus into 2-inch pieces. Add remaining butter to skillet and melt over medium heat. Add garlic, mushrooms, and asparagus and stir over medium heat 4-6 minutes until mushrooms and asparagus are tender.

Stir in penne noodles and chicken and stir til noodles are heated. Stir in parmesan cheese. Serve hot.
Notes
No penne? No problem! Substitute any other short pasta noodle you have on hand. 
Nutrition
Calories:
404
kcal
,
Carbohydrates:
54
g
,
Protein:
33
g
,
Fat:
6
g
,
Saturated Fat:
2
g
,
Trans Fat:
1
g
,
Cholesterol:
63
mg
,
Sodium:
535
mg
,
Potassium:
743
mg
,
Fiber:
5
g
,
Sugar:
5
g
,
Vitamin A:
974
IU
,
Vitamin C:
8
mg
,
Calcium:
151
mg
,
Iron:
4
mg