Ravioli with Mushroom Cream Sauce is a creamy, savory, smooth, garlicky, comfort food treat of a meal. One bite and you'll never want your ravioli any other way!

If you love pasta dishes as much as I do, then you'll want to bookmark these dishes for your weekly meal planning: One Pot Chicken Parmesan Pasta, One Pot Creamy Tuscan Garlic Spaghetti, and One Pot Creamy Pesto Chicken Pasta.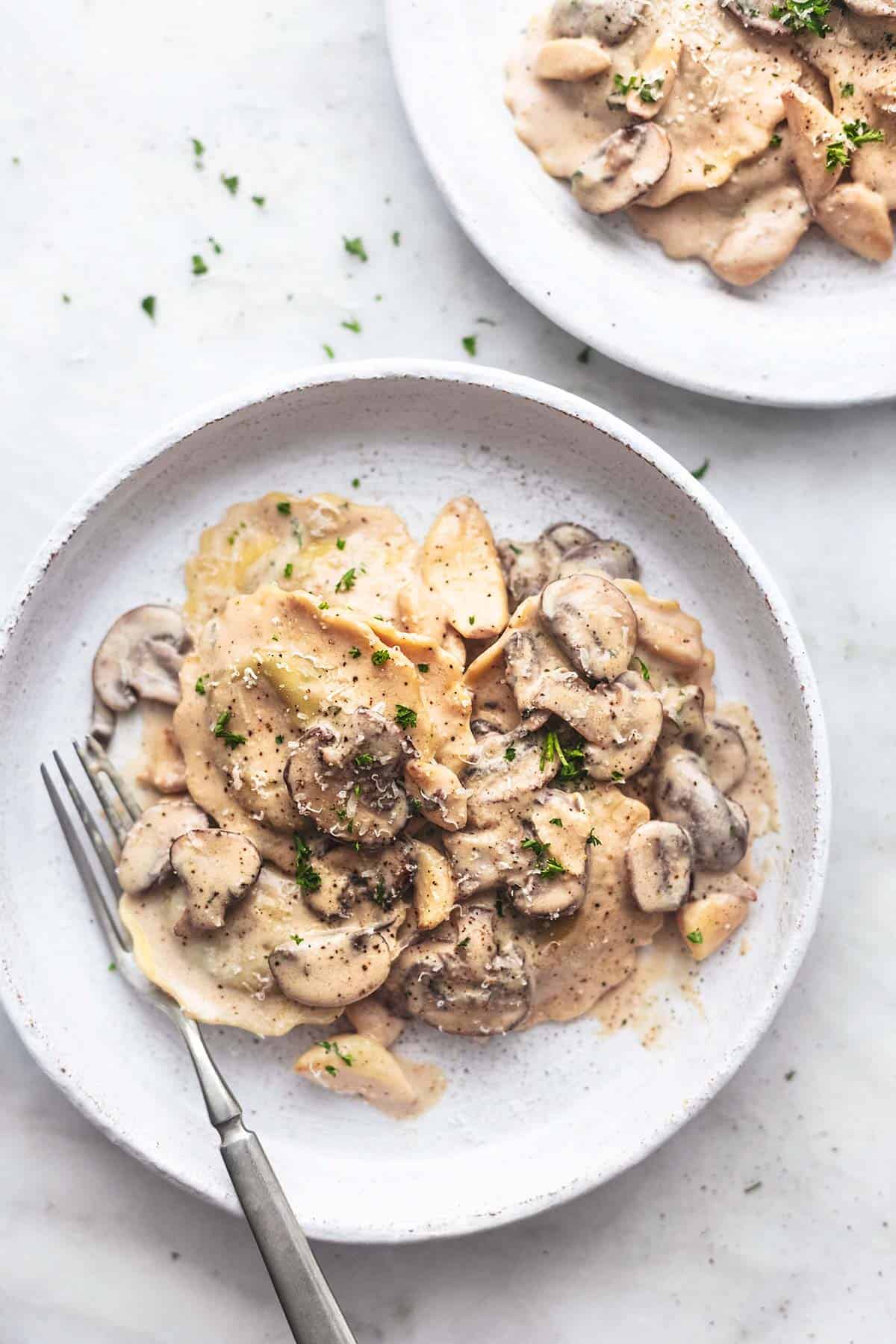 Did you know that mushrooms were a top-trending food last year? No, it's true! We've seen this with other foods, right? Kale, cauliflower, and salmon have all had their moments, in addition to just about every other superfood/popular food out there. 
But now, it's the humble mushroom's turn! I'm super happy about that because I looooove mushrooms, but I know they are kind of a polarizing food, like cilantro. People either love or hate them. My son loves them raw, but not cooked, which I think is even stranger? My husband hates them. The girls pick them out if they can see them, but eat them just fine if they don't know they're in there. 
Regardless, I still make meals with mushrooms in them because sometimes ya just gotta please yourself too, you know? And besides, that means that all the mushrooms everyone picks out of their meal means more for me. Win-win.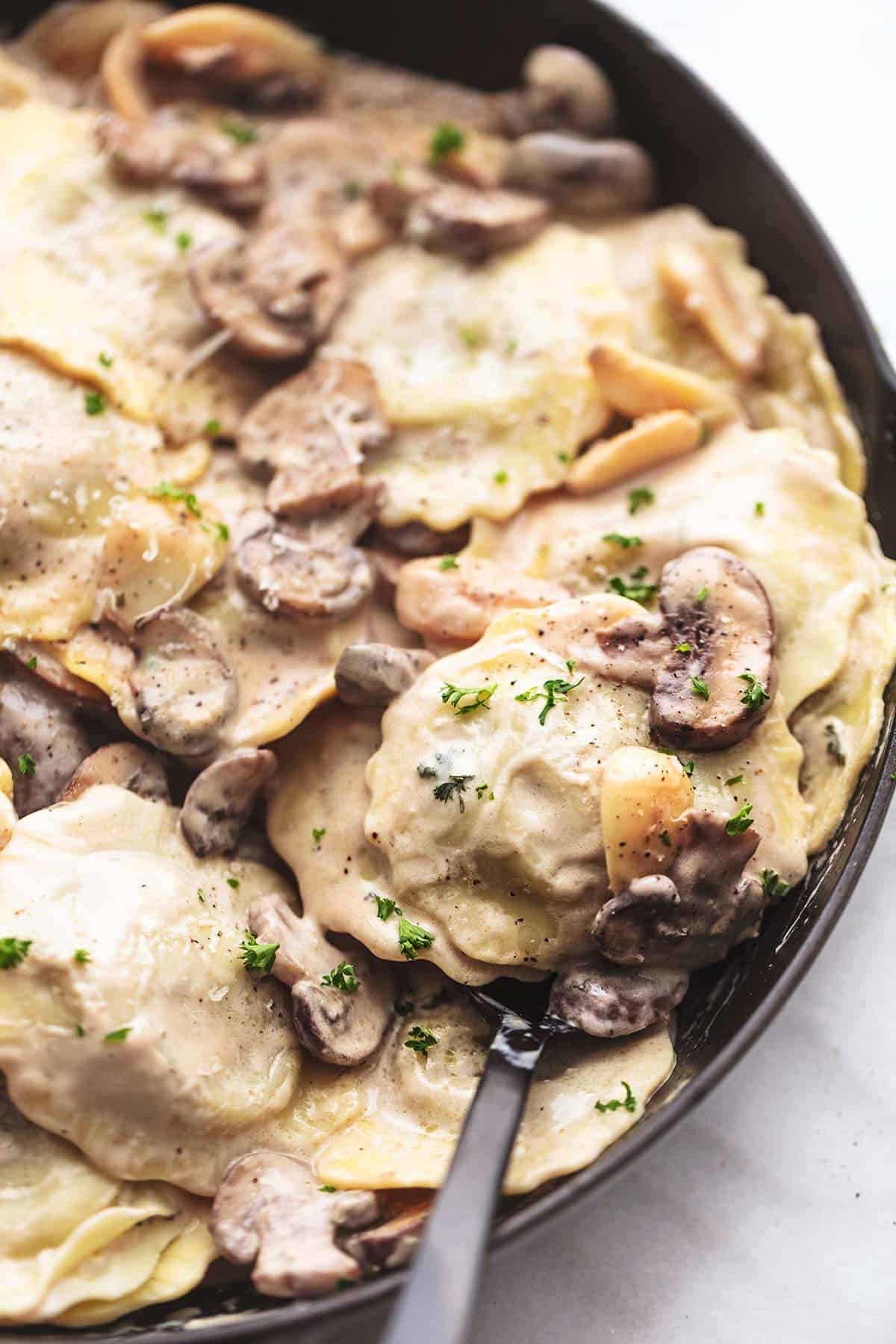 HOW DO YOU MAKE RAVIOLI  WITH MUSHROOM CREAM SAUCE?
There are a few pots and pans involved in this dish. I couldn't really get around that this time. But I think you'll find it's worth the minimal hassle and honestly few dishes. 
The first thing you want to do is fill a large pot with about 4 inches of water and bring it to a boil. You don't need as much water for ravioli as you would for other pasta, like spaghetti, so trust me on this one. 
Once boiling, add the ravioli and let it cook for 3 minutes and then drain and blanch the ravioli (to stop it from cooking and to keep it from sticking together) by running it under cold water in the strainer, in the sink. If you'd rather, you can toss the ravioli in a teaspoon of olive oil to keep it from sticking together. 
In a large skillet, add the butter, garlic, and mushrooms and saute for about 3-4 minutes or until the mushrooms start to breakdown and the garlic fills your house with its delightful fragrance.
Next, you add the broth to the mushroom mixture, stirring it all together. Bring it to a simmer then stir in heavy cream. Keep simmering until it starts to thicken and the sauce is reduced by half, about 5-7 minutes. 
Finally, add in the dried herbs, salt, and pepper, to taste. Gently add the ravioli back into the mushroom sauce mixture. I like to add a little freshly grated parm and fresh herbs to the top of this dish before serving, but you do you.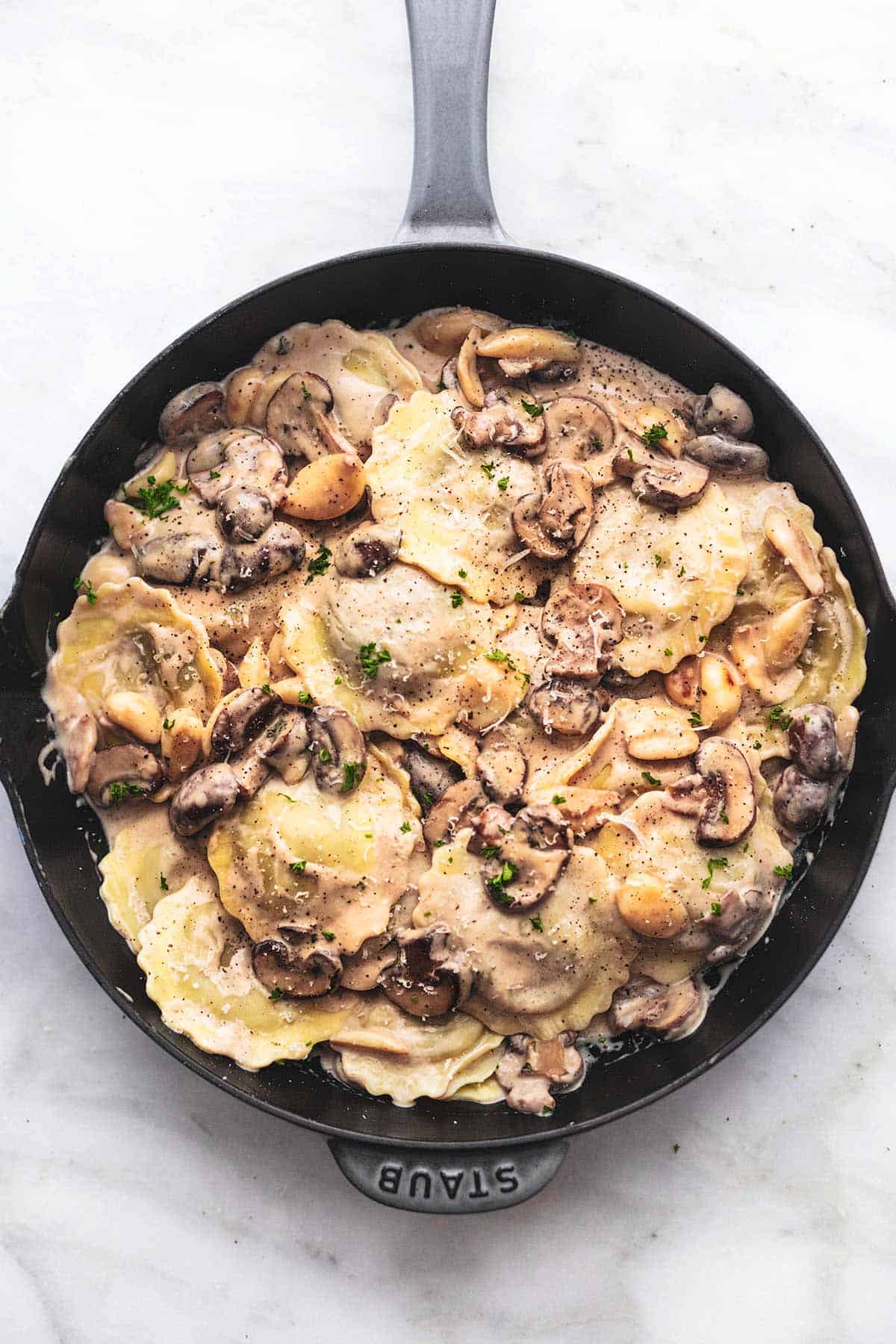 WHAT IS IN TRADITIONAL RAVIOLI?
Traditional ravioli is made from egg pasta dough and filled with cheese or meat. Sometimes even vegetables (think squash, spinach, tomatoes), and sometimes mushrooms! 
The filling is in between two layers of egg pasta dough and sealed around the edges. It's also generally served with a traditional marinara or other cream sauce. 
ARE MUSHROOMS GOOD FOR YOU?
And we are back full circle to my original statement that mushrooms are considered not only trendy but a superfood even. Although they do vary somewhat by mushroom type, they are all low in calories, have zero fat, no cholesterol, barely any sodium, and obviously no sugar. 
What they do have is tons of fiber, antioxidants, B and D vitamins, copper and potassium, plus they have been said to be beneficial for mental health, contain anti-cancer properties, and can help boost the immune system, all the more important as the winter weather seems it's here to stay a little longer. 
HOW LONG SHOULD YOU COOK MUSHROOMS FOR?
Mushrooms don't take very long to cook at all. In fact, the mushrooms i used in this mushroom ravioli recipe only take about 3-4 minutes to become tender. You could eat them at this point (you can eat them raw, for that matter), but I like to let them cook in the sauce for a while after they start to cook so that the mushroom flavor really infuses into the cream sauce. 
If you're going to grill them, then I recommend following my Grilled Steak and Mushroom Kabob recipe, and using a bigger, whole mushroom like baby bellas or button mushrooms. These take a little longer to grill and hold their shape quite well.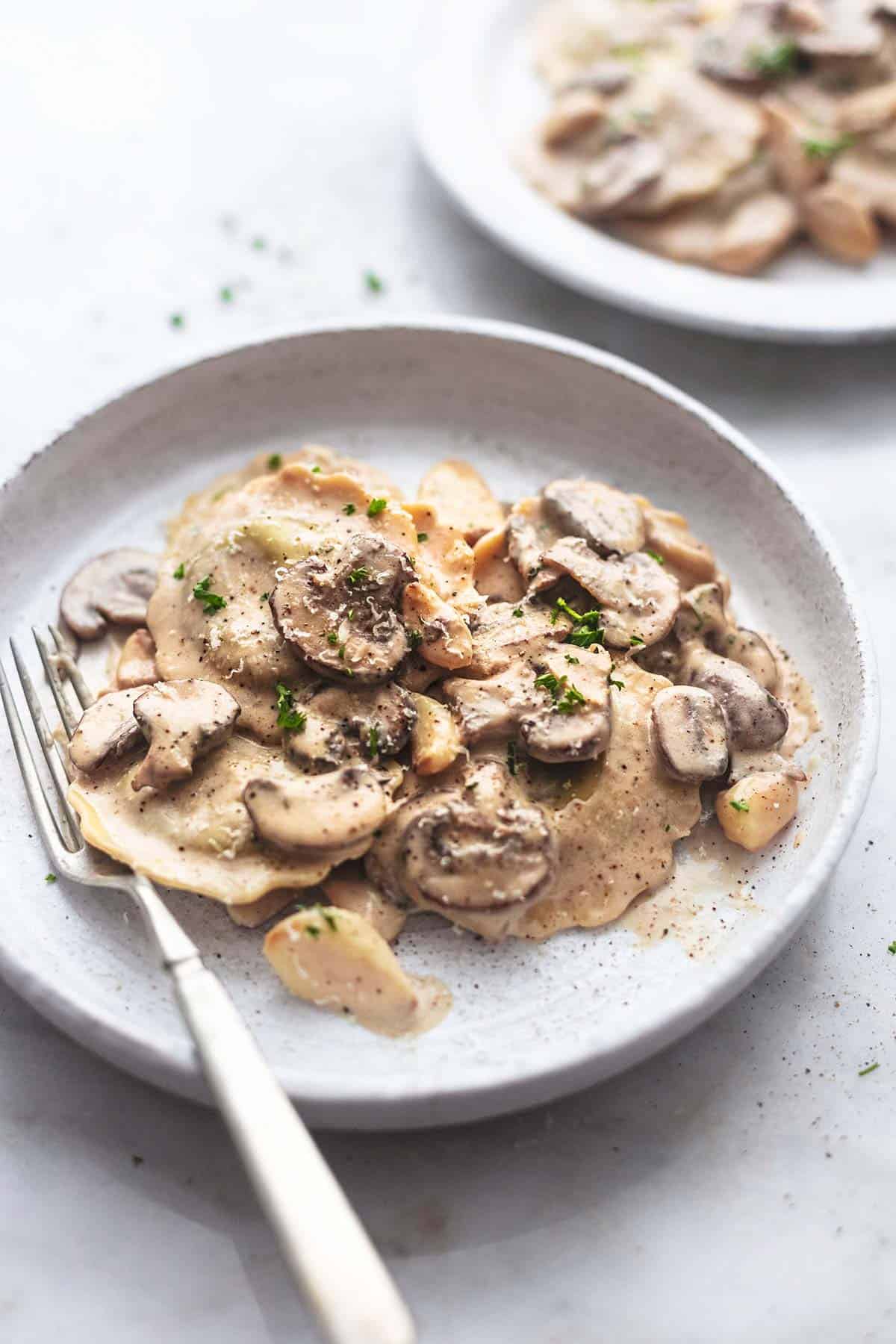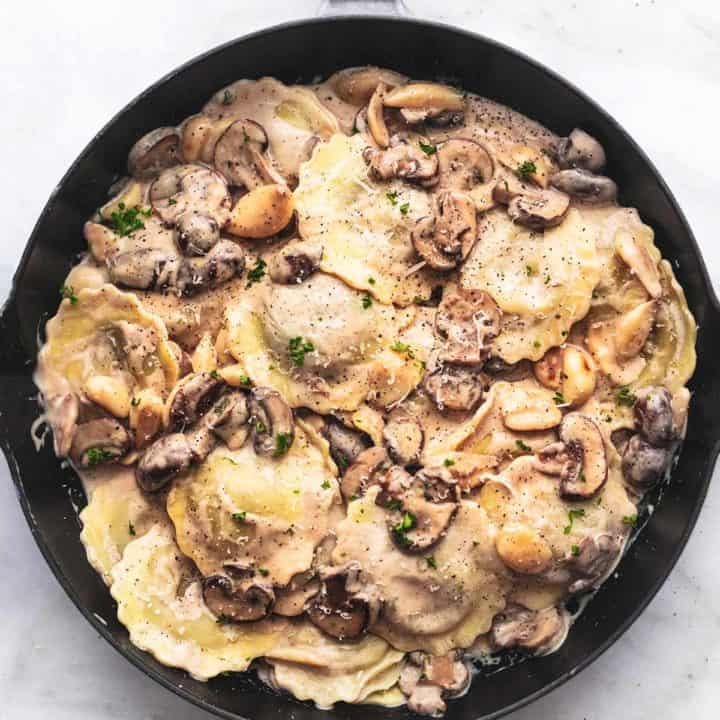 Ravioli with Mushroom Cream Sauce
Ravioli with Mushroom Cream Sauce is a creamy, savory, smooth, garlicky, comfort food treat of a meal. One bite and you'll never want your ravioli any other way!
Ingredients
18

ounces

mushroom ravioli

-

see note

8

ounces

mushrooms

-

sliced

3

whole garlic cloves

-

peeled OR 1 tablespoon minced garlic

3

tablespoons

butter

2

cups

low sodium chicken or vegetable broth

1

cup

heavy cream

1

teaspoon

italian herb blend seasoning

-

or Herbs de Provence

½-1

teaspoon

salt

-

to taste

1/2

teaspoon

freshly cracked black pepper

-

reduce to 1/4 teaspoon if using ground black pepper
Instructions
Fill a large pot with 4 inches of water, bring to a boil. Add ravioli and boil for 3 minutes, then drain and blanch the ravioli by running cold water over it immediately. Optionl: Toss ravioli in 1 teaspoon olive oil o keep it from sticking together.

In a large skillet combine butter, garlic, and mushrooms and saute over medium-high heat for 3-4 minutes until mushrooms are tender and garlic is fragrant.

Stir in broth, bring to a simmer, then stir in heavy cream. Simmer til reduced by half and creamy (about 5-7 minutes).

Stir in dried herbs, salt, and pepper. Taste, add more salt and pepper if needed.

If desired, garnish with freshly grated parmesan cheese, parsley or thyme, and cracked black pepper before serving.
Notes
You can substitute the ravioli with any favorite - sausage, cheese, spinach etc. 
Nutrition
Calories:
659
kcal
,
Carbohydrates:
58
g
,
Protein:
22
g
,
Fat:
38
g
,
Saturated Fat:
19
g
,
Trans Fat:
1
g
,
Cholesterol:
152
mg
,
Sodium:
1257
mg
,
Potassium:
369
mg
,
Fiber:
4
g
,
Sugar:
5
g
,
Vitamin A:
896
IU
,
Vitamin C:
9
mg
,
Calcium:
90
mg
,
Iron:
14
mg