Grilled Pineapple Teriyaki Chicken Wraps filled with juicy, seasoned, grilled chicken topped with tart pineapple, and tangy teriyaki sauce all wrapped in soft pita bread. A perfect quick and tasty summertime dish!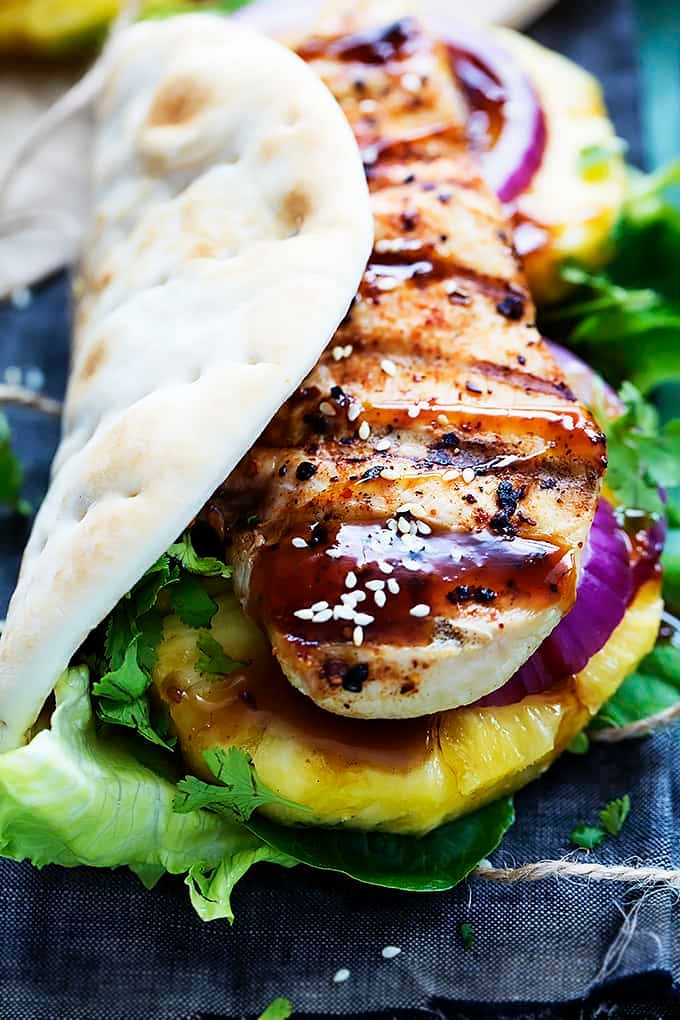 Soooooo kitchen remodels. Not so fun, yeah?
Have I mentioned that I grew up with a general contractor for a dad? He's 110% completely awesome at what he does. The epitome of a perfectionist and the definition of old school refinement on and off the job.
All of that being said, it might surprise you to know that he is not involved in our kitchen remodel. I've come to realize it's apparently kind of a thing in the service industry. The man who painted our house has a home in desperate need of a paint job. Our electrician has never bothered to install canned lighting in his own home, and our neighbor who's father in law is an IT specialist never seems to be the fixer of the family's computer problems. Likewise
, my dad doesn't work on his own house and he doesn't work on ours.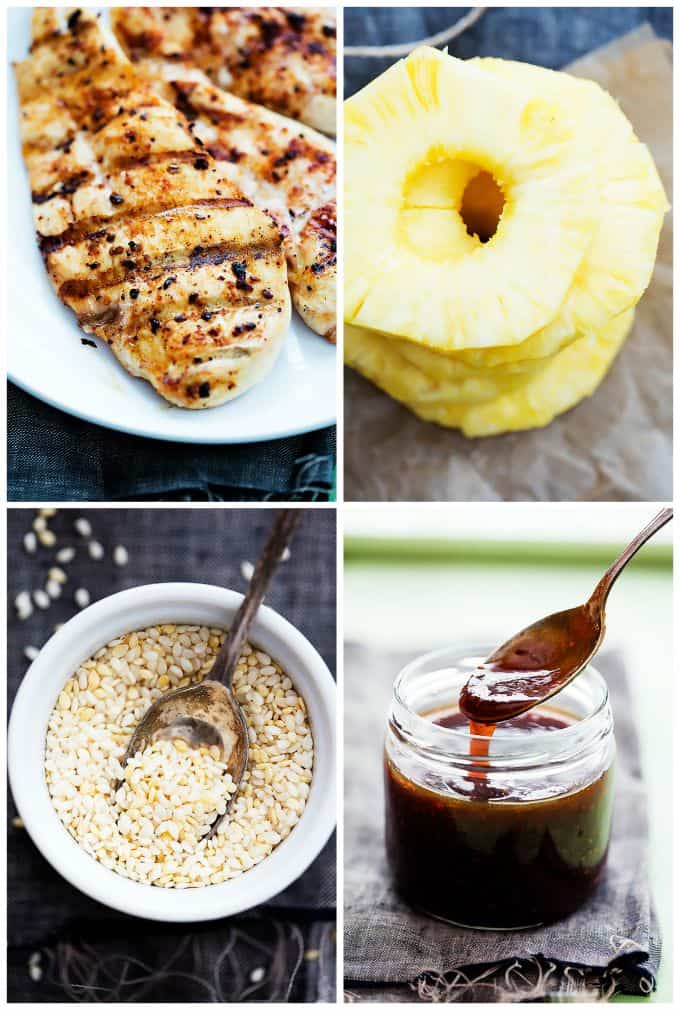 I will say though, I've learned a few very important lessons about remodels and construction management from growing up in the home of a general contractor. Lesson number one: remodels never, ever, ever go according to schedule.
The thing about remodels is that you're usually dealing with several contractors who have specific specialties and they all operate on their own schedules so to get them all lined up, right one after the other, without a hiccup is nearly impossible.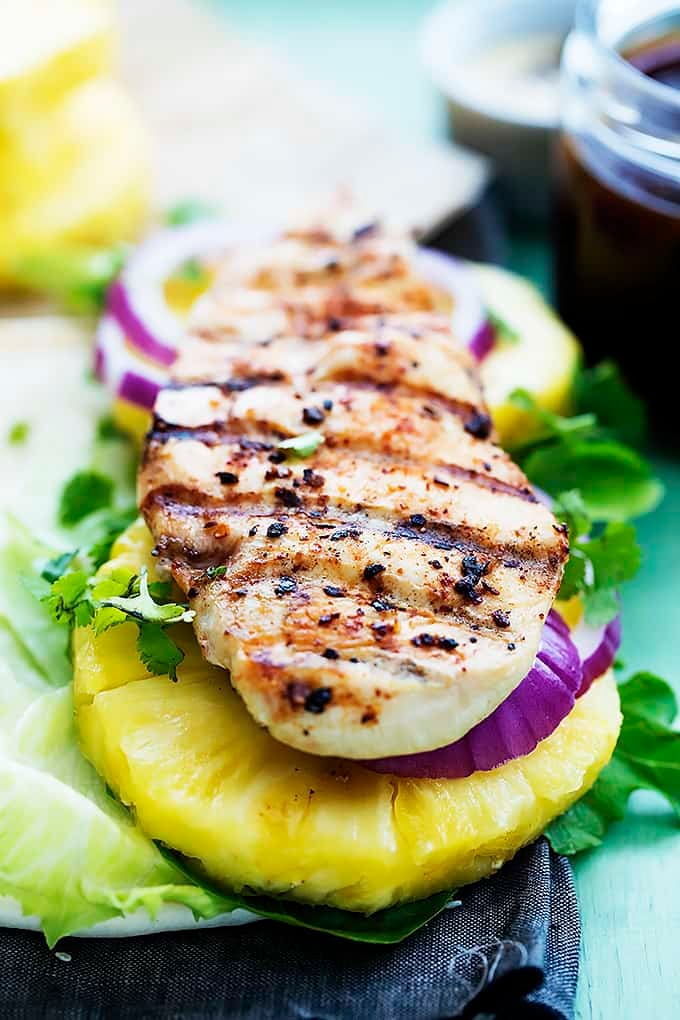 Beyond that, you just never really know what you're getting into until you've "opened up the wall" – figuratively speaking, but often quite literally since a lot of remodels actually do involve the tearing down of a wall or two. You just don't know exactly what the job will entail until you start digging into it. You start taking down walls or digging up floors and you find all sorts of messes underneath. All of these things delay the progress of the project.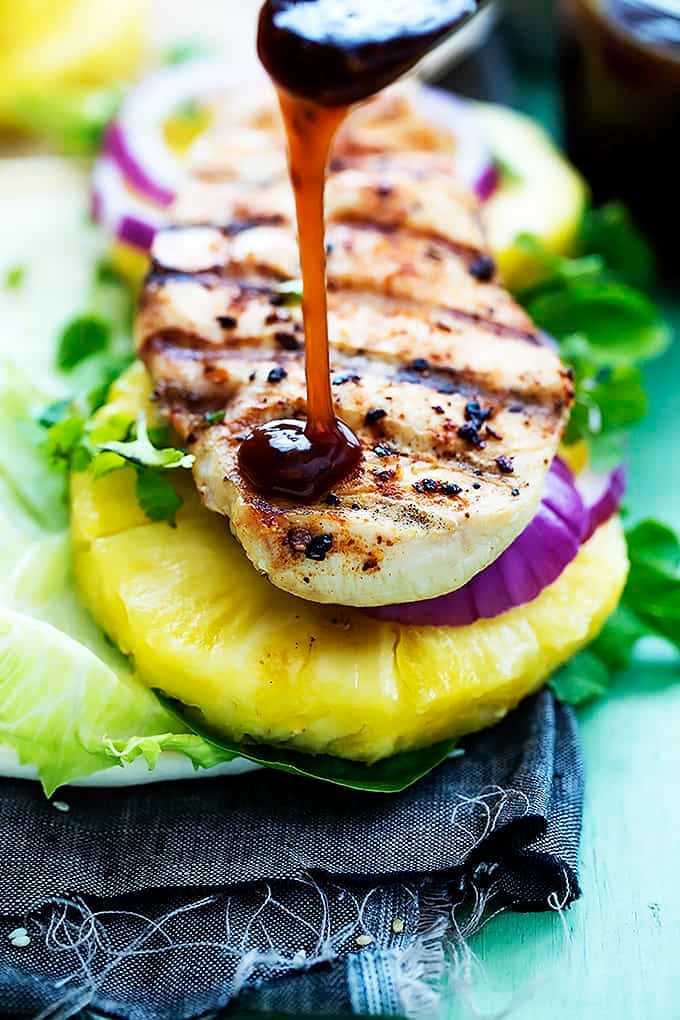 And lastly, a residential remodel almost always involves a woman and we women have a tendency to change our minds and/or get brilliant ideas "after the fact". Example: a certain food blogger once planned to paint her kitchen cabinets, which then turned into ripping out and replacing the cabinets which then involved reconfiguring the kitchen including the removal of a peninsula and the addition of an island. But if that wasn't enough, after the old cabinets were successfully removed, suddenly that certain food blogger decided the lighting really should be updated as well and oh since we're doing all of that we might as well get some new appliances…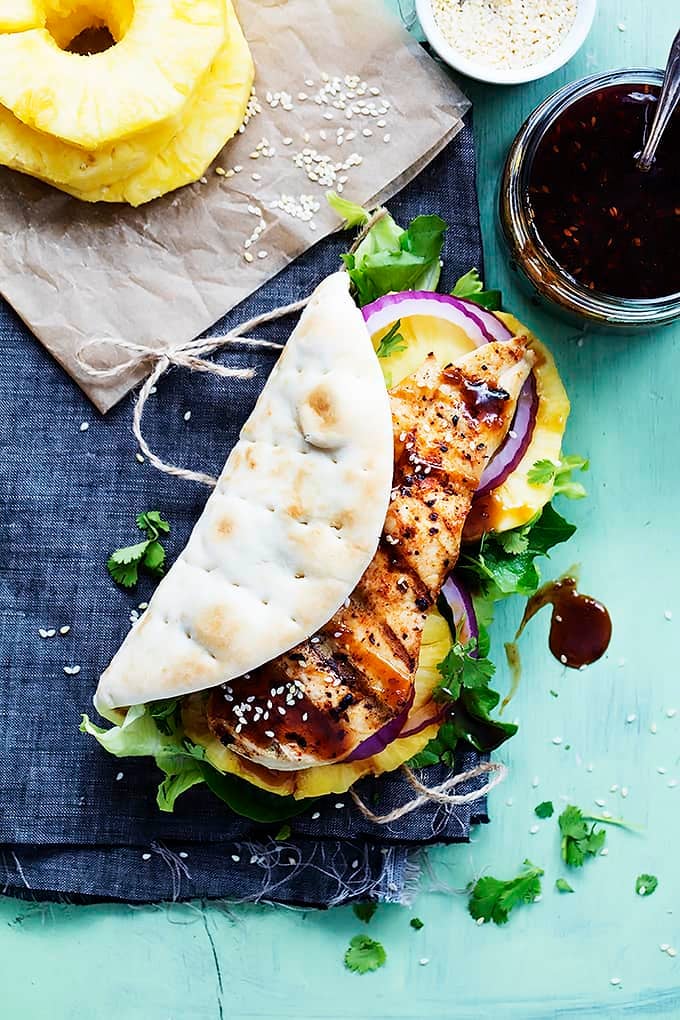 Oh hiiiiii, yeah that's me.
So yes, I've successfully turned a little kitchen project into a massive undertaking and at the moment I have zero functioning kitchen. Unless you count the makeshift prep area my brilliant husband set up on top of the oven-range combo that is currently taking up residence in our living room next to the fridge.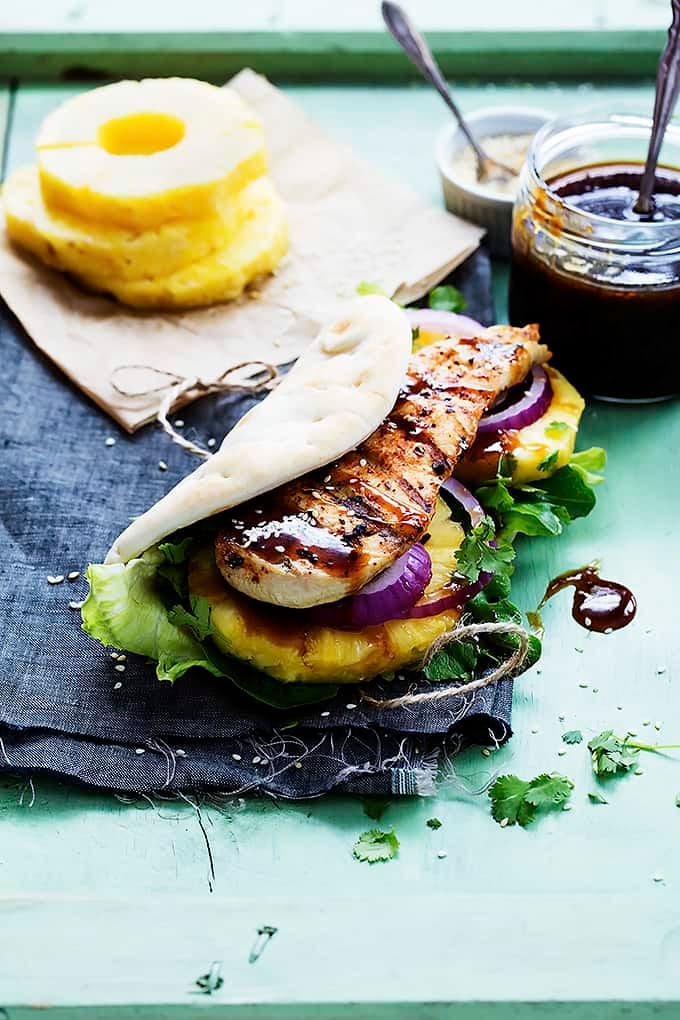 Bottom line: a lot of grilling on the back deck is happening these days. Thankfully grilling is one of my all-time favorite methods of cooking and it's the time of year when you won't freeze your toes off flipping burgers or chicken on the back patio.
You don't need to tear out your kitchen in order to have a good excuse to make these grilled pineapple teriyaki chicken wraps though. The simple fact that it's grilling season is more than enough I assure you. But if you reallllly need more I might also add that these wraps are both insanely easy and incredibly delicious. Enjoy!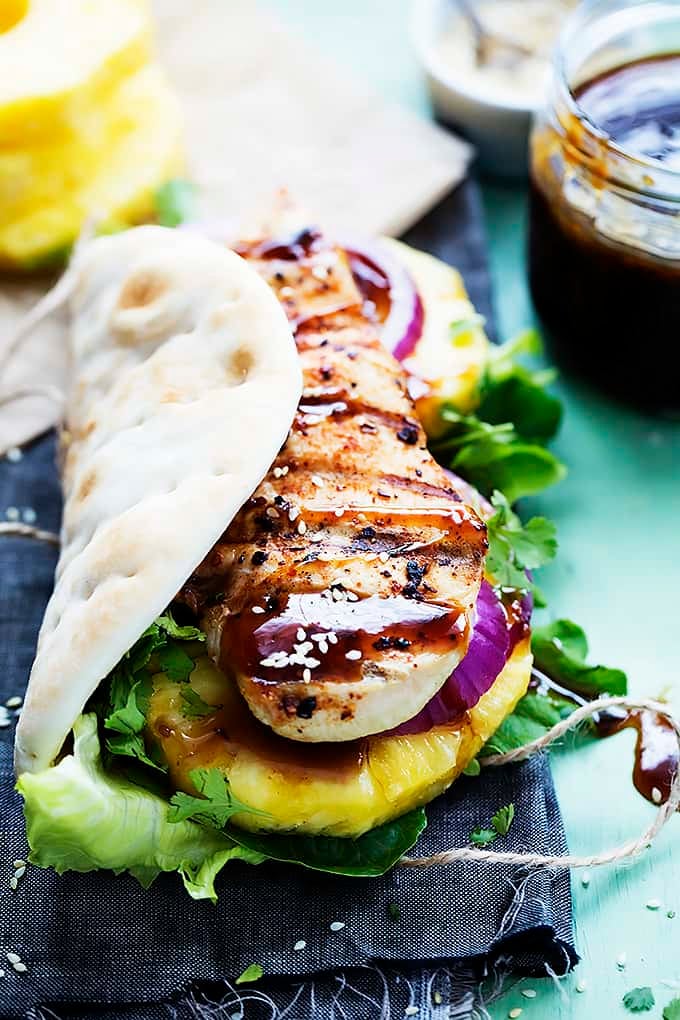 What people are saying about these Grilled Pineapple Teriyaki Chicken Wraps
"AMAZING!!! My whole family loved it which pretty much never happens! I basted the chicken with the teriyaki sauce while it grilled and also grilled the pineapple. Soooo good!" – Dori
You'll love my Best Teriyaki Sauce recipe too!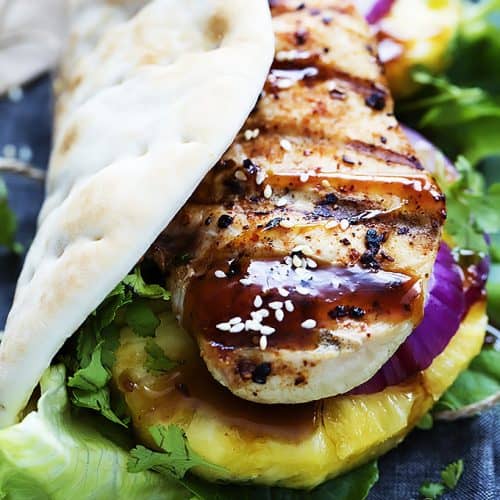 Grilled Pineapple Teriyaki Chicken Wraps
Grilled Pineapple Teriyaki Chicken Wraps filled with juicy, seasoned, grilled chicken topped with tart pineapple, and tangy teriyaki sauce all wrapped in soft pita bread. A perfect quick and tasty summertime dish!

Ingredients
4

boneless skinless chicken breasts

-

pounded to ½ inch thickness

1

teaspoon

garlic powder

1

teaspoon

chili powder

salt and pepper to taste

¼

red onion

-

thinly sliced

8

sliced pineapple rings

-

(or 1 cup chopped pineapple)

½

cup

teriyaki sauce

-

(my favorite store-bought brand is Kikkoman, or use the recipe below!)

4

pita wraps

optional: sesame seeds, lettuce, mayo, tomatoes
Homemade Teriyaki Sauce
½

cup

soy sauce

2

tablespoons

rice vinegar

1

tablespoon

sesame oil

¼

cup

brown sugar

1

tablespoon

honey

¾

teaspoon

ground ginger

1

teaspoon

minced garlic
Instructions
Preheat grill to medium heat. Season chicken breasts with garlic powder, chili powder, and salt and pepper to taste. Grill for 5-8 minutes on each side until chicken is cooked through.

Assemble wraps by placing a grilled chicken breast, onions, pineapple, and any other desired toppings on each pita. Top with teriyaki sauce and sprinkle with sesame seeds and cilantro if desired. Serve immediately.

For the homemade teriyaki sauce whisk all ingredients together in a small sauce pan. Stir constantly while bringing to a boil. Boil for 1-2 minutes. Reduce heat and transfer to a heat-safe bowl to serve.
Notes
Tip: swap out the pita bread for a low-carb wrap, or make it a lettuce wrap. 
Nutrition
Calories:
510
kcal
,
Carbohydrates:
76
g
,
Protein:
35
g
,
Fat:
7
g
,
Saturated Fat:
1
g
,
Trans Fat:
1
g
,
Cholesterol:
72
mg
,
Sodium:
3446
mg
,
Potassium:
827
mg
,
Fiber:
3
g
,
Sugar:
40
g
,
Vitamin A:
239
IU
,
Vitamin C:
13
mg
,
Calcium:
105
mg
,
Iron:
3
mg
*Homemade teriyaki sauce adapted from Add a Pinch.