Lemon Chicken in Dill Cream Sauce is a 30 minute meal you'll make over and over again. This baked chicken in lemon cream sauce is so flavorful and tender, and incredibly easy to make – you will want to lick the pan clean!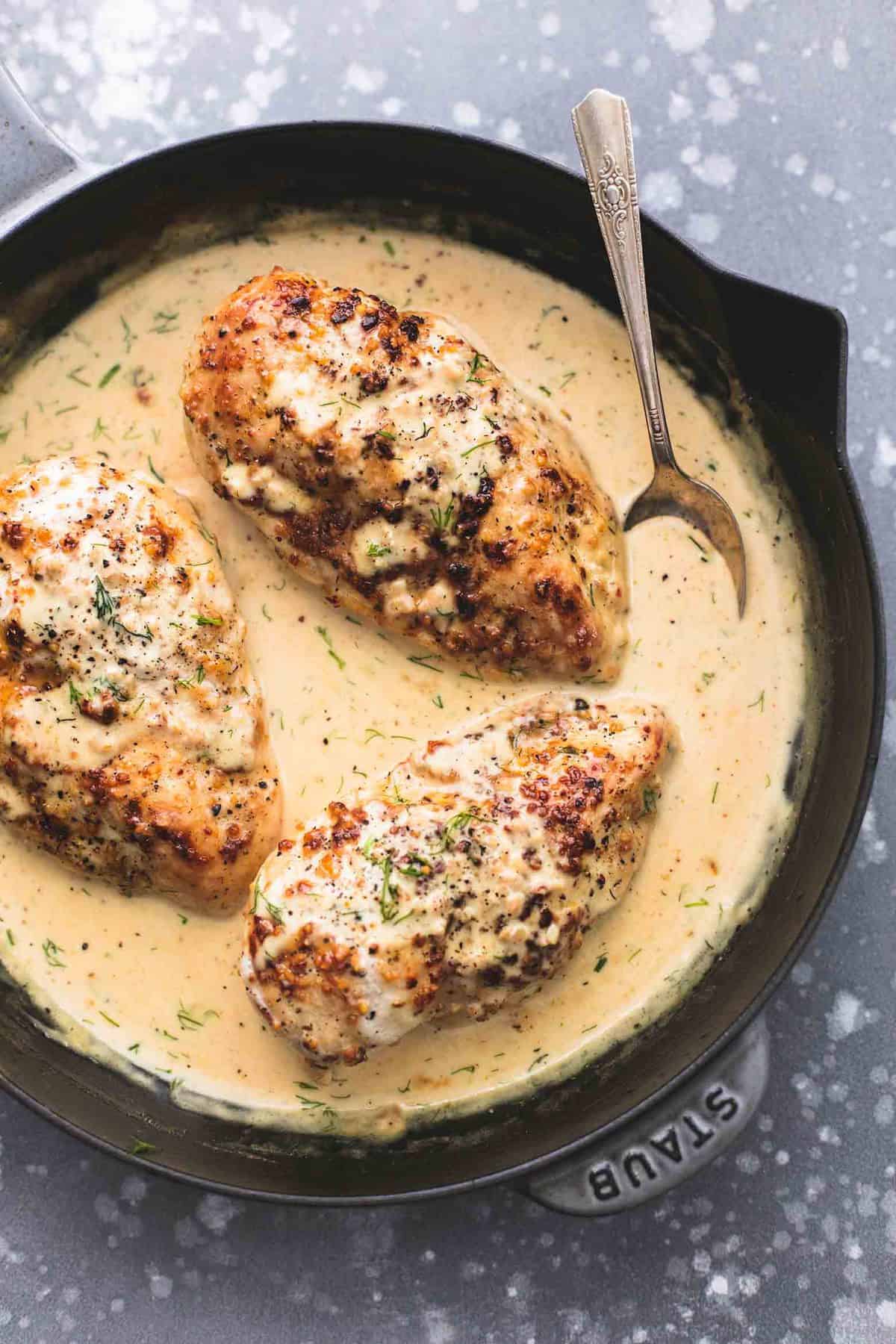 So there it was, just staring at me. I sighed and picked it up, turned it around in my hands, gave it one last, long stare, and set it down again. "Boneless, skinless chicken breasts," I said to the chicken (we've all talked to the chicken, admit it). "What do you want to be tonight?"
Unfortunately, the chicken didn't answer (as I'm sure you're probably relieved to hear). It never does, but that doesn't stop me from asking. Although I know a package of chicken is no more a forecaster of future dinners than, say, a box of pasta is, sometimes conferring with it causes a lightbulb to go off in the recipe-making part of my brain. Sometimes I look at the chicken and it says "Grill me," or "I'd love to be on a salad," or even, "You know you don't want to deal with me, just order pizza."
But at that moment, I was getting zero feedback. So, I took matters into my own hands, and turned my attention to the ingredients in my fridge and pantry. Luckily, they were much more forthcoming. (This is a judgement-free blog, people.)
The lemon and dill declared their undying friendship, and really that's all I needed to hear to decide to make this Lemon Chicken in Dill Cream Sauce out of that noncommittal pack of chicken. And, I must say, you can tell from the photos how happy it is. I mean, it was practically smiling as I dished it up. Then, I was smiling and my husband and my kids were all smiling as we hungrily ate it up. And that, my friends, is the true story of how this dinner came to be.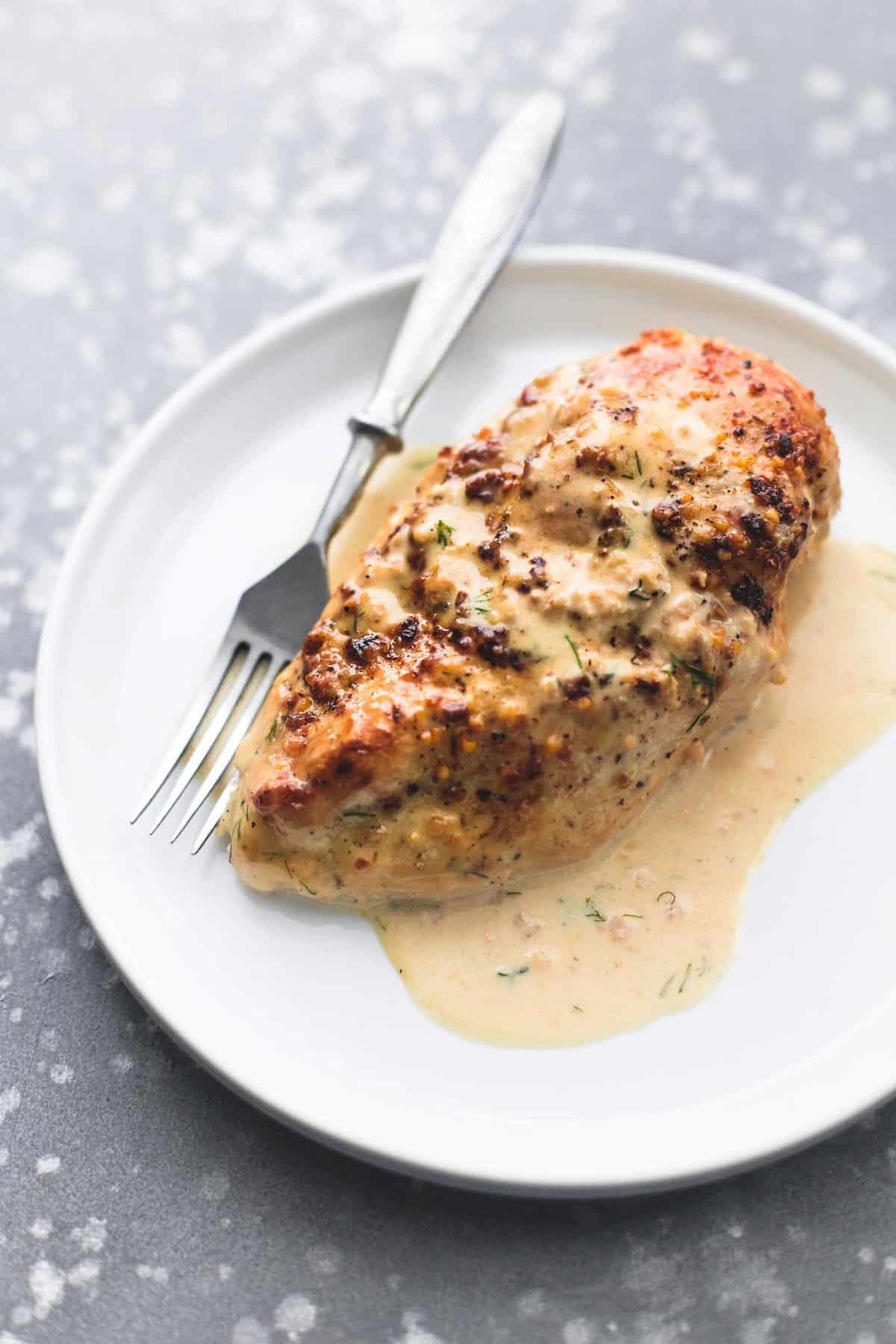 How do you Make Lemon Chicken on the Stove?
If you don't have an oven-safe dish (see note, below), or don't want to transfer this to a baking dish, or your stove is broken, or any other reason why the stovetop is what you have to work with at the moment, don't fret. You can make this recipe through step 2. Then, return the chicken to the skillet, and add a lid. Turn the heat down to medium-low and continue to cook everything all together for another 15 minutes or so, or until juices run clear when the chicken is poked with a knife.
Do Chicken Thighs Taste Different than Chicken Breasts?
Yes, they do taste slightly different. The reason I my ingredients lists often call for either is to account for a matter of preference. While both parts of the chicken are flavorful, chicken breasts are made of white meat and chicken thighs are dark meat. That means that chicken thighs have more fat in the meat. Also, chicken thighs are generally sold with the skin on, and that adds to their fat content (but that's easy enough to remove if you don't like it).
Although there is more fat on chicken thighs, it's the "good" kind of fat, so it's nothing to get too concerned with. However, it's this additional fat content that changes the flavor of the chicken. Chicken thighs tend to be more "meatier" tasting, for lack of a better word. They possess a richer, more robust chicken flavor, whereas the breasts, while delicious, tend to take on more of the flavor of whatever spices, marinades, or rubs you happen to be cooking them with.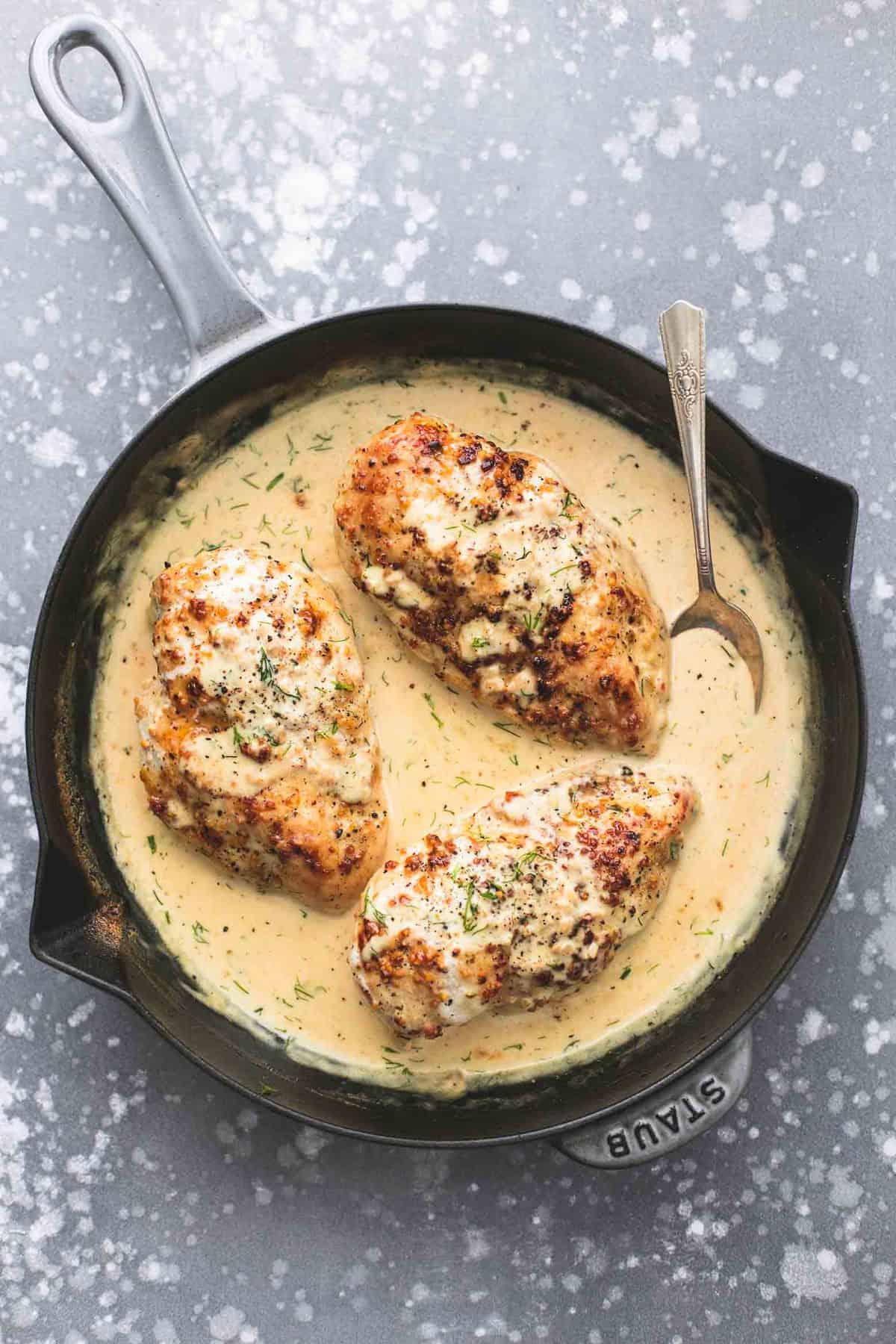 Best Side Dishes for Lemon Chicken
Honestly, I like to keep the sides simple since this dish is so flavorful on its own. I tend to spoon this over rice or wide egg noodles. Or, you could toss just about any kind of pasta with the sauce, portion it out onto plates or shallow bowls, then top each little pasta nest with a chicken breast. You could even add a sprig or two of dill and a thin slice of lemon to "fancy" it up when plating for dinner guests. Just add a yummy side salad—they'll never know this only took you 30 minutes!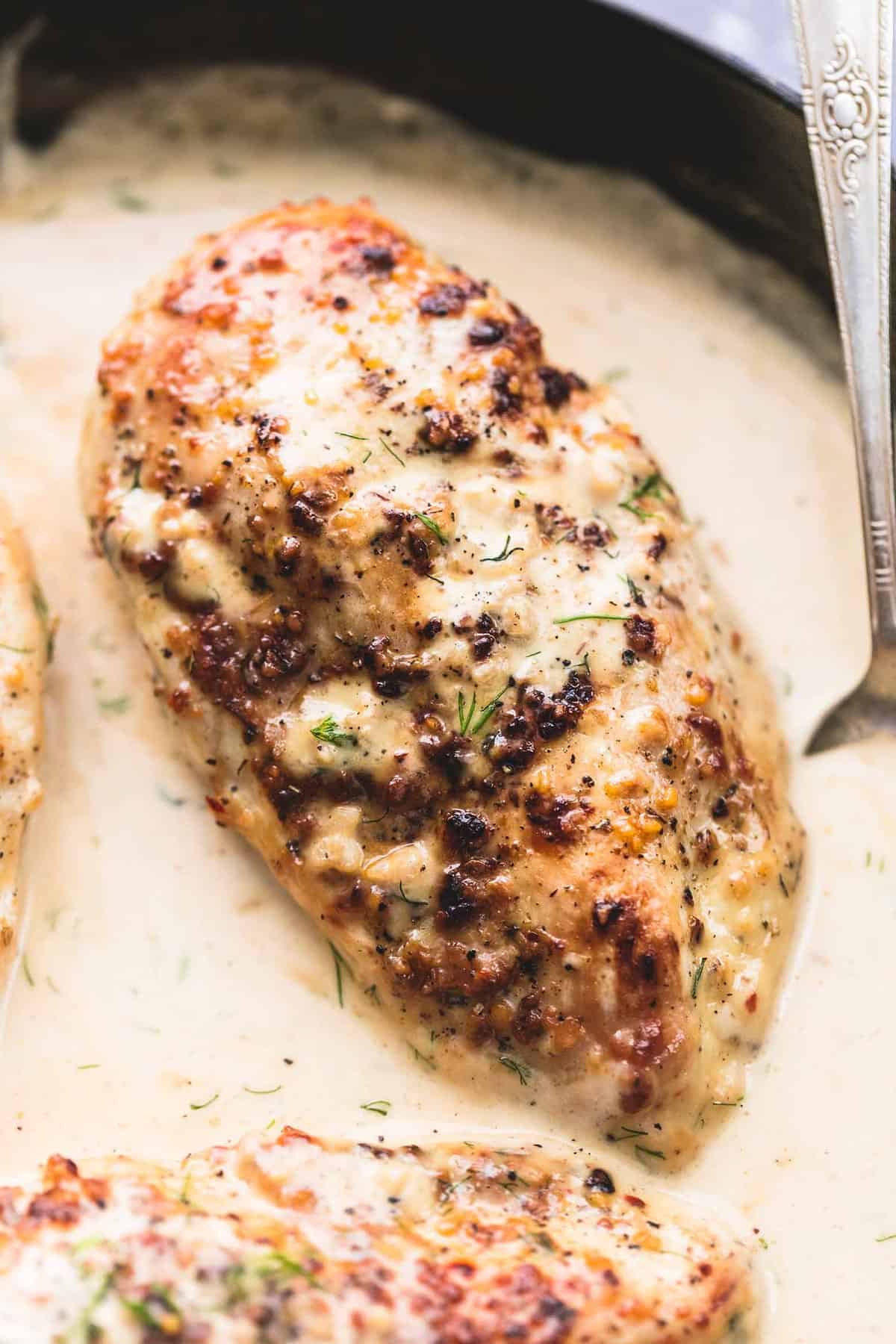 More Tasty Chicken Recipes
Serve this alongside a simple tossed green salad, roasted brussels sprouts, or with garlic bread or homemade biscuits. Then, try my Oven Roasted Chicken Thighs with Dijon Cream Sauce!
Did you try this easy lemon chicken recipe? YAY! Please rate the recipe below!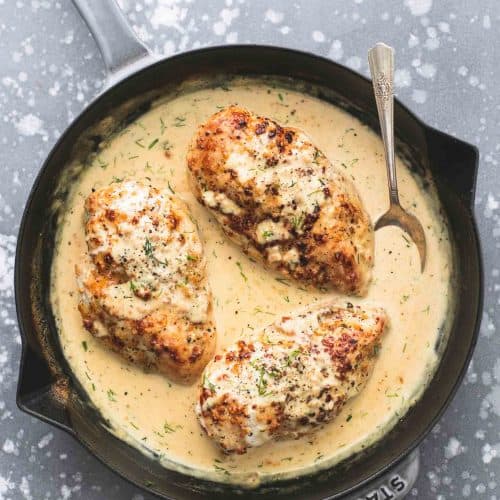 Lemon Chicken in Dill Cream Sauce
Lemon Chicken in Dill Cream Sauce is a 30 minute meal you'll make over and over again. This baked chicken in lemon cream sauce is so flavorful and tender, and incredibly easy to make – you will want to lick the pan clean!
Ingredients
4

boneless skinless chicken breasts

-

OR 4-6 chicken thighs

salt and pepper

-

to taste

1

tablespoon

oil

2

tablespoons

butter

1

tablespoon

honey

½

teaspoon

each dried oregano, dried basil, garlic powder
Creamy Dill Sauce
1

tablespoon

butter

2

teaspoons

minced garlic

½

cup

chicken broth

-

I used low sodium

⅔

cup

heavy cream

-

OR half & half plus 1 tablespoon corn starch

juice of ½ lemon

-

about 2 tablespoons

1

tablespoon

chopped fresh dill

cracked black pepper

-

to taste
Instructions
Preheat oven to 375 degrees. Season chicken with salt and pepper, to taste along with garlic powder, oregano, and basil. Combine butter and oil in a large oven-safe skillet (see note), once butter is melted add honey and stir to combine.

Add chicken to pan, brown chicken 2-3 minutes on each side. Transfer chicken to a plate (it won't be cooked through at this point). Add butter and garlic and saute for 1 minute until fragrant. Add chicken broth, heavy cream, and lemon juice and stir over medium heat for 2-3 minutes. 

Return chicken to pan and transfer to preheated oven. Bake for 15 minutes or until chicken is cooked through. Spoon pan sauce over the chicken and sprinkle dill over the chicken and sauce, add cracked black pepper to taste and serve.
Notes
If you don't have an oven-safe skillet, use a regular pan for steps one and two, then transfer to a baking dish before proceeding with step three. 
Nutrition
Calories:
323
kcal
,
Carbohydrates:
7
g
,
Protein:
25
g
,
Fat:
22
g
,
Saturated Fat:
10
g
,
Trans Fat:
1
g
,
Cholesterol:
128
mg
,
Sodium:
266
mg
,
Potassium:
495
mg
,
Fiber:
1
g
,
Sugar:
5
g
,
Vitamin A:
636
IU
,
Vitamin C:
4
mg
,
Calcium:
49
mg
,
Iron:
1
mg