An easy summertime tart with almond filling, mixed berries and whipped cream! 
I need a break! I'm sick of school but I'm enrolled for summer semester because I only have three semesters left and I want to finish by next spring. I remember back when I was in high school we called this fever senioritis (Red Jumpsuit Apparatus anyone?"). According to the urban dictionary Senioritis is…
"noun. A crippling disease that strikes high school seniors. Symptoms include: laziness, an over-excessive wearing of track pants, old athletic shirts, sweatpants, athletic shorts, and sweatshirts. Also features a lack of studying, repeated absences, and a generally dismissive attitude. The only known cure is a phenomenon known as Graduation. "
Yep sounds about right. Except now I'm in college and I've got it again. Bad.
I've got it so bad right now I actually attempted to sign up for 21 credit hours this semester. Thankfully, my husband has  a more level head than I do and kyboshed that plan before disaster struck. I admit, not my brightest idea ever. But I was feeling desperate. I'm sick of school! I want to bake summer mixed berry tarts all day long.
This weekend I'm getting a miniature break, thank the stars. We're heading up to Park City, Utah for Memorial Day weekend. I big fat heart Park City. In fact, it's where my husband and I stayed for the first few days after our wedding, before heading out to Chicago.
We are heading up with my in-laws and renting a condo. I can. not. wait. I'm rushing to finish all of my school work and baking and business mumbo-jumbo before heading out this afternoon – which means I'm stressed! But soon I will be sitting next to the with a big slab of mixed berry tart, escaping the world for a few days with the fam. Maybe that will help me buckle down when I get back in town and stop complaining so much about my school work. . .
Nah, I'll still be sick of it.
This mixed berry tart is so YUMMY and so PATRIOTIC, I love it. The patriotic holidays are some of my favorite. And not just for the burgers and brats (which, let's be honest, are one of the best perks of these holidays…) but most of all for the flags! Red. White. Blue. Stars. Love it!  Let freedom riiiiiiiiing.  And eat some red white and blue-berry tart! It'll make you feel all warm and fuzzy inside.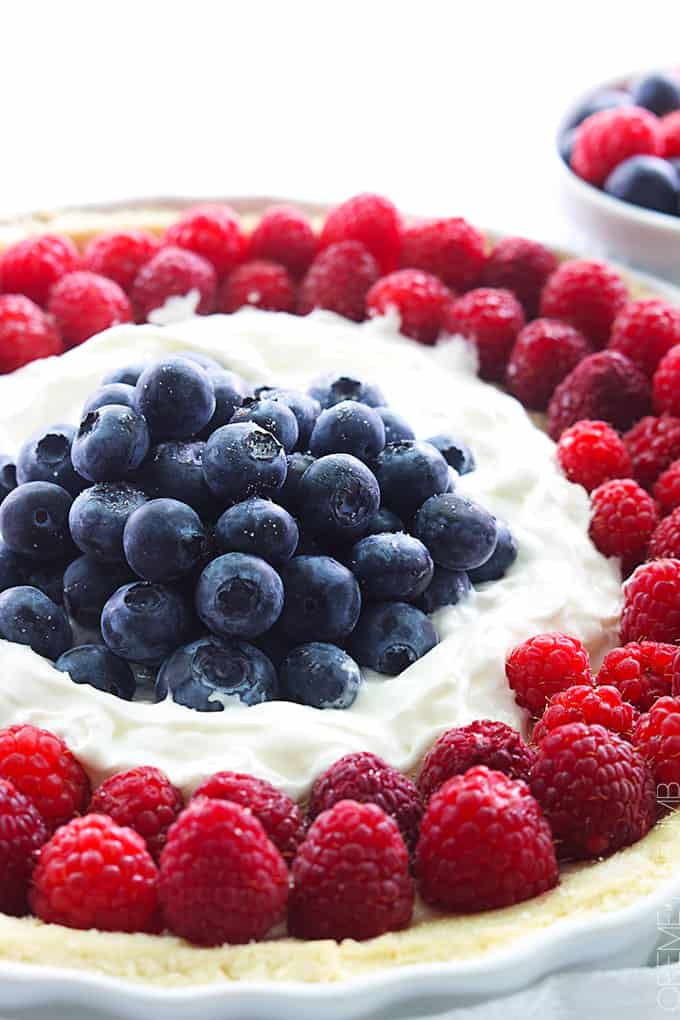 Mixed Berry Tart
An easy summertime tart with almond filling, mixed berries and whipped cream!

Ingredients
1 ⅔

cups

flour

3

tablespoons

sugar

12

tablespoons

butter

-

chilled and diced

1

tablespoon

cold water
Filling
½

cup

sugar

1

cup

milk

-

(I used fat free half and half)

2

eggs

5

tablespoons

flour

1 ½

teaspoons

almond extract
Topping
½

cup

blueberries

1

cup

raspberries

whipped cream

-

(I used canned whipped cream)
Instructions
Prepare the crust: whisk together flour and sugar. Add mixture to a food processor (See Note) with chilled butter and pulse until mixture is crumbly. Add water and pulse until mixture comes together (it's okay if it's still a little crumbly). Press dough into your pie or tart dish (See note). Cover with plastic wrap and chill for 20 minutes.

Preheat oven to 350. After dough has chilled, remove plastic wrap, place a piece of tin foil over the dust and fill it with dried beans or pie weights. Bake 10 minutes. Remove beans (or pie weights) and remove tin foil. Poke a few holes in the crust with a fork. Return to oven and bake another 5-10 minutes until crust looks dry and starts to brown very slightly.

While crust is baking, prepare the filling. In a large sauce pan combine sugar, milk, eggs, and flour and whisk over medium-low heat 8-10 minutes until mixture thickens and forms soft peaks when you lift the whisk (should be the consistency of chilled pudding). When mixture is thickened, whisk in almond extract. Pour mixture into baked crust. Chill 4 hours or overnight.

Before serving, top with blueberries, raspberries, and whipped cream. Sprinkle with granulated sugar if desired. Store covered in fridge up to 2 days.
Notes
*If you don't have a food processor, you can also prepare the crust in a large bowl by using your hands to mash in the chilled butter.
**Pro Tip: when pressing the crust into the dish, place the dough in the dish and place a piece of tin foil on top. Use a flat-bottomed measuring cup or liquid measuring cup to press the dough flat and to fill the dish.
Nutrition
Calories:
241
kcal
,
Carbohydrates:
46
g
,
Protein:
6
g
,
Fat:
3
g
,
Saturated Fat:
1
g
,
Trans Fat:
1
g
,
Cholesterol:
46
mg
,
Sodium:
53
mg
,
Potassium:
150
mg
,
Fiber:
2
g
,
Sugar:
21
g
,
Vitamin A:
156
IU
,
Vitamin C:
5
mg
,
Calcium:
76
mg
,
Iron:
2
mg