One Pot Cilantro Lime Chicken & Rice cooked in just 30 minutes, topped with creamy avocado sauce.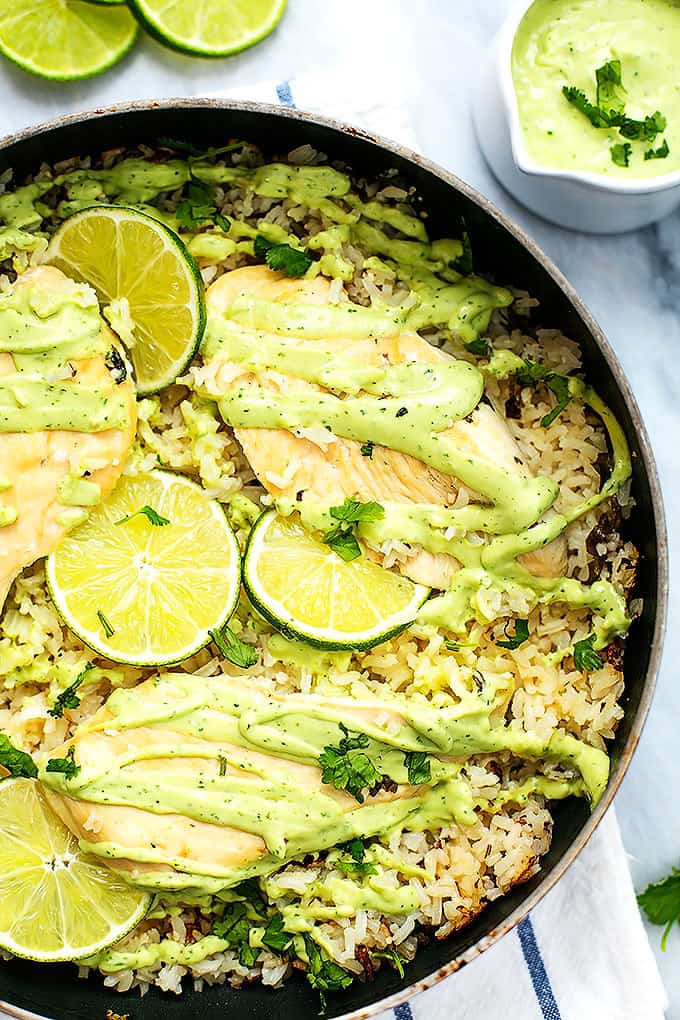 It's been too long. Way too long since a one pot meal has appeared on this here blog. So here it is. One pot cilantro lime chicken and rice. In 30 minutes. You're welcome.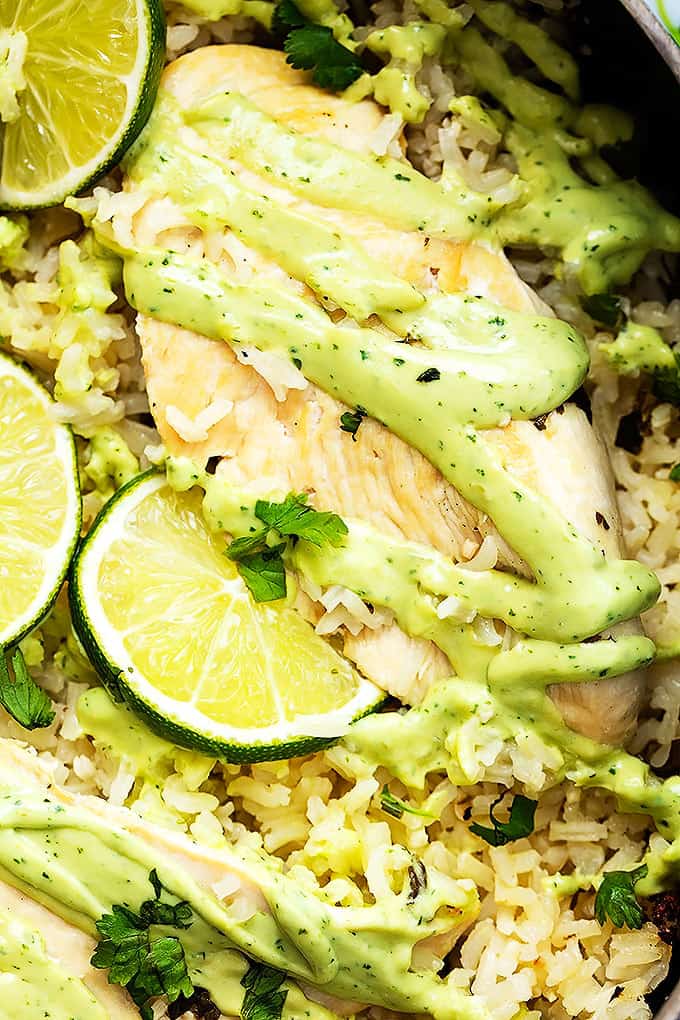 So the sauce is optional. I mean not optional. What I mean is… technically you could make just the chicken and rice and be perfectly happy with your dinner. You really could. BUT what you really should do is make the sauce. Because it makes the dish ten times better. Nay, fifty times better.
Basically it's amazing.
One of my most favorite and most popular dishes here on Creme de la Crumb is this —> one pot lemon herb chicken and rice, but when my husband slash official taste tester tried it for the first time I should have known he'd ask where the sauce was. We are sauce people – ranch with everything and the standard three packets of ketchup that come with every to-go order of fries is just NOT enough, why can't you takeout people get that through your heads??
So when I made this cilantro lime chicken and rice I was prepared. I whipped up a super yummy 10 second cilantro + lime + avocado sauce to go over that chicken and rice and I am sooooooo glad that I did.
So is my husband slash official taste tester.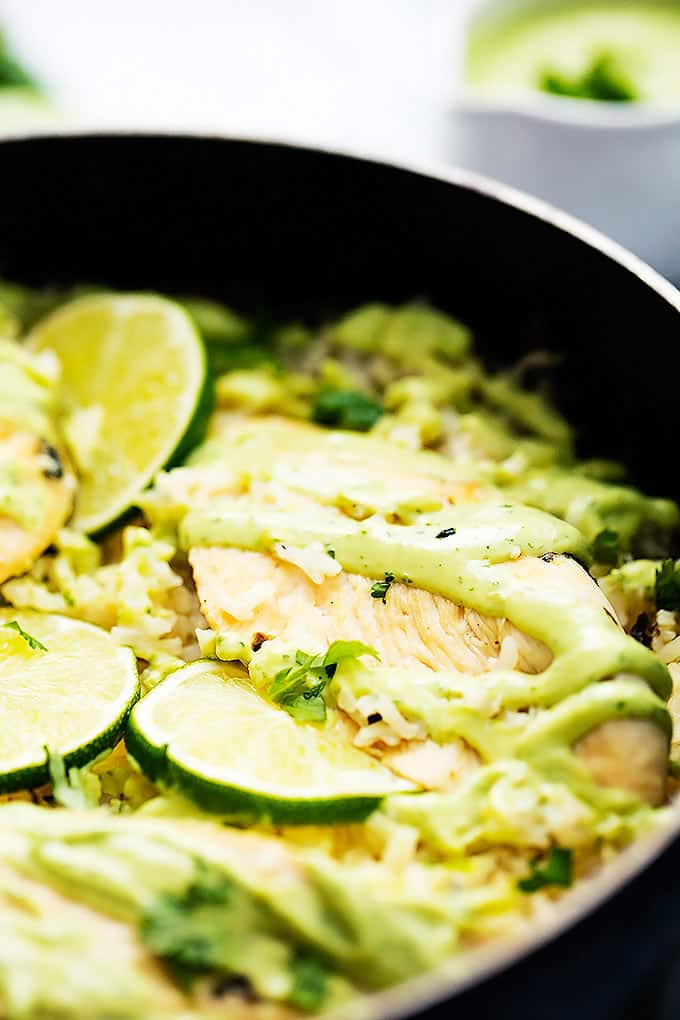 This whole one pot dish is what busy weeknight dreams are made of. So little effort, so much goodness to be had. One pot to clean up, plus it's a main and a side all in one and you just can't beat that because seriously, am I the only one who struggles with coming up with side dishes for your weekly menu? I tend to get excited about the main entree and totally space it on the side dishes so I have to throw something together at the last minute, and I will be perfectly honest… chips and salsa probably becomes a side dish to wayyyy too many of our dinners.
But if you haven't tried it alongside fettuccine alfredo you're missing out p.s.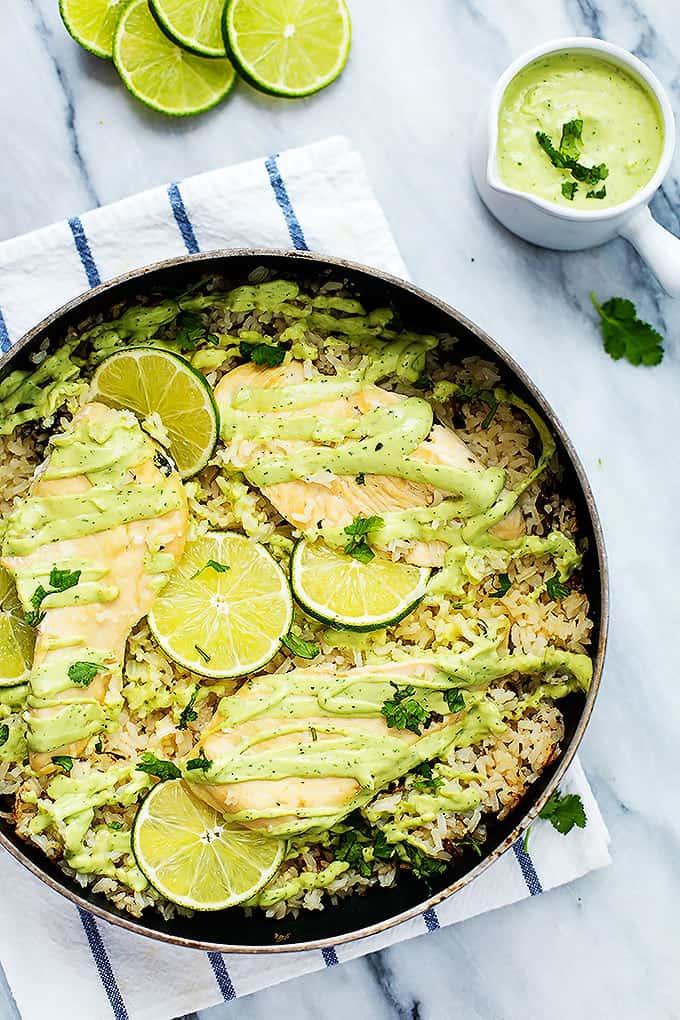 What people are saying about this One Pot Cilantro Lime Chicken & Rice
"I made this tonight and yum!!! Absolutely love that it only used one pot and was super quick too. We had some veggies as a side and just put them on top of the chicken in the pot to steam.. save another dish! I found the lime lovely and zesty, will definitely make it again." – Emma
"This is my first comment on a recipe, ever! This dinner was too good to pass up the moment. So simple and easy, yet so flavorful. Made it for my fiance and my anniversary dinner this evening." – Katie
"This post is almost a year old, but I found this on a BuzzFeed article, and I just have to say this is AMAZING! Im in love with the sauce." – Amethyst
"Just wanted to let you know that my 12yo son followed your recipe and made this tonight… and it's a absolute winner! We all loved it and I see this as part of our regular go-to meal recipes. The sauce was just super lovely… creamy, but not overly rich. Just divine!" – Mama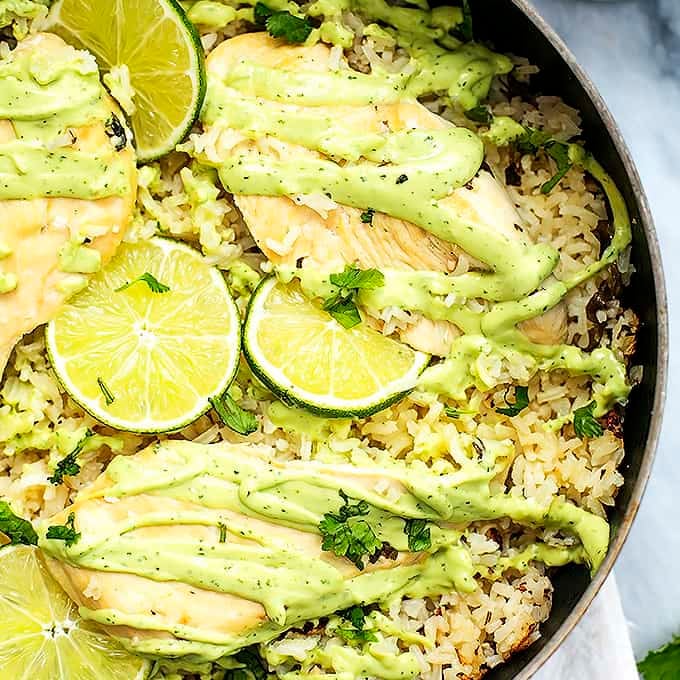 One Pot Cilantro Lime Chicken & Rice
Cilantro lime chicken and rice cooked in one pot just 30 minutes, topped with creamy avocado sauce!
Ingredients
4

boneless skinless chicken breasts

-

pounded to ½ inch thickness

2

tablespoons

butter

1

cup

uncooked white rice

2

teaspoons

minced garlic

2 ¼

cups

chicken broth

⅓

cup

loosely packed cilantro leaves

-

roughly chopped

juice of 3 limes

½

teaspoon

salt

¼

teaspoon

black pepper
Sauce
1

avocado

juice of 1 lime

¼

cup

milk

handful of cilantro

¼

teaspoon

garlic powder

¼

teaspoon

salt
Instructions
Add butter to a large skillet (one that has a lid) and melt over medium heat. Once butter is melted, add chicken and cook 1-2 minutes on each side just until lightly browned. Transfer chicken to a plate.

Add rice and garlic to pan and stir over medium heat for 1-2 minutes until garlic is fragrant. Add chicken broth, lime juice, cilantro, salt and black pepper. Place chicken on top of the rice. Reduce heat to medium-low, cover and cook 25 minutes or until rice is fully cooked and liquid is absorbed.

While chicken and rice are cooking, make the sauce. Add all ingredients to a food processor or blender and pulse until smooth. Add more lime juice or a little more milk if needed til pourable.

Drizzle sauce over chicken and rice. Sprinkle with additional cilantro if desired and serve.
Notes
If you find the sauce is too thick, simply thin with a bit of water til desired consistency is reached. Store extra sauce in fridge in airtight container up to five days. 
Nutrition
Calories:
402
kcal
,
Carbohydrates:
44
g
,
Protein:
30
g
,
Fat:
12
g
,
Saturated Fat:
2
g
,
Trans Fat:
1
g
,
Cholesterol:
75
mg
,
Sodium:
1072
mg
,
Potassium:
861
mg
,
Fiber:
4
g
,
Sugar:
2
g
,
Vitamin A:
148
IU
,
Vitamin C:
16
mg
,
Calcium:
62
mg
,
Iron:
1
mg
If you liked this you'll love…