This One Pan Creamy Cilantro Lime Chicken & Rice recipe is one I could eat again and again. It contains all the flavors of the Southwest in a finger-licking-good sauce I could pour on just about anything. 
If you love one pan meals as much as I do, then you'll also enjoy this One Pan Creamy Lemon Chicken & Asparagus, One Pan Spanish Chicken & Rice, and this One Pan Brown Sugar Pork & Apples.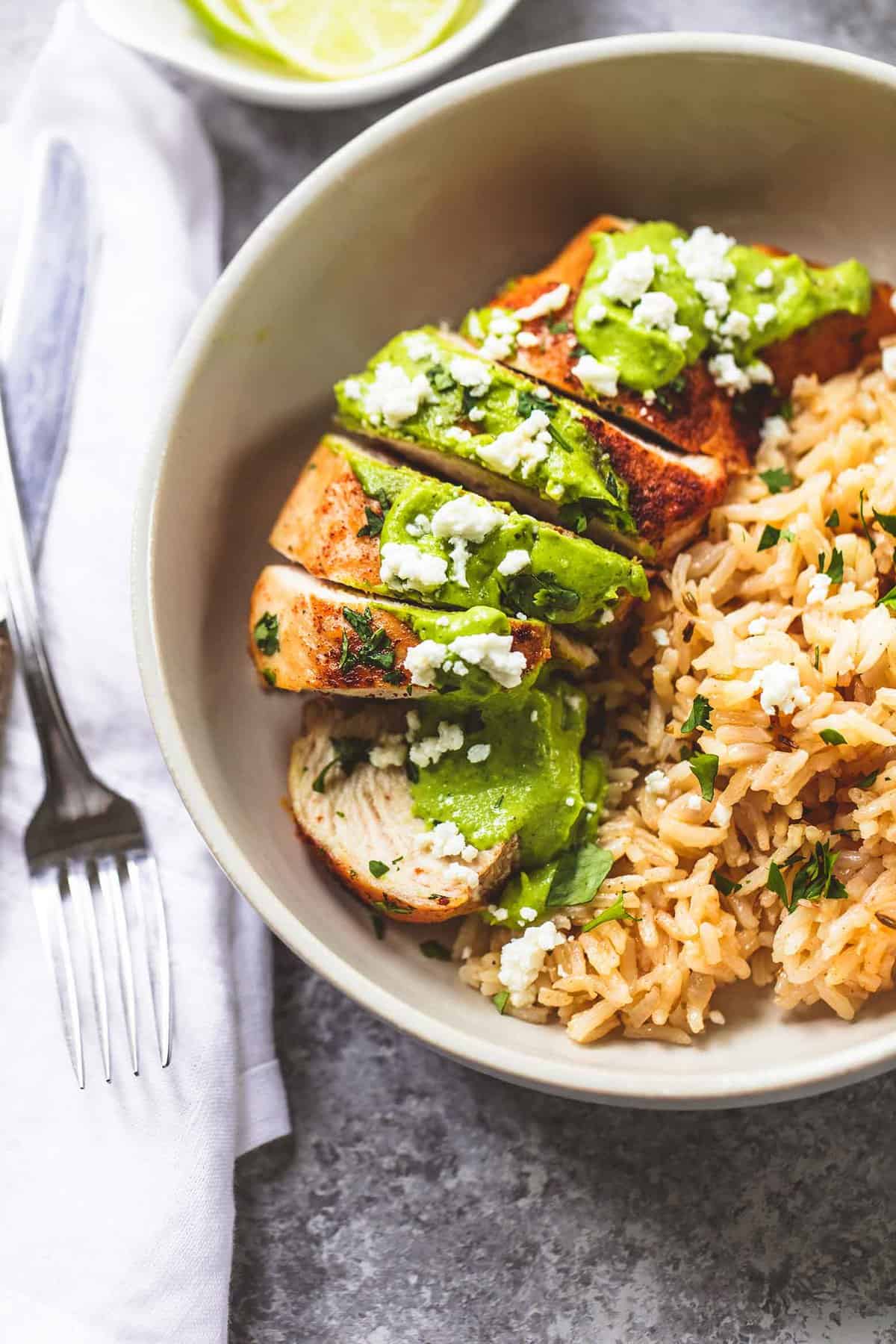 This dish is everything every dish should strive to be forever and ever, amen. It's hard to make it any easier, really. I mean, first of all, ONE pan to cook in, ONE pan to clean up. And secondly what is IN the pan is amazing too. You've got your chicken, which is just nature's little protein chameleon, taking on just any ole flavors you throw at it. Then there's the spices — your cumin, your garlic, your chili powder, your cilantro — that take my mouth directly to flavortown. THEN as if all of that wasn't enough, I went and got greedy with a sauce. I mean, I couldn't help myself! You know we are sauce people, people!
A word on the sauce: easy. Another word: delicious. Okay a third word: gone. As in, I made this dish, photographed it, and ate. it. all. I spooned and I spooned and I ate and I ate until there was nothing left to do but clean up dinner and go put on my stretchy pants.
If that doesn't convince you, then how about this: my husband AND kids loved it too! Of course, I didn't really let them try the sauce because well, it was spicy and also I wasn't about to share. The chicken itself is very tender and the rice soaks up all of the other spices and it all comes together like some symphony in my kitchen.
I may have romanticized this dish just a teeeny, leeetle bit. But what can I say? I'm in love and I don't care who knows!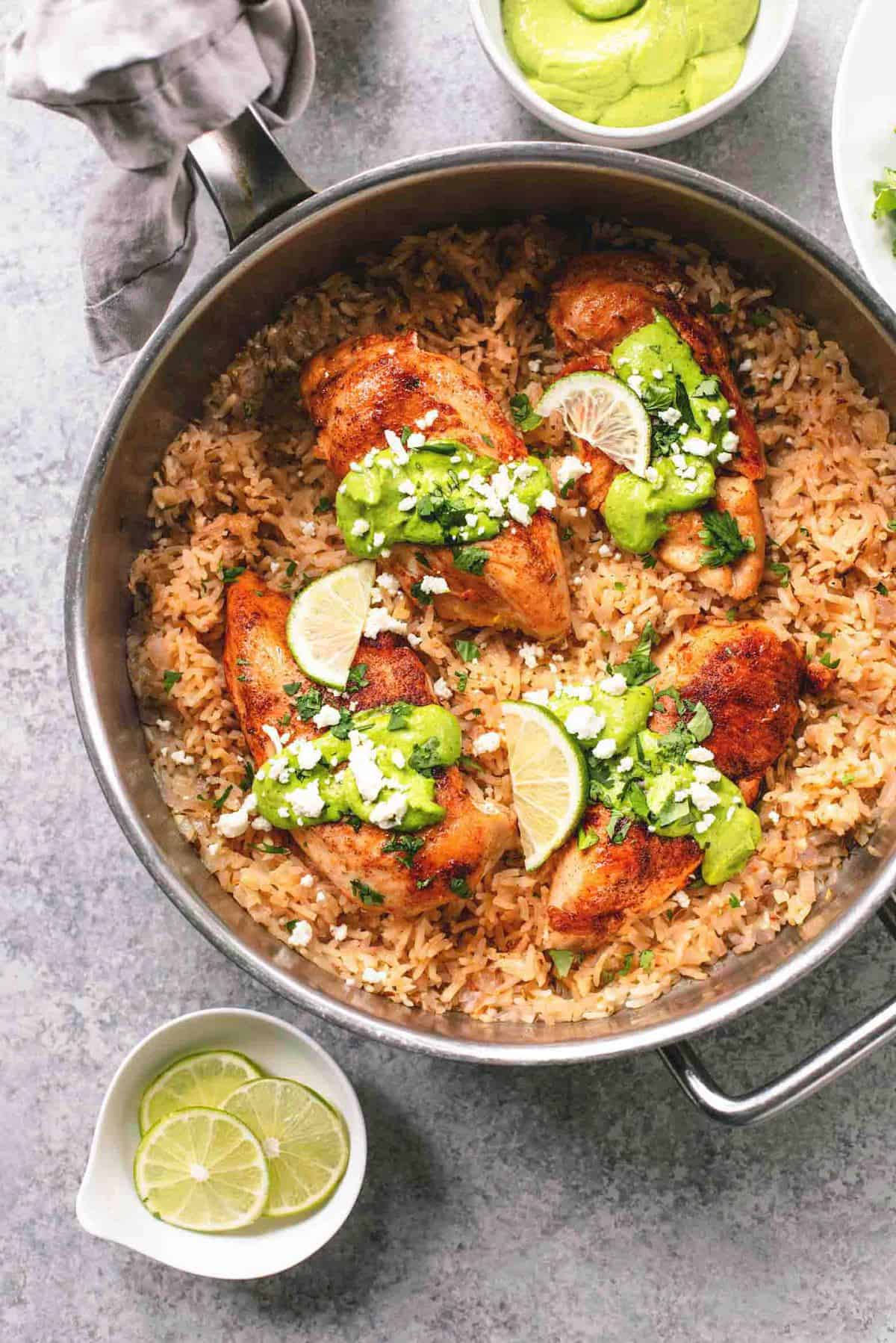 WHAT CAN I SUBSTITUTE FOR CILANTRO?
I know cilantro is one of those herbs that can be very polarizing. Either you love it or you think it tastes like soap. I (obviously) love it. I could eat it on everything, for every meal and never get sick of it. But I have friends who will literally run out of the kitchen if the even so much as smell it. I don't get it. But then again I don't have that weird gene that makes cilantro taste like soap so, I guess I'm lucky?
Anyway, there are some ways around it. You can (gasp) skip it all together. Or you can try some dried cilantro instead. It won't be as pungent as the fresh herb. Unfortunately, coriander is not a good substitute for cilantro, as they don't taste anything alike even though they come from the same plant. Weird, right?
You could also try parsley as it's closely related to cilantro but isn't as pungent. I'd give it a taste on its own before whirring it up with the sauce, just in case you don't like it.
CAN I USE BROWN RICE?
If you prefer to use brown rice, you'll need to follow the cooking instructions on the brown rice bag or box, as the water and time ratios will be different from that of white rice. Still follow step 4 for cooking the onion and adding the other spices, but then follow the other directions for water and cooking times.
WHAT SIDES SHOULD I SERVE WITH THIS DISH?
This dish is a hearty one. But I can see how you feel like you might want a little somethin' somethin' to go right along with it. If that's the case, here are some ideas:
Chips and

salsa

, because isn't that a natural side choice for everything?

A

simple tossed salad

is a great side for just about any meal. But if you want a dressing that keeps with the Southwestern theme, may I recommend this

chipotle one

?

Roasted broccoli and cauliflower

go great with this chicken dish.

Crispy Parmesan green beans

, anyone?

Brussels sprouts are one of my favorites and are easy to roast up as well.

How about some veggie skewers on the grill? You can easily grill up mushrooms, bell peppers, zucchini, yellow squash, and onions. Sprinkle with cumin and chili powder to have a Mexican flair to your veggies — ole!
What people are saying about this One Pan Creamy Cilantro Lime Chicken and Rice
"This sauce absolutely blew my mind. I can't believe how tasty it was! My roommate and i both ate this for our prepped lunches for a week and looked forward to it every day. Thank you so much for sharing." – Lauren
One Pan Creamy Cilantro Lime Chicken and Rice
This One Pan Creamy Cilantro Lime Chicken & Rice recipe is one I could eat again and again. It contains all the flavors of the Southwest in a finger-licking-good sauce I could pour on just about anything.
Ingredients
4

boneless, skinless chicken breasts

1

teaspoon

chili powder

salt to taste

2

tablespoons

olive oil

½

onion

-

finely chopped

1

cup

long grain white rice

1

teaspoon

minced garlic

1

teaspoon

ground cumin

fresh cilantro and crumbled feta cheese for garnish
Sauce
½

avocado

-

peeled and pitted

¼

cup

crumbled feta cheese

1

cup

fresh cilantro leaves

1

teaspoon

minced garlic

1

jalapeno pepper

-

seeds removed, finely chopped

2

tablespoons

fresh lime juice

1

tablespoons

red wine vinegar

¼

cup

olive oil
Instructions
Make the sauce: Put all ingredients in a high-powered blender or food processor. Puree until completely smooth, adding a tablespoon or two of water if needed to get a creamy pourable consistency.

Pat the chicken dry with a paper towel. Season evenly on both sides with the chili powder and salt to taste.

Heat a large (12-inch) deep skillet over medium-high heat until hot. Add 1 tablespoon of oil and the chicken. Cook until chicken is browned, 3-4 minutes per side. Transfer chicken to a plate and wipe out the skillet.

Heat the remaining tablespoon oil over medium heat. Add the onion and cook until softened, about 2 minutes. Add the rice, garlic and cumin and stir until the rice is coated with oil and garlic is fragrant, 1 or 2 minutes.

Pour in 2 cups water and add a teaspoon salt. Bring to a simmer, then lower the heat. Return browned chicken to pan, cover and cook until the rice is absorbed, 20-25 minutes.

Spoon some of the sauce over the chicken. Sprinkle with the cilantro and feta and serve.
Notes
Keep any extra sauce for up to 2 days in the fridge – it's delicious on tacos or as a dip!
Nutrition
Calories:
552
kcal
,
Carbohydrates:
42
g
,
Protein:
30
g
,
Fat:
29
g
,
Saturated Fat:
5
g
,
Trans Fat:
1
g
,
Cholesterol:
77
mg
,
Sodium:
231
mg
,
Potassium:
660
mg
,
Fiber:
3
g
,
Sugar:
1
g
,
Vitamin A:
496
IU
,
Vitamin C:
6
mg
,
Calcium:
37
mg
,
Iron:
2
mg