These festive Pumpkin Cheesecake Stuffed Pumpkins are the perfect way to serve up a tasty fall dessert this season. You won't believe how easy this recipe is!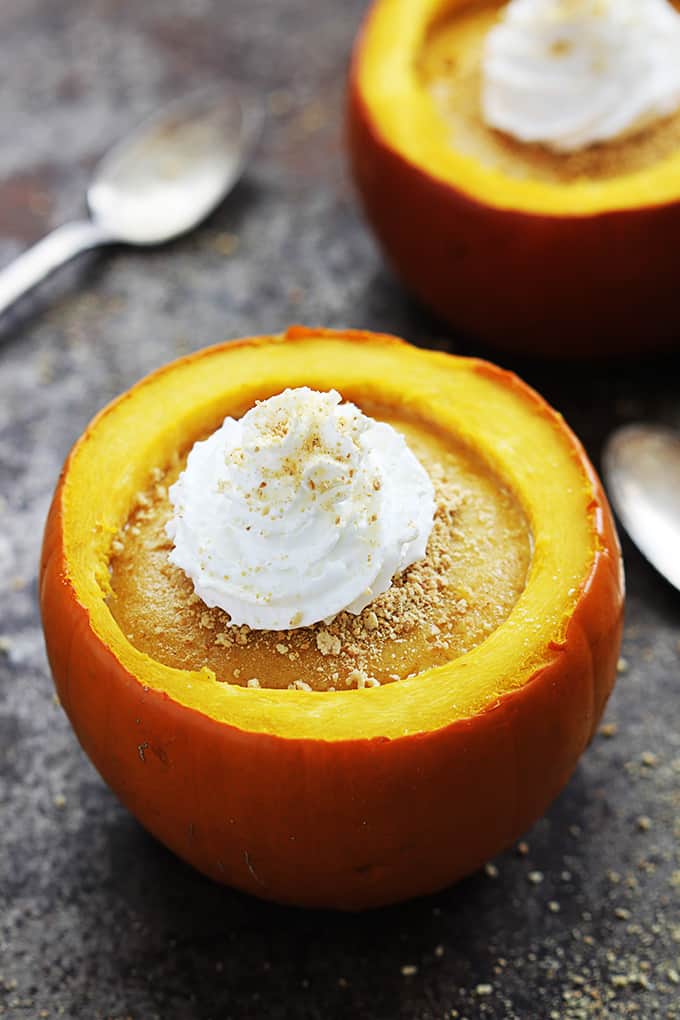 I know, this whole "stuffing" thing is getting a little out of hand. But don't worry, I'm pretty sure this is just one of my famous food phases and you've just gotta let it run it's course. I went through a peanut butter and jelly phase once that lasted for a month. Every single day I ate a PB&J for lunch, with Cheetos (not on the sandwich, just with it). I also went through a PB and fruit phase where I ate peanut butter sandwiches with fresh fruit almost every day. I'm still in love with my mango peach version – get's me every time.
But those are nothing compared to my s'mores phase where I not only tried every imaginable combination of s'more ingredients (including but not limited to peanut butter cups, strawberries, chocolate chip cookies, Samoa girl scout cookies, and York mint patties) but I also tried cooking them in any way I could think of (including but not limited to microwave, oven, stove top, backyard grill, pine-scented Yankee candle, and stick-on-fire).
Right now I'm in a food-stuffing phase and it will eventually come to an end, but for the moment I am stuffing everything in sight. I've been stuffing apples a lot lately but also savory dishes like Broccoli Alfredo Stuffed Pasta Shells (SO good) and now I'm back on the sweet track with these pumpkins. I'm not normally a cheesecake person but this pumpkin cheesecake recipe is irresistible. It's insanely easy to make and nothing screams IT'S FALL TIME like an adorable little pumpkin stuffed with creamy, whipped cream topped personal-sized pumpkin cheesecake. Everything mini is cuter and yummier I've decided. Agreed?
Agreed.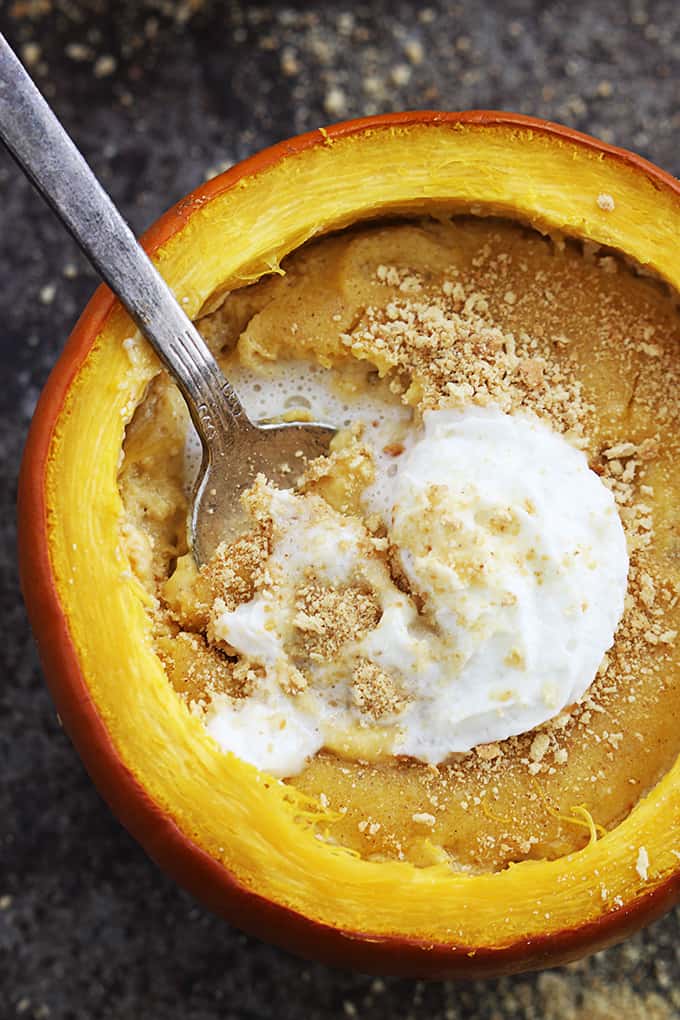 What people are saying about these Pumpkin Cheesecake Stuffed Pumpkins
"Just made it, & it's FANTASTIC!!!! I had two 5-6 inch pumpkins, and it worked great!!! The mixture of seasonings is perfect. I try a lot of recipes, and this made it to the keepers list. 
 Get the ingredients and invite people over!!! Thank you!! 
" – Laura
Pumpkin Cheesecake Stuffed Pumpkins
These festive pumpkin cheesecake stuffed pumpkins are the perfect way to serve up a tasty fall dessert this season. You won't believe how easy this recipe is!
Ingredients
4

mini

pumpkins

-

(about 4 inches wide - see note)

8

ounces

cream cheese

-

softened

⅓

cup

sugar

1

egg

1

egg yolk

⅓

cup

pumpkin puree

1

teaspoon

vanilla

½

teaspoon

cinnamon

½

teaspoon

pumpkin pie spice

whipping cream

graham cracker crumbs
Instructions
Cut the tops of the pumpkins off. Scoop out the insides, being sure to scrape the sides as clean as you can so they aren't stringy, and discard the pumpkin "guts" (all of the stringy stuff and the seeds, if you're not using them for something else)

In a large bowl mix cream cheese, sugar, and egg and egg yolk. Add pumpkin, vanilla, cinnamon, and pumpkin pie spice and mix until smooth.

Scoop cheesecake filling into hollowed pumpkins. Place on a lightly greased baking sheet and bake at 350 for about 25-30 minutes or until cheesecake is set. Chill for at least one hour or until cheesecake is completely chilled. Top with graham cracker crumbs and whipped cream and serve.
Notes
*If you use 4-inch pumpkins, you should be able to get 4 filled pumpkins from this recipe. If you use 5-6 inch pumpkins, double the cheesecake portion of the recipe to have enough filling for the larger pumpkins.
Nutrition
Calories:
300
kcal
,
Carbohydrates:
21
g
,
Protein:
6
g
,
Fat:
22
g
,
Saturated Fat:
12
g
,
Trans Fat:
1
g
,
Cholesterol:
152
mg
,
Sodium:
201
mg
,
Potassium:
148
mg
,
Fiber:
1
g
,
Sugar:
19
g
,
Vitamin A:
4150
IU
,
Vitamin C:
1
mg
,
Calcium:
78
mg
,
Iron:
1
mg