Santa's favorite cookies! Soft and chewy double chocolate chip pudding cookies with M&M candies. The ultimate holiday cookie!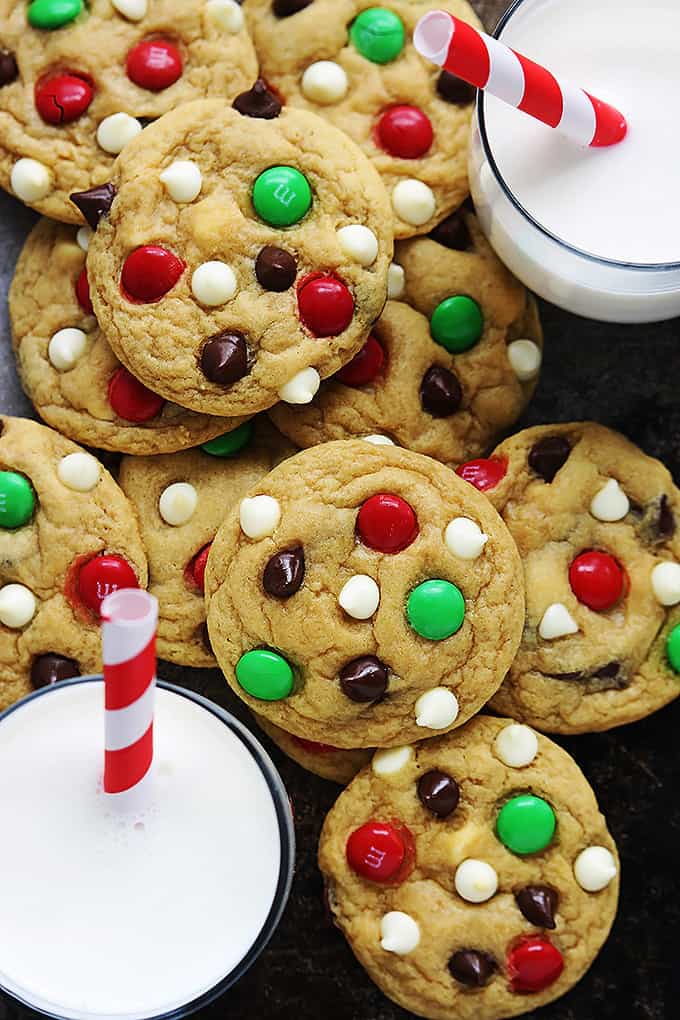 Have I mentioned it's just me and my husband at our house? I see the light bulb above your head as you're thinking "what on earth do two people do with all of that food she makes?!" Well guess what? We eat it! Okay, we don't eat allll of it. when I make a big batch of cupcakes or cookies or a cake, I sort of have this little shoulder angel telling me I probably shouldn't eat the whole entire thing myself. (Even though I sometimes want to. Ohhh do I want to.) So I try to put some aside for us, and take the rest to family, friends, neighbors, or whoever else will take a few treats off my hands.
But the bottom line here is the fact that we don't have any kids. So it's just me and the hubbs here decking the halls and stuffing our faces with gingerbread, and regardless of whether we have kids or not, I still want to do all of the Christmas-y things.  I kind of have this thing about Christmas. I call it "Christmas magic". As a kid I used to talk about Christmas and would look forward to it all. year. long. I was enamored with the whole idea of Christmas. And I'm not talking about the presents (although, obviously I thought that getting presents was pretty fantastic) but more about the surprises and the traditions and the smells and the anticipation of everything the holiday brings.
AKA: Christmas Magic.
When I was a kid, my parents went all-out to make Christmas morning really special. There were hoof-prints in the snow outside our house and every year Santa left a note in place of the cookies we'd put out the night before. We changed our cookie of choice from year to year. Sometimes it was homemade snickerdoodles, sometimes peanut butter blossoms, and I think once or twice we left Oreos on a plate with chocolate milk.
So I was thinking… wouldn't it be fun to have one particular cookie you make every single year on Christmas Eve and leave out for Santa with your kiddos? You're probably rolling your eyes and yawning right now because, well you're smarter than me and you've been doing this for ages. But this is new for me, this one specific cookie tradition thing. So I'm pretty stoked about my newest creation: Santa's Cookies. I have officially declared this to be Santa's favorite cookie (trust me, I know Santa and he digs these) and should we ever have children, I think we will make these every year.
Now the specifics of these cookies. They are incredibly soft, chewy, and perfectly sweet. They are extra-rich because they've basically got three kinds of chocolate. Semi sweet chocolate chips, white chocolate chips, and milk chocolate in the M&Ms. Mmmmmmm.
I have it on good authority that Santa's gonna leave extra-fabulous goodies at any house with these beauties on a plate by the fireplace this Christmas. 😉
What people are saying about Santa's Cookies
"I could just kiss you! I am seriously going to earn the mother of the year award with these BEAUTIES. They came out so pretty! Can't wait to bring these to my son's 2nd grade Christmas party tomorrow. I should probably bring copies of the recipe with me. Thanks sooooo much for sharing!" – Kristen
"I just made these cookies and had to comment. These taste so good and come out perfect. I never knew that pudding mix could be used in a cookie dough. Thank you so much for sharing your recipes." – Vickie
"Just made these and they turned out perfectly! They are soooo yummy! I read many people complain that the dough was dry and crumbly… I didn't find this at all, but I measured my flour by spooning it into the measuring cup and scraping excess, as opposed to scooping and scraping. This has helped me with avoiding dry doughs with other recipes I have made as well!" – Emma
"Love love love this recipe! I've made it 3 times in the past two weeks!" – Joli
Santa's Cookies (Double Chocolate Chip M&M Cookies)
Super soft and chewy chocolate pudding cookies with chocolate chips - for the true chocolate lovers!
Ingredients
¾

cup

butter

-

softened

¾

cup

brown sugar

¼

cup

sugar

1

teaspoon

vanilla

1

egg

2

cups

flour

1

small box

instant vanilla pudding mix - dry

-

not prepared, (one 3.4 ounce box, it must be INSTANT - not cook and serve, etc)

1

teaspoon

baking soda

½

teaspoon

salt

1

cup

semi sweet chocolate chips

1

cup

white chocolate chips

1

cup

red and green M&M candies
Instructions
In a large bowl, cream the butter, brown sugar, and sugar for 1-2 minutes until fluffy. Add vanilla and egg and mix well.

In another bowl whisk together flour, vanilla pudding mix, baking soda, and salt.

Gradually mix dry ingredients into wet ingredients until incorporated. Stir in most of the chocolate chips. (Reserve a few chocolate chips and the M&Ms for later) Cover and chill for at least one hour.

Preheat oven to 350. Very lightly grease a baking sheet. (I lightly mist it with cooking spray, then wipe it off with a paper towel) Roll about 3 tablespoons of cookie dough into a ball (Should be about the size of a golf ball) and place on prepared baking sheet. Gently press remaining chocolate chips and the M&Ms into the cookie dough balls (this makes sure you can see the chips and the M&Ms after they bake!).

Bake for 9-12 minutes until cookies are set but still slightly underdone. Allow to cool for at least 10 minutes on the baking sheet. Transfer to a cooling rack to finish cooling completely. Store in airtight container at room temperature.
Notes
Store in airtight container at room temperature up to five days. 
Nutrition
Calories:
238
kcal
,
Carbohydrates:
39
g
,
Protein:
3
g
,
Fat:
8
g
,
Saturated Fat:
4
g
,
Trans Fat:
1
g
,
Cholesterol:
13
mg
,
Sodium:
186
mg
,
Potassium:
131
mg
,
Fiber:
1
g
,
Sugar:
26
g
,
Vitamin A:
38
IU
,
Vitamin C:
1
mg
,
Calcium:
49
mg
,
Iron:
1
mg