Sweet honey and sesame sauce smothering this Slow Cooker Honey Sesame Chicken is an easy family-favorite and so easy it will become a new staple recipe in your rotation!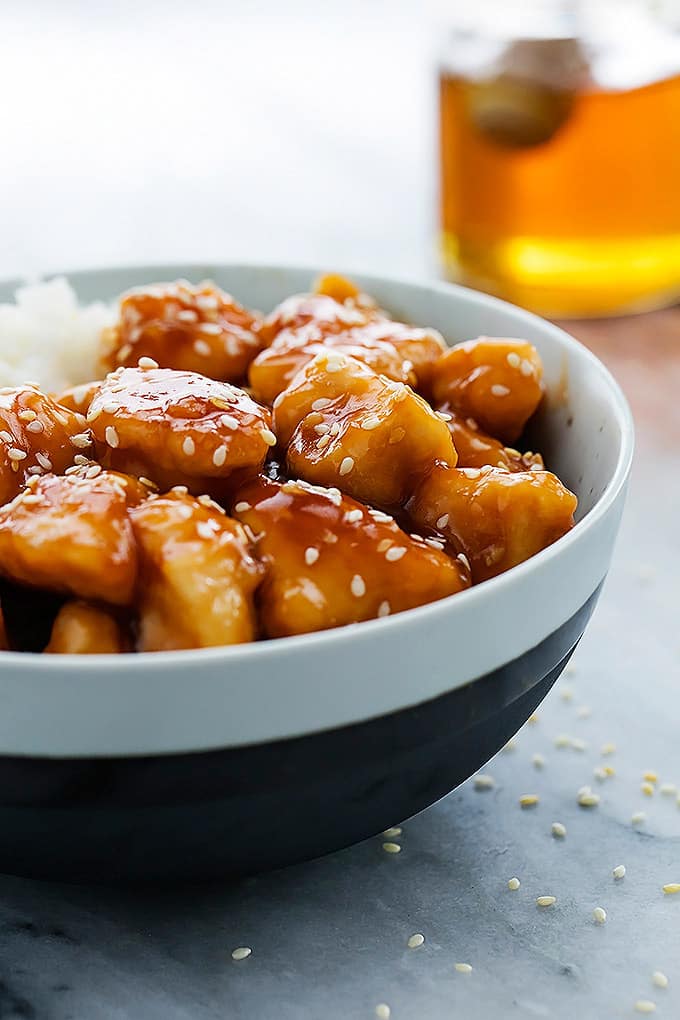 Really good things are happening around here. For one thing, a last minute trip to Las Vegas for a few days with our friends kind of came out of nowhere and changed our week for the better. Warm weather was desperately needed by all of us, especially me, and not just because I felt like my skin was so colorless it was glowing in the dark. Seriously though. Paste-y to the max. For some reason last summer while I was pregnant with the twin kidlets I did not tan, I just fried and peeled all season long. Anyone else have that experience?? So unlike me. I usually tan tan tan in the summer sun but last year the sun and my skin were not friends.
Needless to say, some sunshine was needed. For my skin, and for my so-done-with-winter mood.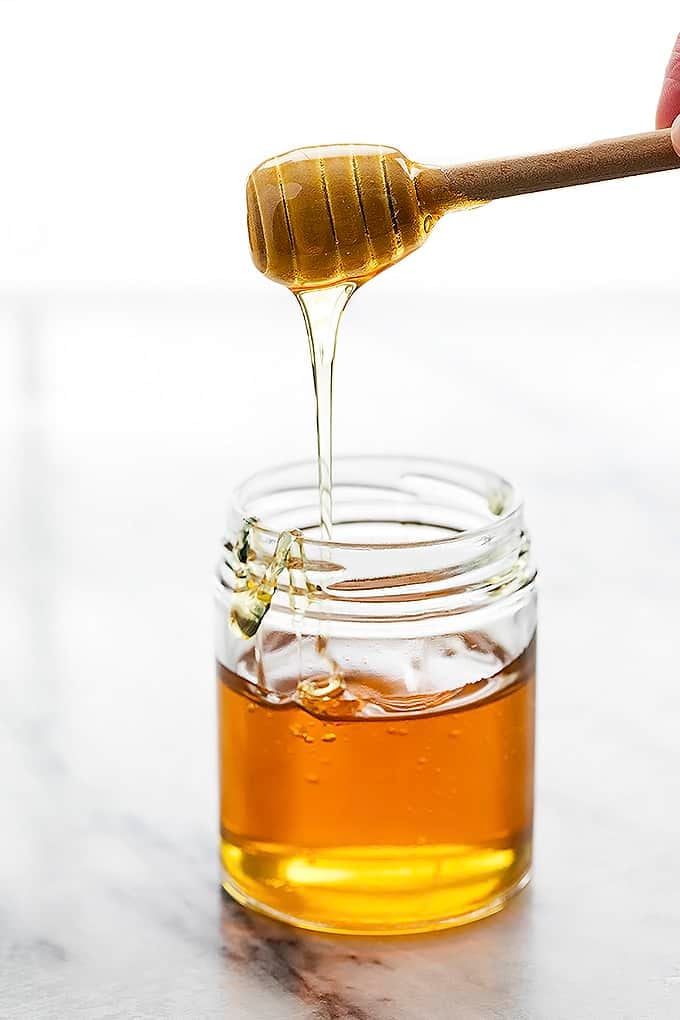 Other good things that are happening? Some pretty amazing dinner things, not the least of which was the Thai curry steak noodle bowls. Ohmagosh. so. good. But the slow cooker dish I'm sharing today has to be one of my favorites – both slow cooker and just dinner, period – ever ever.

If I could fill an entire pool with this honey sesame sauce, it still wouldn't be enough to satisfy my cravings. It is that good. Very flavorful, but not overbearingly sweet or anything, just kind of a perfect blend of flavors. And not spicy – for those of you who cringe when you think of digging into that slow cooker firecracker chicken. (I looooove that stuff something fierce)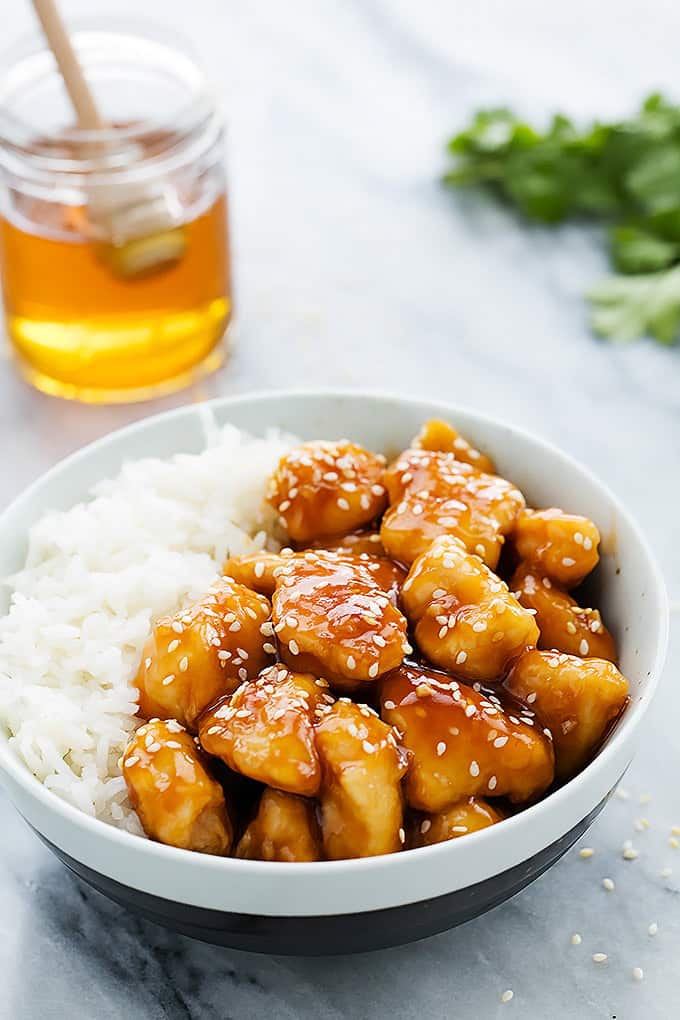 This chicken dish is really simple and easy to make. You whip up a sauce, saute your chicken over medium heat for about 2 minutes, then throw it all in the crockpot and come back a few hours later to the most delicious smelling and tasting dinner you could dream of.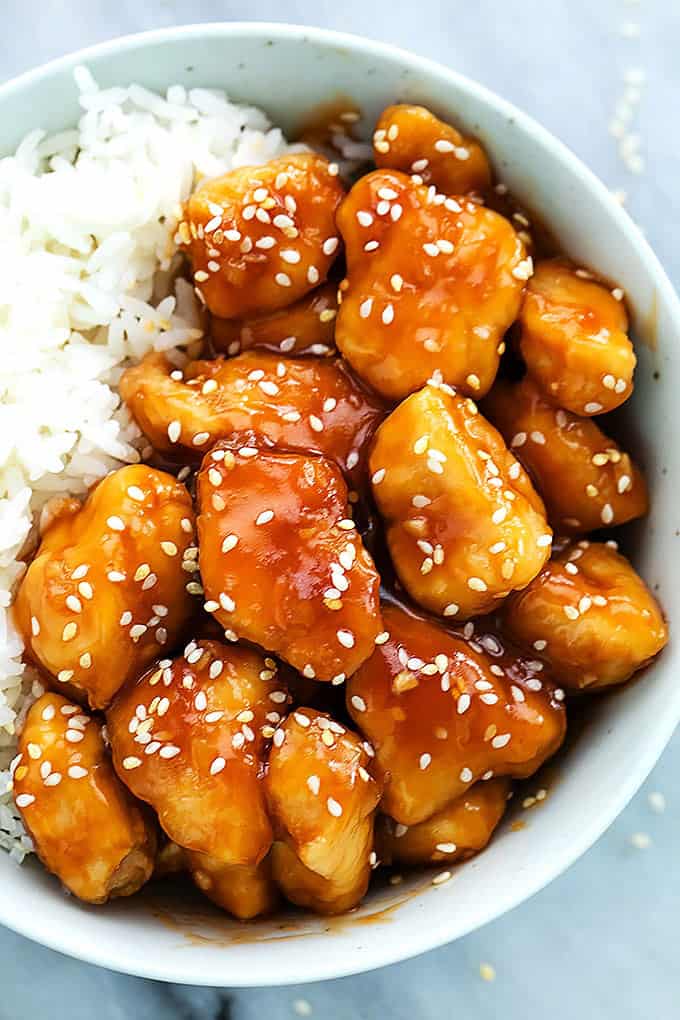 And the sauce is a bit customizable. I wrote it exactly how I like it but if you make it once and then want to play with the flavors a bit the next time you could up the amount of sesame oil, or increase or decrease the amount of honey. Or, if you do happen to want to heat things up a tad, you can add a little sriracha or crushed red pepper flakes. But don't add too much, you don't want to overpower those incredible honey and sesame flavors!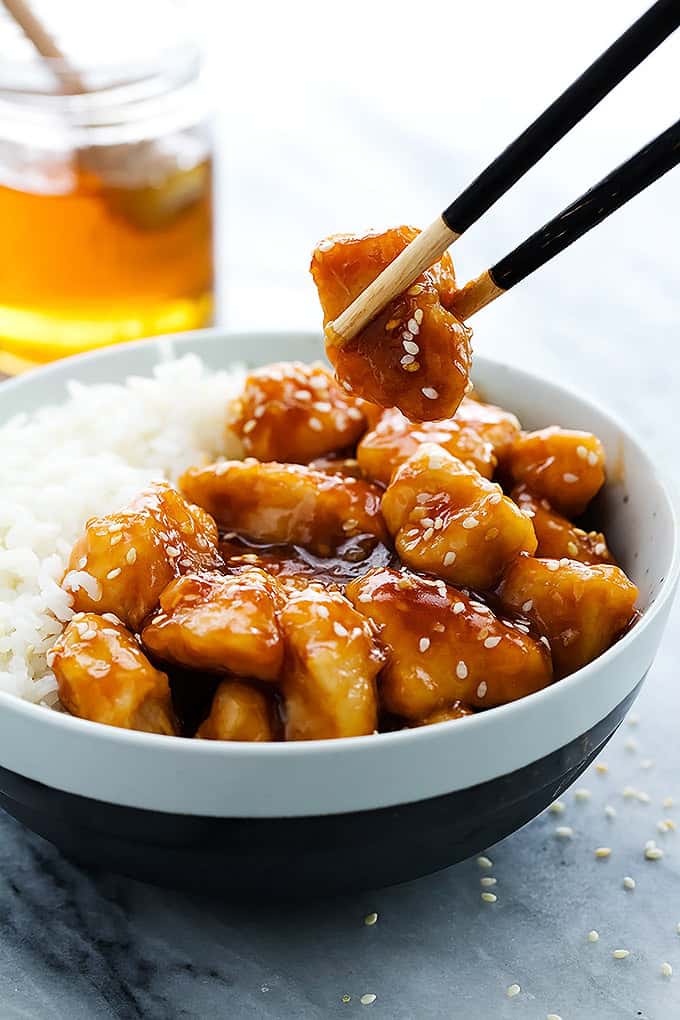 What people are saying about this Slow Cooker Honey Sesame Chicken
"I made this tonite for dinner. I used my thermal cooker (off the grid). It turned out so tender and the rice was so fluffy in my cooker. My husband and I both loved it and will make it again. Thank you so much." – Joni
"This was great! It tasted better than what you get at a Chinese restaurant. Definitely will make again." – Laura
"I nailed it
It turned out perfect . I did add some fried wonton chips and green onion When I served it. Added Sriracha to the sauce. Also since I had 4 chicken Breasts I increased the sauce . Yummy
" – Darlene
"Really delicious! Even my toddler who is extremely picky said 'mmm good!' Thank you!" – Lauren
If you liked this recipe, you'll love my Sticky Sesame Chicken!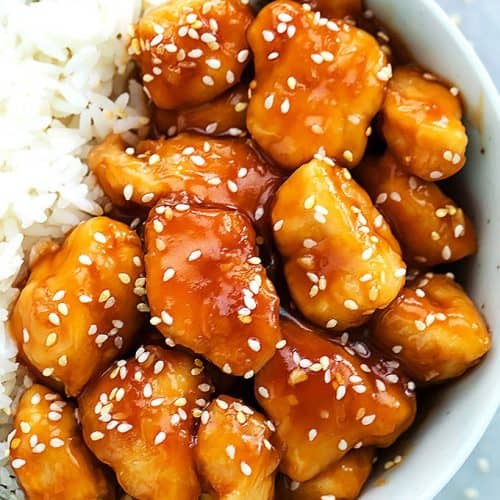 Slow Cooker Honey Sesame Chicken
Slow cooked chicken with sweet honey and sesame sauce – an easy family-favorite with perfect flavor.
Ingredients
3

medium-large

boneless skinless chicken breasts

⅓

cup

corn starch

2

tablespoons

oil

½

cup

cold water + 2 tablespoons corn starch

¼

cup

+ 2 tablespoons low sodium soy sauce

2

teaspoons

sesame oil

6

tablespoons

honey

2

teaspoons

minced garlic

2

teaspoons

ketchup

1

tablespoon

rice vinegar

sesame seeds, for topping
Instructions
Chop chicken into 2 inch pieces. Add to a large resealable bag and add corn starch. Seal and shake to coat chicken.

Drizzle a large skillet with the oil and preheat over medium-high heat. Add chicken and saute 1-2 minutes (just to brown the very outside, chicken should not be cooked through) and remove from heat. Add to a greased slow cooker.

Whisk together the cold water and corn starch til dissolved. Add soy sauce, sesame oil, honey, garlic, ketchup, and rice vinegar and whisk to combine.

Poor sauce over the chicken. Cover and cook on low 3 hours. Serve over cooked rice and garnish with sesame seeds if desired.
Notes
Pro tip: Add 1/2 teaspoon crushed red pepper flakes for a bit of heat!
Nutrition
Calories:
231
kcal
,
Carbohydrates:
38
g
,
Protein:
1
g
,
Fat:
9
g
,
Saturated Fat:
1
g
,
Trans Fat:
1
g
,
Cholesterol:
1
mg
,
Sodium:
557
mg
,
Potassium:
62
mg
,
Fiber:
1
g
,
Sugar:
27
g
,
Vitamin A:
13
IU
,
Vitamin C:
1
mg
,
Calcium:
8
mg
,
Iron:
1
mg