Spicy, saucy Slow Cooker Firecracker Chicken made tender juicy chicken, buffalo sauce and brown sugar for the perfect mix of sweet and spicy.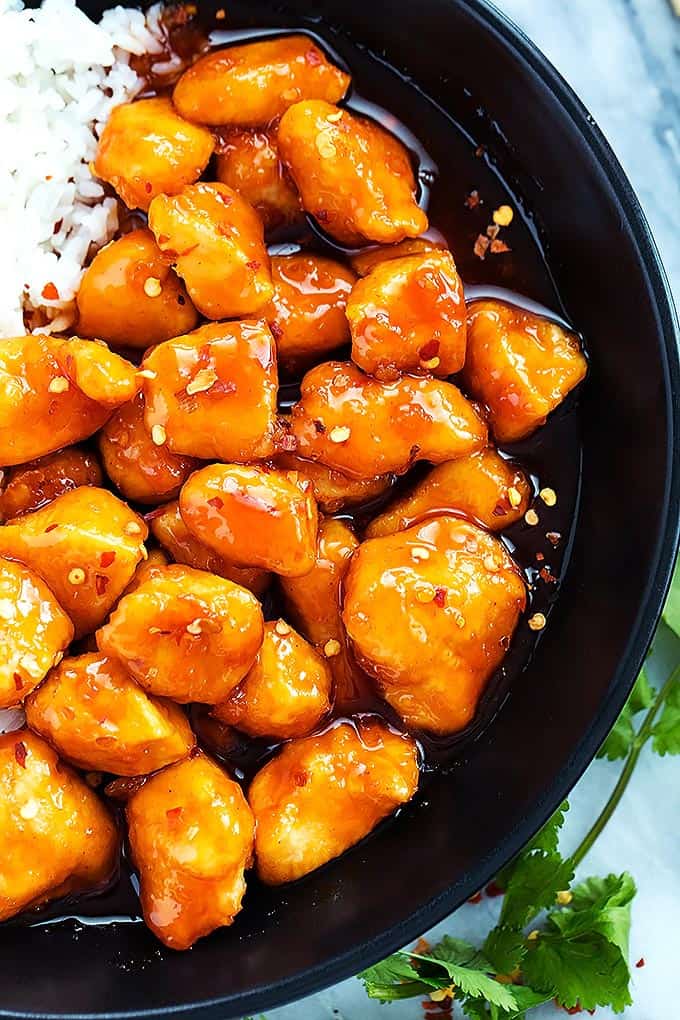 I think I'm doing some wishful cooking. And by wishful cooking I mean turning up the heat in our main dishes in the hopes that the weather will heat up as well. It's sort of working. This past week or so has been in the 50's and feeling slightly less winterish. Personally I like it in the high 80's but I'll take this over freezing temps and snow any day!
So this firecracker chicken. It's so insanely delicious I can hardly stand it. Honest to goodness I drink that sauce straight.
I mean I could drink that sauce straight – who is actually weird enough to eat spoonfuls of firecracker sauce straight from the slow cooker….
Me. That's who. I am totally that weird and totally that crazy about this sauce.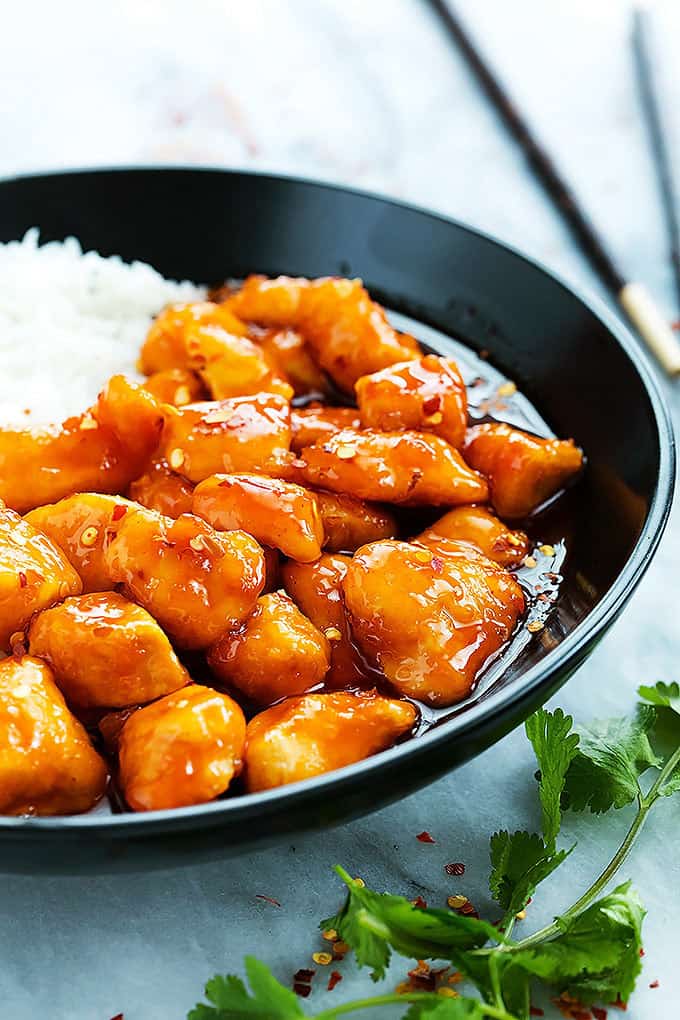 A couple of things about this amazing sauce. 1) You can make this dish a little bit healthier by halving the sauce recipe. Your dish won't be as saucy (duh) at the end, but if you're trying to lighten things up this is a great place to start. Just make sure you check on the chicken around 3 hours to see if it's done, you don't want to overcook it with that much less liquid in the pot.
2) This sauce is spicy. Hence firecracker chicken. I love heat so I say bring. it. on. But if you are like my husband and have a slightly more sensitive tongue, go ahead and dial back the buffalo sauce portion of the recipe and don't add any crushed red pepper flakes at the end. If you don't like spicy food at all…probably should skip this recipe and head-on to the next one. Just sayin.
Other than that this recipe is pretty straight forward! Brown the chicken, throw it in the crockpot with the sauce, bada-bing bada-boom DONE. Seriously tasty firecracker chicken.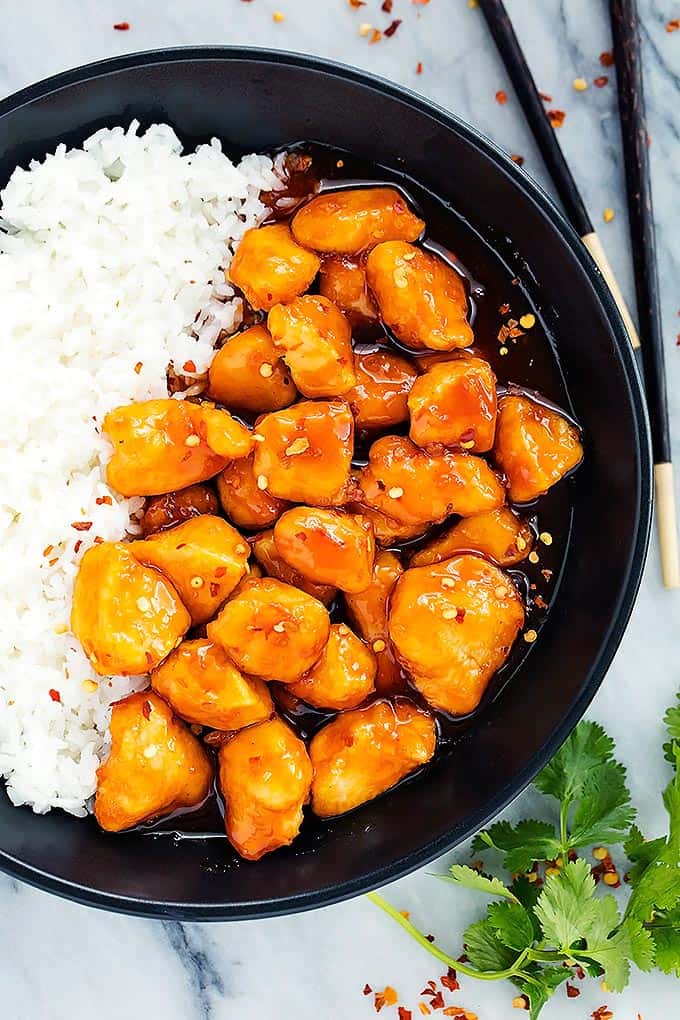 What people are saying about this Slow Cooker Firecracker Chicken
"Thank you for the AMAZING recipe! Not only was it delicious, but so simple to prepare. I also added some bell pepper, onion and water chestnuts when there was about an hour and a half left to cook. This was a big hit with my family. Can't wait to try your other recipes!" – Adrien
"Just made this and it turned out amazing!!! The sauce is incredible! LOVE your blog!" – Rachel
"Delicious and quick to prep. This was my first experience with buffalo sauce, so I did not add the red pepper as I thought it might be too hot. There plenty of flavor without the red pepper, but I will give the pepper a try next time I make this." – Jennifer
Slow Cooker Firecracker Chicken
Spicy, saucy Slow Cooker Firecracker Chicken made tender juicy chicken, buffalo sauce and brown sugar for the perfect mix of sweet and spicy.
Ingredients
4

large boneless skinless chicken breasts

-

cut into 1 inch pieces

⅓

cup

corn starch

2

tablespoons

oil
Sauce* (see note)
⅔

cup

Franks buffalo sauce

1 ½

cups

brown sugar

¼

cup

soy sauce

-

(I use low sodium)

3

tablespoons

apple cider vinegar

-

(may sub white vinegar)

½

teaspoon

garlic powder

1

tablespoon

corn starch
Instructions
Drizzle a large skillet with oil and preheat to medium-high. Add chicken pieces and 1/3 cup corn starch to a large resealable bag. Seal and shake to coat chicken. Add chicken to pan and saute 1-2 minutes, just long enough to brown the very outside of the chicken, it won't be fully cooked at this point.

Grease the inside of your slow cooker with cooking spray. Add chicken.

In a medium bowl whisk together all sauce ingredients. Pour over chicken and stir to distribute. Cover and cook on low for 3-4 hours. Serve with cooked rice. For extra heat, sprinkle with crushed red pepper flakes if desired.
Notes
You can half the sauce for a little bit healthier version. If you do this, be sure to check on the chicken around 3 hours. This sauce is fairly spicy, if you want to tone down the heat a bit you can reduce the amount of buffalo sauce.
Nutrition
Calories:
694
kcal
,
Carbohydrates:
94
g
,
Protein:
50
g
,
Fat:
13
g
,
Saturated Fat:
2
g
,
Trans Fat:
1
g
,
Cholesterol:
145
mg
,
Sodium:
2324
mg
,
Potassium:
990
mg
,
Fiber:
1
g
,
Sugar:
80
g
,
Vitamin A:
68
IU
,
Vitamin C:
3
mg
,
Calcium:
84
mg
,
Iron:
2
mg