Cream cheese, jalapeños, and chicken all come together in these irresistible crispy taquitos! This is an amazing go-to crockpot recipe you'll make again and again! Serve these up as a main dish or they're perfect for game day appetizers – either way you can't go wrong!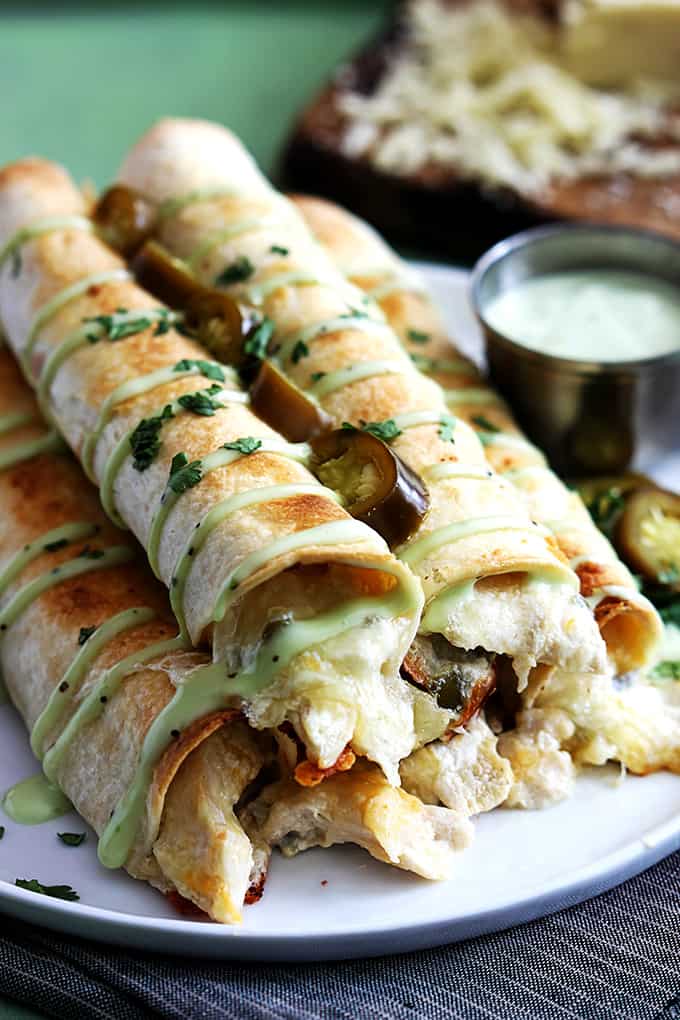 I know I've told you about my affinity for spicy foods. I probably even told you about the origin of that spicy food love with really goes back to my childhood days when I'd do anything and everything my big brothers told me to. That includes going down a laundry shoot head first, and eating a fresh, raw jalapeño – straight up.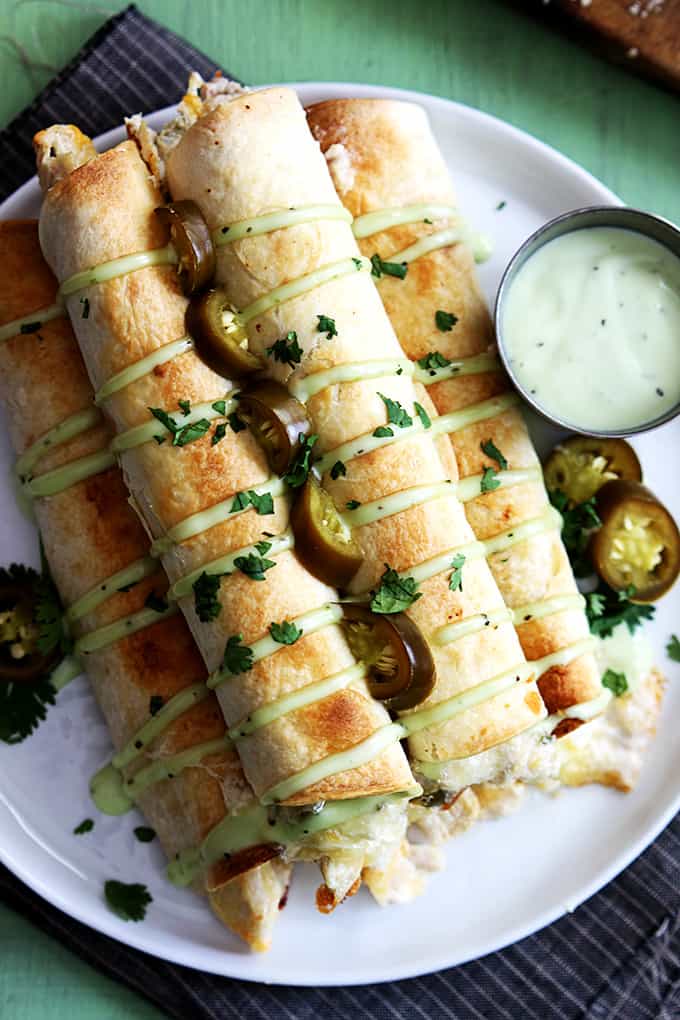 Oh yes, 9-year old me was as fearless as little 9-year old tomboys come. My brothers told me to eat it, so I did. And It was crazy-hot, the kind of heat that just cannot be quenched, not with milk (even though everybody swears by it), and not by baking soda (oh my gosh that was a taste I'll never forget – in a bad way!). It was just one of those things you have to wait out and hope for the best. In the end, my tastebuds were still intact (much to my astonishment) and a bewildering new flavor craving had begun.
A craving for the heat that only comes from seed-bearing peppers.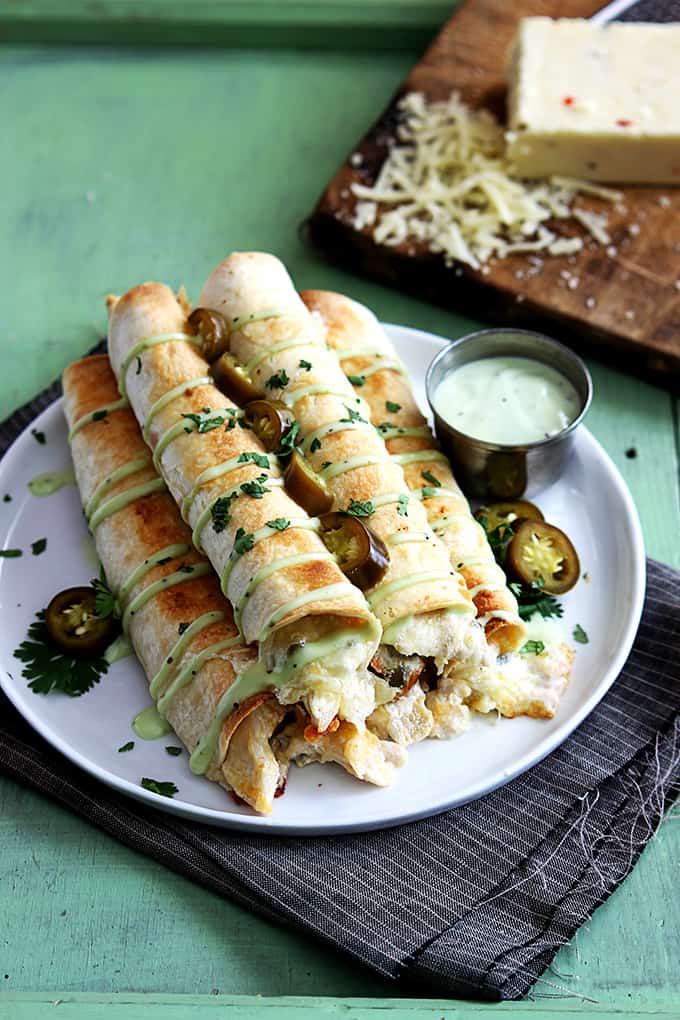 Yep, that's how it all started, my love affair with all things spi-say. You wouldn't believe the flavor combinations I've tried (and loved) over the years. To this day I adore jalapeños on my cream cheese bagels and every now that then you'll find me dipping Lays potato chips in Taco Bell hot sauce.   I know, strange things. But after that kind of history, it shouldn't be hard to imagine why I keep a GIANT jar of jalapeños in my fridge and create things like jalapeño popper taquitos.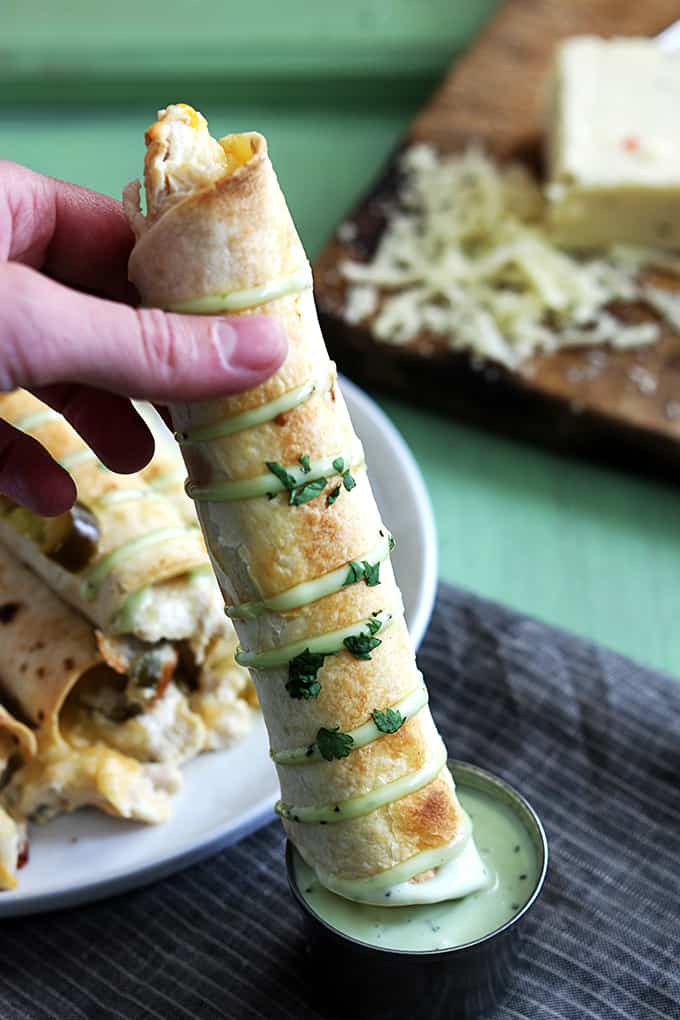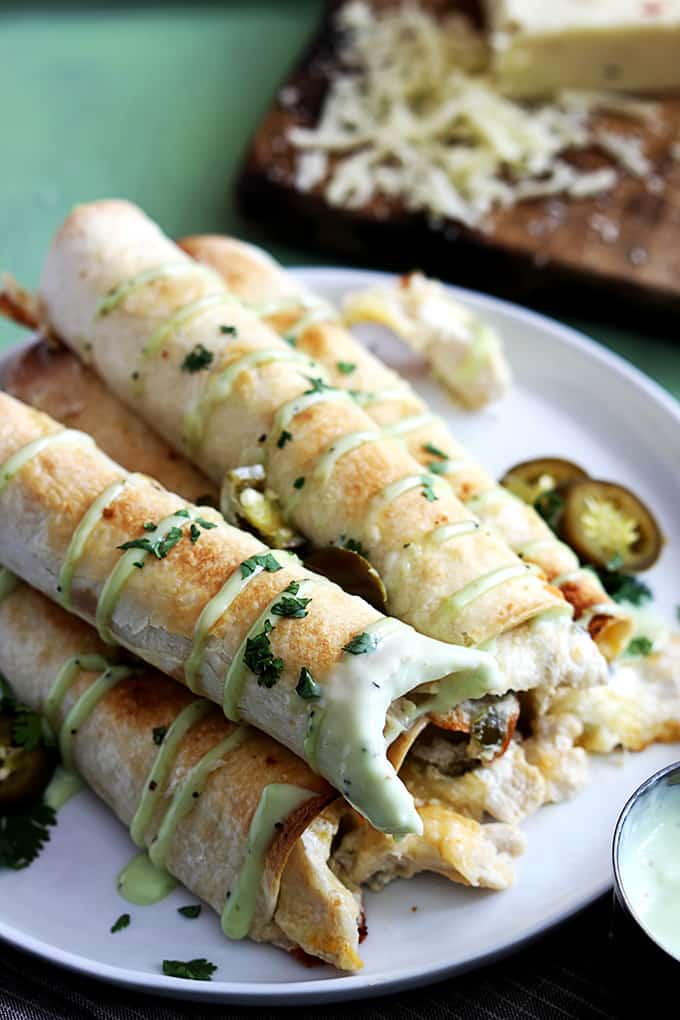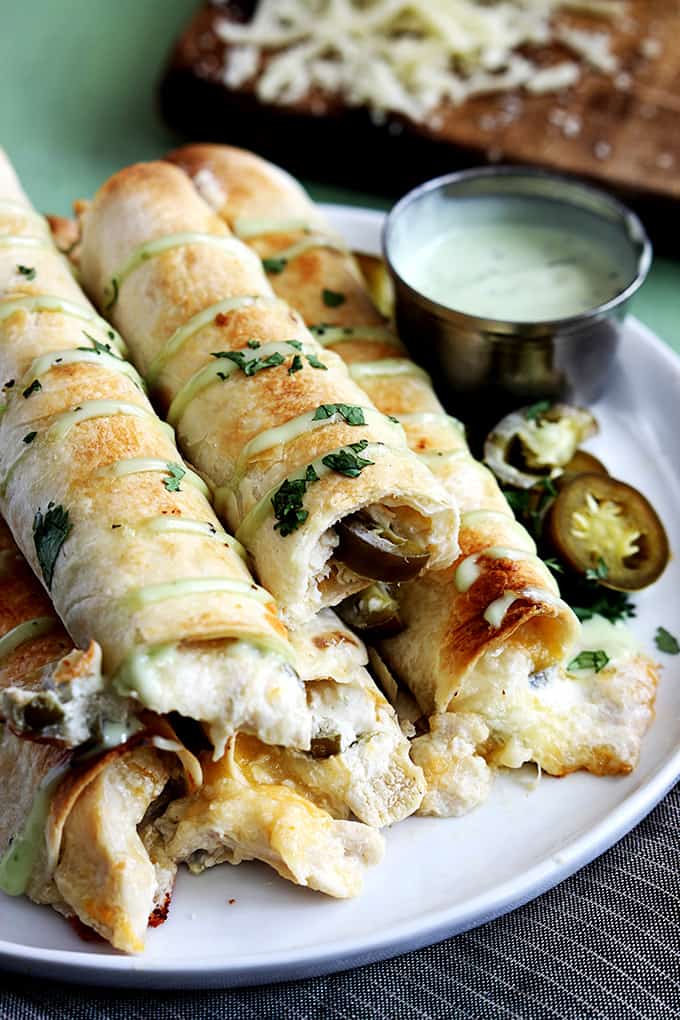 Hold your horse though, you heat-fearing people, because I have good news for you. These are completely customizable to meet your own personal heat standards. If you're like me and can't get enough of that spicy goodness, you can load these babies up with as many jalapeños as your little heart desires. For the rest of you who love a good jalapeño popper but don't want to burn your mouth to high heaven, just put a few less in there.  I promise you that the cream cheesiness cuts through a lot of that heat so you just get the best of all those nummy flavors without injuring your tastebuds. And if you really wanna cool em down, dip them in ranch or green goddess dressing! If you're looking for a little more kick – go for the salsa or Tomatillo Ranch Dressing!
Sing it with me – Let's get it started hot, let's get it started in here…
I don't remember the rest of the lyrics. So we'll just leave it at that.
What people are saying about these Slow Cooker Jalapeno Popper Chicken Taquitos
"Fantastic! I made these last night for dinner, and my husband gorged himself past the point of comfort! I did the recipe exactly as written, except I used 1/2 cup of chicken broth instead of water and added 1/2 tsp. of cayenne pepper and 1 cup of red onion. I will say that it was a little salty for my taste, so I will probably cut back the salt to 1/2 tsp. in the future. Beyond that, this dish was AMAZING! Thank you for a simple, yet delicious weeknight meal!" -Jesse 
"These were delicious! Super easy to make. Next time I will add more chicken or less cream cheese! One of my favorites." – K. Smith
"Made these yesterday and they were amazing!!! I used 3 large fresh jalapenos for 3 chicken breasts in the slow cooker, after cooking they had lost all their heat and the chicken was left with an amazing flavour. I wanted a bit of a kick though so I then added a jar of chopped jalapenos in with the shredded chicken. They were still very easy to eat not too hot but just full of flavour. Definitely have become a firm family favourite and will be making them again soon!" – Jillian
"I doubled the recipe and made for our family christmas dinner. Everyone raved about them and wanted the recipe so I shared the recipe along with your site. Same goes for the Tomatillo dip recipe of yours. This will be a regular meal in our house. Can't wait to try the chipotle taquitos you have on here. I didn't mess with using a crock pot though. I just made them with the cold ingredients & semi warm chicken. They came out of the oven nice and hot & melty cheese. I just baked them longer to get the crispy effect rather than use the broiler (safer that way). Mmmmm I could go for some more right now. 
" – Rhonda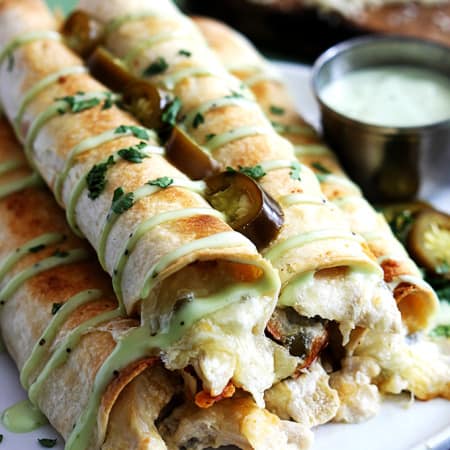 Slow Cooker Jalapeño Popper Chicken Taquitos
Cream cheese, jalapeños, and chicken all come together in these irresistible crispy taquitos! This is one amazing go-to crockpot recipe you'll make again and again! Serve these up as a main dish or they're perfect for game day appetizers - either way you can't go wrong!
Ingredients
3-4

chicken breasts

-

frozen or thawed

8

ounces

cream cheese

⅓

cup

jarred whole or sliced jalapeños

-

roughly chopped (or more, to taste)

1

teaspoon

garlic powder

1

teaspoon

salt

1

teaspoon

cumin

16

taco-sized tortillas

-

(I prefer flour but corn tortillas also work well)

1 ½

cups

shredded cheese

-

(colby jack, monterey jack, Mexican blend, mozzarella - use your favorite!)
Instructions
Add chicken, 1/2 cup water, cream cheese, jalapeños, garlic powder, salt, and cumin to crockpot. Cover and cook on low for 6-8 hours or on high 3-4 hours. (lesser times are for thawed chicken, greater times for frozen chicken)

Minutes before serving, preheat the oven to 425 and grease a baking sheet with cooking spray.

Use two forks to shred chicken and stir it in with the other contents of the crockpot.

Heat tortillas in the microwave for a few seconds to soften them up, this will make them easier to work with. Sprinkle cheese in the middle of each tortilla (just divide the cheese evenly between all of the tortillas).

Top cheese with 2-3 tablespoons of shredded chicken mixture. Roll tortillas tightly into a log-shape taquito.

Place taquitos on baking sheet and spray heavily with cooking spray. Bake 10-15 minutes until cheese is melty and tortillas begin to brown. (For crispier taquitos, switch the oven to broil for 2-3 minutes - watch carefully so they don't burn!)

Serve warm with dipping sauces and toppings if desired.
Nutrition
Calories:
879
kcal
,
Carbohydrates:
65
g
,
Protein:
58
g
,
Fat:
41
g
,
Saturated Fat:
19
g
,
Trans Fat:
1
g
,
Cholesterol:
204
mg
,
Sodium:
2048
mg
,
Potassium:
939
mg
,
Fiber:
3
g
,
Sugar:
8
g
,
Vitamin A:
1103
IU
,
Vitamin C:
2
mg
,
Calcium:
409
mg
,
Iron:
5
mg