Tender, Slow Cooker Smoky Mountain Chicken in smoky barbecue sauce, topped with bacon and smothered with cheese! Just FIVE ingredients! 
People ask me all the time where I get my ideas for recipes. The short answer? Everywhere. The long answer? Random ideas pop into my head from day to day and I jot them down in a notebook or log them in my phone to make later. Other ideas come from my mother's old cookbooks, magazines, recipes I remember having in my childhood, something I see on television, a meal described by a friend or family member, lots of inspiration from the internet, and dishes I have had at restaurants.  This particular recipe today was inspired by a restaurant dish I've never actually even had.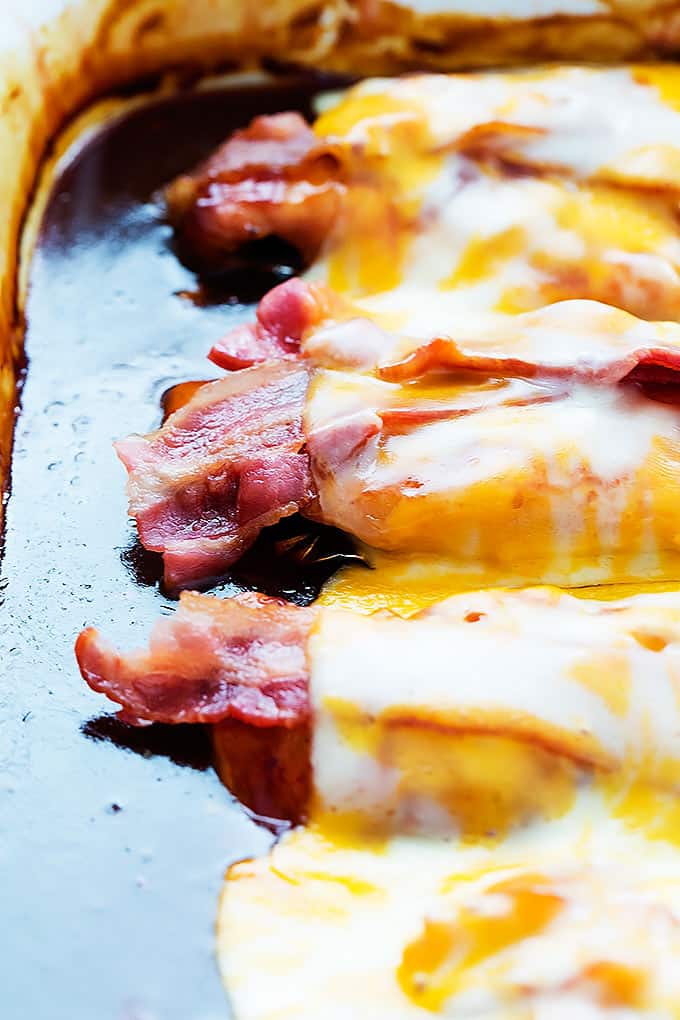 I've eaten at Ruby Tuesday before – I love it – and I remember getting the barbecue chicken 2 or 3 times there along with the salad bar – which, by the way, is the home of their really really awesome housemate balsamic dressing. Annnnyway, the barbecue chicken. Delicious. But I was looking at their menu online the other day and I noticed a dish I hadn't tried before but wished I could immediately get my hands on – Smoky Mountain Chicken. Chicken in barbecue sauce, topped with bacon and cheese.
YES PLEASE.
We don't actually live by a Ruby Tuesday, the only one we ever visit is in Park City where we frequently have weekend getaways. Those weekend getaways are on hold for a minute while we have two brand new babes at home but I couldn't wait a few more months to try this smoky mountain chicken so, naturally, I created this restaurant-inspired amazingness you are witnessing today.
The best part? This FIVE INGREDIENT DISH (<—- I love those words) is made right in the crockpot. You literally have 5 minutes of prep and that's it. And the flavors. Ohhhhmygosh. I mean seriously. Bacon + barbecue + cheese. What's not to love here?!
Slow Cooker Smoky Mountain Chicken
Tender, slow-cooked chicken in smoky barbecue sauce, topped with bacon and smothered with cheese!
Ingredients
4

boneless skinless chicken breasts

2

cups

barbecue sauce

2

teaspoons

liquid smoke

8

slices

bacon

-

cooked

4

slices

colby jack cheese
Instructions
Mix together barbecue sauce and liquid smoke. Pour half into your slow cooker.

Lay chicken breasts side by side in the bottom of your slow cooker. Top with remaining barbecue sauce mixture. Cover and cook on high for 2-3 hours or on low 4-5 hours.

About 15-20 minutes before serving, uncover and top each chicken breast with 2 slices of bacon, then top with 1 slice of cheese. Cover and allow to cook another 15-20 minutes til cheese is melty. Serve hot.
Notes
Pro tip: Serve with mashed potatoes and a side salad for a complete meal. 
Nutrition
Calories:
492
kcal
,
Carbohydrates:
59
g
,
Protein:
33
g
,
Fat:
13
g
,
Saturated Fat:
7
g
,
Trans Fat:
1
g
,
Cholesterol:
102
mg
,
Sodium:
1834
mg
,
Potassium:
785
mg
,
Fiber:
1
g
,
Sugar:
48
g
,
Vitamin A:
633
IU
,
Vitamin C:
2
mg
,
Calcium:
245
mg
,
Iron:
2
mg