Juicy 4 Ingredient Slow Cooker Pesto Ranch Chicken in the crockpot with a simple ranch seasoning and pesto sauce! Tons of flavor, SO easy, made with just a few ingredients packed full of flavor!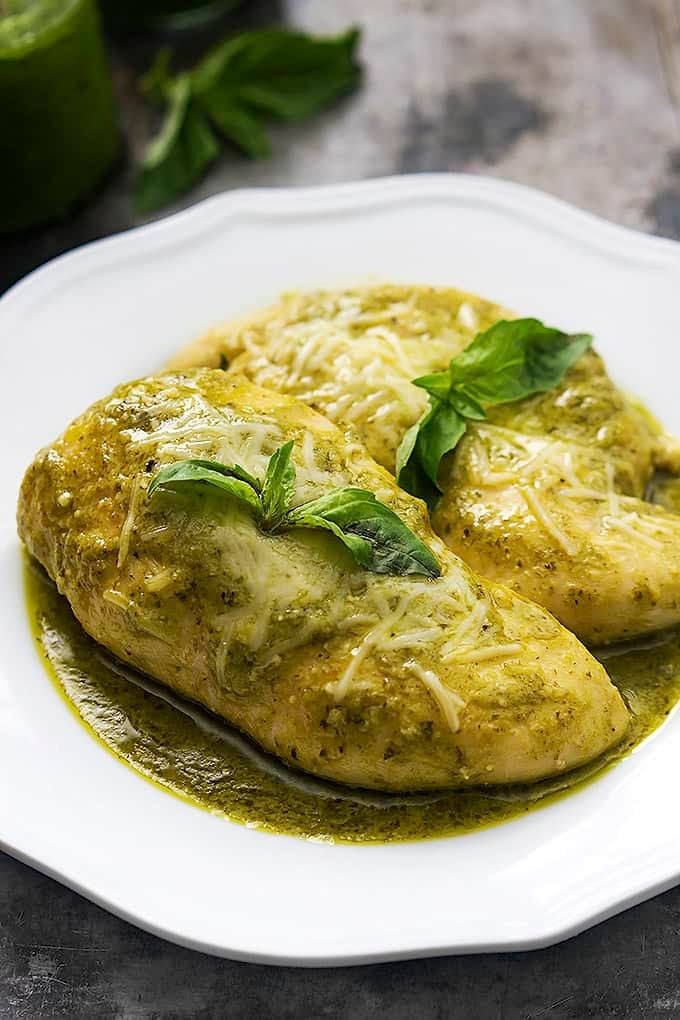 Once upon a time I made the world's easiest, best tasting 5-minute homemade pesto.
And they all lived happily ever after.
I tasted pesto for the first time about 6 years ago when I was visiting my brother in California. We ate a the most incredible half-restaurant-half-vintage-bookstore out on the back patio where big bulby strung lights make you feel like you are in love – regardless of your relationship status.
I ordered a pesto sandwich – don't even remember what else was on it – just know there was pesto and bread and I fell head over heels for that green stuff.
Over the past few years I've made several varieties of homemade pesto. Spinach-arugula, pine-nut basil, walnut pesto, lemon-garlic pesto….   my 5-minute version is my go-to. Sometimes I switch things up with one or two of the ingredients but it always tastes SO amazing that I can't bring myself to buy store-bought pesto anymore.
Would you believe me if I told you I sneak a few bites straight from the jar from time to time?
Believe it.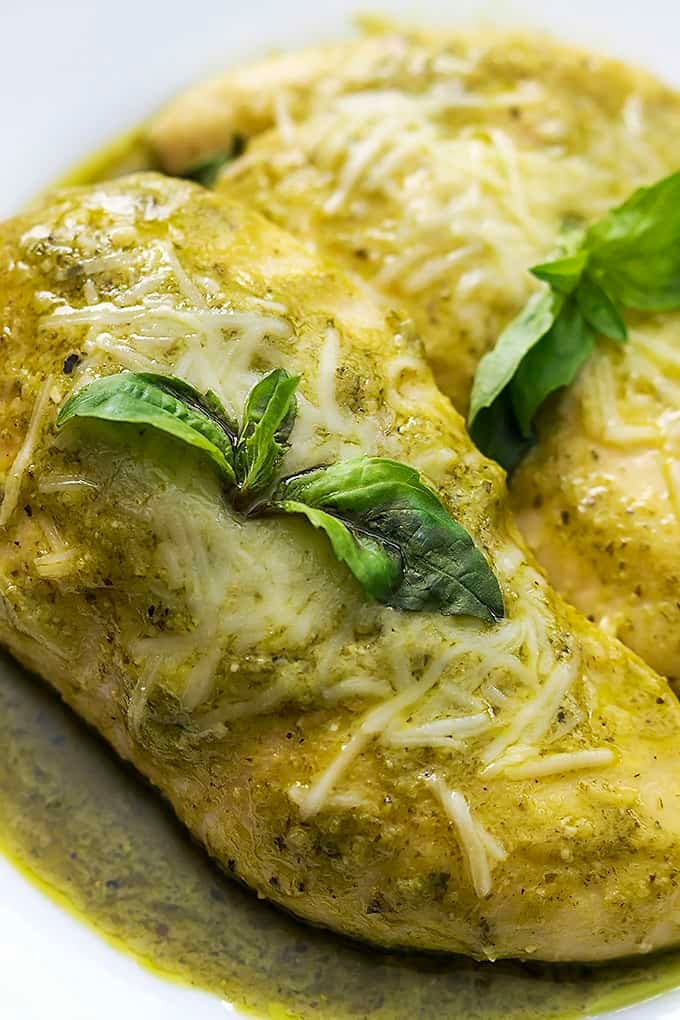 As you can see, I'm a fan of the pesto stuff. But last week I threw together this slow cooker pesto ranch chicken and ohmagosh. so good. And EASY. Honest to goodness it takes all of 4 minutes to put this stuff in the crockpot and turn it on. Come back a few hours later, give it a little stir and voila. Pesto-y, ranch-y, tender juicy chicken.
Ohhhhh and it only has 4 ingredients.
5 if you count water but really…. who counts water?
What people are saying about this 4 Ingredient Slow Cooker Pesto Ranch Chicken
"I always hated to cook and thus never did it much. My husband made most of our meals even though it would make me feel good to cook for him when I did it. Then I discovered your blog. Your recipes are easy to follow, creative, and delicious. I feel more confident cooking because everything is so simple, and every one of your recipes I have tried has turned out phenomenally. My husband really appreciates that we are sharing the cooking responsibilities more and gives rave reviews of everything I have made from your blog. This pesto ranch chicken was my latest attempt and we both loved it! Thanks for doing what you do. It makes me really happy to be cooking more for my husband and I credit your blog with that!" – Ashley
"This was amazing and so easy to make! I used white wine instead of water:) served on a bed of sauteed mushrooms and tomatoes. So yummy!! Thanks for the recipe!!" – Susan 
"I tried it last night as you suggested above, by using 1/3 cup ranch dressing with a jar of pesto I had, mixed together with 1/2 cup of water (could have probably used even a 1/4), baked it in the oven covered for about 35 mins on 375. Boiled some penne pasta with some frozen mixed veg thrown in while cooking and served it with the chicken and sauce spooned over it, and a sprinkle of grated parmesan on top. It was fantastic, husband licked plate :)). I will definitely try with fresh pesto next time! Thanks for a great recipe :))" – Tara
4 Ingredient Slow Cooker Pesto Ranch Chicken
Juicy chicken slow cooked in the crockpot with a simple ranch seasoning and pesto sauce! Tons of flavor, SO easy, only 4 ingredients!
Ingredients
4

boneless skinless chicken breasts

1

packet

ranch dressing seasoning mix

-

(just the dry mix)

1

cup

pesto

-

(1 jar of store-bought OR click [url:1]HERE[/url] for my super easy 5-minute homemade pesto!)

½

cup

shredded parmesan cheese
Instructions
Place chicken breasts in a single layer in the bottom of your slow cooker. Sprinkle ranch seasoning over chicken.

In a small bowl whisk together pesto and 1/2 cup water and pour over chicken. (Water isn't in the ingredient list because, well, it's water...)

Cover and cook for 2-3 hours on high or 4-5 hours on low. About 15 minutes before serving, stir the sauce and chicken to coat well. Sprinkle parmesan cheese over the chicken - cover and allow to melt for 10-15 minutes. Enjoy!
Notes
*Click [url:2]HERE[/url] for my amazingly easy 5-minute homemade pesto, it tastes better than store-bought!
Nutrition
Calories:
423
kcal
,
Carbohydrates:
5
g
,
Protein:
32
g
,
Fat:
29
g
,
Saturated Fat:
7
g
,
Trans Fat:
1
g
,
Cholesterol:
88
mg
,
Sodium:
902
mg
,
Potassium:
434
mg
,
Fiber:
1
g
,
Sugar:
2
g
,
Vitamin A:
1392
IU
,
Vitamin C:
1
mg
,
Calcium:
244
mg
,
Iron:
1
mg
Recipe adapted from Cutting Back Kitchen.