You'll never miss the "mac" in this delicious cauliflower mac and cheese dish! Cheesy, buttery, ooey, gooey, and comforting, this recipe is a great way to get a serving of veggies and your pasta fix without the heavy carbs.
Looking for all the cauliflower everything? Try these recipes for Easy Buffalo Cauliflower, Roasted Cauliflower Soup, and Baked Sweet and Sour Cauliflower.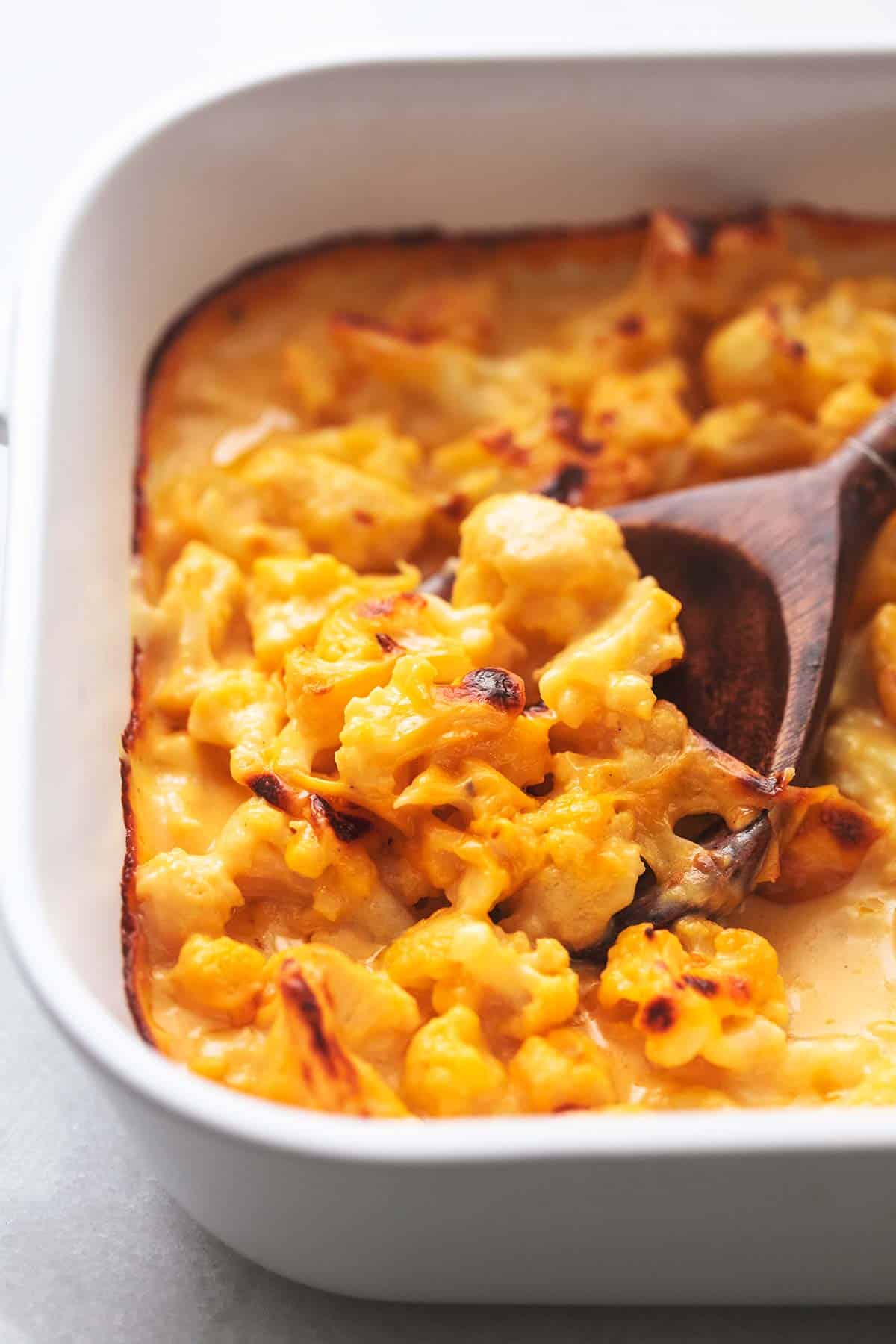 I think everyone falls into two cauliflower teams: Team Gimme All the Cauliflower and Team Not Another Cauliflower Recipe. Amiright?
I think even if you consider yourself a member of the second team, you should try this recipe for cauliflower mac and cheese before you roll your eyes. I'm a skeptic myself (and definitely so are the kids and husband), but I swear it's soooooo good you won't even miss the noodles at all. We had no one speck of this veggie mac and cheese leftover after dinner the other night, so I'm assuming the rest of the family totally agreed with me!
Why This Recipe Works
Cauliflower — I know this goes without saying because how would this recipe work without cauliflower but it truly has been a game-changer for me when cooking, knowing there's this versatile veggie I can use instead of pasta, potatoes, rice…so many other things. It's fun to mix it up once in a while and having an extra serving or two of veggies never hurt anybody.
Hand-shredded cheese — I'm all about the kind of shredded cheese you shred yourself. Why? Well store-bought shredded cheese is coated with this powdery substance that keeps it from all caking together in the bag. That substance that keeps it from caking also keeps it from melting together well and leaves the cheese with a grainy taste and texture. Do yourself a favor and grate it yourself — it's even more economical that way too.
That roux — You have to make a roux (butter/flour mixture detailed below) to get the cheese to fold in correctly and melt smoothly and consistently. I've skipped this step before and what you end up with is cauliflower with melted cheese pieces stuck to it. Definitely not creamy and cauliflower mac and cheese – like at all.
Leftovers — This recipe heats up well the next day and the day after too (if you have any left, that is). Mac and cheese for daaaays.
Here's How You Make It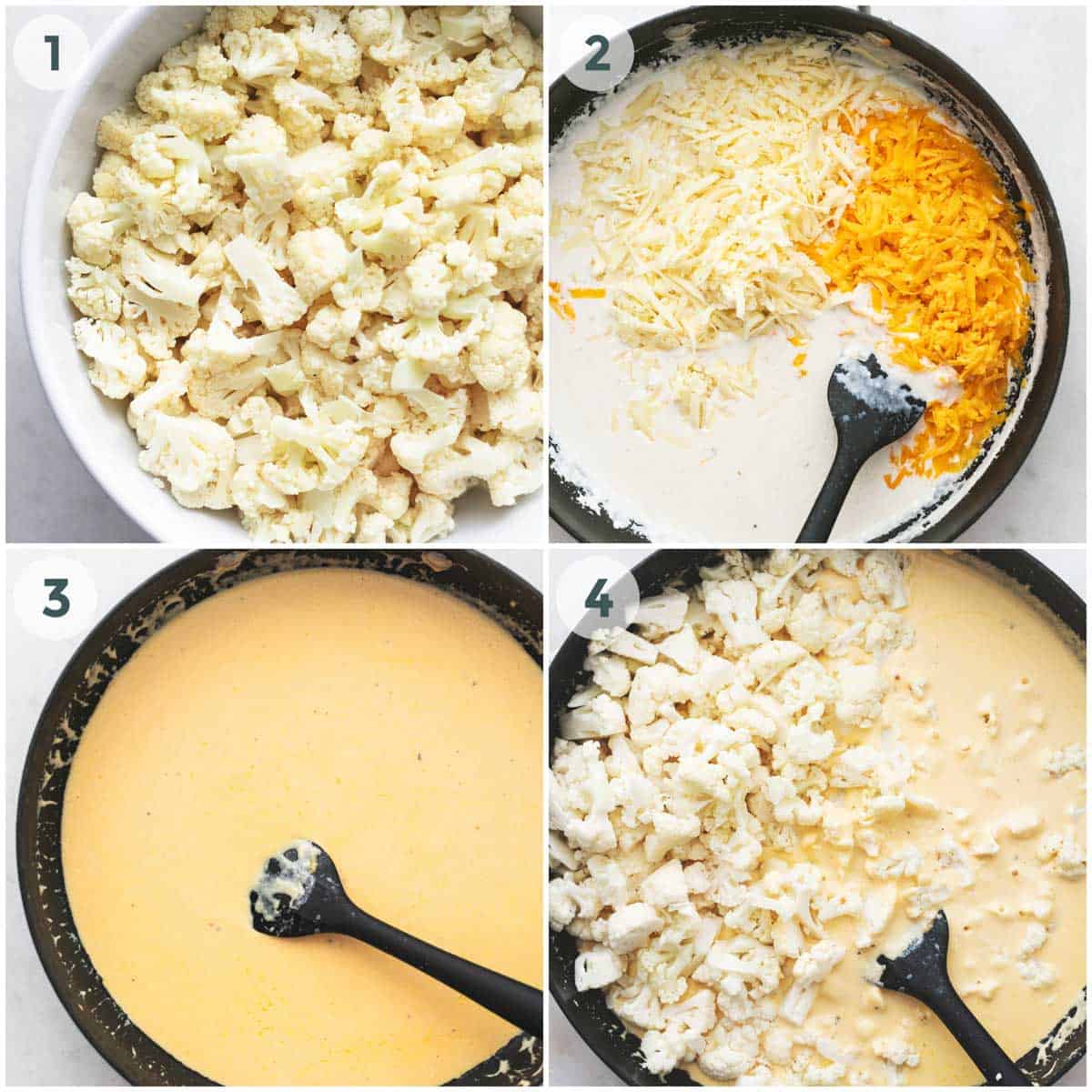 First, set the oven to 375 degrees to preheat it.
Steam the cauliflower in the microwave by filling a microwave-safe bowl with about an inch of water, then the cauliflower and popping in the microwave for 8 minutes. Carefully drain the water out of the bowl and set aside.
In a large saucepan over medium-high heat, melt the butter.
Stir the flour into the melted butter for about 3 minutes, stirring continuously to make a roux.
Now whisk in the milk into the flour/butter mixture a little bit at a time until the milk is totally incorporated and the mixture thickens and is smooth.
Take the saucepan off the heat, and stir in the garlic powder, salt, pepper, and shredded cheese until that's thoroughly melted and smooth as well.
Add the cauliflower to the cheese in the saucepan, stir it all together and pour it into a prepared 9×13-in. baking dish.
Put the dish into the oven for 25 minutes until the cheese is bubbly and the outsides begin to brown. Switch the oven to "broil" for 2-4 minutes to really brown that top if you wish.

Pull the baking dish from the oven and allow to cool a little before serving.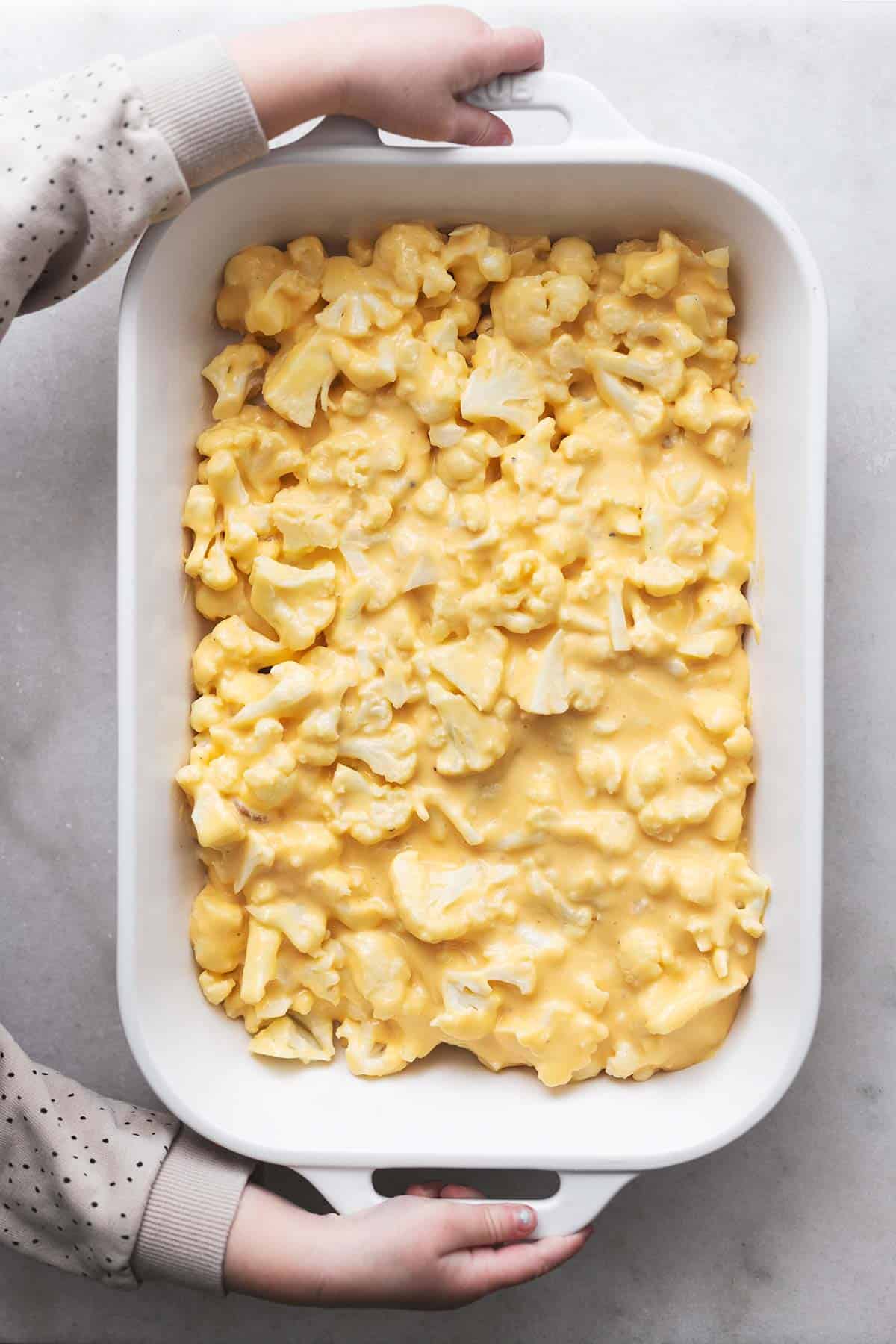 What Are the Best Cheeses to Use for Macaroni and Cheese?
While sharp cheddar cheese is my favorite cheese in all mac and cheese varieties, there are quite a number of delicious cheeses that work great too.
Mild or medium cheddar

Parmesan (I like to mix parm with another cheese)

Pepper jack

Gouda

Gruyere

Goat cheese (I mix this one too)

Brie (this one works great, but it is a super sticky, melty cheese so you don't have to go too heavy on it).

Monterey jack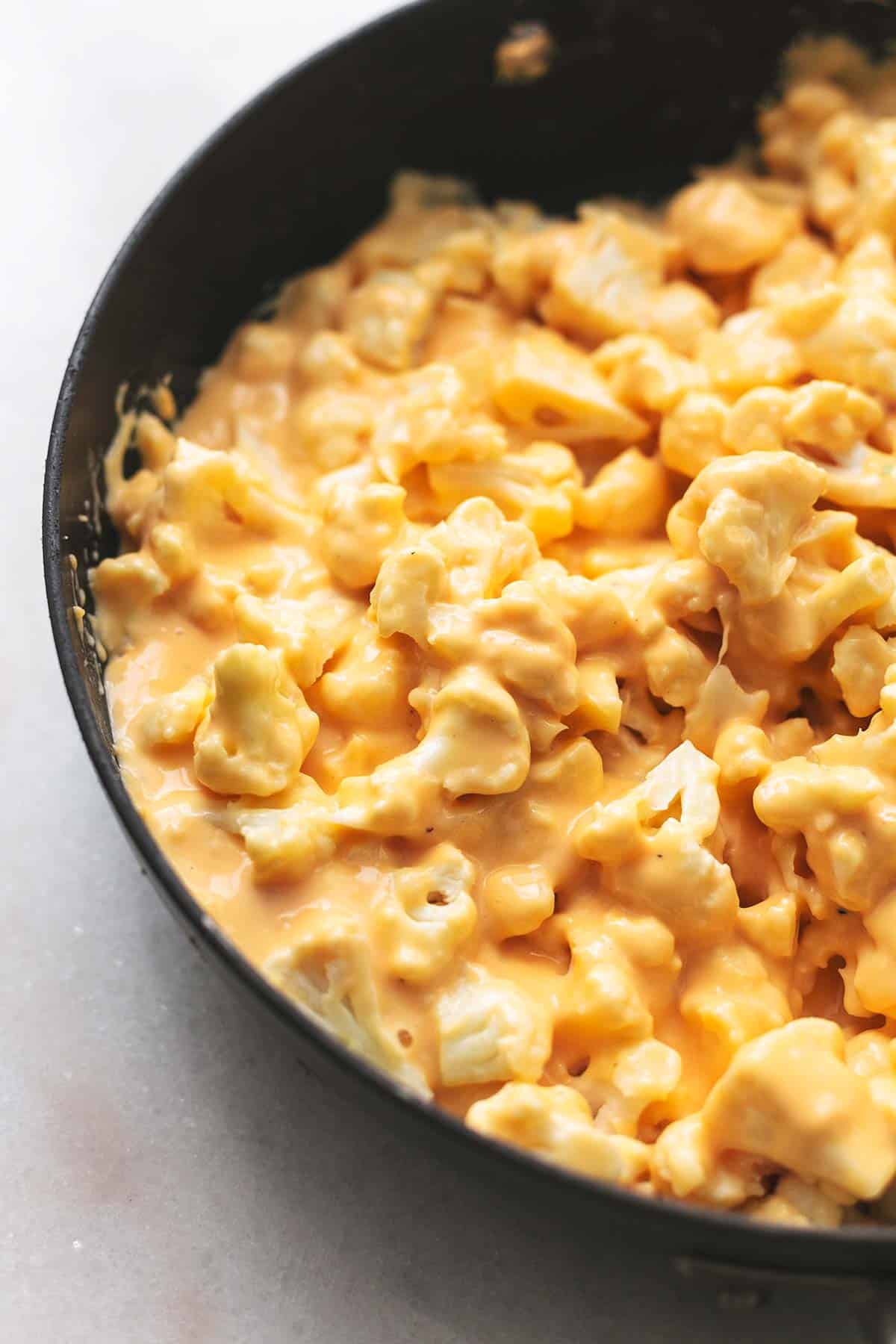 Expert Tips
Remember to

use that hand-shredded cheese

in this cauliflower mac and cheese. (Grate on a block or in a food processor with the appropriate attachment if you have it). I love using sharp cheddar but another version of cheddar works great, as well as pepper jack, or mix a couple of your favorite cheeses if you like too, so long as they add up to two cups.
When

choosing a head of cauliflower

, make sure it is heavy, thick, and compact. You want the leaves to be green and not yellow or wilting. If some of the florets are browning, you can cut those off if it's just a spot or two, but avoid any that are very brown or heads that are soft.

If you want to

avoid watery cauliflower

mac and cheese, after you drain the cauliflower from steaming in the microwave you can pat it dry with a paper towel. Or, I'll drain the water off, then dump the cauliflower onto a kitchen towel and let it sit and dry a bit while I'm making the cheese sauce.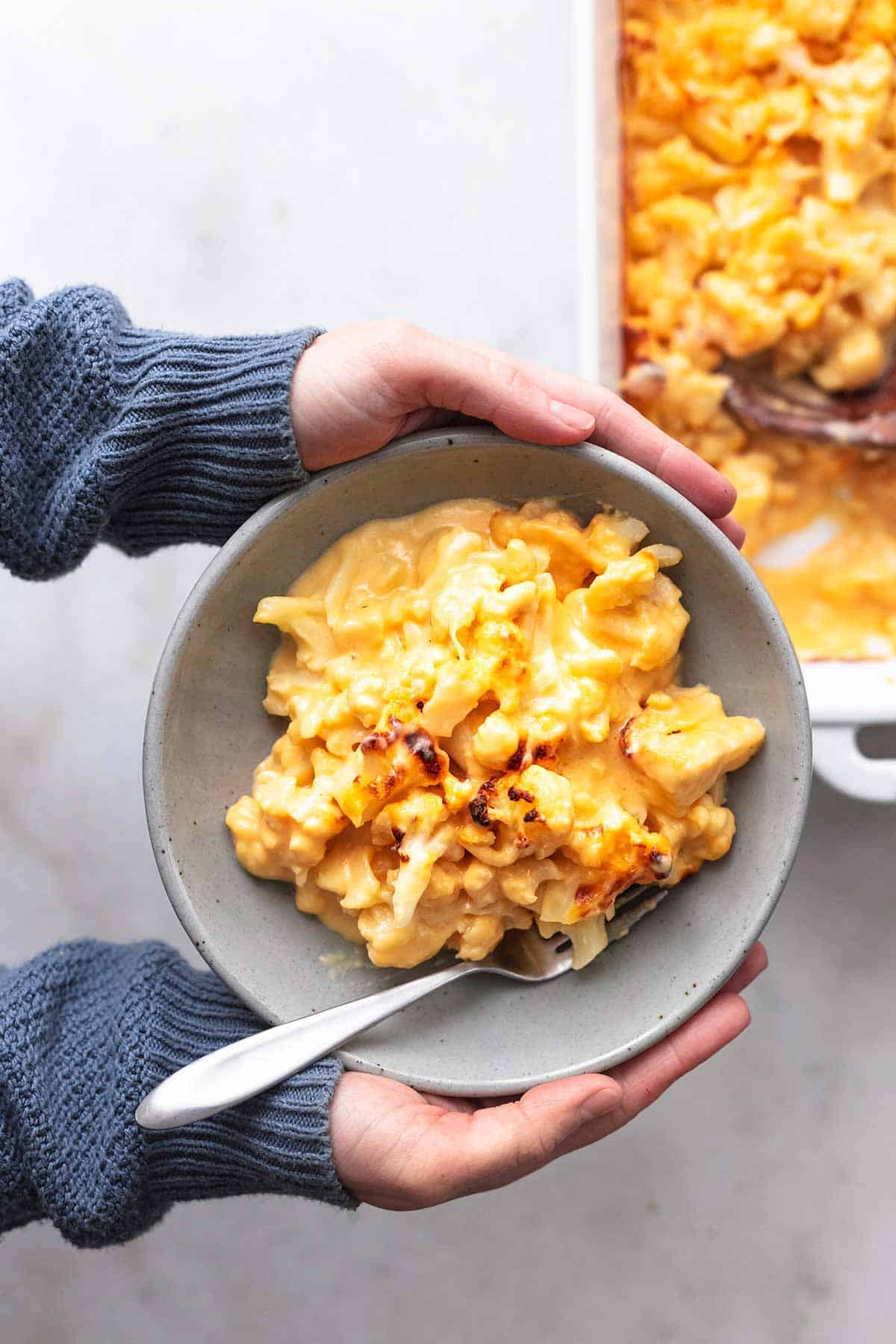 More Tasty Cauliflower Recipes
Did you make this baked Cauliflower Mac and Cheese recipe? YAY! Please rate the recipe below!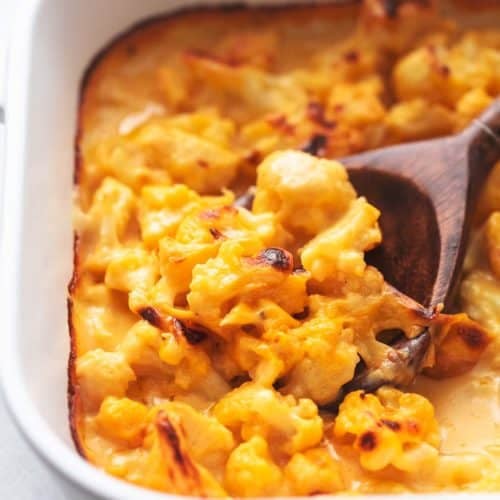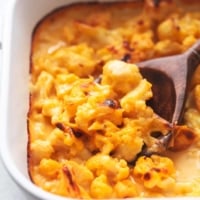 BEST Baked Cauliflower "Mac" and Cheese
You'll never miss the "mac" in this delicious mac and cheese dish made with cauliflower instead of pasta. Cheesy, buttery, ooey, gooey, and comforting, this recipe is a great way to get a serving of veggies in without sacrificing flavor. 
Ingredients
6-8

cups

cauliflower

-

chopped into 1-inch pieces (I used 1 1/2 heads of cauliflower)

2

tablespoons

butter

3

tablespoons

flour

2

cups

whole milk

1 ½

teaspoons

salt

¼

teaspoon

cracked black pepper

½

teaspoon

garlic powder

2

cups

shredded sharp cheddar cheese

-

8 ounces, see note
Instructions
Preheat oven to 375 degrees.

Fill a microwave-safe bowl with 1 inch of water. Add cauliflower to the bowl and microwave on high for 8 minutes. Drain and set cauliflower aside.

In a large sauce pan, melt butter over medium heat.

Stir in flour for about 3 minutes.

Gradually whisk in the milk, a little at a time, until completely incorporated and mixture is thick and smooth.

Remove from heat, salt, pepper, stir in garlic powder, and shredded cheese until melted and completely incorporated and smooth.

Stir in cauliflower. Transfer to a 9×13 inch baking dish.

BAKE for 25 minutes until cheese is bubbly and begins to brown. Switch to BROIL for 2-4 minutes to brown the top a bit more.

Dish will be hot! Allow to cool slightly before serving.
Notes
For the cheese: DO NOT use pre-shredded cheese! I know it's tempting for the sake of convenience but please shred the cheese yourself. Pre-shredded cheese has a special coating to keep it from all clumping together in the package and this coating keeps it from melting properly in the sauce, it will end up grainy. 
You can swap out some or all of the cheese for another kind. I have made this with white cheddar cheese and it is delicious. Try half white cheddar, half pepper jack for a bit of a kick!
Nutrition
Calories:
243
kcal
,
Carbohydrates:
12
g
,
Protein:
14
g
,
Fat:
16
g
,
Saturated Fat:
10
g
,
Cholesterol:
48
mg
,
Sodium:
886
mg
,
Potassium:
454
mg
,
Fiber:
2
g
,
Sugar:
6
g
,
Vitamin A:
517
IU
,
Vitamin C:
48
mg
,
Calcium:
392
mg
,
Iron:
1
mg