Better than take-out chicken pad thai -a quick and easy family favorite that's ready in just 30 minutes!
Don't forget my NEW
Shrimp Pad Thai
recipe! And if you love this better than takeout Chicken Pad Thai, you'll love
Sticky Chinese Lemon Chicken
,
Best Fried Rice
,
Sheet Pan Sweet Fire Chicken
, and
Slow Cooker Broccoli Beef.
I always thought that I preferred lo-mein over other Asian noodle dishes, until the day I tried pad thai. Where had this heavenly dish been all of my life?? When I met my husband, I was overjoyed to find out he was a pad thai lover as well. A match made in heaven!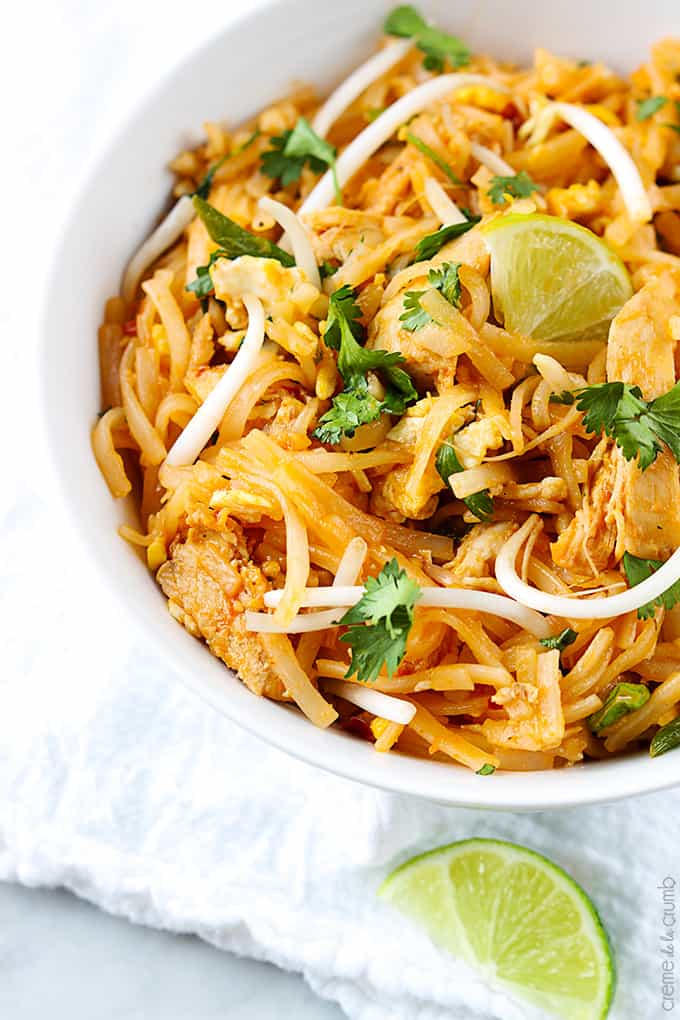 I've made pad thai with shrimp before, which is a pretty common way of serving the dish. Sometimes though, you just don't have shrimp on hand and you're in the mood for a good Asian noodle dish. So chicken comes to the rescue. Which is pretty much exactly what happened when I made this chicken pad thai. The result? Big. Fat. Success. My husband raved about it!
The great thing about chicken pad thai is that it doesn't take much prep time at all. You just boil the noodles, cook the chicken, whisk together the sauce, and throw everything in a pan. Bata-bing-bata-boom! Dinner is served. Lightly sauced, tender noodle and juicy chicken perfection. An instant family favorite! Mmmmmmm.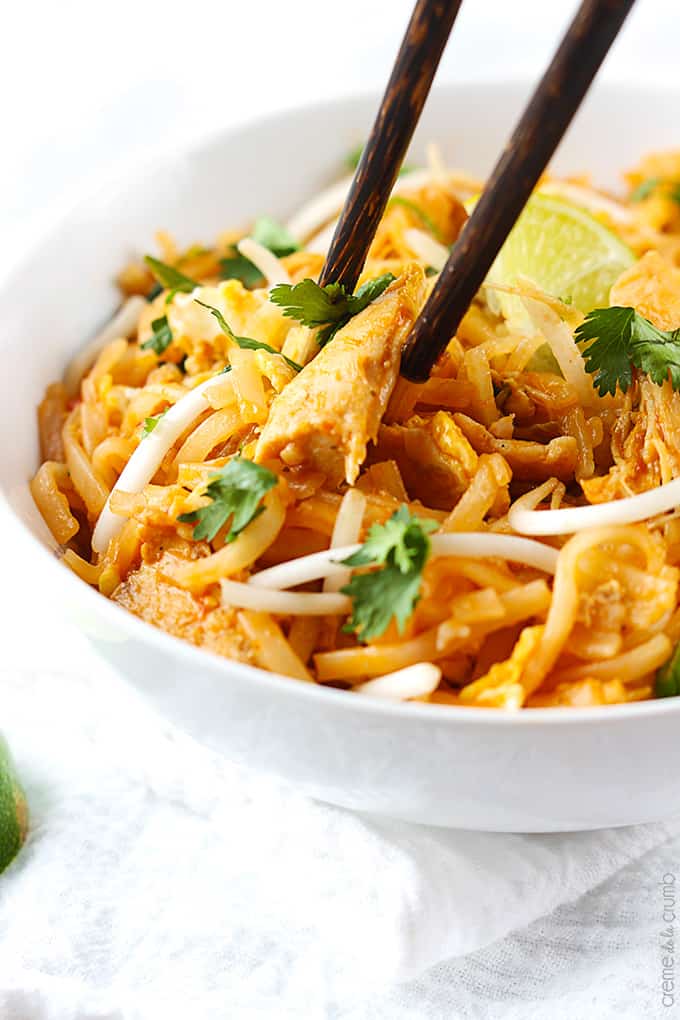 What people are saying about this Chicken Pad Thai
"This is the best Pad Thai recipe! I've already made it a handful of times using this recipe and everyone just loves it. Adding lemon right before you eat it brings out the cilantro much more. Mmmmm mmmm mmmmm!!! Thought I'd leave a comment since I keep coming back to This recipe to make sure I haven't forgotten any ingredients for the sauce. Delicious! 5 stars!" – Maria
"This has been my GO-TO-RECIPE for Pad Thai. No shame but we had this recipe twice per week cause it's that good! I like to double the sauce, we love our Pad Thai saucey!
It's sweet, spicy, sour, and amazing. We're never ordering Pad Thai again! Thank you for sharing this awesome recipe girl!" – Jenny
"I LOVE this dish! Really seriously LOVE it! I have made it twice now and my family just goes nuts over it… the best part: it's so easy! I like to double it and add whatever veggies we have on hand. Yummy! Thanks so much for sharing!!!" – Valerie
"What a cracker of a dish. Easy, packed with flavour and fully balanced. Love cooking something like this on a weeknight. This is sauce is much richer in flavour. I found an easier one that is close to the flavour profile you've created Tiffany. I just used brown sugar, lemon juice and soy sauce in a 1:1:1 ratio. Sugar can be pushed to 1.5:1 if you prefer a slight sweet hit. i ended up crushing salted snack peanuts to sprinkle on top. Oh and the best part, this works really well as a veggo dish too
" – Harry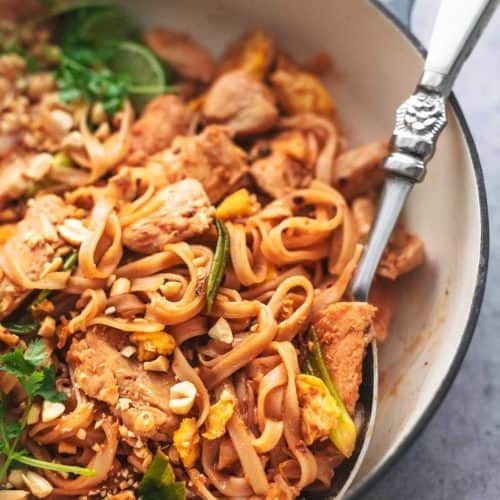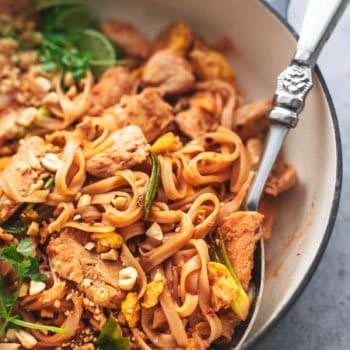 Chicken Pad Thai
Restaurant-style chicken pad thai - ready in just 30 minutes!
Ingredients
8

ounces

flat rice noodles (found in the Asian section in most grocery stores - may sub fettuccine noodles in a pinch),

cooked al dente according to package instructions

1

large

boneless skinless chicken breast,

pounded to 1/2 inch thickness and chopped into bite-sized pieces

salt & pepper,

to taste

2

eggs

1

cup

fresh bean sprouts

1/3

cup

sliced green onions

1/4

cup

sliced white onions

1/3

cup

cilantro,

roughly chopped

optional: peanuts
Sauce
1/4

cup

ketchup

2

tablespoons

fish sauce

(found in the Asian section at most grocery stores)

2

tablespoons

sugar

1

teaspoon

minced garlic

1

teaspoon

peanut butter

juice of 1 lime

1/2

teaspoon

crushed red pepper flakes

1

teaspoon

soy sauce
Instructions
Cook chicken in a large wok or pan over medium heat, stirring throughout until cooked through (about 6-8 minutes), transfer chicken to a bowl and set aside.

Whisk together all sauce ingredients and set aside.

Crack eggs over preheated pan (where you cooked the chicken) and allow to fry for a bout a minute ,then break it up with a spoon and add the onions and bean sprouts.

Add chicken and sauce. Add noodles and toss to coat the noodles in the sauce.

Stir in green onions and cilantro. Garnish with peanuts if desired.
Nutrition
Calories:
375
kcal
|
Carbohydrates:
62
g
|
Protein:
19
g
|
Fat:
5
g
|
Saturated Fat:
1
g
|
Cholesterol:
118
mg
|
Sodium:
1144
mg
|
Potassium:
419
mg
|
Fiber:
2
g
|
Sugar:
12
g
|
Vitamin A:
460
IU
|
Vitamin C:
8
mg
|
Calcium:
39
mg
|
Iron:
1
mg
Adapted from The New Way To Cook Light.