Cinnamon Roll Crepes – Perfect crepes with a fluffy cream cheese filling and a rich cinnamon sauce drizzle to die for! BETTER than cinnamon rolls!!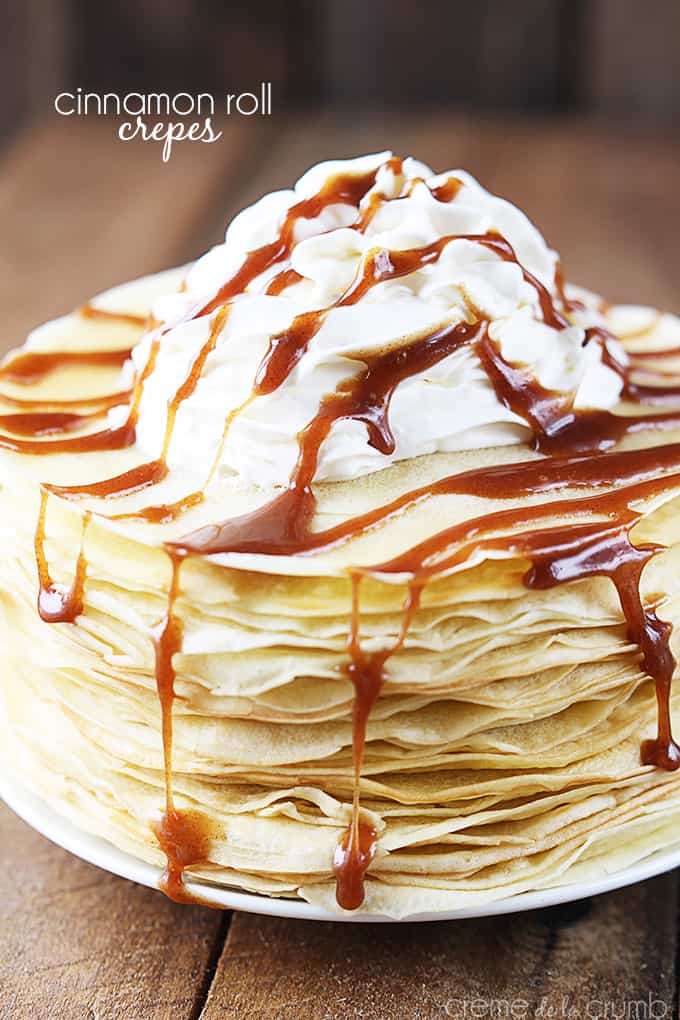 Is it too bold to say I just revolutionized breakfast? Because really, I did. Monday mornings will feel like Saturdays. Brunch with your in laws will be a picnic in the park. Holidays? Just got more joyful.
This is it people, breakfast does not get better than this.
I love a good crepe. I really really love a good crepe. Filled with fluffy creamy filling and topped with something rich and tasty. Chocolate filling, mousse filling, vanilla filling, orange-cream filling… top it with chocolate syrup, fresh berries, or caramel sauce…. h.e.a.v.e.n!
You know what else I love? Cinnamon rolls. Thank you Cinnabon, you forever changed my life. But today I'm one-upping Cinnabon (no offense, I still love you!).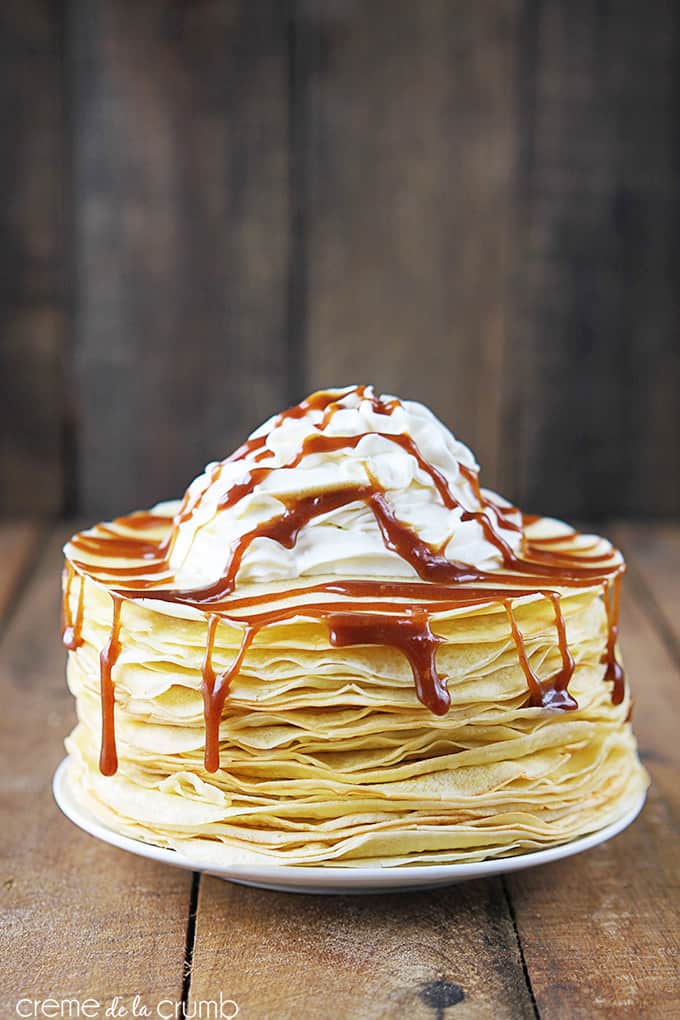 Recall for a moment your all-time favorite cinnamon roll experience. Cinnabon at the airport? Mom's specialty on Christmas morning? Well combine that memory with a light and perfectly cooked crepe. Seriously! Cinnamon Roll . . . . CREPES. I would go out on a limb here and honestly tell you that I am convinced that these Cinnamon Roll Crepes are better than a traditional cinnamon roll. Try it for yourself, you mind will be absolutely blowwwwwn! And these are easier and less-time consuming that cinnamon rolls. BONUS. I'm in love. Absolutely head over heels in love.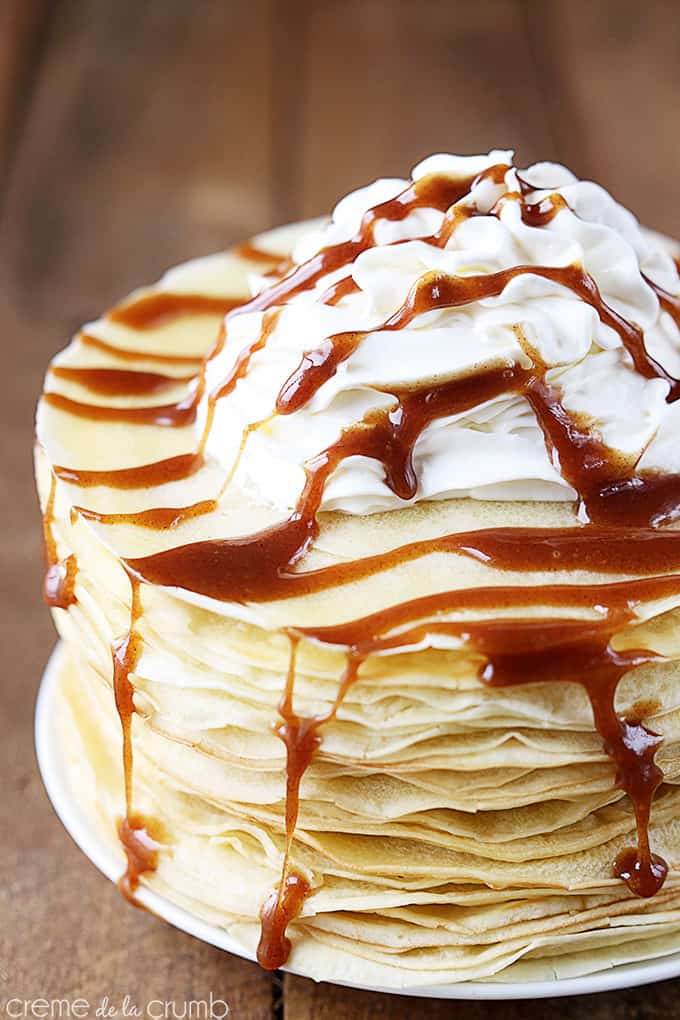 What people are saying about these Cinnamon Roll Crepes
"I tried these and adored them. My 16 year old keeps asking me to make them again. A definite success. Thank you for the pictures and the recipe." – Allie
"This was absolutely delicious and pretty easy so I will definitely do it again. I just wish I could eat it all myself." – Kaitlyn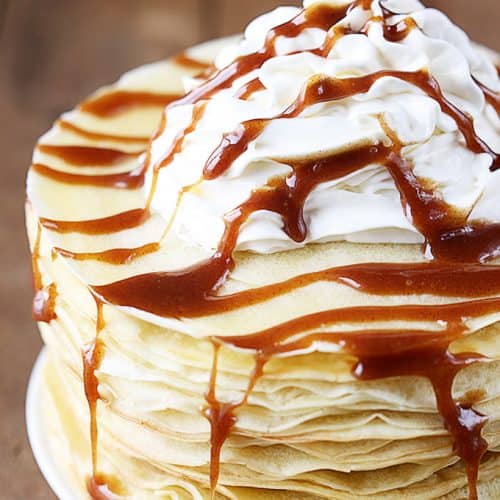 Cinnamon Roll Crepes
Perfect crepes with a fluffy cream cheese filling and a rich cinnamon sauce drizzle to die for! BETTER than cinnamon rolls!!
Ingredients
3

cups

flour

½

cup

sugar

5

eggs

4

tablespoons

melted butter

1

tablespoon

oil

2

teaspoons

vanilla

1 ¼

cups

half and half

1 ¼

cups

water
Filling
4

ounces

cream cheese

8

ounces

cool whip

-

thawed

½

cup

powdered sugar
Cinnamon Drizzle
4

tablespoons

butter

⅔

cup

brown sugar

½

teaspoon

vanilla

1

teaspoon

cinnamon
Instructions
Mix together all ingredients for the crepes and blend well until smooth. Heat a medium-large pan over medium heat and brush with oil. Pour 1/4-1/3 cup batter into the pan and immediately tilt and turn pan to coat entire bottom of the pan with the batter. Cook about 45 seconds, then flip and cook another 45 seconds. Brush pan with oil again and repeat process with remaining batter.
Filling
Use a hand mixer to mix together cream cheese, cool whip, and powdered sugar.
Drizzle
Add butter and brown sugar to a small sauce pan and melt together stirring throughout over small sauce pan. Stir in vanilla and cinnamon and remove from heat.

Put about 1/4-1/3 cup of filling in the center of a crepe, roll it up tightly, and drizzle with cinnamon sauce. Repeat with remaining crepes.
Notes
Serve filled with whipped topping and a sprinkle of cinnamon!
Nutrition
Calories:
762
kcal
,
Carbohydrates:
112
g
,
Protein:
15
g
,
Fat:
28
g
,
Saturated Fat:
12
g
,
Trans Fat:
1
g
,
Cholesterol:
183
mg
,
Sodium:
270
mg
,
Potassium:
304
mg
,
Fiber:
2
g
,
Sugar:
58
g
,
Vitamin A:
1048
IU
,
Vitamin C:
1
mg
,
Calcium:
182
mg
,
Iron:
4
mg