A lighter take on classic, creamy chicken salad with juicy apple chunks, crunchy pecans, and tart dried cranberries! A hearty, healthy Lighter Apple Pecan Chicken Salad in just 20 minutes!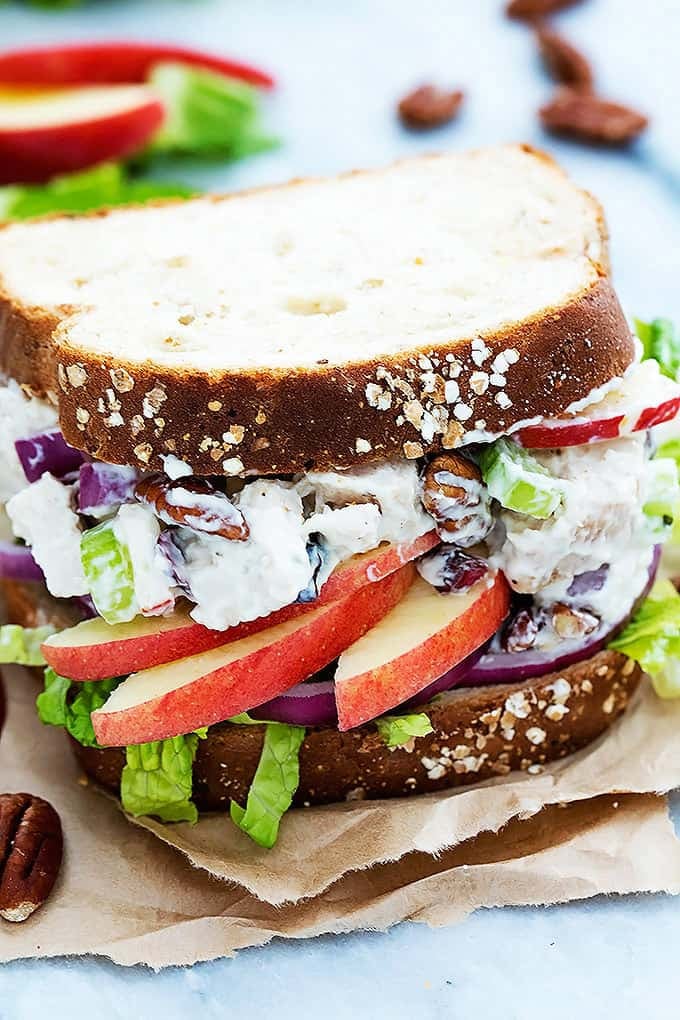 For years I believed that I disliked a lot of foods and generally avoided them. When I began cooking as an adult though, I quickly realized that it wasn't that I didn't like those foods, it was more a case of not liking the way other people prepared them. I thought I hated cole slaw. Turns out I just hate the sweet mayo-y dressing that most people put on cole slaw. I prefer a more savory version, sometimes even a little bit spicy. Or just plain – no dressing.
I also thought I hated oatmeal, yogurt, pasta, and chicken salad. As with the cole slaw, I really just didn't like how other people had prepared them for me. I am not a big fan of red sauce on pasta, only care for Greek yogurt – particularly with granola on top – and the oatmeal has to be thick and needs a crunchy topping for texture.
Chicken salad is no different. I don't like heavily mayo-laden chicken salads. Instead, I like to swap out most of that mayo for some plain greek yogurt. The result is a lighter, protein-packed chicken salad. I love adding apples, cranberries, and nuts too for texture and lots of yummy flavor! This apple pecan version has to be my favorite and it is so easy to whip up in 20 minutes or less. Pile it on your favorite sandwich bread or stuff it in a pita pocket or wrap for an easy, healthy meal!
Lighter Apple Pecan Chicken Salad
A lighter take on classic, creamy chicken salad with juicy apple chunks, crunchy pecans, and tart dried cranberries! A hearty, healthy meal in 20 minutes!
Ingredients
2

large

boneless skinless chicken breasts,

pounded to 1/2 inch thickness

salt and pepper to taste

1

teaspoon

Italian seasoning

8

slices

sandwich bread

(I used a whole grain wheat - I recommend something like this!)

1

cup

chopped romaine lettuce

1

apple (use your favorite, I used gala),

cored and chopped

1

celery stalk,

chopped

1/4

cup

dried cranberries

1/3

red onion,

diced

1/3

cup

Diamond of California Pecan Halves

(could also use chopped pecans)

1/3

cup

plain fat free Greek yogurt

1/4

cup

light mayo

(optional, may sub additional greek yogurt)

1

tablespoon

dijon mustard

1/2

teaspoon

garlic powder
Instructions
Season chicken with Italian seasoning and salt and pepper to taste. Cook in a large skillet over medium heat for 4-6 minutes on each side until cooked through. Chop into 1/2-inch pieces and transfer to a large bowl.

Add apple, celery, cranberries, onion, pecans, greek yogurt, mayo, dijon mustard, and garlic powder to the bowl and stir to combine. If desired, add salt and pepper to taste.

Assemble sandwiches by distributing romaine and chicken salad mixture between 4 slices of bread. Top with remaining slices of bread and serve.
This tasty recipe has been sponsored by Diamond of California Nuts – I was not compensated to write a review and all opinions are 100 percent my own. Thank you for letting me work with the brands I love!