This One Pan Shrimp and Asparagus is a fabulously easy meal that comes together in less than 30 minutes and is so full of garlicky, buttery goodness you'll definitely be back for seconds…and thirds!
If you love one pan dishes, then you should also try my One Pan Greek Sun Dried Tomato Chicken and Lentils, my One Pan Creamy Cilantro Lime Chicken and Rice, or my One Pan Brown Sugar Pork and Apples.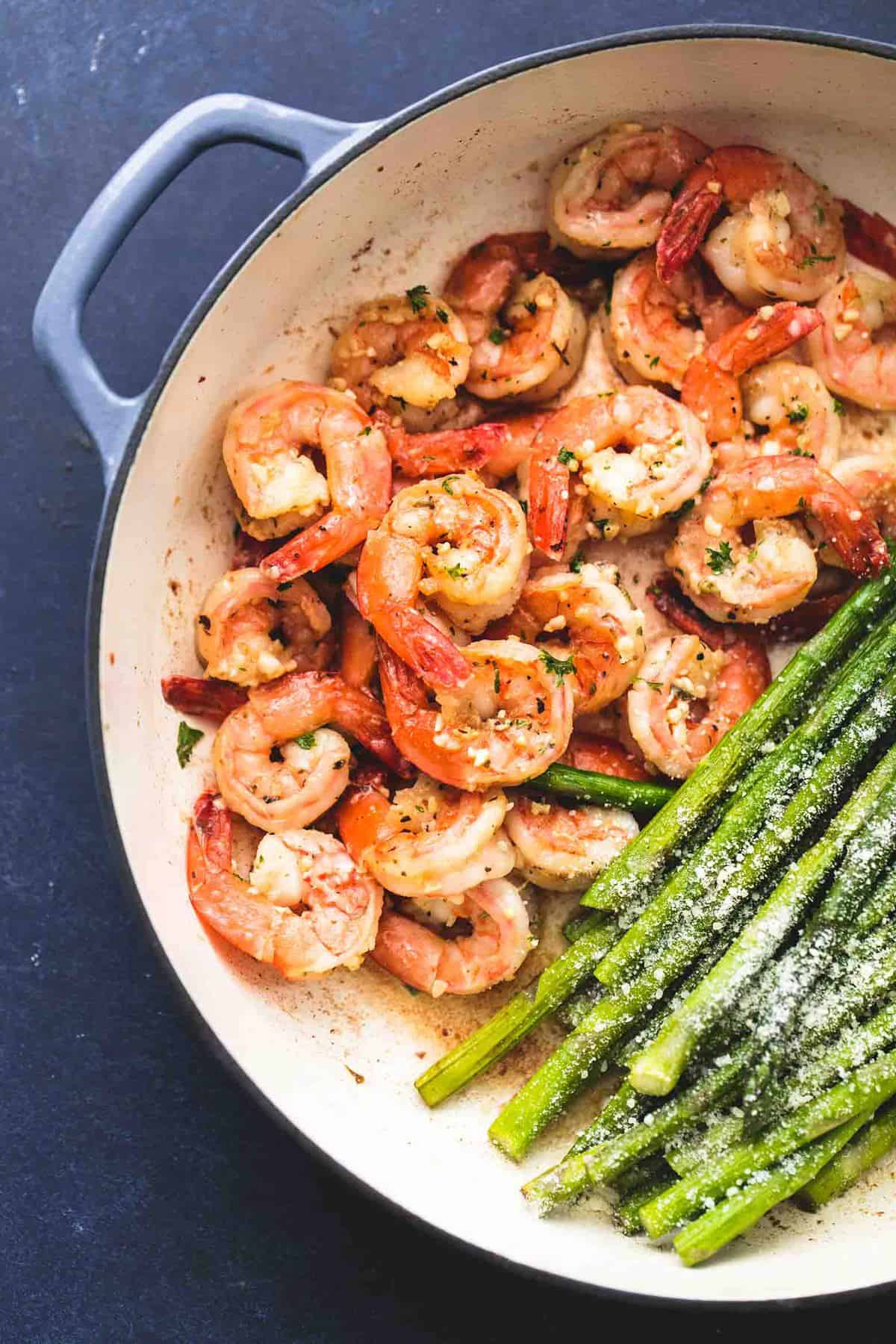 It's pretty obvious that I love quick, tasty meals, but this one is superfast, even by my quickest standards. Shrimp — that cooks up in a jiffy. And asparagus — well, that does too. And both of these ingredients call for a quick cook because if you cook them too long, one will be rubbery and gross and the other will be mushy and gross. So you are basically forced into make a fast meal with this One Pan Shrimp and Asparagus dish. Boom. bang. done.
This dish also pairs easily with a lot of sides — rice, noodles, veggie noodles, quinoa, bread — you name the carb, it can take on shrimp and asparagus. Or, it's a great meal to make if you are watching your carb intake. Add a side salad, or other roasted veggie dish, such as Best Easy Italian Green Salad, or Roasted Honey Garlic Glazed Carrots and you've got yourself one heck of a vitamin-rich, nutritious, veggie-and-protein-laden dish. 
If you want to cut the calories in this recipe, you can also cut back on the butter and instead use only olive oil or half both the olive oil and the butter. Use a little water when cooking the asparagus and shrimp if it needs to steam more to cook without burning.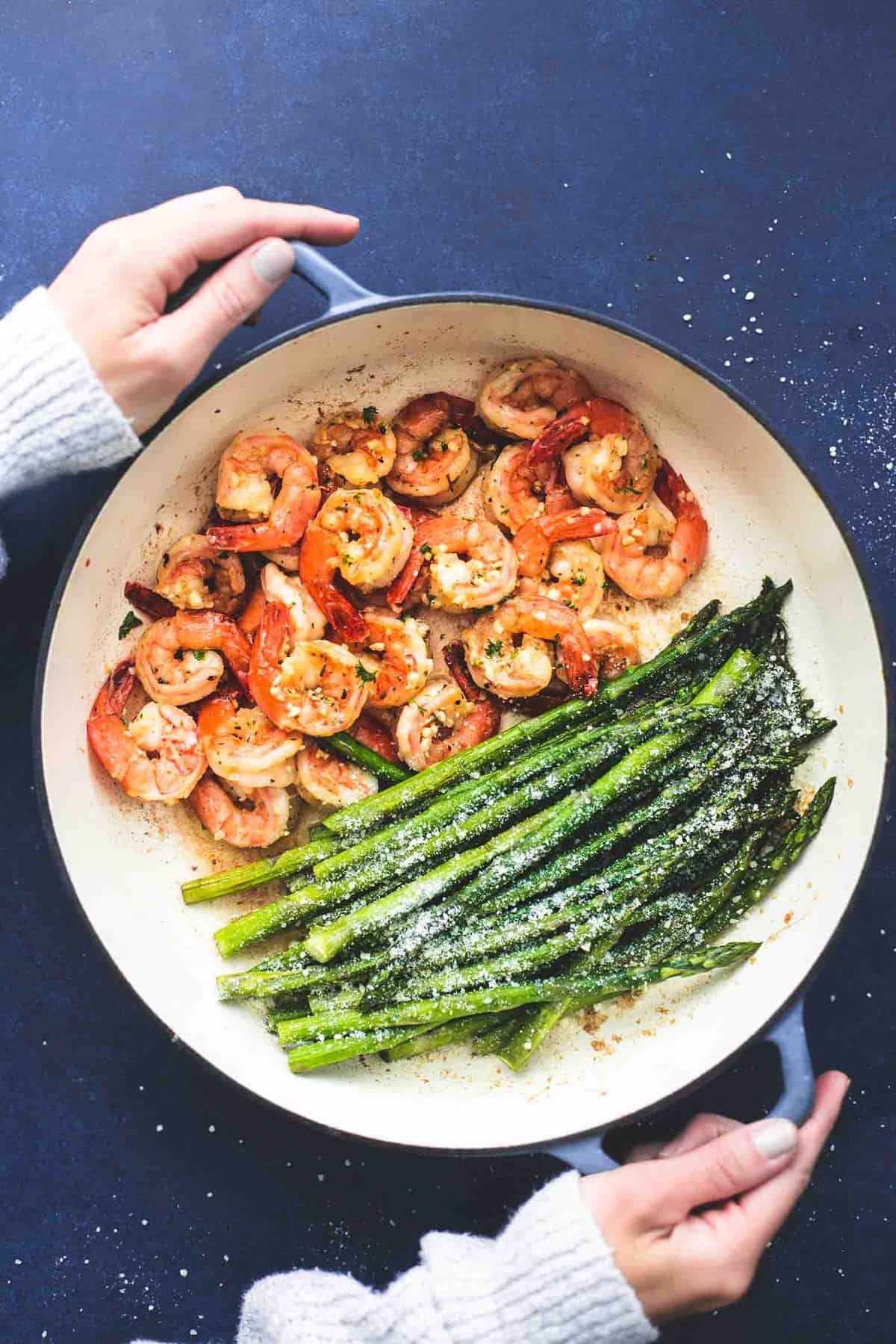 HOW DO YOU BUY & STORE ASPARAGUS?
It's one of the most frequent questions I get about vegetables — how do you buy them at the store and how do you keep them fresh at your house before cooking them?
When I buy asparagus, I first look at the buds. Are they firm and bright or are they brown and mushy? You can guess which I prefer. The buds are the best part (kind of like broccoli crowns) and you want those to be firm, not wilted, not slimy, and not falling off the stem.
It doesn't matter if they are purple, green, or white, just as long as they aren't brown or yellow. They are typically stored bundled together and standing upright in some ice or ice water to keep them hydrated and crisp and fresh. They are more likely to go bad if they are stored any other way at the grocery.
I tend to like my stalks on the small- to medium-size side. They get too big and they get tough and chewy. Of course, asparagus is always best in season (like all produce).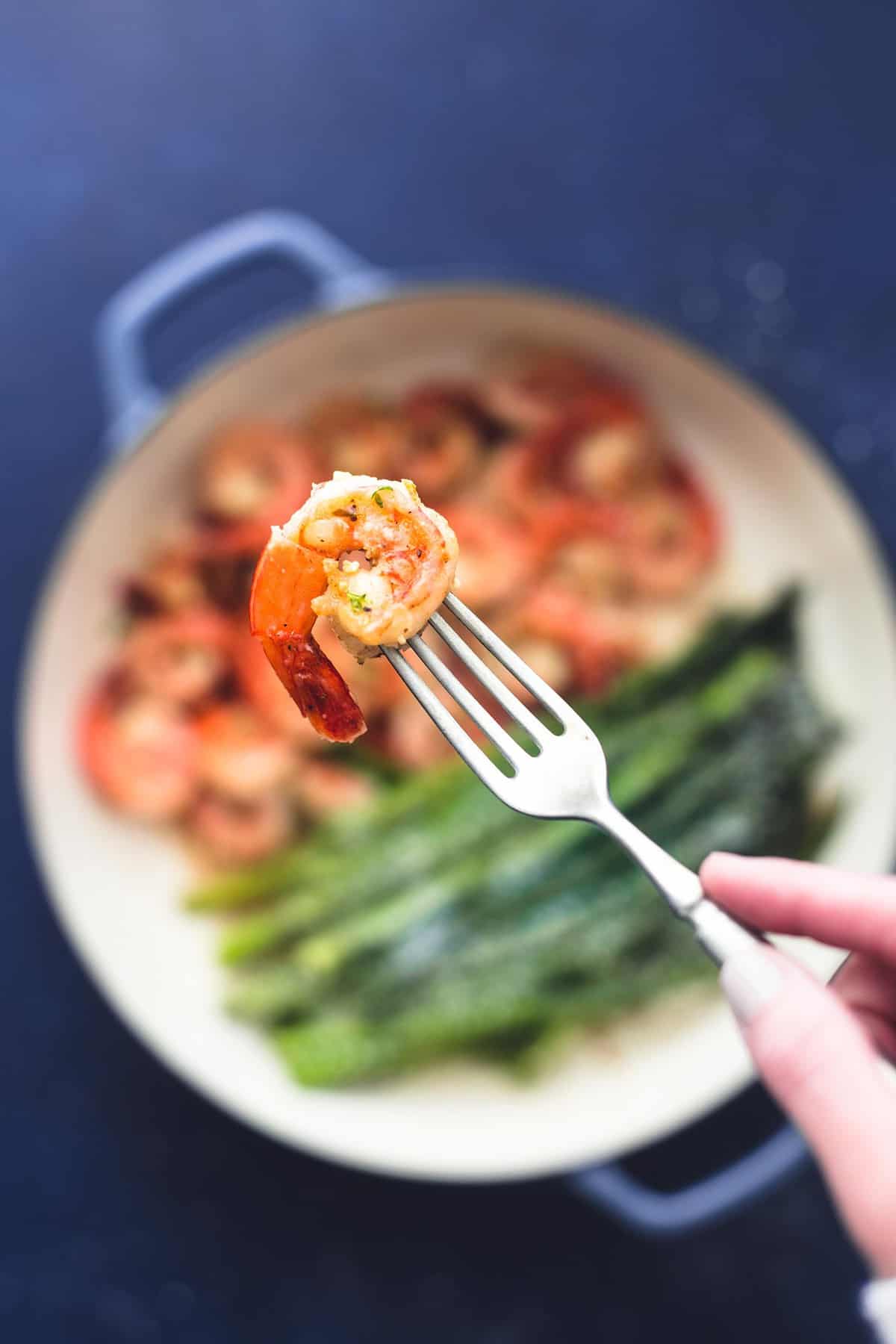 As for storage, you really can't store asparagus for too long or those beautiful buds you spent time choosing will start to wilt and mush on their own. Don't leave it in the plastic bag in our veggie drawer either; this will only exacerbate the moisture and mushy stems and buds.
Instead, store asparagus as though it is a bouquet of flowers. Cut the bottoms off and store in a tall jar or glass with about an inch of water in the bottom. Cover the top loosely with a plastic bag or plastic wrap.
If your fridge doesn't allow for the asparagus to stand upright, instead wrap your trimmed ends in a wet paper towel and then put in a plastic bag with the buds toward the top of the bag. Leave the bag unsealed so that air can circulate.
No matter how you store the stalks, be sure to eat them within 2-3 days (max) of purchasing them for best results.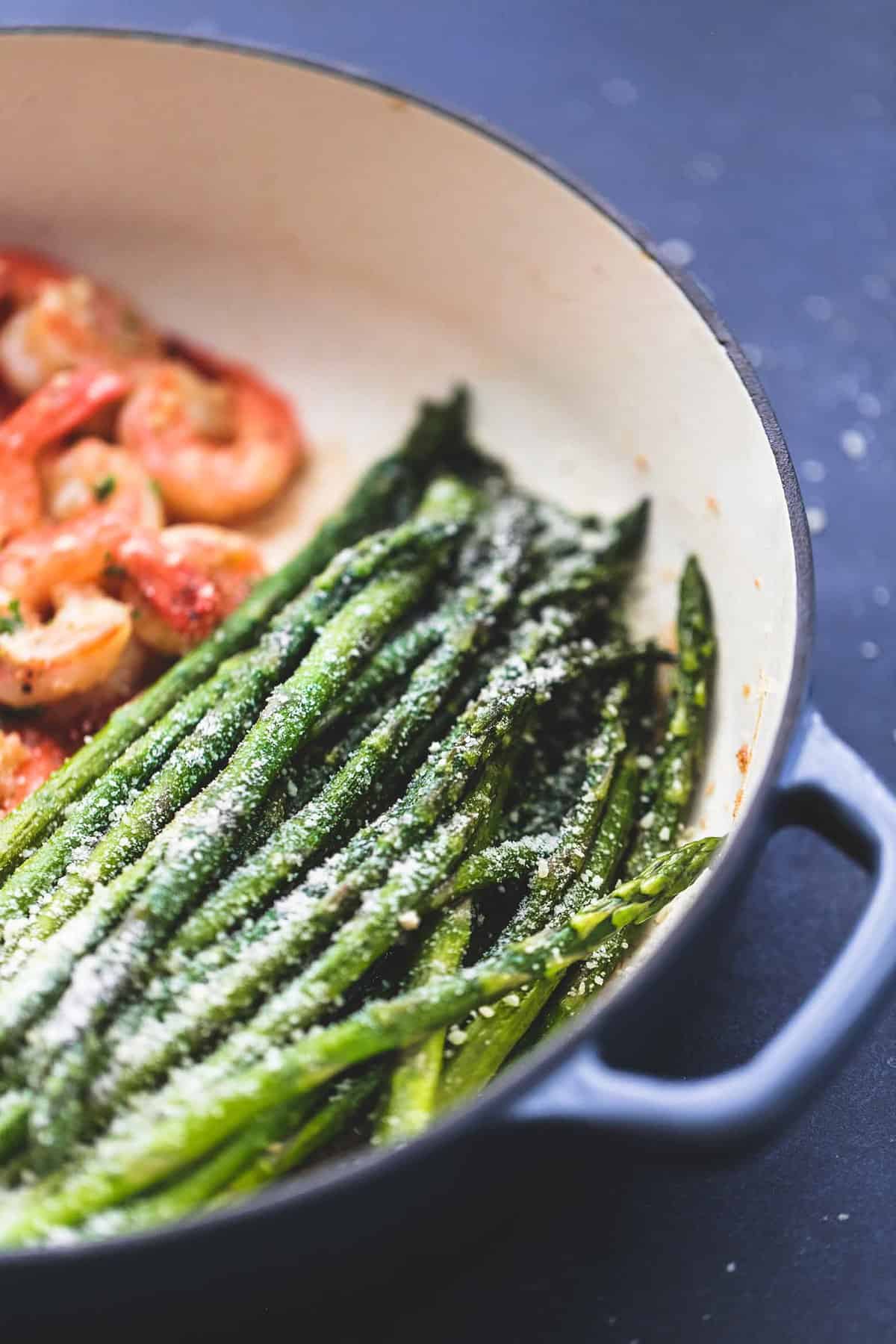 DO YOU HAVE TO WASH ASPARAGUS BEFORE COOKING IT?
You don't have to, but I always do. And, like many fruits and veggies, you want to wait to wash it (and pat it dry) until right before you're ready to eat it. If you wash it and then put it back in the fridge, that will speed up the break-down process. You don't want that.
Rinsing the stalks removes any dirt or grit leftover from when it was picked or shipped as well. When you dry it, do so carefully. Rolling it between two towels will do the trick.
HOW DO YOU TRIM ASPARAGUS?
There are two ways to cut asparagus:
Line up all the stalks and give them all the same cut, about 2-3 inches from the bottom, depending how long they are to begin with.

Take each stalk individually and bend it. It will snap in half at the tough part. Discard the tough part.
You can combine these two techniques by first snapping one asparagus stalk, then lining it up with the others and cutting the stalks in the same spot that one snapped.
Whatever way you cut it, it's bound to be delicious — especially with that mouth-watering shrimp to accompany it!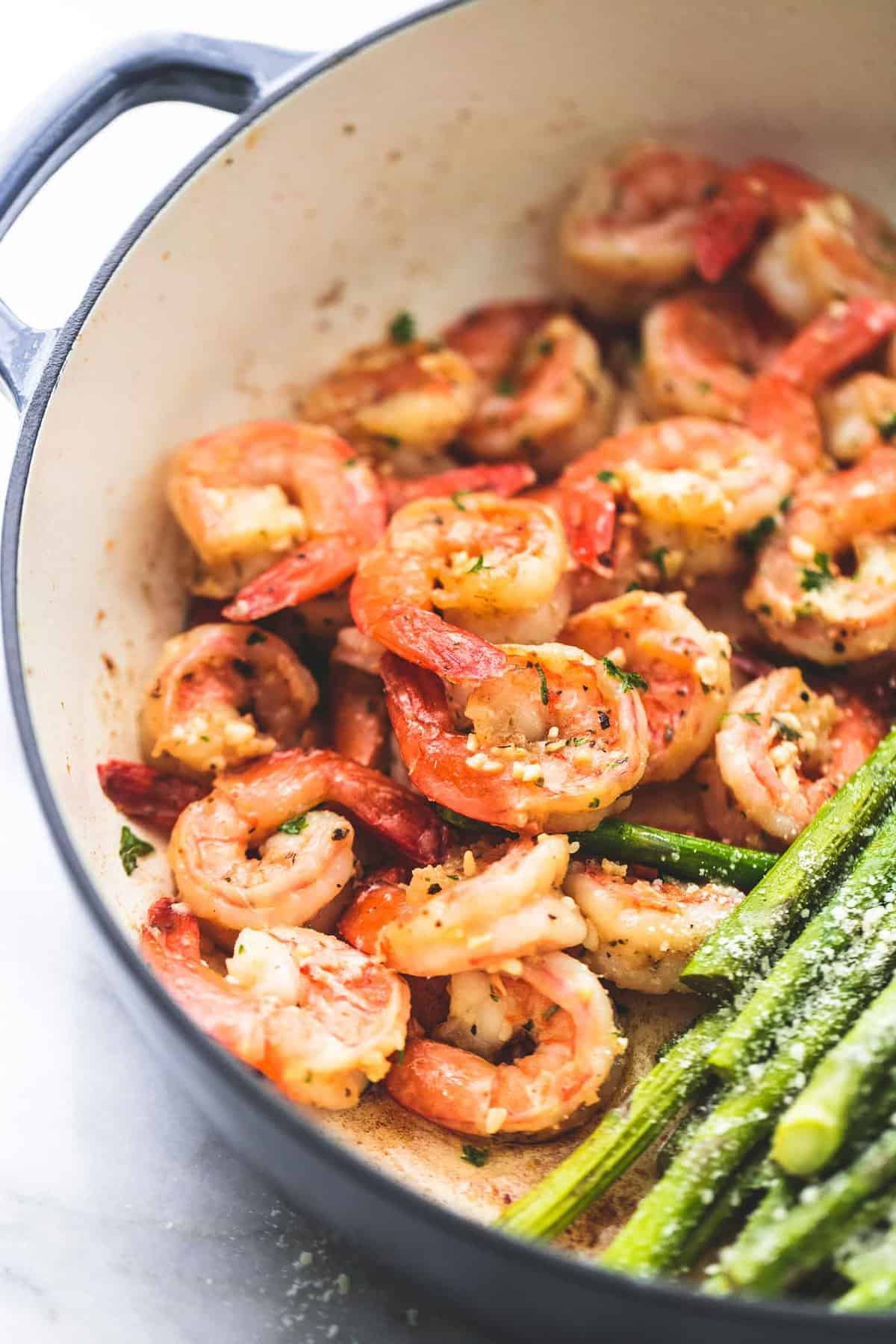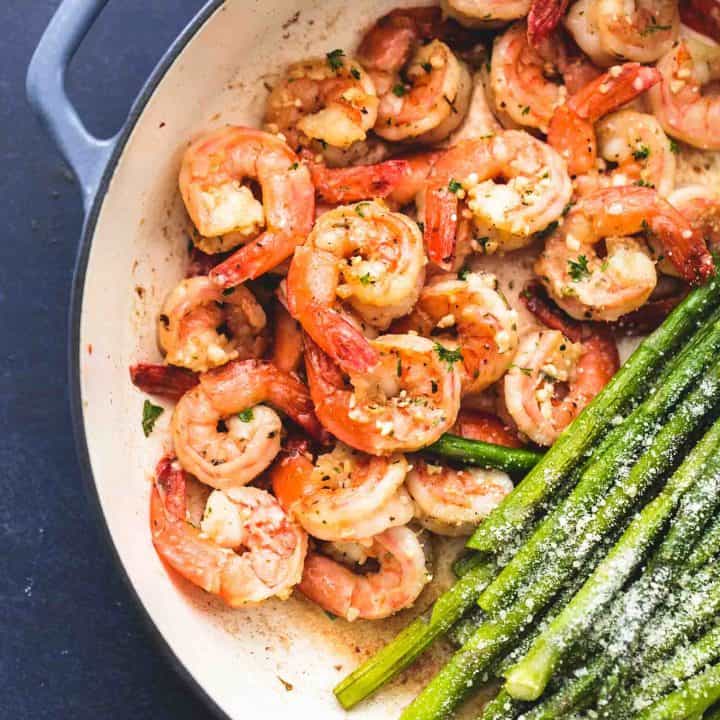 One Pan Shrimp and Asparagus
Easy and flavorful, buttery garlic-y One Pan Shrimp and Asparagus ready in 30 minutes! The whole family will beg for seconds on this one.
Ingredients
1

pound

large shrimp

-

peeled and de-veined, tails removed if desired

1

pound

asparagus

-

ends trimmed, once trimmed, asparagus can be left whole or chopped into thirds to fit more easily in the pan

3

tablespoons

butter

1

tablespoon

olive oil

3

teaspoons

minced garlic

1

teaspoon

dried Italian herb blend

-

or Herbs de Provence, see notes for DIY blend

¼

cup

grated parmesan cheese

salt and pepper to taste
Instructions
In a large skillet over medium heat, drizzle oil and add butter.

Once butter is melted, add shrimp and asparagus. Season generously with salt and pepper and dried herbs and cook for 6-8 minutes, stirring occasionally, until asparagus is fork-tender.

Stir in garlic for 1 minute or so until fragrant. Sprinkle parmesan cheese over everything and serve immediately.
Notes
For DIY herb blend stir together 1/4 teaspoon dried basil, thyme, oregano, and parsley or rosemary
Nutrition
Calories:
204
kcal
,
Carbohydrates:
6
g
,
Protein:
29
g
,
Fat:
7
g
,
Saturated Fat:
2
g
,
Cholesterol:
293
mg
,
Sodium:
991
mg
,
Potassium:
352
mg
,
Fiber:
2
g
,
Sugar:
3
g
,
Vitamin A:
930
IU
,
Vitamin C:
12
mg
,
Calcium:
278
mg
,
Iron:
5
mg