Creamy, easy homemade Slow Cooker Fudge made right in your crock pot! Top it with coarse sea salt for extra richness and elegance!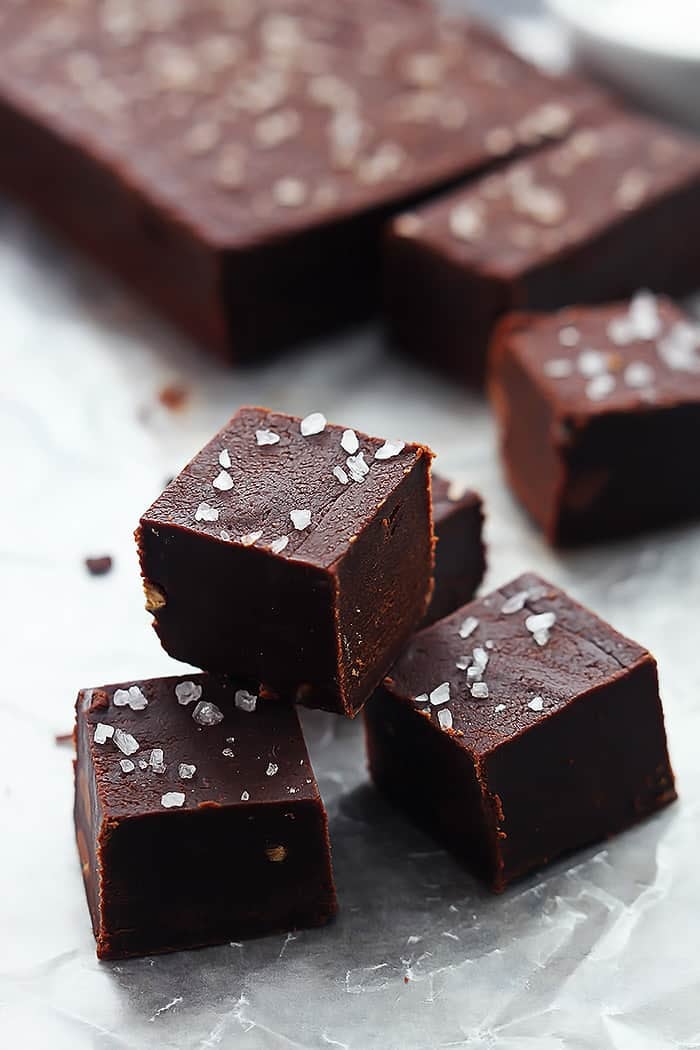 My wedding was…. well, long. Not the actual wedding, but the wedding day was really really long. Fantastic! But long. I just remember standing in our reception line and thinking "all I want to do right now is sleep and if I have to hug another stranger….".
We had our reception indoors because it was the beginning of February and around here February means snow.  If our wedding had been during the warmer summer months, I would have really liked to have our reception at a place called Gardner Village. It's this little old …. village? Ha! It's just a bunch of shops on the banks of this little stream. There's a restaurant where I've eaten many-a-time with my madre, and seriously the best candy shop ever called Sweet Afton's.
Sweet Afton's was recently bought out by another candy store and when I was last at Gardner Village with my mother and grandmother (awwww, three generations shopping together….) we were shocked to see that the store was completely different. We've been buying fudge at Sweet Afton's for years and they always had sample bags at the cash register. Basically what happens is that when they are trimming the sides of the fudge blocks, they put the "scraps" in little bags and then sell them for a couple of dollars. They were amazing because each bag had 8-10 different varieties of fudge so you're getting a sample of all of them! The new candy shop has had so many people asking about the sample bags that they started doing the same thing.
Thank heaven. I just gotta have my sample fudge.
But I can't be running down to Former Sweet Afton's every time I get a hankering for fudge, it's just not economical what with gas prices being what they are and my schedule being as hectic as it is. And most of you probably don't live next door to a candy shop either, so you totally get where I'm coming from. But it's okay! Because now you have slow cooker fudge that you can whip up any old time your little heart is aching for fudge. Brilliance? Absolutely. Let's walk through the steps…
1) Toss chocolate chips, heavy cream, and honey into the crock pot.
2) Come back in 2 hours, give or take a few. Stir in the remaining chocolate chips and vanilla. Pour into baking dish.
3) Try to be patient while your fudge cools. (It's hard, I know.)
4) Chop your fudge into squares and devour.
What people are saying about this Slow Cooker Fudge
"I tried this yesterday, and I really liked it! You can't beat the simplicity of this recipe. I liked the fact you can put everything in the slow cooker and not have to monitor it closely. I thought the sea salt added a nice flavor and texture. My three year old devoured it! I think the next time, I'll try it with dark chocolate. Thanks for the recipe!" – PB
"Found this on a buzzfeed list for slow cooker desserts, and tried it tonight! It was SO easy, I almost wonder what the catch is! I have my tins (I made two batches) in the fridge now… They've been there for an hour, and I tried to cut a piece to sample but it's still SO soft. I hope it hardens up nicely like in your pic since they'll be going in treat tins for gifts tomorrow. Hoping they won't melt and turn into a big old mess! The COLOUR is a little different than your pics too… But it's tasty as all heck!! Thank you! 
" – Meesa
"Oh my goodness. I've made this several times and each time it's perfect!! Last time, I replaced the vanilla extract with orange extract… mmm, it tasted like those chocolate oranges you have to smack open. We have a family friend who makes fudge and sells it online as a side business. It takes so much time and effort and butter and sugar… that when I saw this recipe, I was skeptical but willing to try. Soo glad I did! I would never tell them, but I like this fudge better than theirs…" – Kristen 
"I made this and after 1 hr I added 1/2 cup peanut butter & vanilla & cooked for 15 min it was delicious . My husband said with the sea salt it was yummy. I left it in frig over night
Before we cut in pieces. It turned out perfect . Firm. Now I am going to make and use white choc.. Expecting it to also be good. I did use crunchy pb." – Ruth 
Slow Cooker Fudge
Creamy, easy homemade fudge made right in your crock pot! Top it with coarse sea salt for extra richness and elegance!
Ingredients
2

cups

milk chocolate chips

¼

cup

heavy whipping cream

⅓

cup

honey

½

cup

white chocolate chips

1

teaspoon

vanilla

optional: coarse sea salt
Instructions
Add milk chocolate chips, heavy whipping cream, and honey to the slow cooker. Cover and cook on high for 1 hour. (Keep the lid on the whole time!)

Add white chocolate chips to the slow cooker and stir until white chocolate melts (you may need to cover and allow to cook for 10 minutes or so, then stir again). Stir in vanilla.

Pour melted chocolate into an 8x8 (or smaller for thicker fudge pieces) foil-lined baking dish or tubberware. If desired, sprinkle coarse sea salt over chocolate. Allow to cool completely (1-3 hours). Cut into squares. Store in airtight container at room temperature.
Notes
Store in airtight container up to five days. 
Nutrition
Calories:
65
kcal
,
Carbohydrates:
9
g
,
Protein:
1
g
,
Fat:
3
g
,
Saturated Fat:
2
g
,
Cholesterol:
6
mg
,
Sodium:
7
mg
,
Potassium:
23
mg
,
Fiber:
1
g
,
Sugar:
9
g
,
Vitamin A:
56
IU
,
Vitamin C:
1
mg
,
Calcium:
14
mg
,
Iron:
1
mg
Recipe adapted from Recipe Crock