Sweet and salty crunchy caramel corn drizzled with white and dark chocolate!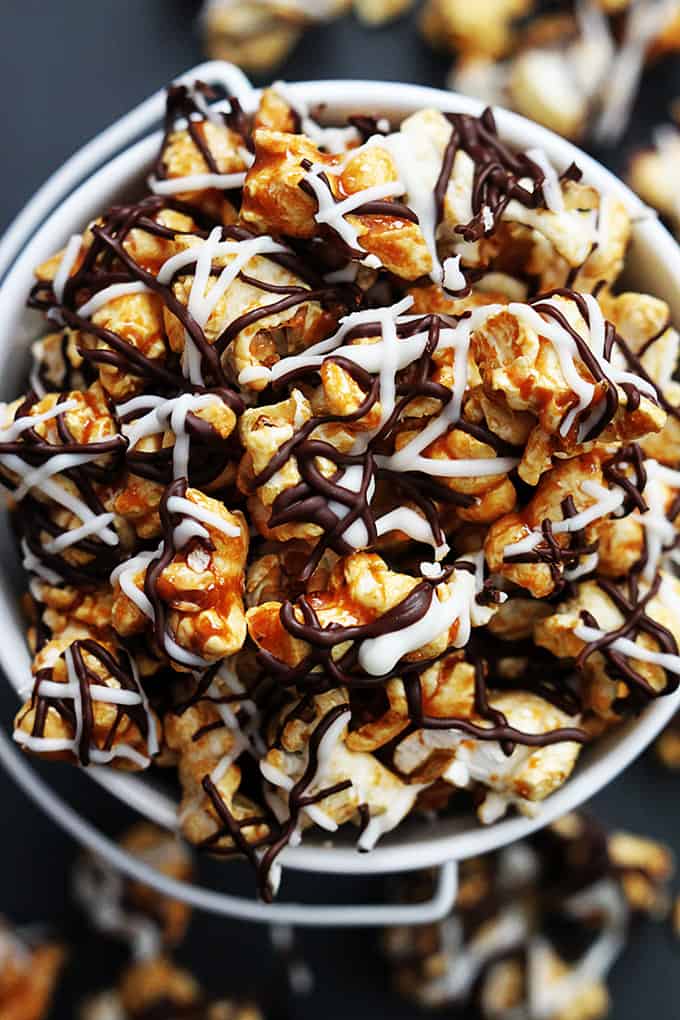 I heart popcorn big time. My husband, he doesn't care for it all that much (weirdo, who doesn't like popcorn…) which, besides being almost inhuman, I am actually okay with because that means more for me. And popcorn is practically air with incredible flavor so I can down one of those giant XXL movie popcorn buckets in about 7 minutes.
No really, before the previews are finished.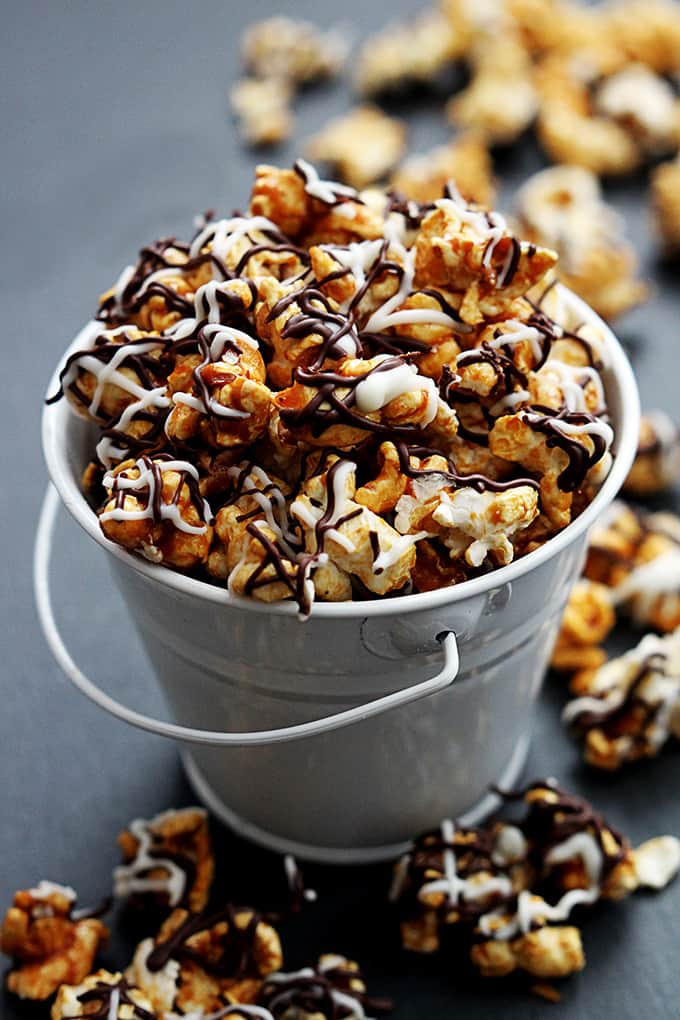 I like it buttered, I love it cheesy, but carameled = my personal heaven. My mum makes fantastic caramel corn in two versions: 1) ooey gooey soft and chewy and 2) crunchy. I prefer the crunchy but I like the other stuff too. The inspiration for this caramel corn recipe I'm sharing today is actually not my mum's recipe. I have no idea where it comes from, but my mum keeps a good stash of this caramel corn stuff in the cupboard almost constantly. It comes in a big cone wrapped in cellophane that vaguely reminds me of a circus tent. It's crunchy, and drizzled in white and dark chocolate and it's called Zebra Caramel Corn.
Oh my gosh it's so good.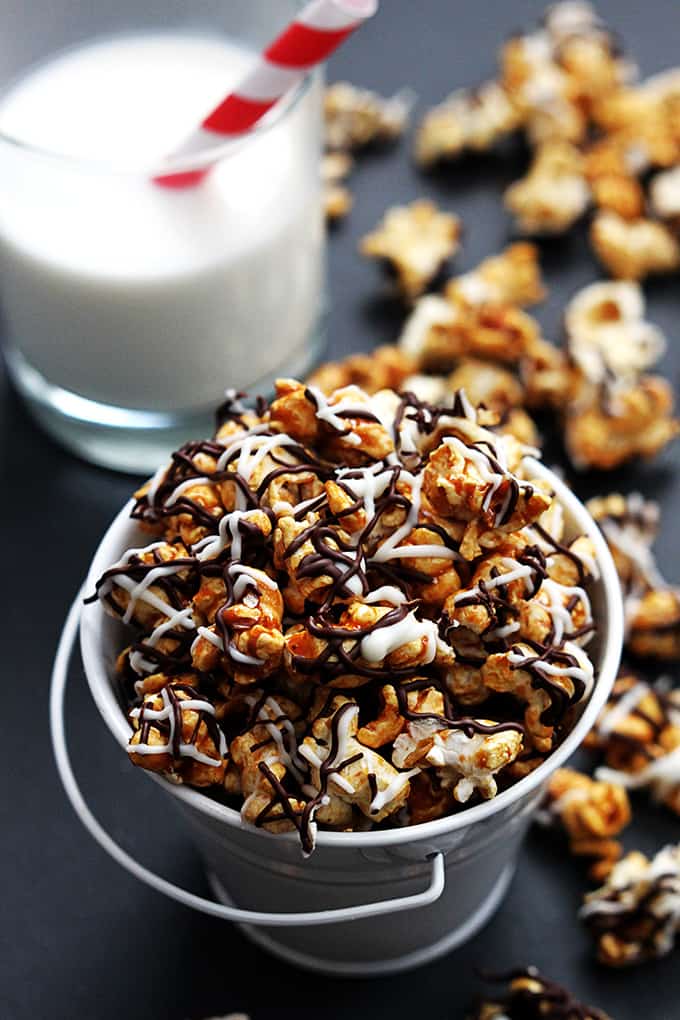 Obviously I don't live with my mother anymore and don't have constant access to her snack stash. But it's okay because I recreated that caramel corn at home and I've gotta say I like it better than its namesake. This caramel corn is perfectly sweet and salty and extra rich from the chocolate drizzles. It's easy to make and if you can manage to spare some (or just make an extra batch) it makes an excellent neighbor gift.
Yeah, just make a second batch. The first one won't last long enough to make it across the street.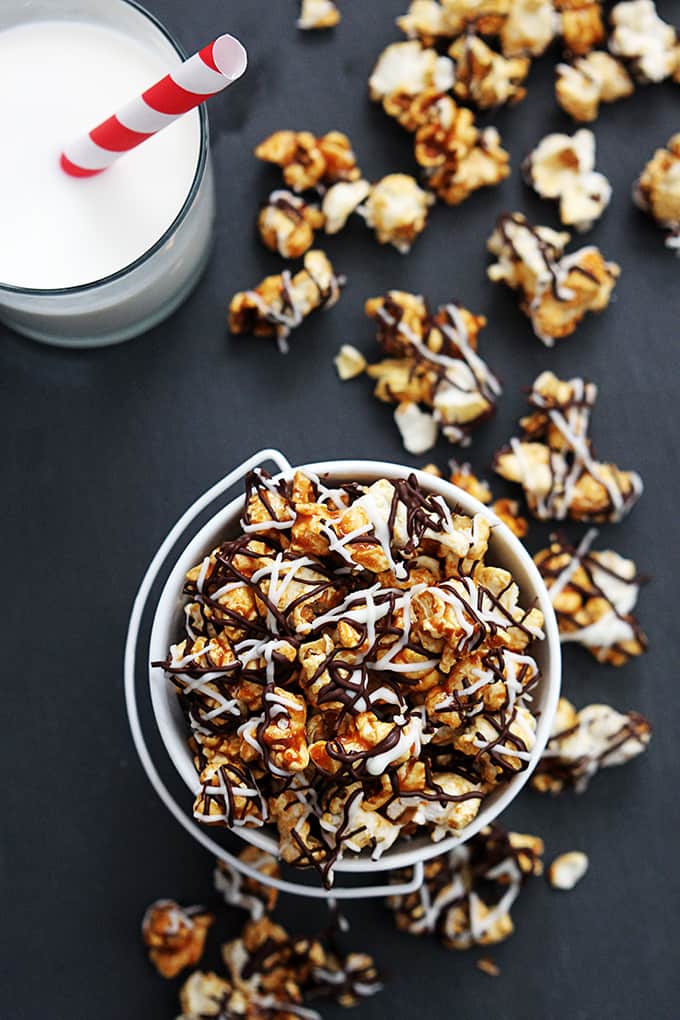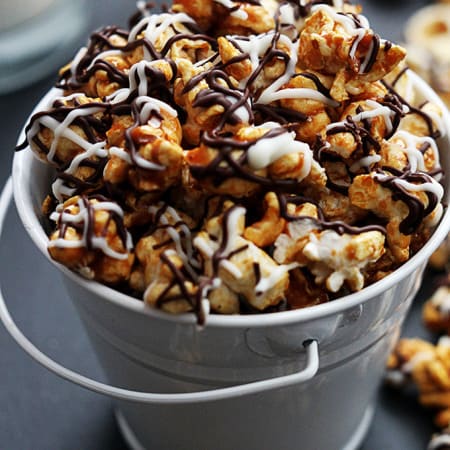 Zebra Caramel Corn
Sweet and salty crunchy caramel corn drizzled with white and dark chocolate!
Ingredients
4

tablespoons

tablespoons butter

-

plus more for baking sheet

10

cups

plain unsalted popped popcorn

-

(from ½ cup kernels or a 3.3-ounce bag microwave popcorn)

½

cup

packed light-brown sugar

coarse sea salt

½

cup

semi-sweet chocolate chips

½

cup

white chocolate chips
Instructions
Preheat oven to 300 degrees. Butter a large rimmed baking sheet, set aside. Place popcorn in a large bowl and set aside.

In a small saucepan, bring butter, sugar, and 2 tablespoons water to a boil, stirring constantly. Working quickly, drizzle popcorn with sugar syrup, and toss to coat.

Spread popcorn evenly on prepared baking sheet. Sprinkle with coarse sea salt. Bake, tossing occasionally, until golden and shiny, about 40 minutes. Transfer hot popcorn to parchment-paper-lined baking sheet; let cool.

Once popcorn is cooled, melt the chocolate. Place semi sweet chocolate chips in a microwave safe bowl. Microwave on half power for 2 minutes. Stir, then return to microwave and heat for another 20 seconds at a time, stirring between each, until smooth. Drizzle over popcorn. Repeat process with white chocolate. Allow to cool until chocolate is hardened. Store in airtight container.
Notes
Store in airtight container at room temperature. 
Nutrition
Calories:
281
kcal
,
Carbohydrates:
37
g
,
Protein:
3
g
,
Fat:
14
g
,
Saturated Fat:
8
g
,
Trans Fat:
1
g
,
Cholesterol:
18
mg
,
Sodium:
66
mg
,
Potassium:
161
mg
,
Fiber:
3
g
,
Sugar:
24
g
,
Vitamin A:
211
IU
,
Vitamin C:
1
mg
,
Calcium:
43
mg
,
Iron:
1
mg
Recipe adapt from Martha Stewart.