The BEST EVER CARAMEL CORN recipe (so easy!) with PERFECT crispy outside, chewy center, and sweet 'n salty flavor.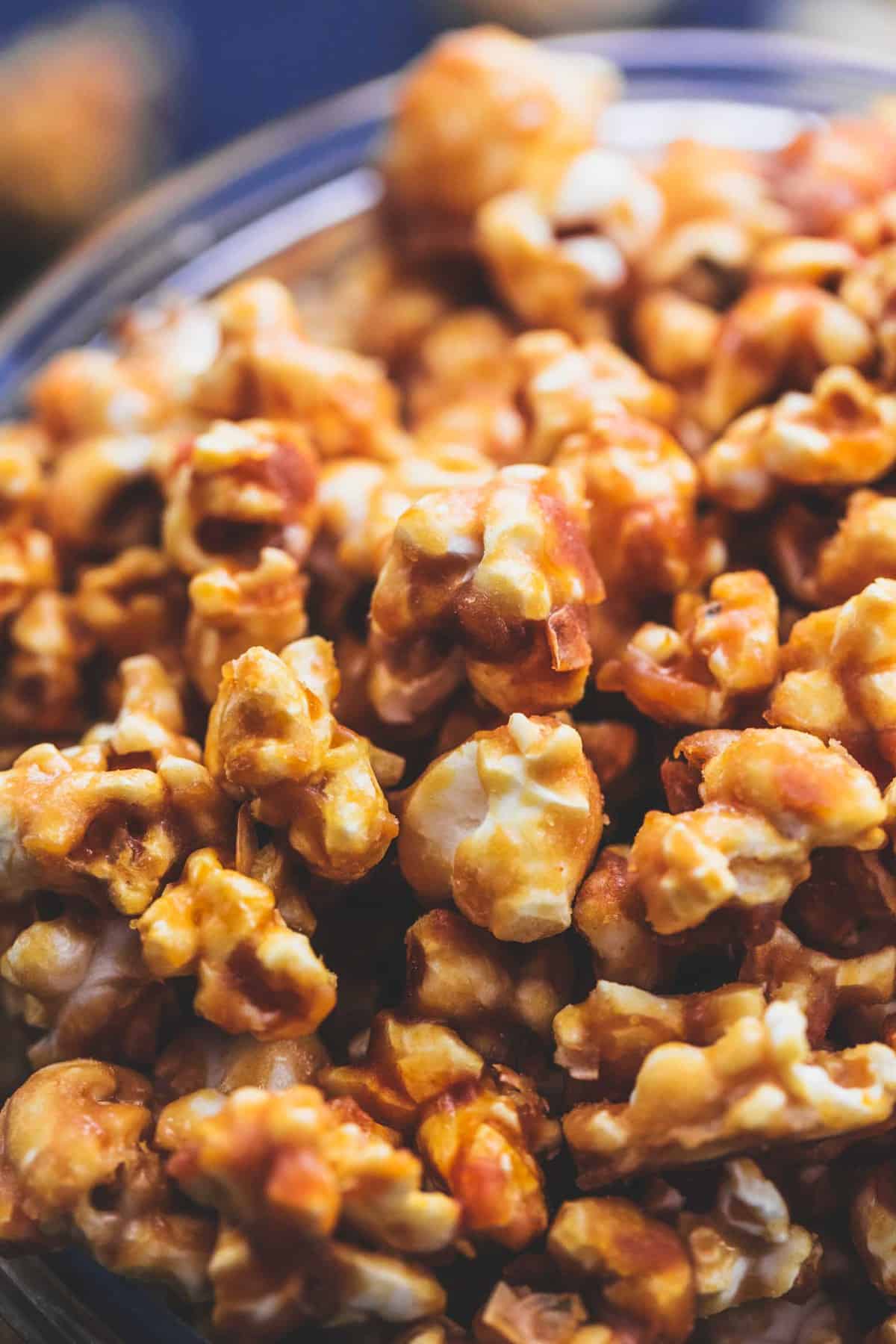 What do you think of when you hear "Caramel Corn"? Maybe a carnival, a street fair, a festival, or even an old-fashioned candy shop? I don't know about you but there are certain foods that I always thought were reserved for special trips — as in, they were so hard to come by that the only place I could get them was at the yearly church festival or when the fair came to town.
That's what I thought about with caramel corn. It was a special treat that my parents would get us kids when we attended an event with rides, games, and other attractions. We'd get one or two or maybe even three giant bags (there were a lot of us!) and walk from booth to booth, taking turns grabbing handful after handful of caramel corn and shoving it into our mouths before shoveling our hands back in the bag just to make sure we got our fair share. I think we could polish off a bag in 20 minutes flat, maybe less.
Then, well, I grew up. And I started to realize that I could make anything I wanted whenever I wanted — like caramel corn! At first, sure, it takes the magic out of it a little, spoiling that once or twice a year treat, but you'll quickly get over that. I know I did!
Also, once you realize how easy some things are to make yourself, you'll wonder why you didn't think to make them sooner. As in, you could have been eating caramel corn at home without ever having to share this whole time! And it's so easy — you don't even have to pop the popcorn yourself. Buy it pre-made if you want to, easy-peasy! And making the caramel isn't hard either. Just heat, pour, and bake and then try not to gobble it all up by the handfuls like you did when you were a kid — I dare you!
How do you Make Caramel Corn Balls?
Coming in at a close second for best ways to eat caramel corn is a caramel corn ball. I hadn't heard of such a thing till I started blogging but let me tell you, I am a big fan! If you want to make this delicious caramel corn into balls it just takes one extra step. This way of serving caramel corn is fun for parties and to send to school as treats. (Or to hoard for yourself, no judgement here.)
Follow the directions for making caramel corn, but when you get to step 3, only bake for 15-30 minutes to ensure it'll remain chewy and malleable. Pull the corn from the oven, and allow to cool enough that you can pick it up. Butter your hands and "roll" the corn into individual balls. How big or small is up to you. I like to wrap the balls up in plastic wrap with a bow on top to keep their shape and also for easy handling and doling out.
Why Did my Caramel Corn Crystalize?
If your caramel corn is grainy and kind of sandy in texture, that means it has crystalized. This is due most likely to your caramel getting too hot in the pan or forgetting to add the corn syrup. You have to really watch and constantly stir the caramel to ensure a nice, smooth consistency. The corn syrup keeps it from crystalizing as well. Keep that heat at medium, add all the ingredients as instructed, and stir, stir, stir. If it burns or crystalizes, the best thing to do is start over.
How to Make Salted Caramel Popcorn
Salt makes caramel better. It's just a fact. I looooove salted caramel everything. I think a big misconception is that you actually salt the caramel when it's cooking. I suppose you could, but every recipe for salted caramel I've ever made puts a sprinkling of sea salt on the top as the finale. You can better keep track of the amount of salt you're adding too.
For salted caramel corn, that would mean sprinkling sea salt over the top of the popcorn right after you pull it out of the oven. Be careful, a little goes a long way! Oh — and this is important — you will not want to start with salted popcorn to begin with. Buy or make plain popcorn. The caramel and salt that you'll add to it will be plenty of flavor. There is such a thing as too much salt, after all.
Expert Tips and Recommendations
This is the fun part. In addition to, or instead of adding sea salt you can do so many other things with caramel corn.
Add your favorite chopped nuts to the mix right before you bake it — peanuts, pecans, almonds, and walnuts are all delicious.

Add sprinkles on right after you take it out of the oven. This is a fun way to decorate caramel corn especially if it is being made for a party or a kids' activity. If you are making caramel corn balls, roll them in the sprinkles after you've shaped them.

Add mini chocolate chips after the popcorn bakes. Milk, dark, white, mint…it doesn't matter they will be delicious!

Speaking of adding chocolate, have you noticed that many of your favorite candies now come in "bite-size" varieties? You thinking what I'm thinking? Yeah, add those babies in right when the popcorn comes out of the oven.
Decadent Dessert Recipes
Best Ever Caramel Corn
The best ever caramel corn recipe with PERFECT crispy outside, chewy center, and sweet 'n salty flavor.
Ingredients
4

bags popcorn

-

popped (un-popped kernels discarded), butter, plain, or kettle corn all work

1

cup

unsalted butter

2

cups

brown sugar

½

cup

light corn syrup

1

teaspoon

vanilla

1

teaspoon

baking soda

1

teaspoon

sea salt

-

or to taste, (you can also leave out the sea salt and use salted butter instead)
Instructions
Preheat oven to 250 degrees. Fill two large bowls with the popcorn and set out two large baking sheets.

In a large sauce pan on the stove, combine butter, sugar, and corn syrup over medium heat. Stir constantly and bring to a rapid boil. Continue to stir for 3-4 minutes, remove from heat and stir in vanilla then immediately stir in baking soda (be careful, mixture will bubble up!). Pour caramel over popcorn and stir with a rubber spatula until well-coated.

Place baking sheets in the preheated oven and cook for 15-60 minutes, stirring every 15 minutes. ***For chewier popcorn, cook only 15-30 minutes. For crispier popcorn, cool closer to 45-60 minutes. My favorite is about 35-40 minutes for a crispy start and a chewy finish!

Allow to cool, then serve or store in airtight container up to 3 days.
Notes
Flavor tip: Add a sprinkle of sea salt after removing from the oven! 
Nutrition
Calories:
317
kcal
,
Carbohydrates:
47
g
,
Protein:
1
g
,
Fat:
15
g
,
Saturated Fat:
10
g
,
Trans Fat:
1
g
,
Cholesterol:
41
mg
,
Sodium:
112
mg
,
Potassium:
55
mg
,
Fiber:
1
g
,
Sugar:
47
g
,
Vitamin A:
473
IU
,
Calcium:
37
mg
,
Iron:
1
mg