Cheesy 3-ingredient Slow Cooker Queso Blanco Dip with green chili's. This recipe is so easy to make and is an instant party pleaser!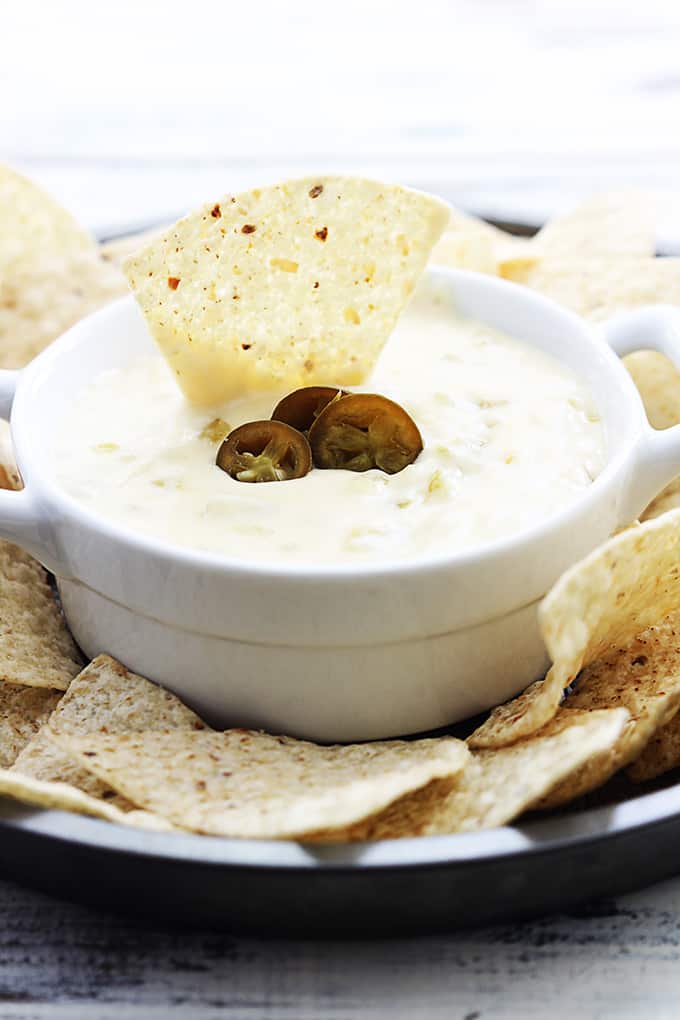 I big time heart queso dip. I like a traditional yellow queso as much as the next person but queso blanco might have a leg up. I Think it's the green chiles that get me. And the jalapeños. Technically, no, you don't have to add jalapeños to this queso. But if you like to heat things up a bit, I highly recommend them. I eat jalapeños straight from the 32-ounce jar in my refrigerator (yes, 32 ounces of spicy, sliced jalapeño beauties) so it's no secret that I like it hot hot hot.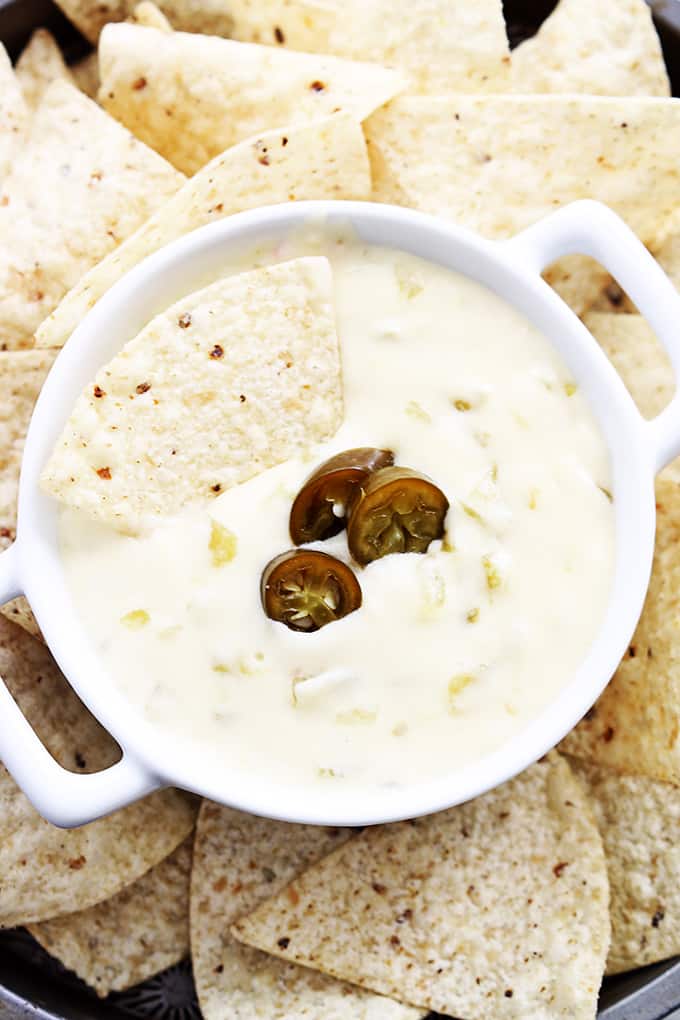 A few weeks ago when I was in Sacramento for the Walnut Harvest, we were being served this incredible 4-course dinner at a restaurant called Grange. Oh m-gash, so good. And fancy pantsy, everything on the menu was created for our special event. But every time the chef introduced a new item from the menu and described it in very great and sophisticated detail, he'd wrap it all up with, "and, not spicy". You're killin' me man. Have you been robbed of all your spiciness in this restaurant?! It's like describing a 3 inch tall, frosted fudgey decadent chocolate brownie only to blow it all by adding, "sugar-free" at the end.
Big. Fat. Let down.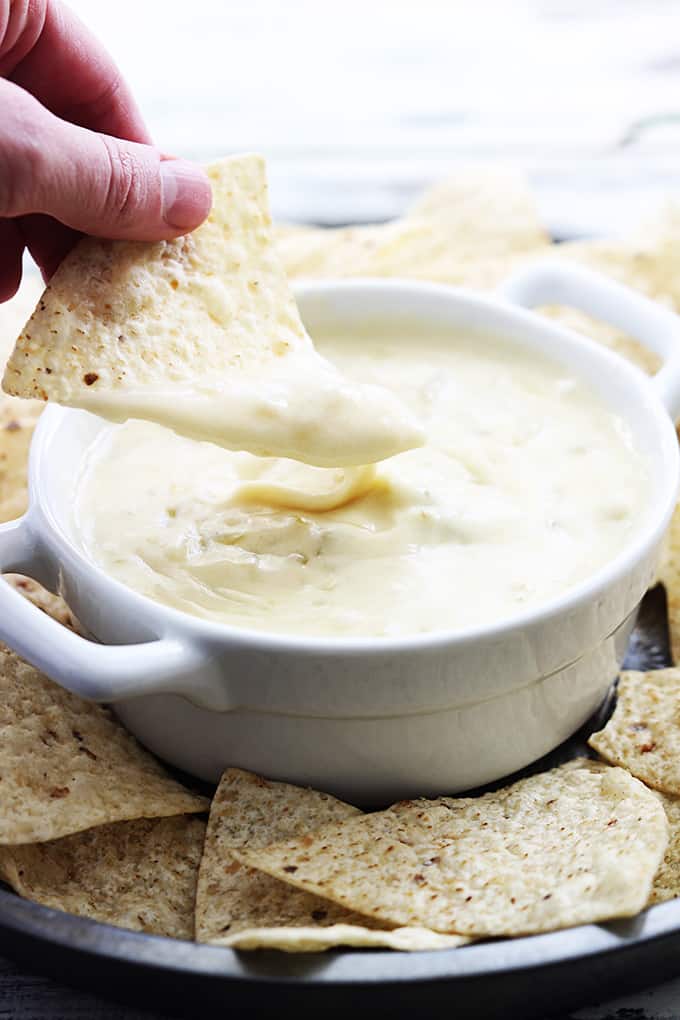 Annnd we're back to the dip. Here's the thing, parties are supposed to be fun right? Of course they are. And stress-free whenever possible. So making appetizers shouldn't be something to break your back over all day long just to provide some delicious snacking for your guests. The answer? This queso blanco dip. There is no prep work, I swear. You just dump it in the slow cooker, come back a couple of hours later, and give it a stir. Dunz-o. And what's even better? You can serve it straight from the crockpot! It'll keep all of that ooey gooey cheese nice and ooey gooey so there is no re-heating required. It's like magic. Big black crockpot magic.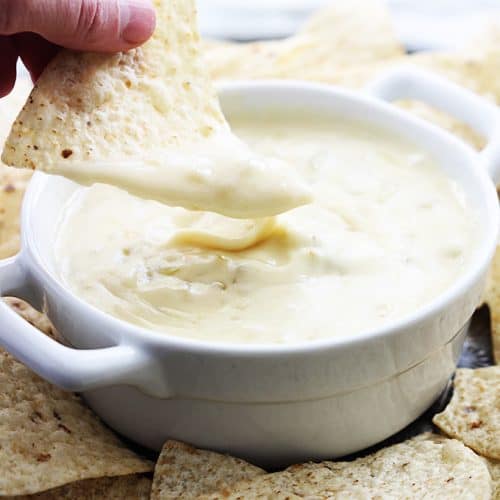 Slow Cooker Queso Blanco
Cheesy 3-ingredient slow cooker white queso dip with green chili's.
Ingredients
12

ounces

white velveeta

-

(see notes for substitution), cut into 1 inch cubes (for faster melting time)

8

ounces

diced green chiles

-

(2 4-ounce cans, found near the canned jalapeños)

optional: jalapeños (see note)

tortilla chips, for serving
Instructions
Add cheese, green chiles, and (optional) jalapeños to slow cooker. Cover and cook on high for 1-2 hours or on low 2-3 hours.

When cheese is melty, stir contents of the slow cooker to mix everything together. Serve with tortilla chips. TIP: serve it straight from the slow cooker to keep the quest nice and gooey for longer without needing to reheat!
Notes
*Another option besides Velveeta is: 8 ounces cream cheese + 2 cups shredded sharp white cheddar cheese. After cheeses are completely melted, stir in a few tablespoons of milk if necessary for consistency.
**I prefer canned jalapeños in this recipe, but if you use fresh jalapeños be aware that the seeds contain most of the heat. To keep them from being too hot, remove the seeds before slicing and dicing.
***This recipe can easily be doubled to feed a larger group.
Nutrition
Calories:
134
kcal
,
Carbohydrates:
8
g
,
Protein:
11
g
,
Fat:
6
g
,
Saturated Fat:
4
g
,
Cholesterol:
24
mg
,
Sodium:
1049
mg
,
Potassium:
238
mg
,
Fiber:
1
g
,
Sugar:
5
g
,
Vitamin A:
604
IU
,
Vitamin C:
13
mg
,
Calcium:
339
mg
,
Iron:
1
mg