This Thai Coconut Curry is to die for! Shrimp plus spinach, red bell peppers, and all sorts of other yummy ingredients will have you shouting from the rooftops that you found the most perfect, easy, tasty Thai dish ever.
If you love Thai recipes as much as I do, then you will definitely want to make my Chickpea Curry, Thai Blackberry Basil Chicken dish or these Thai Curry Steak Noodle Bowls ASAP.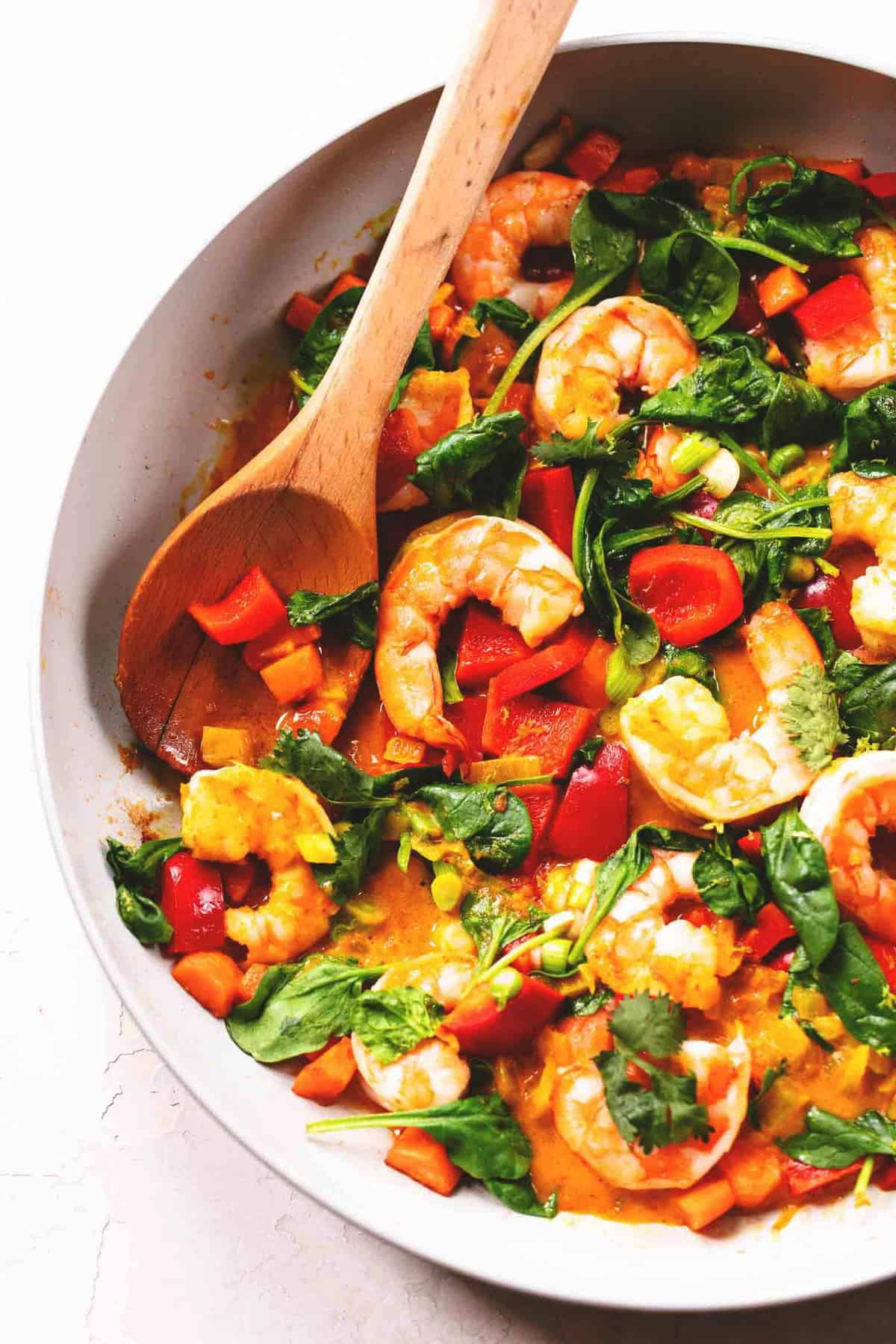 I've mentioned a time or two or three how much I love curry. All the curries, any color, (almost) all spice levels, sweet, savory…whatever kinds of curry I've ever tried in my life I've said "yes" to all of them and never once looked back.
I mean, I have six curry recipes on the blog right now and I have no plans to stop adding them any time soon. They're so easy to invent and reinvent and sometimes invent again (hey tastes change right?). But I did realize I had yet to make a shrimp curry the other day when I was, well, craving a shrimp curry and noticed that I didn't ever publish one! I couldn't believe it. I'm not even sure how I let such a travesty occur because, while all curries are my favorite, shrimp curries are my favorite favorite. (It's sorta like the difference between you liking someone and you liking, liking someone.) See what I mean?
Anyway, my point is this dish is chock full of just about anything you could want in a meal — flavor, protein, veggies, and a little bit of sweet, a little bit of savory, and a little bit of spice. I'd say that's just about everything wrapped up in one amazing dish. Plus, it is great eaten alone or over the top of rice, noodles, or even veggie noodles.
Here's How you Make it
Making coconut curries is a cinch. First, you want to soften the onion in oil then add the spices, curry paste, and sugar and stir them around until they start to give off that heavenly fragrance (oh you'll know). Add to that the coconut milk and fish sauce. Once it simmers, lower the heat and cook it until it thickens up. Once that happens, you'll take it off heat and add the lime juice and zest, cover, and set aside.
For the shrimp, add another tablespoon of oil to the same skillet. Heat over medium and add the carrots, stirring to coat, then cooking them through with the lid on. Turn that heat right on back up and add the peppers, shrimp, garlic, cayenne and salt. The shrimp will be done in a short amount of time, at which point you can add the spinach and curry sauce back in with the shrimp and give it a stir till the spinach is good and wilted. Serve with a sprinkle of green onions and cilantro and dig in!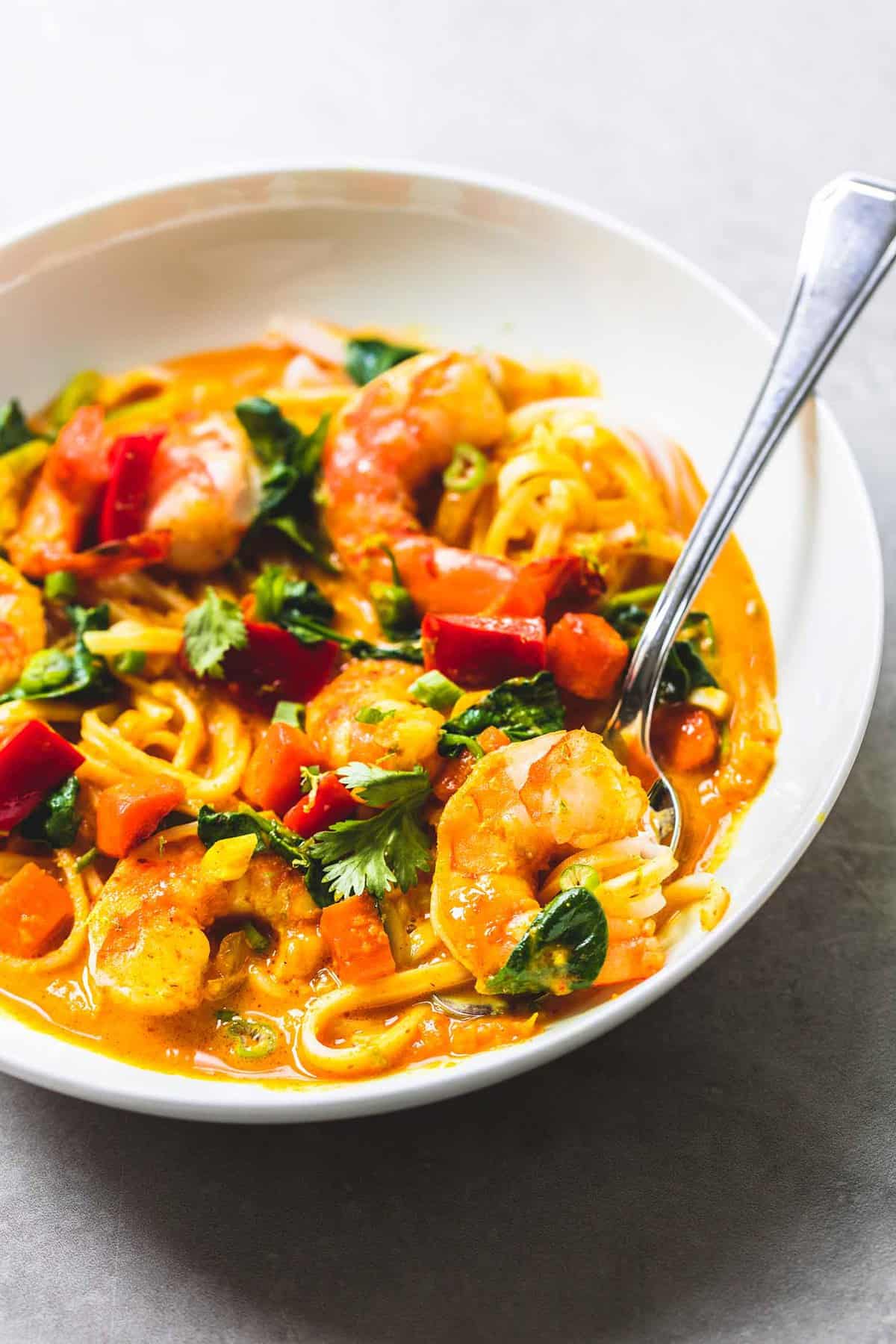 What is Curry?
"Curry" is kind of a catch-all term, kinda like "ramen" wherein it can mean different things depending on the region in which you're in and what kinds of spices the chef feels like adding to that particular recipe.
There are different kinds of curries: curry powder, curry paste, and curry leaves. There are also different kinds of curry dishes, and most of them are from India and Thailand. While Indian curry was popularized by British colonists and crops up in dishes such as masalas, Thai curries often start with a wet curry paste and then include the addition of coconut milk or cream.
What is the Best Coconut Milk for Curry?
That's such a subjective question. It's kind of like, what level of spice is right? It all depends on your preference. I usually buy a coconut milk brand I find in the international food aisle that is imported. I feel like if it's popular enough to use in an Asian country, and therefore popular enough to be imported to America, that brand should be good, right?  I haven't had any trouble with this theory yet. I haven't tried the store brands, but if you do, let me know how they are and report back in the comments.
Also, I have tried light versions of coconut milk and while they are okay, I think they have a lighter coconut taste and they just aren't as creamy and won't give you the depth of flavor I think this Coconut Shrimp Curry needs.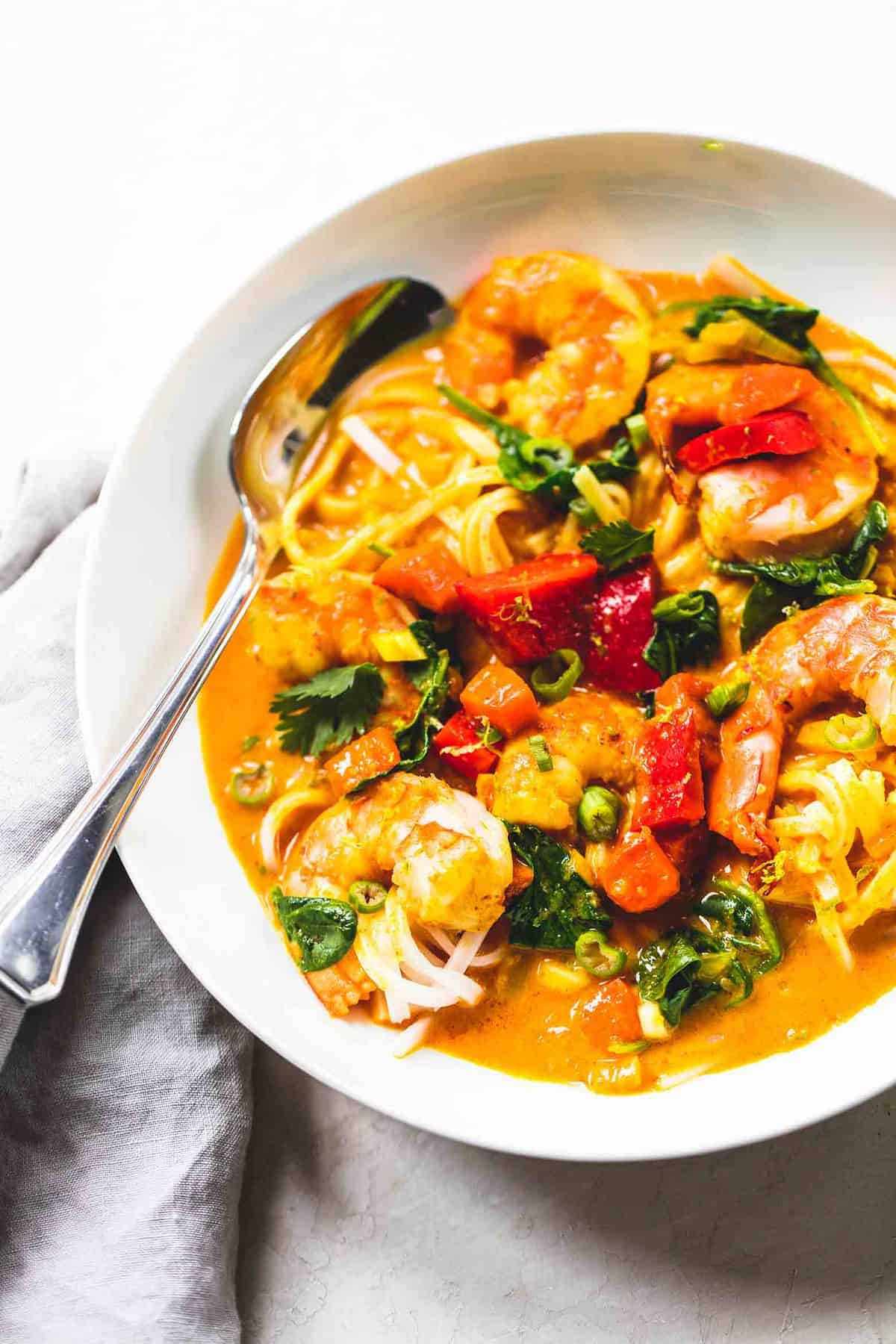 Protein Options for Curry
You can use any kind of protein that you like in Thai curry! I am partial to chicken (if you are too, try my Easy Coconut Curry Chicken recipe) and shrimp, but you can also use beef or pork. For a meatless option, may I recommend chickpeas or firm tofu? Or you could even mix chickpeas with shrimp, chicken, or tofu for an additional source of protein and texture. Curries are meant for mixing it up and making them yours!
More Delicious Dinner Recipes
Did you make this tasty Thai Coconut Curry recipe? YAY! Please rate the recipe below!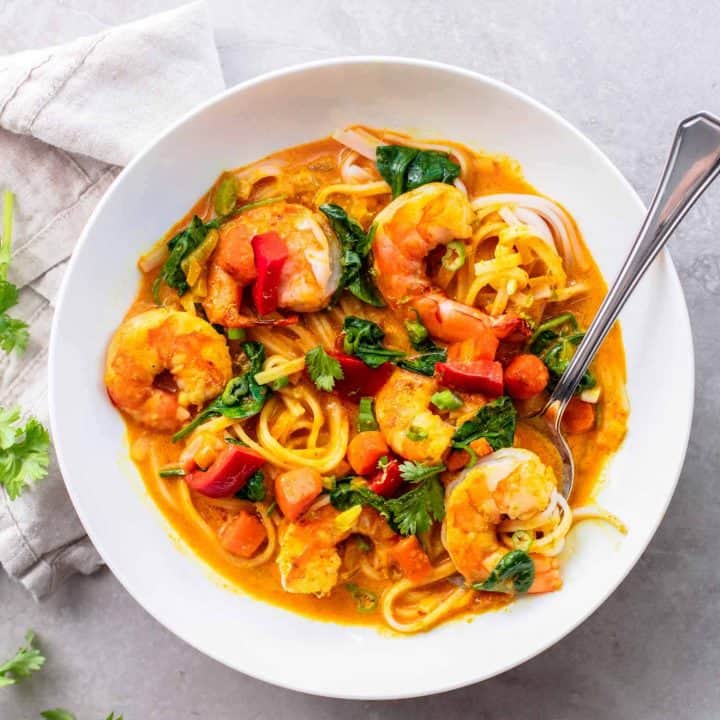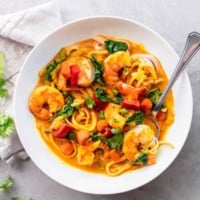 Thai Coconut Curry
This Thai Coconut Curry is to die for! Shrimp plus spinach, red bell peppers, and all sorts of other yummy ingredients will have you shouting from the rooftops that you found the most perfect, easy, tasty Thai dish ever.
Ingredients
1

pound

medium or large shrimp

-

peeled and deveined

2

large carrots

-

peeled and sliced into 1/2 inch chunks

1

red bell pepper

-

diced

1

teaspoon

minced garlic

¼

teaspoon

cayenne pepper

-

or to taste

salt to taste

3

cups

baby spinach leaves

fresh basil, cilantro, or green onions for garnish
Curry Sauce
2

tablespoons

vegetable oil

½

yellow onion

-

finely chopped

2

teaspoons

fresh ginger

-

OR 1 teaspoon ground ginger

½

teaspoon

ground turmeric

1

tablespoon

thai red curry paste

1

tablespoon

sugar

1

15-ounce

can coconut milk

2

tablespoons

fish sauce

grated zest and juice of one lime

cooked noodles or rice for serving

-

optional
Instructions
Make the sauce: Heat 1 tablespoon of the oil in a medium skillet over medium heat. Add the onion and cook 5 minutes, or until softened.

Add the ginger, turmeric, curry paste and sugar and stir until fragrant, about 15 seconds. Pour in the coconut milk and fish sauce. Bring to a simmer, then lower heat and cook 10 minutes to thicken slightly. Remove from the heat, stir in the lime zest and juice. Cover to keep warm.

Prepare the shrimp: Heat the remaining tablespoon oil in a large (12-inch) skillet over medium-heat. Add the carrots and stir to coat with the oil. Lower the heat, cover the pan and cook the carrots 5 minutes, until tender.

Turn up the heat to medium-high and add the red bell pepper, shrimp, garlic, cayenne and salt to taste. Cook until the shrimp are no longer pink, 2-3 minutes per side.

Add the spinach and curry sauce to the shrimp and stir until the spinach is wilted.

Sprinkle with green onion and cilantro (or basil) and serve.
Notes
Serve this quick, flavorful red coconut curry with hot cooked rice or rice noodles.
To make it vegetarian, omit the shrimp and/or use diced extra-firm tofu instead.
Nutrition
Calories:
228
kcal
,
Carbohydrates:
11
g
,
Protein:
25
g
,
Fat:
9
g
,
Saturated Fat:
6
g
,
Cholesterol:
286
mg
,
Sodium:
1629
mg
,
Potassium:
435
mg
,
Fiber:
2
g
,
Sugar:
7
g
,
Vitamin A:
8781
IU
,
Vitamin C:
53
mg
,
Calcium:
213
mg
,
Iron:
4
mg