An easy 20-minute recipe for the most delicious Asian-style chicken lettuce wraps!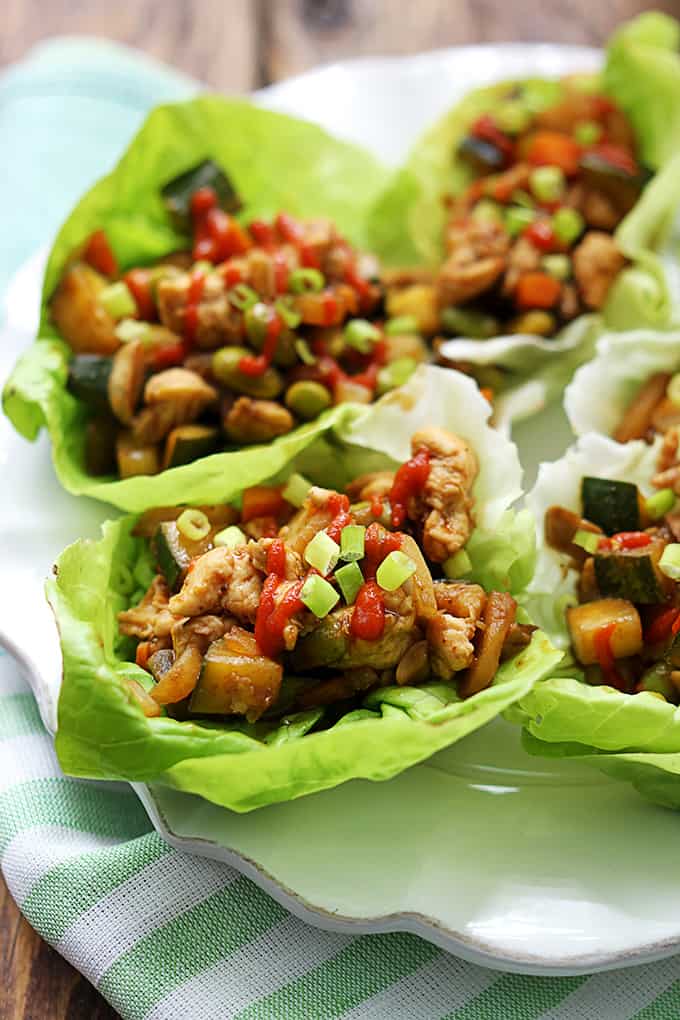 Don't know why but I've been craving lettuce wraps like a beast lately. And I tend to live by my cravings so it's not a huge surprise that I put this recipe into the rotation pretty much immediately. I'm those Snickers commercials >>>I'm not me when I'm hungry. I get craaaaanky when I'm pining for a particular food item. And also when mealtime becomes even slightly delayed. And let's not talk about mornings. Because silence. I need silence in the morning. Just because my body is physically out of the bed does not mean that my brain has left the slumber state. So if you could just . . . stop . . . talking. . . that would be great. Thanks. Glad you understand.
Unless you are a leafy wrapped chicken stuffed Asian bit of goodness, then you are welcome to wake me up at any moment day or night. Because these lettuce wraps? Get – – – > in – – – > my – – – > mouth – – – >NOW.
I like to think that these are on the healthier side of summer indulgence since they are loaded with lots of summer veggies and wrapped in even more green veggie beauty. I could eat summer vegetables endlessly. In fact, are you looking for employment? I just might be in the market for a Continual-Veggie-Cooker. Would you like to be my Veggie Cooker? You could just hang out in my kitchen all day long and prepare wonderful veggie dishes for me. I think that would be lovely. Whether or not you choose to wrap them in lettuce is fine with me, but be sure to work these Asian chicken lettuce wraps into the schedule at least 3 or 4 times a day would you? Don't worry they only take 20 minutes to prepare so you'll have plenty of time to whip up 937 other veggie delights for me.
Excellent, you're hired. You start tomorrow.
Asian Chicken Lettuce Wraps
An easy 20-minute recipe for the most delicious Asian-style chicken lettuce wraps!
Ingredients
2

chicken breasts

-

pounded very thin and chopped into small pieces

½

cup

water chestnuts

-

roughly chopped

1

large

carrot

-

diced

1

zucchini

-

diced

½

cup

shelled edamame

1

cup

mushrooms

-

diced

½

white onion

-

diced

½

teaspoon

salt

¼

cup

hoisin sauce

½

teaspoon

garlic powder

1

tablespoon

rice wine vinegar

1

teaspoon

sriracha sauce

-

(chili garlic sauce found in the Asian grocery section)

1

head

butter lettuce

-

or iceberg lettuce
Instructions
Drizzle a large pan with olive oil and heat over medium heat. Add chicken and next 6 ingredients to large pan. Saute over medium heat 5-10 minutes until veggies are tender and chicken is cooked through.

Add remaining ingredients (except for lettuce) to the pan. Stir and sauté about 5 minutes longer. Serve in lettuce leaves and top with additional sriracha sauce and green onions if desired.
Notes
Finish it off with a drizzle of sriracha sauce for a spicy kick. 
Nutrition
Calories:
233
kcal
,
Carbohydrates:
19
g
,
Protein:
29
g
,
Fat:
5
g
,
Saturated Fat:
1
g
,
Trans Fat:
1
g
,
Cholesterol:
73
mg
,
Sodium:
748
mg
,
Potassium:
844
mg
,
Fiber:
4
g
,
Sugar:
9
g
,
Vitamin A:
3142
IU
,
Vitamin C:
15
mg
,
Calcium:
43
mg
,
Iron:
2
mg