Sweet and spicy, baked honey sriracha lime salmon in foil is tender and flaky and has the most incredible sweet and spicy flavors. A healthy and easy 30 minute meal for salmon lovers.
Loving this delicious salmon recipe? Try more: Baked Sesame Glazed Salmon and Asparagus, Honey Balsamic Bruschetta Salmon, Baked Lemon Parmesan Salmon & Asparagus in Foil.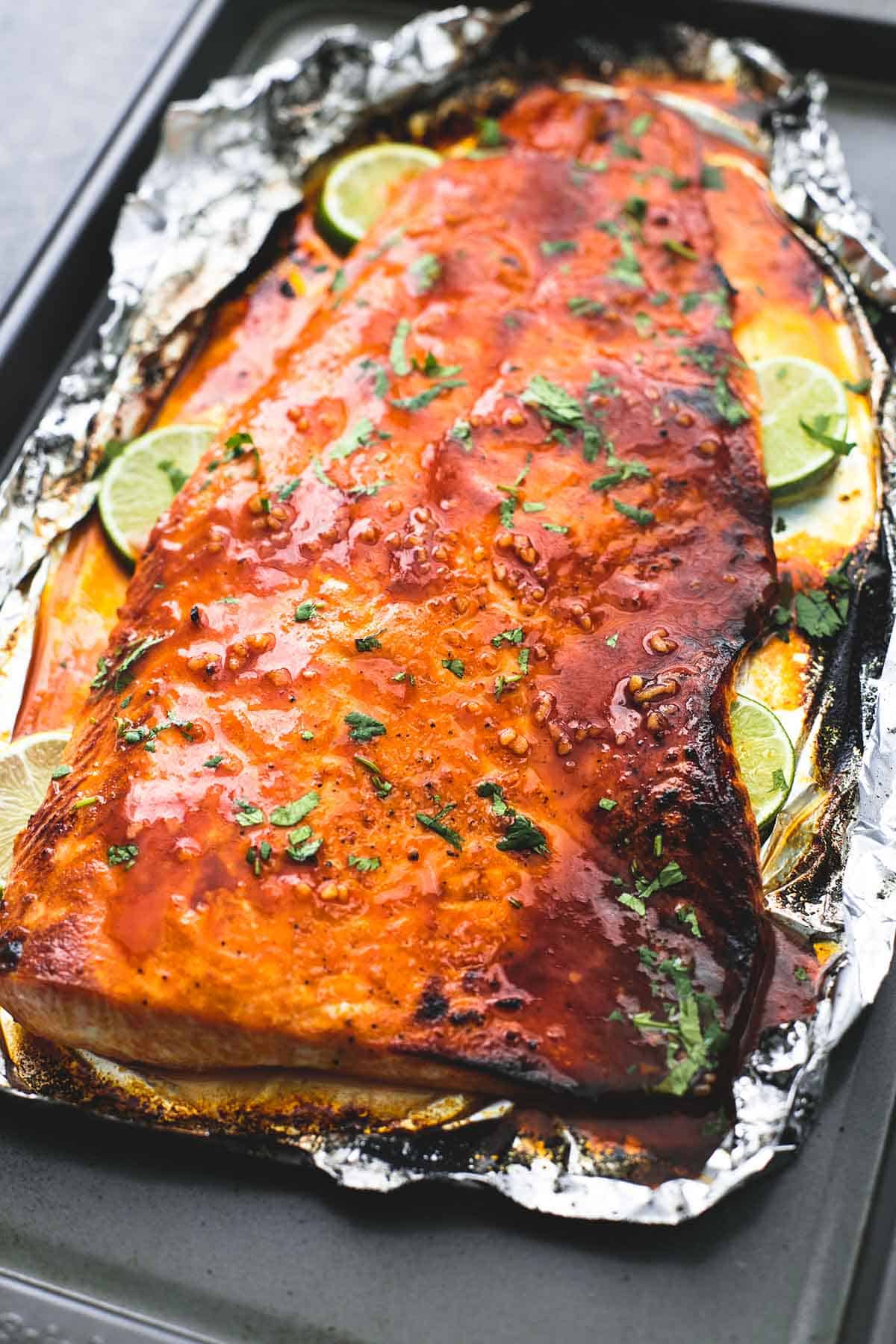 This just might be one of my favorite dishes to ever grace my kitchen table. Maybe in the top five. And do you know how many recipes have come through this kitchen?? I did a rough estimate and I'm pretty sure it's floating somewhere around 950. So to say that this is one of the top 5-10? That's sayin' something.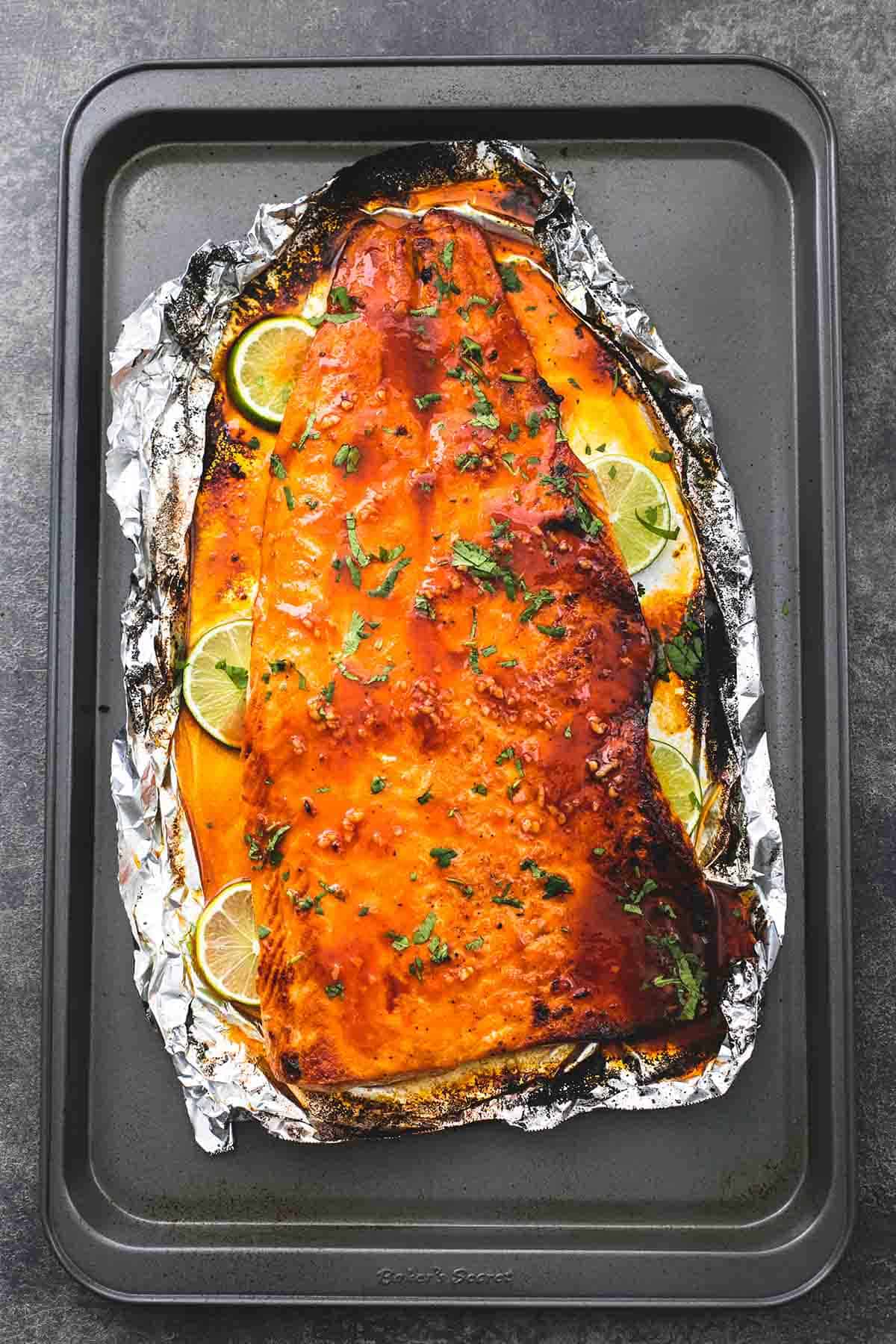 But I am a sweet heat lover. Really I'm an all-things-hot-n-spicy lover if we're getting down to it, but when you bring the sweetness into play with the spicy, it's my personal heaven. As long as it's not too sweet. And this honey sriracha is the perfect balance of sweet, savory, and spicy, with a bit of tang from that lime.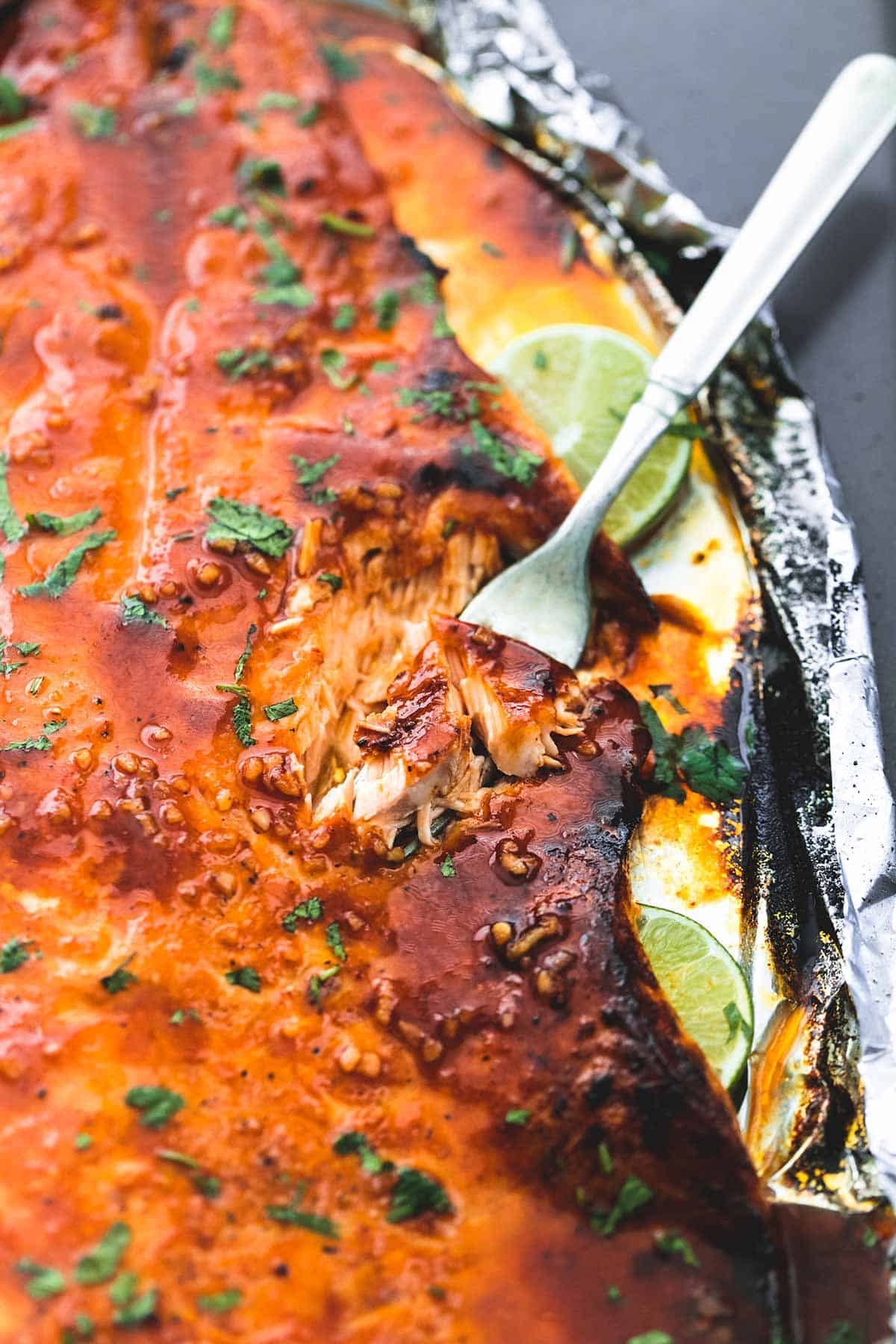 This baked salmon is so flaky and tender, it just melts in your mouth. And the best part is that this only requires about 30 minutes start to finish. Whip up a quick sauce on the stove, then pour it over your salmon and bake for about 20 ish minutes. Top it will a little extra sauce and some chopped cilantro and you're set. Easily one of the best (if not THE best) salmon dishes you have ever tasted.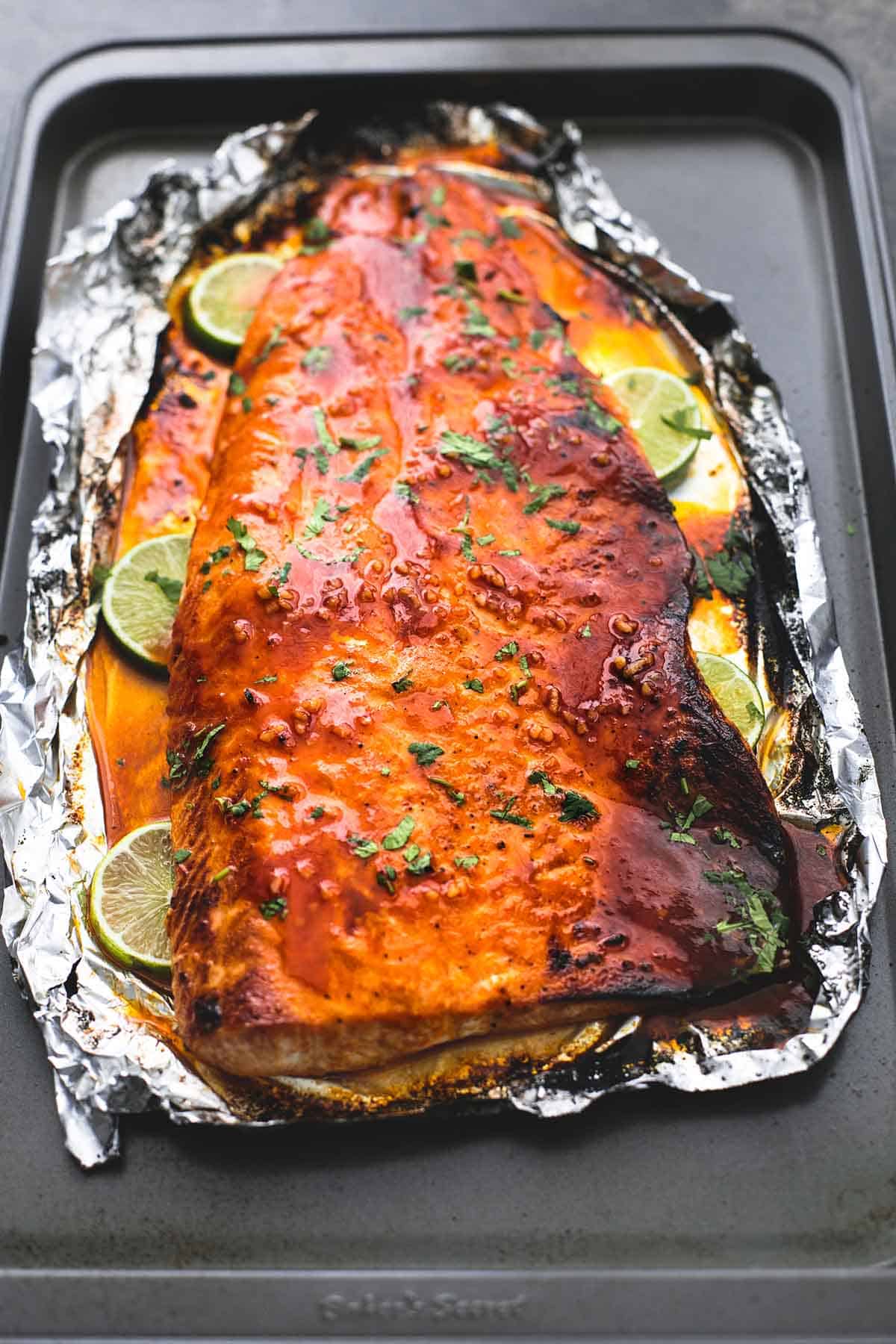 What people are saying about this Baked Honey Sriracha Lime Salmon
"Absolutely love this recipe! This has been added to a weekly rotation for my family. Needless to say I crave this – which is big deal as I'm not a big fan of salmon in general 🙂" – Ashley
"I'm not the best fish cooker and holy smokes was this outstanding! I shared with my neighbors and they asked for the recipe! Making it again tonight!!!" – Jenna
"I needed a quick delish dinner to make for company! My company is an experienced foodie. I ran across this recipe and knew that this would impress! I will only make salmon this way from now on! It's the best and was so quick and easy to put together. I didn't measure much, just eyeballed and dumped everything into the pot! My company went back for seconds! Yummy!" – Robin"
Hands down, best Salmon recipe I've ever made or had! My daughter and I love it so much, we've made 3 times in the last couple weeks. I've shared the recipe with a few of my friends who are just crazy about it too!" – Cindy
"Great recipe. Thank you so much for posting this. The best part of this recipe, is that you can adjust accordingly to your liking. I followed your instructions, and it was nuts good. If you like salmon and are looking for a twist on it…this is perfect." – Andy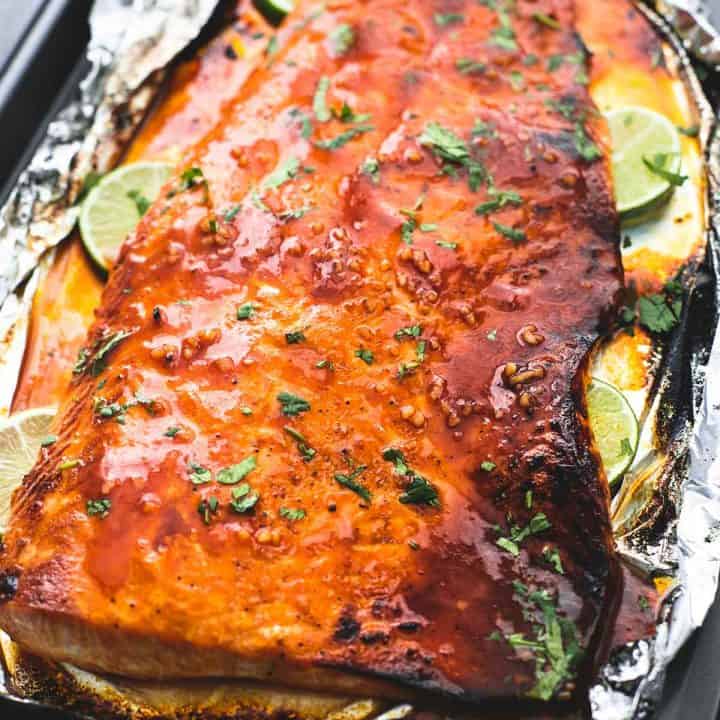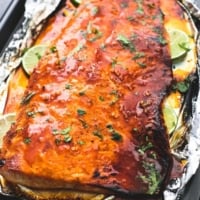 Baked Honey Sriracha Lime Salmon
Sweet and spicy, baked honey sriracha lime salmon in foil is tender and flaky and has the most incredible flavors. A healthy and easy 30 minute meal for salmon lovers.
Ingredients
1

large

salmon

-

or 4-6 individual (4-6 ounce) fillets

salt and pepper to taste

-

(for me this was about 1 teaspoon salt, ¼ teaspoon pepper)

2

tablespoons

butter

⅓

cup

honey

⅓

cup

sriracha

2

limes

-

(one juiced, one for slicing)

2

tablespoons

soy sauce

-

(I used low sodium)

1

teaspoon

minced garlic

1

tablespoon

freshly chopped cilantro
Instructions
Preheat oven to 400 degrees. Line a baking sheet with foil, grease lightly, and lay salmon on top. Season salmon with salt and pepper to taste. Slice one lime thinly, and slice the slices under the edges of the salmon.

In a medium sauce pan over medium-high heat, melt butter. Stir in honey, sriracha sauce, juice of one lime (about 1 tablespoon), soy sauce, and garlic. Bring to a boil, then reduct to medium heat and cook for 3-4 minutes longer.

Pour 2/3 of the sauce over the salmon (reserve remaining sauce for later) and use a spoon or spatula to make sure the sauce covers all of the salmon (you just don't want any "dry" spots).

Fold the edges of the foil up around the salmon so the sauce doesn't spill out everywhere (the foil doesn't need to completely cover the salmon).


Bake for 15 minutes, then switch to broil and cook another 4-5 minutes until the very edges of the salmon begin to char slightly – watch carefully so the whole salmon doesn't burn.

Top salmon with reserved sauce and chopped cilantro and serve.
Notes
I prefer to use skinned salmon, but if you want to use skin-on, just be sure to place skin-side-down on the foil and then gently remove the salmon flesh from the skin when you serve.
Nutrition
Calories:
170
kcal
,
Carbohydrates:
28
g
,
Protein:
10
g
,
Fat:
3
g
,
Saturated Fat:
1
g
,
Cholesterol:
24
mg
,
Sodium:
1060
mg
,
Potassium:
318
mg
,
Fiber:
1
g
,
Sugar:
25
g
,
Vitamin A:
79
IU
,
Vitamin C:
25
mg
,
Calcium:
31
mg
,
Iron:
1
mg