This easy, 35-minute Baked Ziti with Ricotta and Sausage pasta dish packs a ton of flavor into every bite.
If you love simple, tasty pasta dishes, then you should definitely also try this Baked Penne Pasta, this Easy Creamy Macaroni and Cheese, or this Ravioli Alfredo Bake With Spinach and Bacon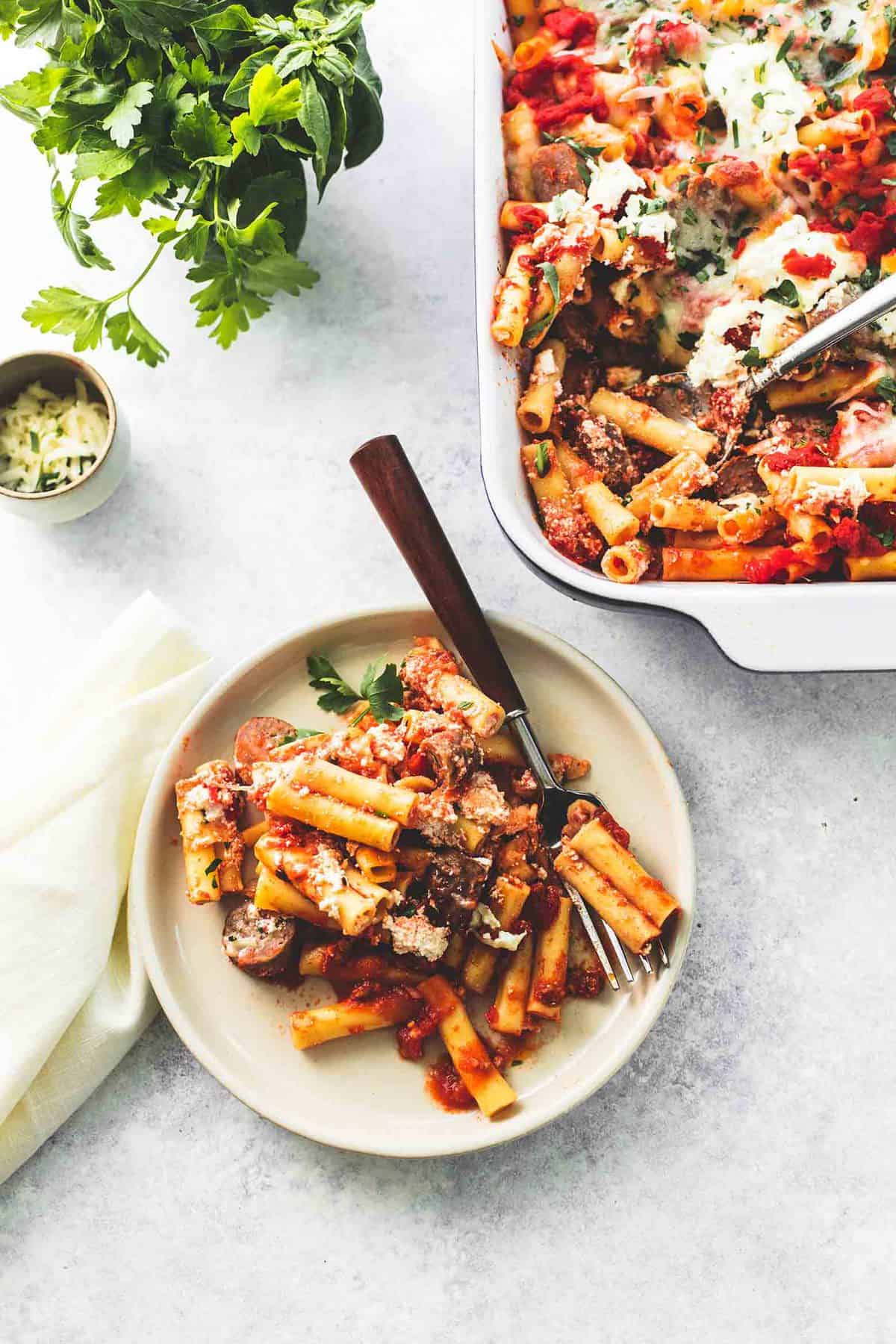 It has been too darn long since I made a pasta dish, friends! If you don't count noodles in a soup as a pasta dish (which I didn't), I had to do some serious scrolling back through the archives to find a true pasta dish. For that, I extend my sincerest apologies. It's not that I don't want to cook pasta dishes — I do! And I do make them often, but for some reason I haven't gotten them to the blog.
Regardless, today I am happy to bring to you this Baked Ziti with Ricotta and Sausage. It's so very simple to make and requires very little forethought really, and several of the ingredients you purchase already put together. That's a winner of a dinner there, dear readers.
With many pasta dishes like this one, it's easy to go off-script AND THAT'S OKAY. Like, when you get to the grocery and remember you read this recipe but you can't quite remember what all you were supposed to buy — you know there was some kind of sauce, a sausage, ricotta, and pasta but you aren't sure what kind of each. In this case, it really doesn't matter. If you purchase some sort of all of the ingredients, you'll have a tasty dish, it's that simple! Any kind of Italian sausage, pasta shape, or marinara sauce you dig, you shouldn't hesitate — give it a try!
HOW DO YOU MAKE BAKED ZITI WITH RICOTTA AND SAUSAGE?
So what I did to put this baby together was to get all the ingredients out, then I cooked the ziti according to package directions, drained it, and set it aside. I cooked the Italian sausage, let it cool, then sliced it into rounds.
Then, I mixed the cooked pasta, sausage and almost all the marinara in a bowl and poured half of it into a greased baking dish, then added a layer of ricotta and mozzarella, then another layer of the pasta/sausage mixture, and a final layer of cheese and popped that baby into the oven to cook. When it was done, I sprinkled the herbs on top and dove right in!
WHAT KIND OF SAUSAGE SHOULD I USE IN THIS DISH?
I used a store-bought blend of pork and beef Italian sausage for this dish, but you can use whatever kind you enjoy. I know some specialty grocery stores make a delightful array of chicken and/or turkey sausages with various flavorings, and luckily sweet Italian is pretty common. You could use a spicy Italian sausage too if you like a little heat in your pasta dishes. You could even use pepperoni in a pinch!
HOW DO I MAKE A VEGETARIAN PASTA DISH?
If you want to make a vegetarian baked ziti dish, I would substitute the meat sausage with a vegetarian or vegan option. You can also eliminate the sausage all together or substitute chickpeas or another white bean instead of the meat.
If you want to make an all-vegetable baked ziti, consider cutting up some vegetables that cook up fast, like zucchini, summer squash, mushrooms, and bell peppers. Mix the veggies with the pasta in place of (or in addition to) the sausage.
WHAT SIDES GO WELL WITH BAKED ZITI WITH RICOTTA AND SAUSAGE?
Mmmmm sides are nearly as good as mains. It's sometimes hard to choose. I say, why choose — have both!
I like serving pasta dishes with side salads nearly almost always. It's a nice complement to the pasta, something light and nutritious, easy to digest, and also cool where the dish is hot.
Another option is to cook up a side of roasted or grilled veggies to go along with the pasta bake. I most often make broccoli (like my Roasted Lemon Garlic Broccoli and Cauliflower), Brussels sprouts, asparagus (like my Lemon Parmesan Roasted Asparagus), or green beans.
Garlic bread is always a hit with pasta in my house. In fact, I have to hide it until my kids have at least eaten half of their meal before I bring it out because, let's face it, who doesn't want to eat all the garlic bread immediately?
WHAT IS RICOTTA?
Ricotta cheese is a delightfully creamy cheese that goes great with nearly any pasta and is the cheese most often found that helps to hold your lasagnes together.
Originally from Italy (because all the good things come from Italy), it was made to use up all the excess whey. Waste not, want not, I say. In American ricotta tends to be wetter, as producers like to add milk to the whey, for what reason, I am not sure, but that's what we got used to over here in the states, and that's what we can most commonly find.
Experiment with ricotta in your pasta dishes, or smeared like cream cheese on toast. I've also seen recipes where people use ricotta in their cheesecakes — yum!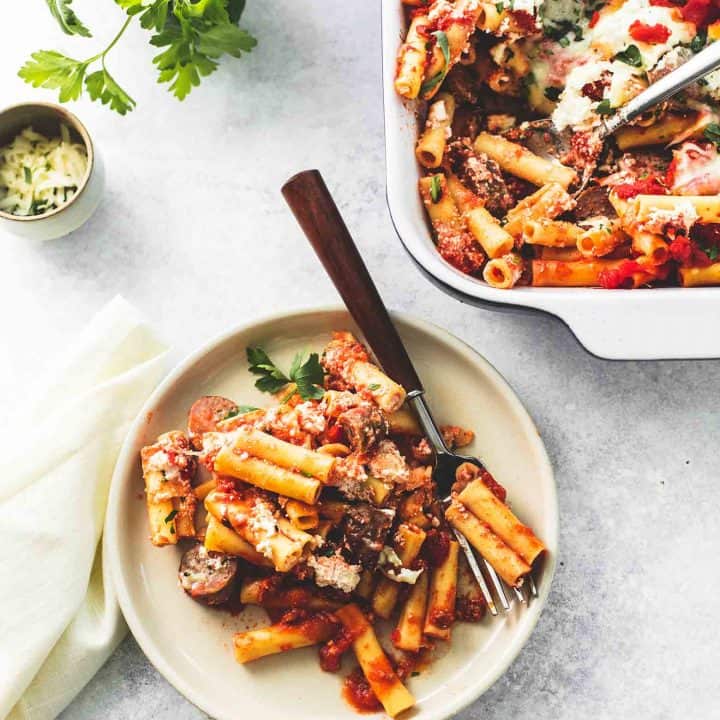 Baked Ziti with Ricotta and Sausage
This easy, 35-minute Baked Ziti with Ricotta and Sausage pasta dish packs a ton of flavor into every bite.
Ingredients
1

pound

ziti pasta

-

cooked al dente according to package instructions, drained

4

links

(about 1 pound) cooked Italian sausage

-

sliced ½-inch thick

1

32-ounce jar marinara sauce

1

15-ounce container whole milk ricotta cheese

8

ounces

shredded mozzarella cheese

¼

cup

each fresh basil and parsley leaves

-

chopped
Instructions
Preheat oven to 400 degrees and grease a 9x13 inch pan.

In a large bowl, stir together the cooked ziti, sausage, and all but 1 cup of marinara sauce. Spread half of the ziti mixture in the bottom of your prepared pan.

Spoon half of the ricotta and mozzarella evenly over the top. Top with the rest of the ziti mixture, then remaining ricotta, mozzarella, and reserved marinara sauce.


Bake 20-25 minutes, until the sauce is bubbling and cheese is melted.

Sprinkle the basil and parsley over the ziti and serve warm.
Notes
Flavor tip: for even more cheesy goodness, add 1/2 cup shredded parmesan cheese along with the mozzarella.  Flavor tip: I like to use spicy Italian sausage in this recipe!  Veg it up: add 1 cup packed baby spinach leaves along with the cheese for a delicious, nutritious boost!
Nutrition
Calories:
653
kcal
,
Carbohydrates:
58
g
,
Protein:
29
g
,
Fat:
33
g
,
Saturated Fat:
14
g
,
Cholesterol:
87
mg
,
Sodium:
788
mg
,
Potassium:
387
mg
,
Fiber:
2
g
,
Sugar:
2
g
,
Vitamin A:
257
IU
,
Vitamin C:
2
mg
,
Calcium:
221
mg
,
Iron:
2
mg