This recipe for Easy Lemon Garlic Butter Shrimp is a family favorite and a great way to shake up those weekday meals for the better!
Looking for more quick and easy weeknight meals? You'll love One Pan Creamy Lemon Chicken and Asparagus, Sheet Pan Jambalaya, and Instant Pot Balsamic Pork Tenderloin.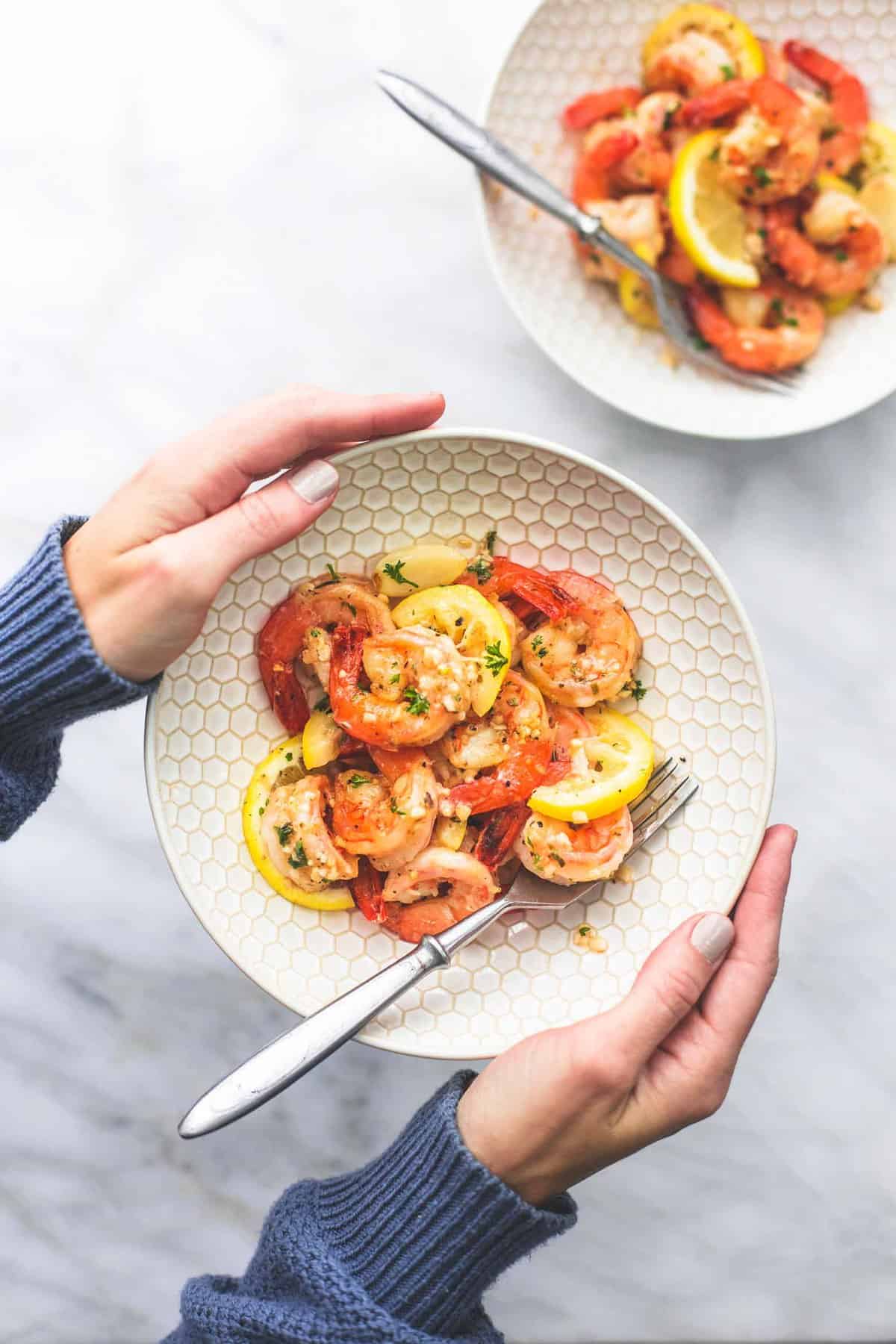 Shrimp dinners are easily one of my favorite meals to put together. Shrimp is a break from the norm, thaw quickly, and cook up fast, too. Plus, they taste soooo good with very little ingredients.
My favorite ways to dress up shrimp are with lots of garlic, butter, and lemon. (If I'm being honest I usually have to double the recipe because I get a little upset if I don't get a huge helping of the shrimp all to myself.)
Why This Recipe Works 
Versatile — You can start with this base recipe for shrimp and spice it up to make it your own however you like! I've been known to add some Mexican-style spices like cumin, a dash of paprika, and some red pepper flakes. Or try a finely diced chipotle pepper and a tablespoon of adobo sauce stirred into the garlic and herb mixture. 
Easy — The main great thing about this lemon garlic shrimp is right there in the name. EASY. As in, 20 short little minutes from prep to plate easy. That's why it makes the most perfect in-a-hurry dish. 
Simple ingredients — It wouldn't be easy to make if the ingredients were hard to procure or handle, right? So I stick with simple ingredients like lemon, garlic, butter, and Italian spices. 
Great for a crowd — Double or even triple this recipe and only add a little extra time to your prep and cooking. Add on top of this Creamy Parmesan Spinach Orzo for a filling, delicious, complete meal!
Here's How You Make It 
You almost don't need directions for this lemon garlic shrimp dish, it's THAT easy! 
First, rinse the shrimp and pat them dry with a paper towel.
Melt 4 tablespoons of butter over medium heat in a large skillet. 
Add the dried herbs and garlic to the skillet and stir them all together in the butter for 1 minute, or until the garlic is golden. 
Add the shrimp to the butter and garlic in the skillet and let it cook for 4-6 minutes. Stir occasionally, until the shrimp is pink and opaque throughout. 
Stir in the fresh herbs, lemon juice, and serve!
Why Is Shrimp Bad for You?
Right off the bat, let's debunk this myth. Once upon a time, it was thought that shrimp were bad for you because they are high in cholesterol. However, we now know that saturated fat raises your cholesterol levels, not cholesterol in the food itself. And shrimp is very low in fat. Everything in moderation!
What's the Best Way to Season Shrimp? 
You can do this one of two ways. You can do what I did and add the shrimp to the herbs, garlic, and butter in a pan to season it or you can marinade them ahead of time. They only need 15 minutes to marinade (30 max) or the shrimp will start to break down before you can cook them.
Is Shrimp a Fish or a Meat? 
Shrimp are crustaceans that swim in the ocean and are considered seafood. It is not considered vegetarian or vegan. If you consider meat to be the flesh of what once was once a living being, then you can call shrimp "meat;" however, you'll mostly find shrimp listed as seafood and not meat options at the grocery and in restaurants, etc.
Serving Suggestions 
In addition to serving this shrimp in a taco or burrito for the upcoming holiday, there are many other ways to serve this shrimp that might surprise you.
I like to take this recipe as-is and serve it over a nest of linguine, angel hair pasta, or any thin pasta you have. Mmmmmm.

This shrimp also goes great over rice — brown, white, mixed-grain, you name it, it's delicious.

These shrimp also make a great appetizer as-is. There's no need to wrap bacon over them or serve them in any kind of fancy way. No one minds treating shrimp as a finger food.

If you are adding this to pasta or rice, consider adding some kale, spinach, or other hearty green to the shrimp mixture during the last five minutes. A little bit extra nutrition, minimal effort on your part.

This shrimp recipe is also so good on top of a

bed of greens

or in a make-your-own

power bowl

.
What Is the Easiest Way to Peel and Devein Shrimp?
For cooking on the stovetop, I do prefer to peel and devein my shrimp first. (Sometimes I leave the shells on [but still devein] if I'm grilling them for a little protection from the heat, but mostly I peel them first.) It's also more considerate for others who may be dining with you, as you're not sticking them with the messy chore of digging the shrimp out of their dish and peeling them themselves.
There are a couple different ways to peel and devein shrimp. To tell you the truth, my favorite way is to not do it at all and purchase them already shelled and deveined. But, if I do have to do the deed, what you want to do is pull the legs off first and then break open the shell on the underside of the shrimp and peel it off. Pinch the tail where it meets the shell and pop the rest of the meat out. Then, use the point of a sharp knife to pull the dark vein out. Rinse or wipe the knife off each deveining.
Expert Tips 
If you want to

make this lemon garlic shrimp spicy

, just add about a half to 1 teaspoon of crushed red pepper flakes or top with your favorite hot sauce. 

If you want to

turn this into a marinade

, add the garlic and herbs together in a Ziplock bag with 2 tablespoons of olive oil, then add the thawed shrimp. Mix the shrimp around in the bag a bit to get the marinade on all sides of the shrimp and leave to marinate for 15 minutes,, then cook in a skillet as directed, adding lemon juice at the end. 
Lemon garlic shrimp will keep in the fridge for up to 3 days. Reheat for only a few seconds in the microwave or eat cold in a salad — YUM!
More Easy Shrimp Recipes
Did you try this simple lemon shrimp recipe? Fantastic! Please rate the recipe below!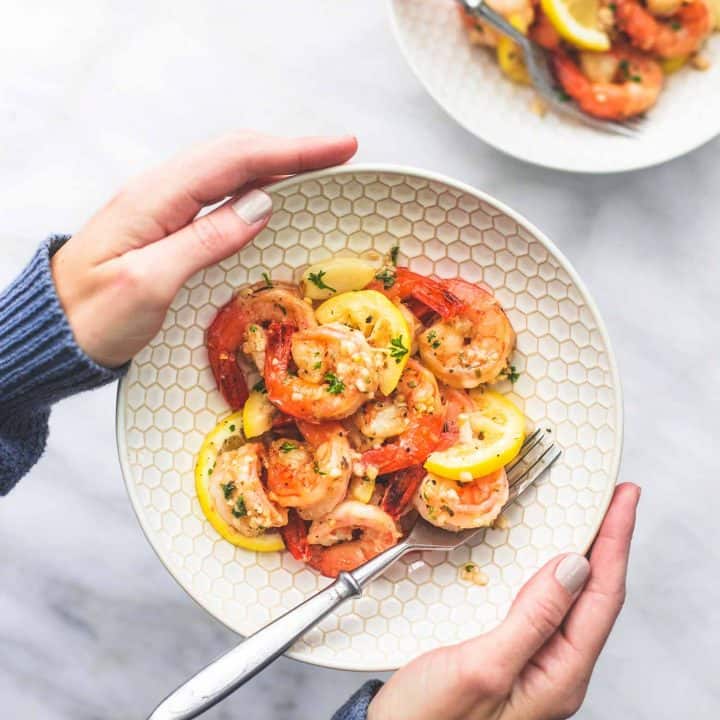 Easy Lemon Garlic Butter Shrimp
This recipe for Easy Lemon Garlic Butter Shrimp is a family favorite and a great way to shake up those weekday meals for the better!
Ingredients
1 ½

pounds

large or jumbo shrimp

-

peeled and deveined, tails on or off

4-6

tablespoons

butter

3

teaspoons

minced garlic

½

teaspoon

dried Italian herb blend

1

tablespoon

finely chopped fresh parsley or cilantro

juice of 1 lemon
Instructions
Rinse shrimp and pat dry with a paper towel. In a large skillet melt 4 tablespoons of butter over medium heat. Add garlic and dried herbs and stir for 1 minute or until garlic is golden.

Add shrimp and cook 4-6 minutes, stirring periodically, until pink and hot throughout. Stir in parsley or cilantro, and lemon juice to taste (one tablespoons is a good place to start). Serve immediately.
Notes
Make it spicy: add 1/2-1 teaspoon crushed red pepper flakes for a spicy kick! (Highly recommended!)
Nutrition
Calories:
183
kcal
,
Carbohydrates:
1
g
,
Protein:
35
g
,
Fat:
3
g
,
Saturated Fat:
1
g
,
Cholesterol:
430
mg
,
Sodium:
1338
mg
,
Potassium:
165
mg
,
Fiber:
1
g
,
Sugar:
1
g
,
Vitamin A:
25
IU
,
Vitamin C:
8
mg
,
Calcium:
268
mg
,
Iron:
4
mg
More Delicious Recipes to Try