Garlic Cilantro Lime Shrimp Marinade is a cinch to put together and your shrimp will be deliciously flavored and ready for the grill in just 15 minutes!
If you love quick-and-easy shrimp recipes, then you'll also love these Garlic Dijon Shrimp And Salmon Foil Packs, these Baked Crispy Honey Lime Shrimp, and this Fiesta Lime Shrimp Salad.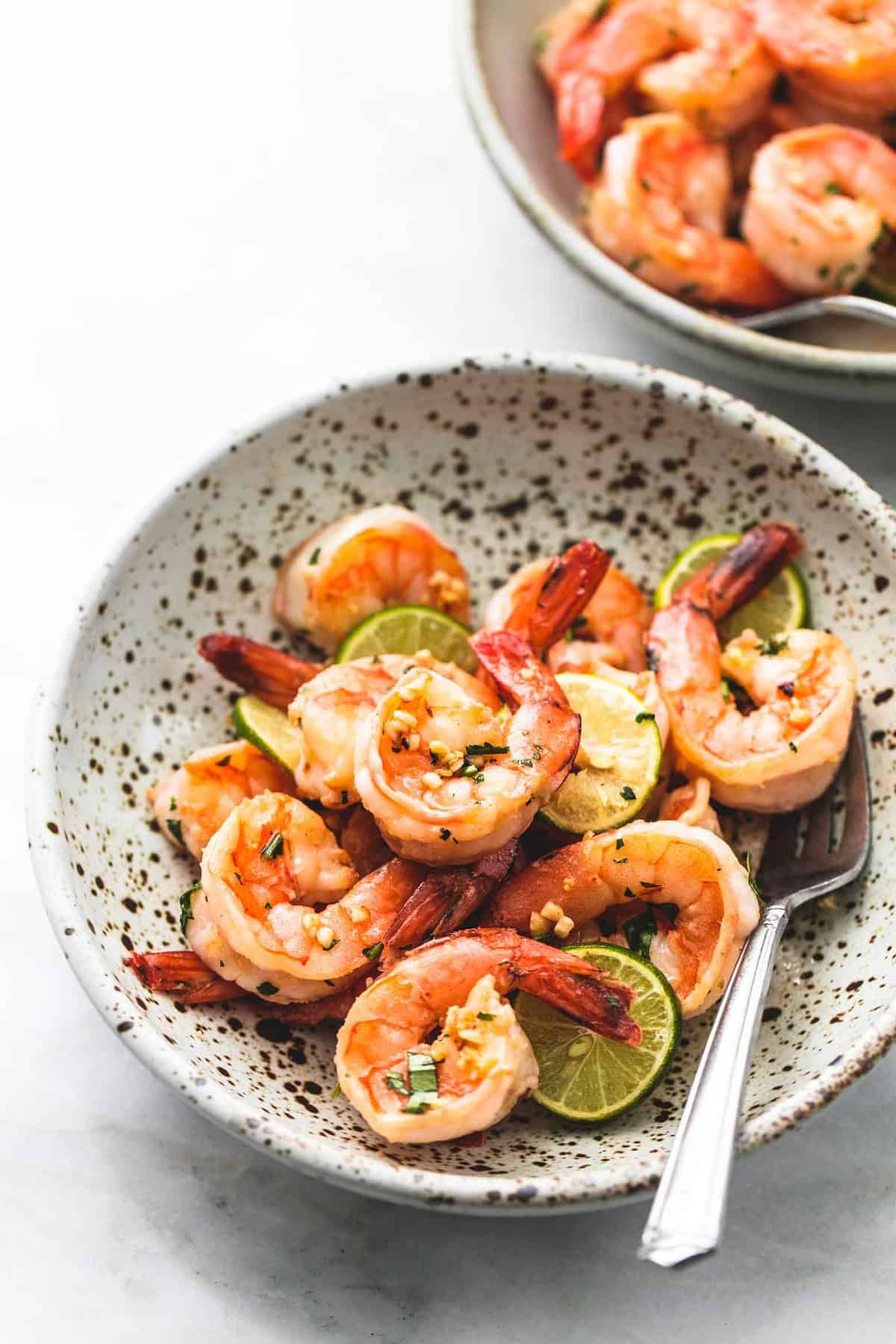 I entertain a lot. (And I mean more than just entertaining my children.) My family stops by a lot, friends come over, and we have some formal-ish dinners at time for coworkers or neighbors that we plan in advance. For this reason, I feel like it's a definite necessity to keep some easy marinades in my back pocket.
While I definitely don't want to be seen as a one-trick pony, I feel like shrimp is one of those easy foods that you can fix so many different ways and it always tastes amazing. It's also generally pretty well-liked as far as seafood goes, and if you serve it as an appetizer along with a couple of other choices, then if someone doesn't like it, that's okay too because they'll still have dinner to look forward to.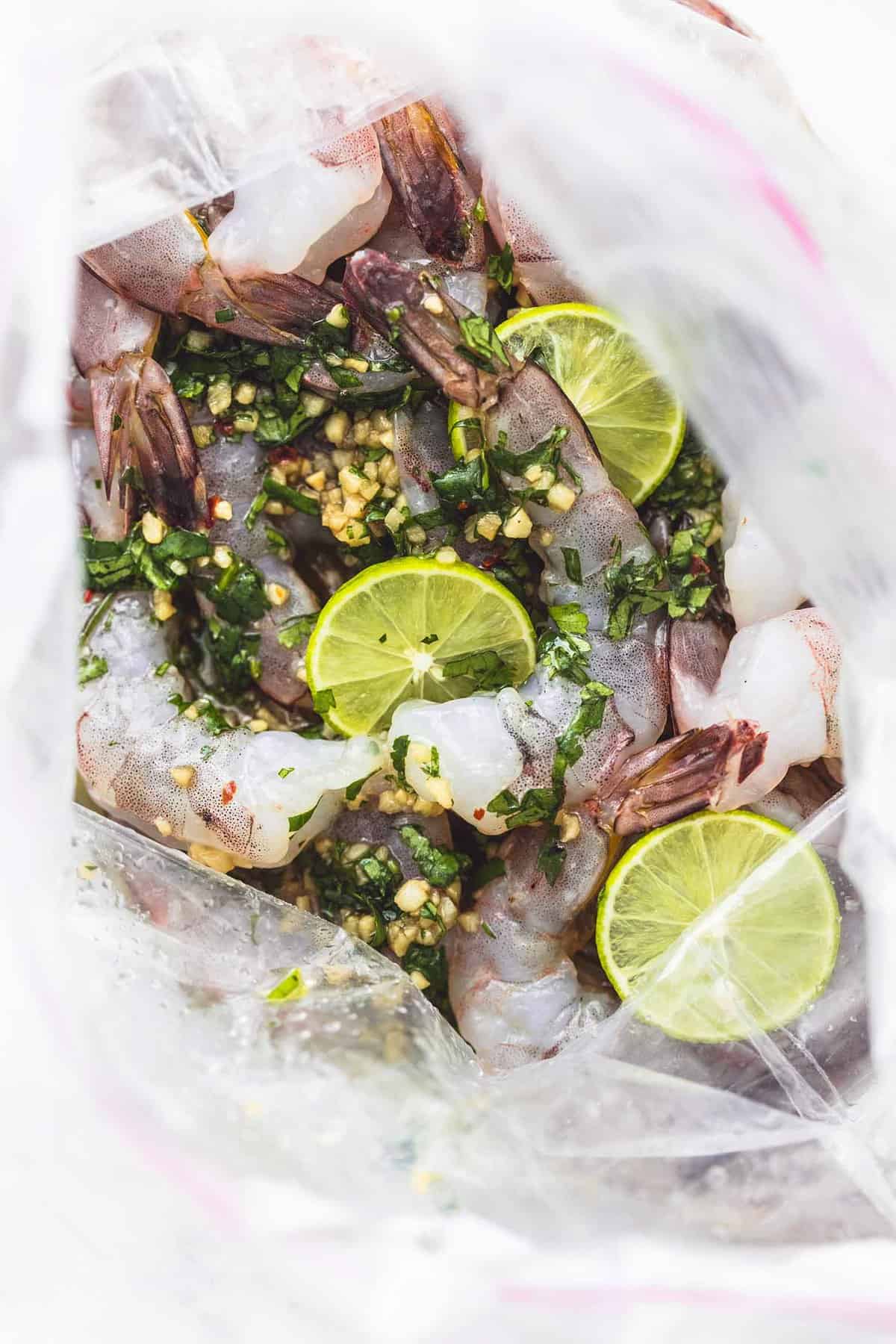 Whether it's one of those dinners that's planned or impromptu, you'll typically find some shrimp thawing in the sink and me whipping up a quick marinade for it. That's another thing that makes marinating shrimp so great — they thaw super fast and they don't need any longer than 15 minutes to take on the flavors of the marinade. (If you let shrimp soak in any kind of acidic marinade too long, it will start to cook and break down and get mushy…ick.)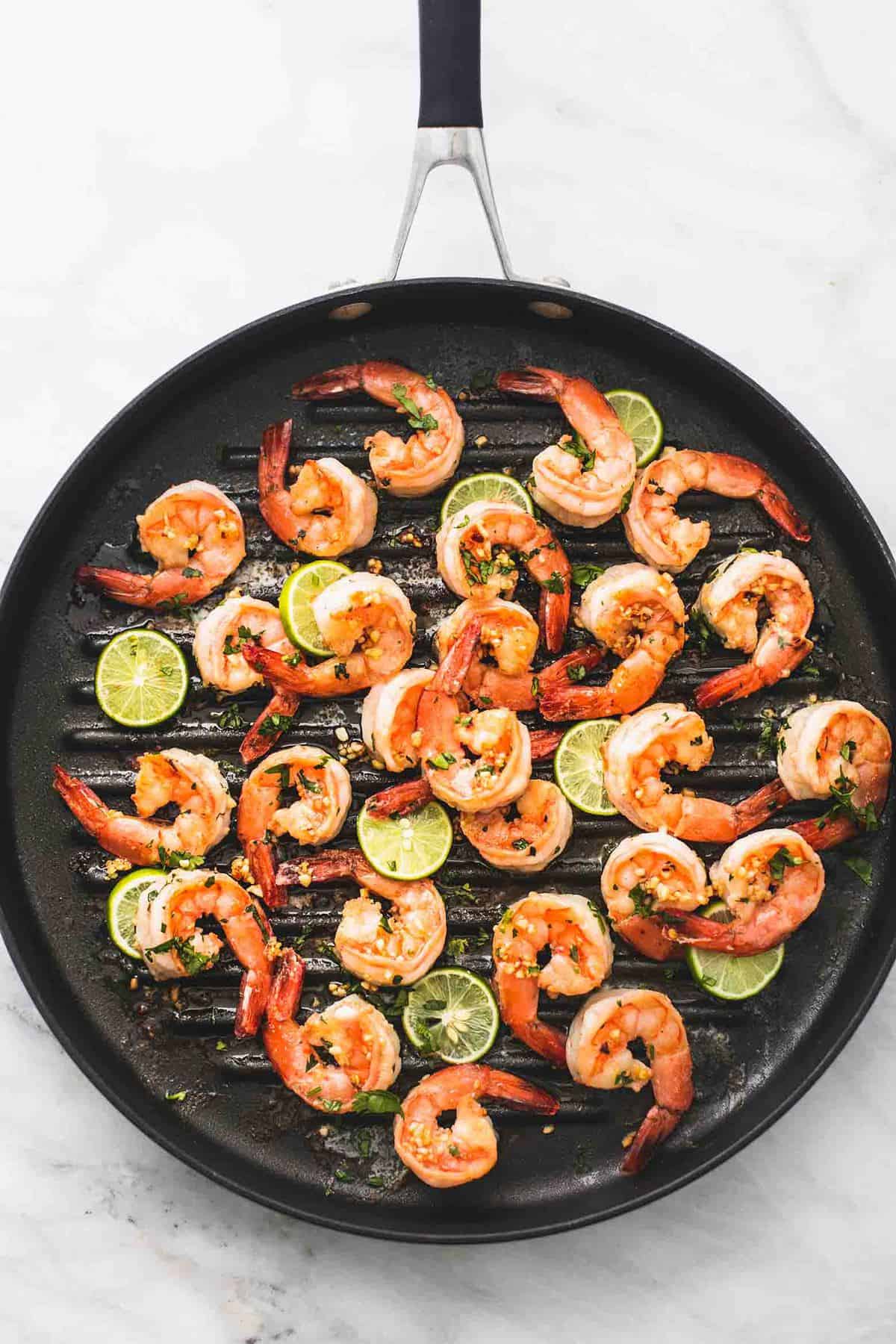 I tend to have my shrimp thawed and headed into the marinade just about the time my guests are due to arrive. (Or, if we have unexpected guests, then they just get to talk to me while I get the shrimp going.) Within the hour, we're all enjoying a yummy, citrusy app and one another's company.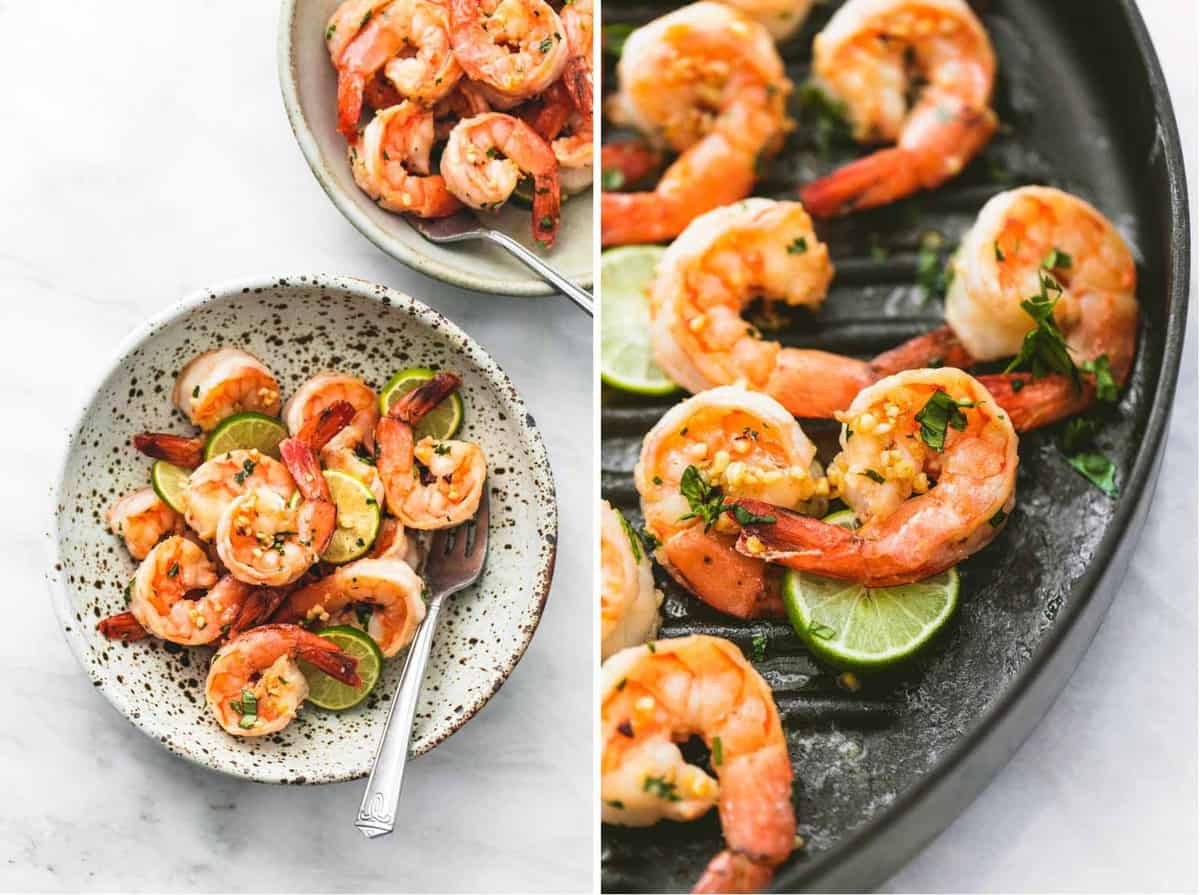 Do Cilantro and Garlic go together?
This is a question I get asked a lot; "What goes with ______?" And the answer is easy…and hard. There are always the go-to spice/flavor combinations that work well every time. And then there are some that are more experimental and "go together" if you like that flavor combination. My advice there is to just try it and see if you like it. If not, then you know that's not a good combination for you.
I also think garlic goes with just about an herb you can pair with it. Cilantro and garlic are common spices in Mexican/Tex Mex food. I can't think of one single Mexican-inspired recipe that doesn't include those two ingredients.
Cilantro goes with a lot of other herbs and spices too — try adding it together with basil, thyme, rosemary, oregano, mint, or parsley. Garlic should go with any and all of these as well, in my opinion.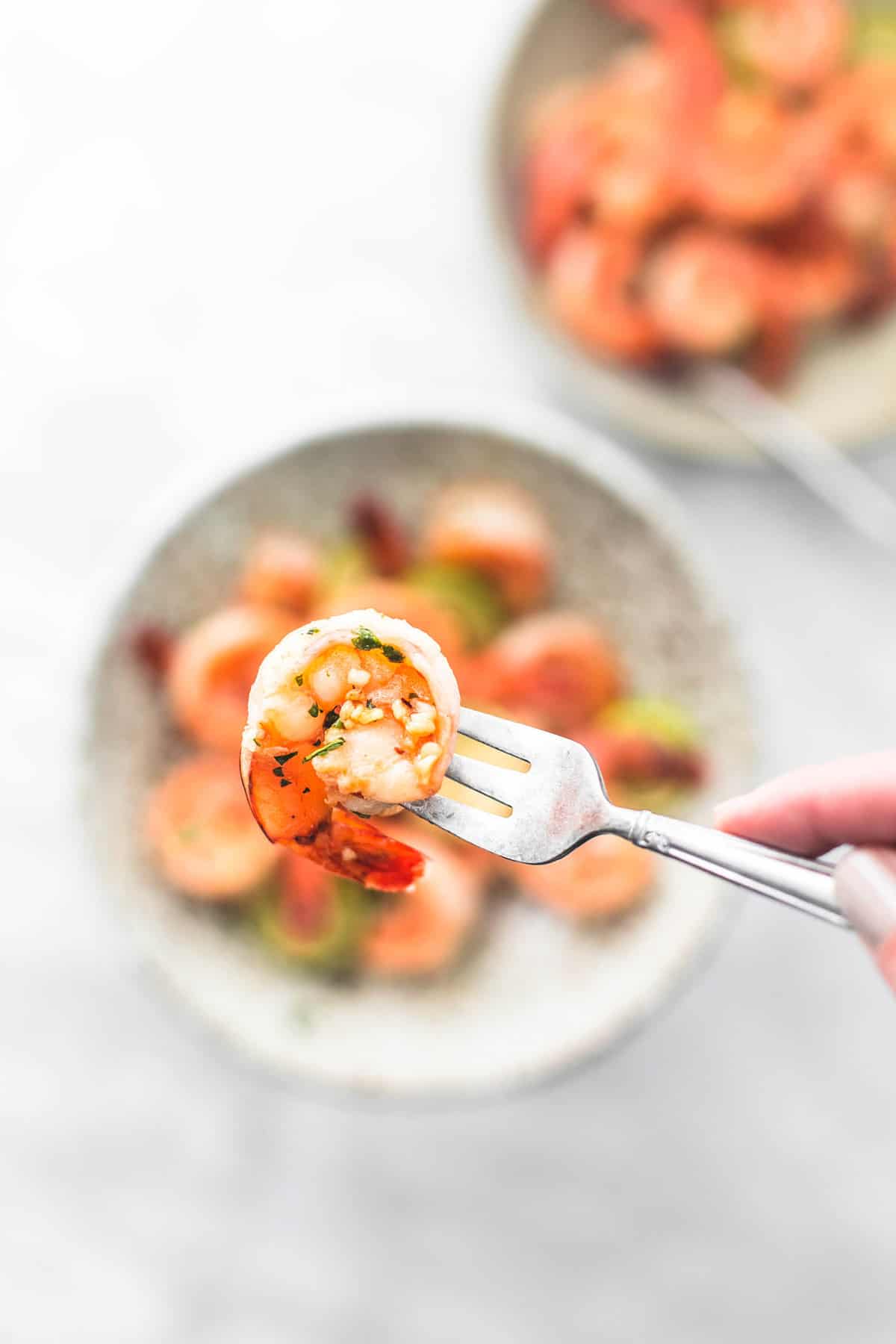 Great Side Dishes for Shrimp
As I mentioned, I often use this Garlic Cilantro Lime Shrimp Marinade as an appetizer, however, I also have been known to eat it a time or two or three for dinner. I do like to have something with it — usually several somethings — to round out the meal.
Potatoes. Whether roasted, mashed, or grilled, potatoes pair up with just about anything and everything.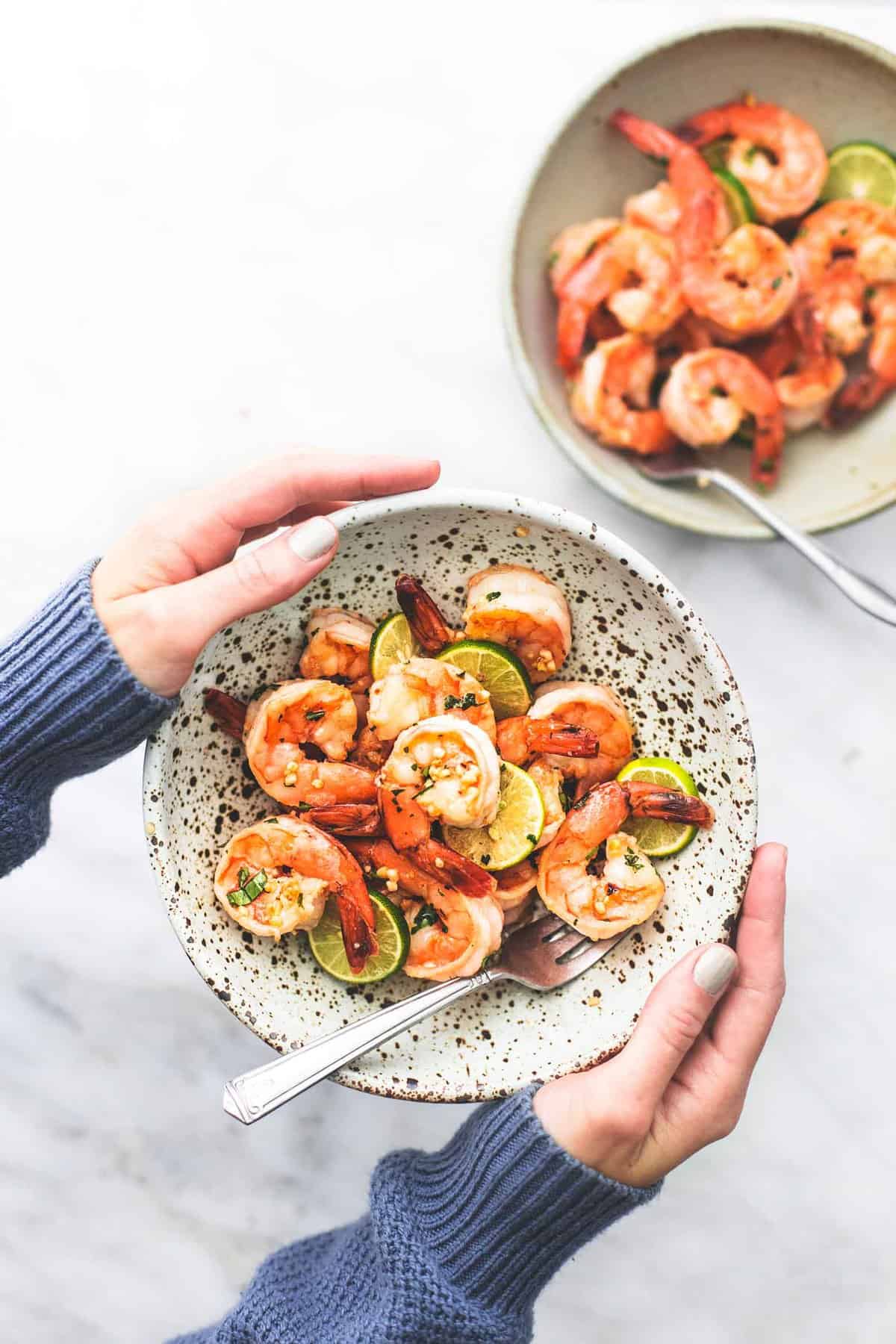 How Long can you Marinate Shrimp
As I mentioned before, shrimp doesn't need that long to marinade at all. I typically give it 15 minutes, but anything more than 30 minutes, and it will start to break down, especially if there are any acids in the marinade (lemon, lime, vinegars) like this one.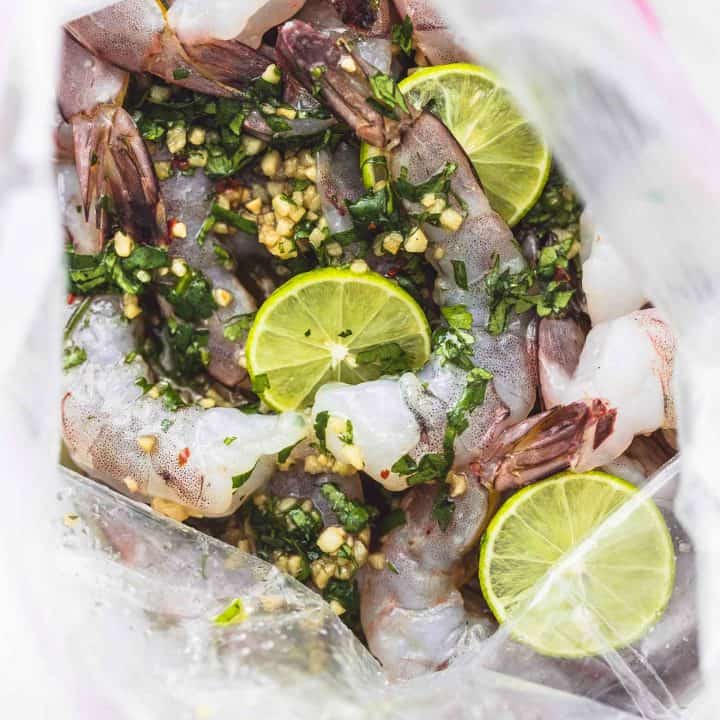 Garlic Cilantro Lime Shrimp Marinade
Garlic Cilantro Lime Shrimp Marinade is a cinch to put together and your shrimp will be deliciously flavored and ready for the grill in just 15 minutes!
Ingredients
1-2

pounds

medium or large raw shrimp

-

(see note)

¼

cup

olive oil

¼

cup

freshly squeezed lime juice

-

(2-3 juicy limes)

2

tablespoons

fresh chopped cilantro

3

teaspoons

minced garlic

¼

teaspoon

salt

1

teaspoon

soy sauce

⅛

teaspoon

crushed red pepper flakes
Instructions
Whisk together olive oil, lime juice, cilantro, garlic, salt, soy sauce, and crushed red pepper flakes. Pour mixture into a large resealable bag.

Add shrimp to the bag, press the excess air out, and seal. Chill for 15 minutes.

GRILL shrimp on skewers or on a grill pan over medium heat, 3-4 minutes on each side until pink and cooked through. Or BAKE shrimp in a single layer on a greased sheet pan at 400 degrees for 10-12 minutes until pink and cooked through.

Garnish with extra lime juice and cilantro if desired and serve.
Notes
For best and most flavorful results I recommend using peeled and de-veined shrimp, tails can be on or off. 
Nutrition
Calories:
237
kcal
,
Carbohydrates:
1
g
,
Protein:
23
g
,
Fat:
15
g
,
Saturated Fat:
2
g
,
Cholesterol:
286
mg
,
Sodium:
1112
mg
,
Potassium:
104
mg
,
Fiber:
1
g
,
Sugar:
1
g
,
Vitamin A:
19
IU
,
Vitamin C:
5
mg
,
Calcium:
169
mg
,
Iron:
3
mg