Freezer Breakfast Burritos make for a delicious, nutritious, satisfying breakfast on those busy mornings you need to grab-and-go. Chock full of hash browns, sausage, bacon, eggs, and cheese all rolled in a flour tortilla and secured with heavy-duty foil, you can make up a big batch on Sunday and eat all week long!
If you love quick, filling breakfast foods, then you'll also love my Baked Croissant Breakfast Sandwiches, my Berry Oat Breakfast Smoothie, and my Oatmeal Craisin Breakfast Bars.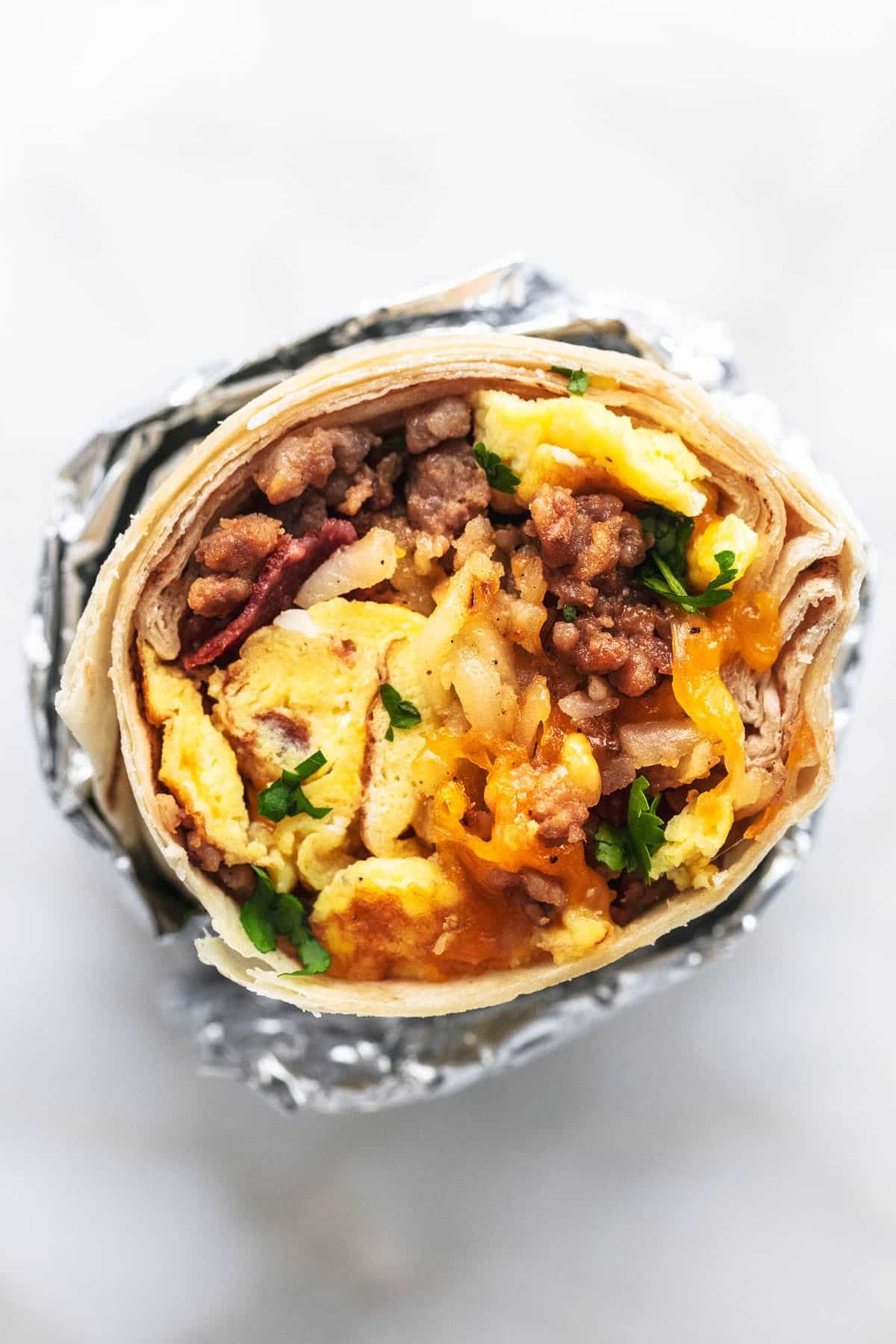 This post is sponsored by Reynolds Wrap. All opinions are my own.
What do you get when you wrap every. single. delicious. breakfast. goodie. into one amazing package? Well, I'd venture to say one of the best on-the-go breakfasts of your life, that's what!
If you're the type that likes to cook once and eat two, three, four, or more times throughout the week then this meal has your name written all over it. While there is a little bit of work up front, once you have everything made you just roll it all together in a flour tortilla and then wrap it up securely in Reynolds Wrap Heavy-Duty Foil before bagging and putting in the freezer.
Then, every morning you'll go ahead and thank yourself for doing the prep work ahead of time when you bite into a delicious, warm, eggy, cheesy, salty, filling, tasty make-ahead breakfast burrito that easily stacks up to (and honestly surpasses) any frozen burrito you'll get from the grocery store.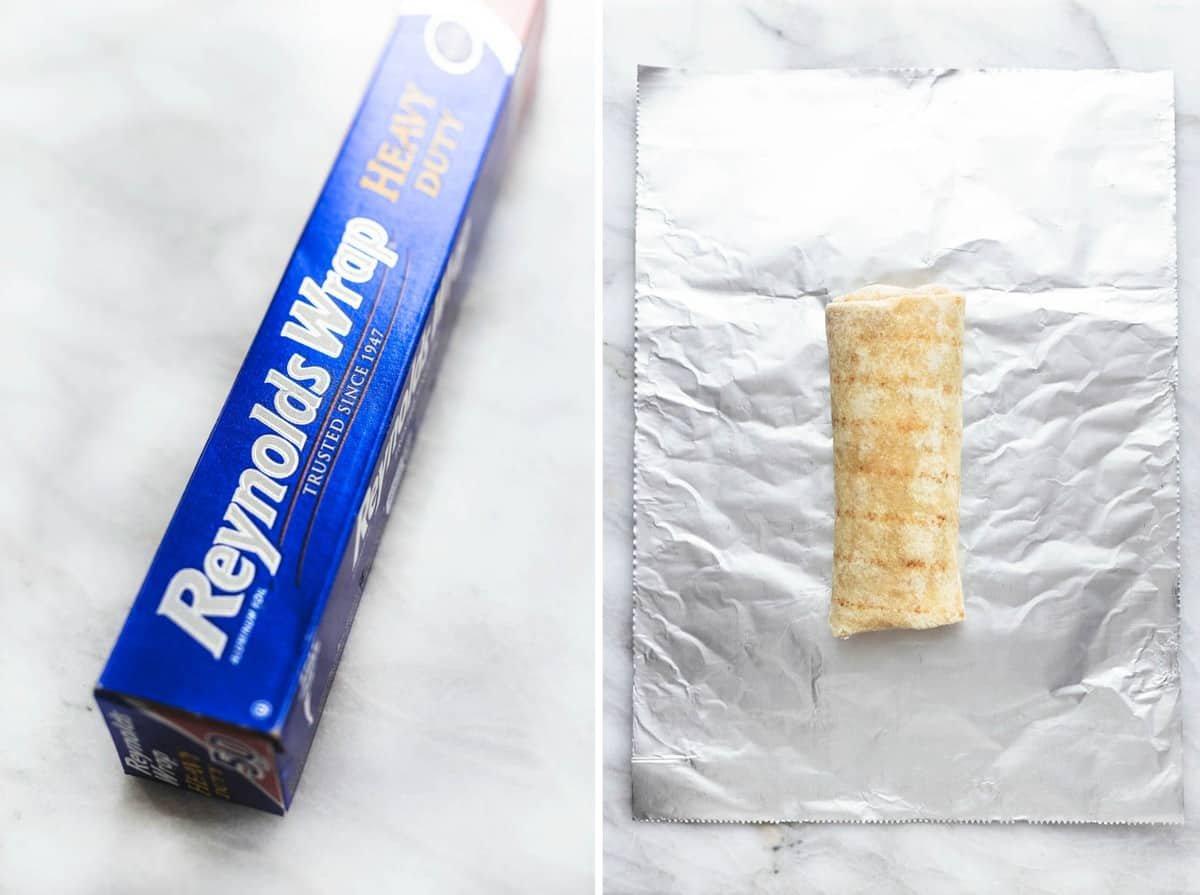 TIPS FOR MAKING FREEZER BREAKFAST BURRITOS
It's important that you cook all of your ingredients ahead of time so that you can assemble your breakfast burritos all at once. It prevents the tortilla from getting soggy while it's sitting there with eggs on it waiting for the hashbrowns, etc. Plus, it takes less time this way.

Wrap your burritos in

Reynolds Wrap Heavy-Duty Foil

before putting in an airtight bag and into the freezer. Why? Well, Reynolds Wrap is produced using food safety and quality standards, which makes it my go-to foil for errrrrr-thang I make in

foil packets

or when I need a heavy-duty, non-stick foil

for the grill

.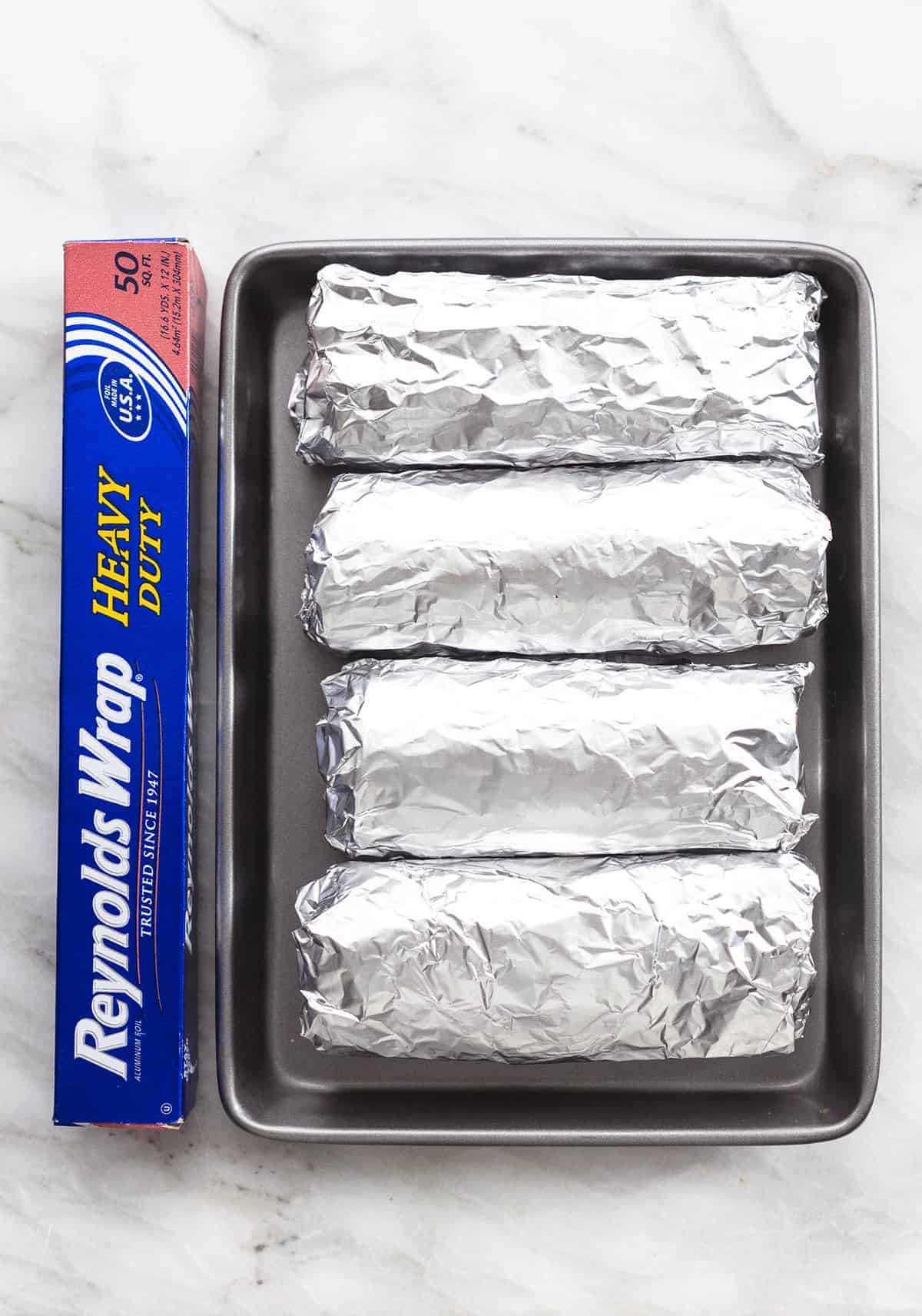 Reynolds Wrap is heavier than a standard aluminum foil and that means you won't have to worry about your burrito ingredients tearing through the wrapping and leaking out and getting freezer burn.
The heavy-duty foil can go wide, meaning I can wrap up these big 'ole burritos and ensure both ends remain snug as a bug.

Nothing destroys all your hard work on these freezer burritos than the dreaded freezer burn. I'm sure you've tasted something with that nasty freezer burn taste. The worst. Prevent that up front by using a heavy-duty foil meant to withstand the deep freeze like Reynolds.
Be sure not to skip the bagging step. You want to keep your food organized in your freezer (who wants to go hunting for a single burrito when you're in a hurry?) and an airtight container or baggie just gives that extra layer of freezer-burn protection. Plus, you can date and label the bag so you know how long your breakfast has been waiting for you to eat it.

I know it might be tempting to use a smaller tortilla on these burritos or to use maybe corn or whatever you have on hand but that would be a mistake. Big ingredients call for a big container. And corn tortillas will completely fall apart on you and not taste great back out of the freezer. Trust me on this one, go getcha some extra-large burritos and stuff those puppies full.

This probably goes without saying, but wait to top your burritos until they are out of the oven. You don't want to add salsa, avocado, sour cream, etc. to the insides of your burrito before freezing.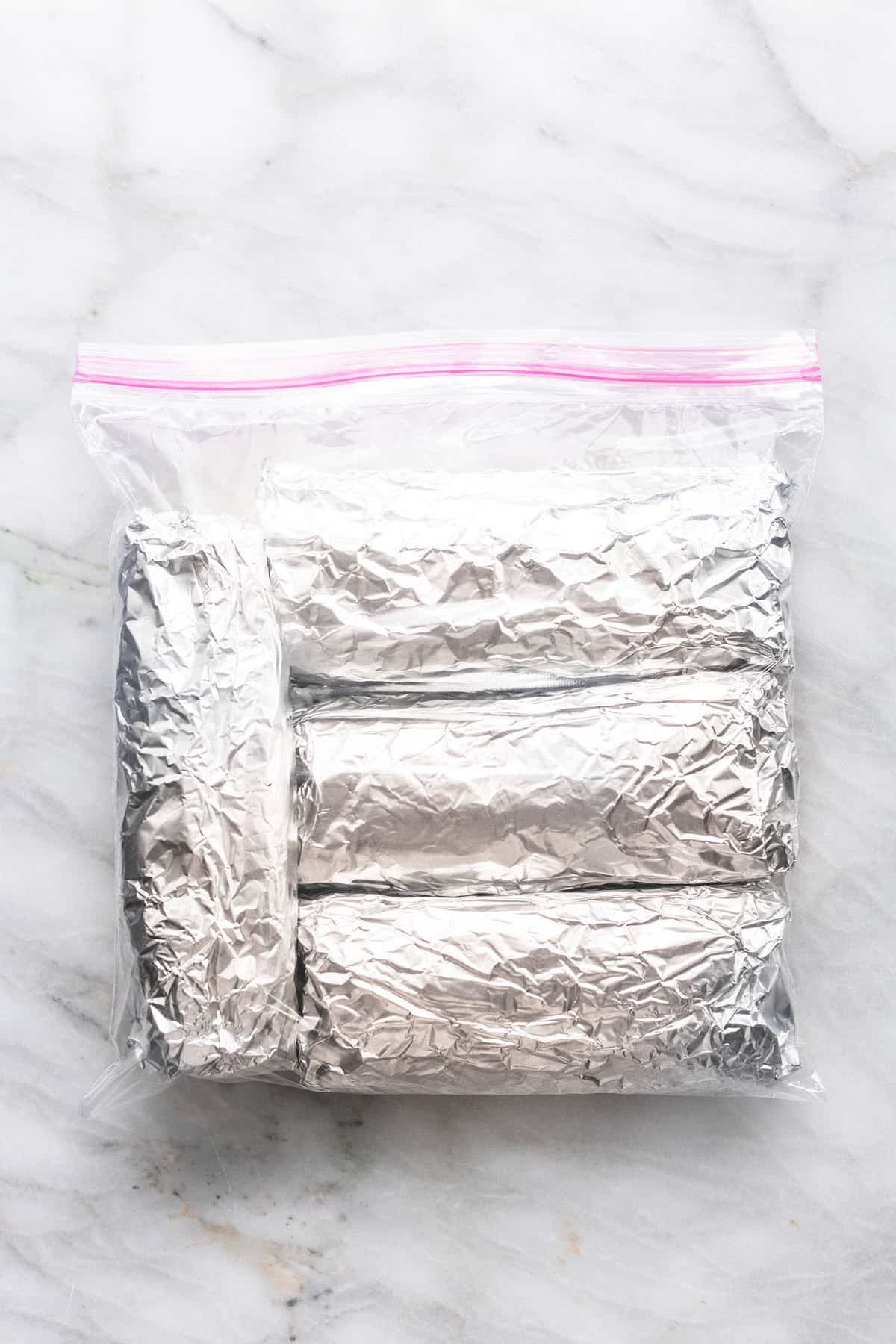 HOW CAN I CUSTOMIZE FREEZER BREAKFAST BURRITOS?
The great thing about these make-ahead burritos is that you can feel free to experiment with some of the ingredients if you like.
If you want to, you can use all egg whites or a combination of whites and yolks to suit your tastes.

Add some veggies to the mix. You can add them to the ingredients already listed or substitute them for the bacon or sausage. Some of my favorites include bell peppers (any variety), mushrooms, and onions. Be sure to cook them up in small dices so that they fit into your burrito.

Swap Italian sausage for a spicier sausage variety (like chorizo) to turn up the heat a bit on your breakfast.

For the hash browns, consider using a type that also includes veggies in it or that has a flavor variation, like Southwestern. You could also use diced, frozen hash brown potatoes or another diced potato variety but keep in mind they won't be as crispy when you reheat them.
No matter how you choose to stuff your burritos, I think you'll all agree that they are worth the effort. Plus, when you use Reynolds Wrap Heavy-Duty Foil, you'll know that your breakfast burritos will remain tight and secure from assembly to freezer to oven and taste just as delicious as the day they were made.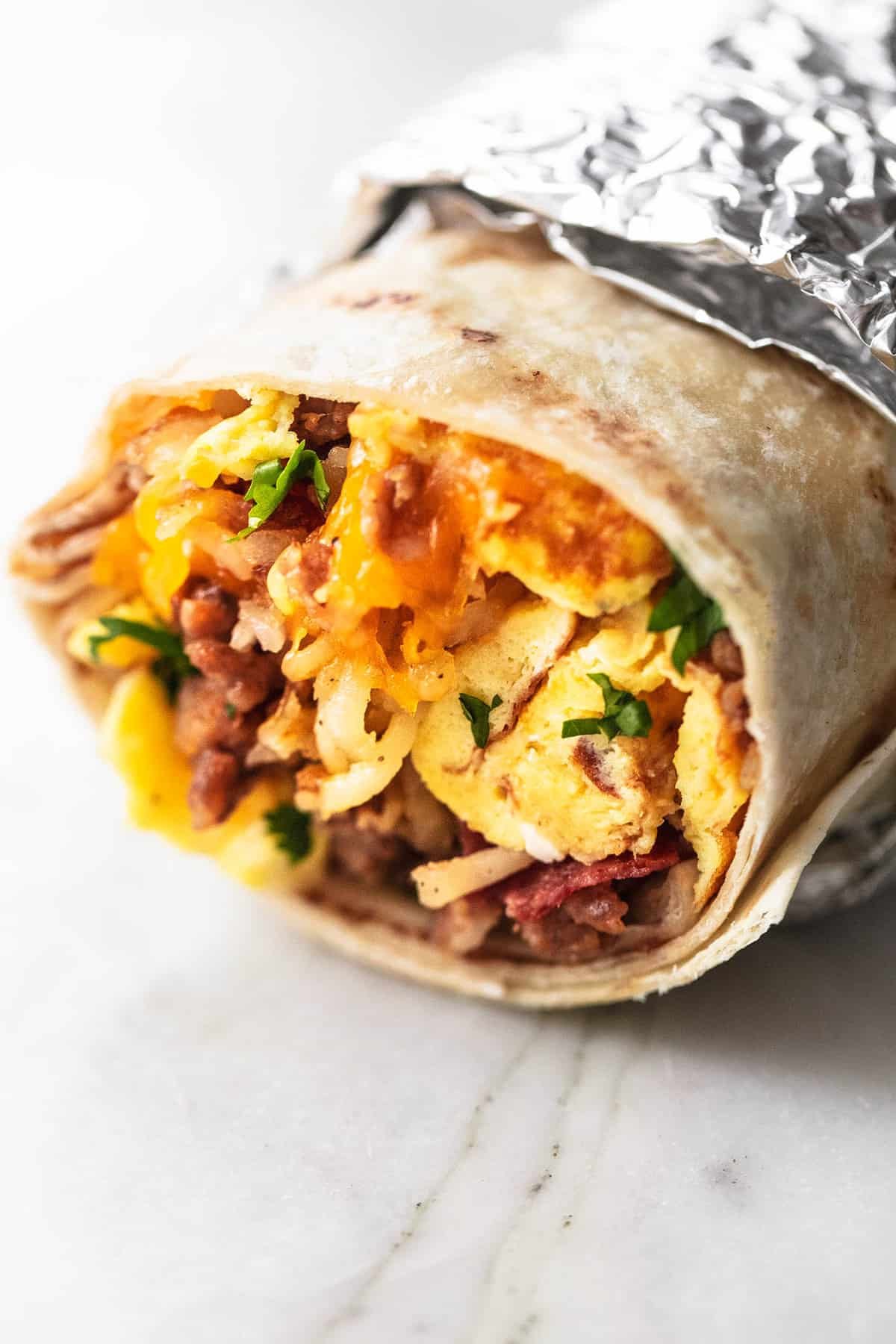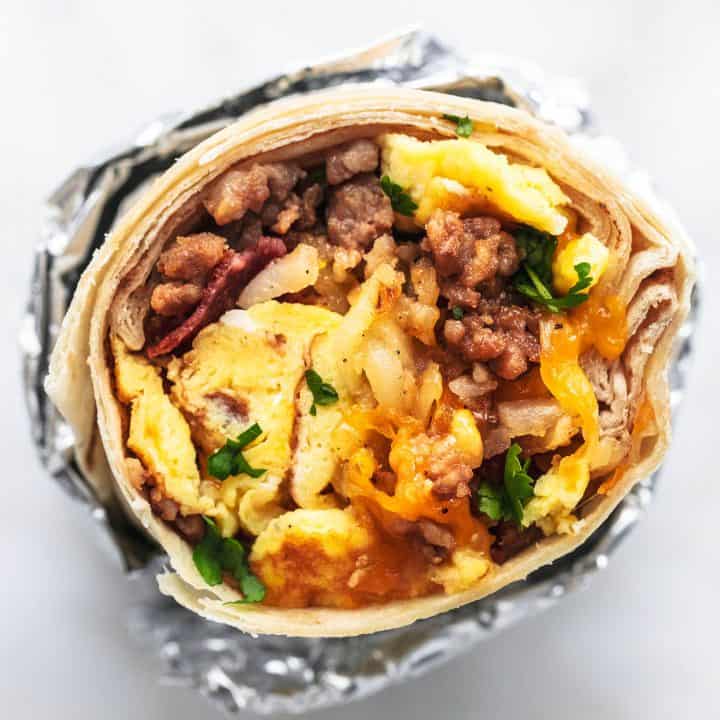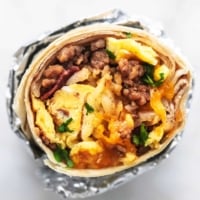 Freezer Breakfast Burritos Recipe
Freezer Breakfast Burritos make for a delicious, nutritious, satisfying breakfast on those busy mornings you need to grab-and-go. Chock full of hash browns, sausage, bacon, eggs, and cheese all rolled in a flour tortilla and secured with heavy-duty foil, you can make up a big batch on Sunday and eat all week long! 
Ingredients
10

large eggs

¼

cup

milk

salt and pepper

-

to taste

2

cups

shredded Mexican blend cheese

-

divided

3

tablespoons

olive oil

2

cups

shredded hash browns

1

pound

ground Italian sausage

8

strips bacon or turkey bacon

8

extra large burrito-size flour tortillas

8

16-inch long pieces of Reynolds Wrap Heavy Duty Foil

optional toppings: avocado or guacamole, salsa, hot sauce, diced tomatoes or pico de gallo, cilantro
Instructions
Prep the hash browns
In a large skillet over high heat, add hash browns. Drizzle with oil and season generously with salt and pepper. Cook for 6-10 minutes, stirring occasionally, til crispy. Set aside.
Prep the eggs
In a medium bowl whisk together eggs, milk, and salt and pepper to taste. Add to a greased skillet and stir occasionally over medium heat for 6-8 minutes until mostly cooked. Stir in 1/2 cup cheese. Set eggs aside.
Prep the sausage
Cook sausage in a large skillet over high heat, breaking up with a spoon or spatula, about 8-10 minutes until browned. Set aside.
Prep the bacon
Cook bacon until crispy. Roughly chop and set aside.
Assemble Burritos
Microwave your tortillas for 20-30 seconds until warm and pliable. Assemble burritos by portioning out the hash browns, eggs, sausage, bacon, and cheese into the center of each tortilla. Roll the burritos tightly.

Place each burrito in the center of a piece of foil. Fold the ends of the foil over the burrito, then roll tightly. Place in a ziploc bag, press out excess air, and seal the bag. Freeze until ready to use.
Reheat and serve
When ready to use, bake burritos wrapped in the foil, in a preheated oven at 400 degrees for 12-15 minutes. Unwrap and garnish with any desired toppings and enjoy!
Notes
Bake thawed for the time given. If baking frozen, bake for 30-40 minutes until heated through. 
Nutrition
Calories:
589
kcal
,
Carbohydrates:
26
g
,
Protein:
30
g
,
Fat:
40
g
,
Saturated Fat:
14
g
,
Trans Fat:
1
g
,
Cholesterol:
287
mg
,
Sodium:
1174
mg
,
Potassium:
501
mg
,
Fiber:
1
g
,
Sugar:
2
g
,
Vitamin A:
536
IU
,
Vitamin C:
5
mg
,
Calcium:
267
mg
,
Iron:
4
mg